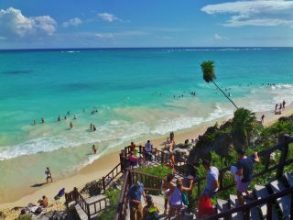 Best things to do in Tulum
So you are going to be in the Tulum area for a while, what are the best things to do in Tulum? There is a lot more than the beach. This list will depend on if you have a car or want to bike places, but we think there is something for everyone.
Like all of our lists and guides on our website, we will keep adding to this list of things to do in Tulum.
Our map of all the best things to do in Tulum
In the map below you will find a marker for all the things to do in Tulum and the area. You can zoom into the beach and downtown Tulum to see more details.
Visiting the Tulum beaches
Probably number one on the list is some quality beach time. If you are staying in the Hotel Zone in Tulum you might just have a beach at your doorstep. If you are staying in the downtown or just visiting the Tulum area, you will want to know what beaches are the best to visit and how to get to them.
Here are three places to go along the coast of Tulum to catch some sun and surf.
Playa Paraiso
This is known as one of the nicest beaches in the Riviera Maya. The beach is wide and flat with public access. Here you can find some beach bars and restaurants. There are not many places with beach chairs however, so plan on brining your own or a towel to lay on. This is also where you can find the local fisherman that will take you out to the reef to snorkel.
To get to these beaches you take the road from the center town (Avenida Coba) toward the beach. At the intersection there is a small traffic circle, and you take a left. Along this road there are public beach access points and parking. It should be noted that on weekends and holidays this area can get full. The police will actually close the road from the traffic circle and not allow cars in. This is why it is good to bike to the beach.
Tulum Hotel Zone beaches
On the map you can see the blue shaded section of the Hotel Zone south where you can find these beaches. This area is flanked with trendy beach clubs and boutique hotels. While all beaches in Mexico are public, access to them is not. So this area is not as accessible to get to the beach as the north end. Parking is also hard in this area, so going to a beach club is recommended. Some beach clubs that are nice to check out are, Papaya Playa Project, La Zebra, Be Tulum, or Coco.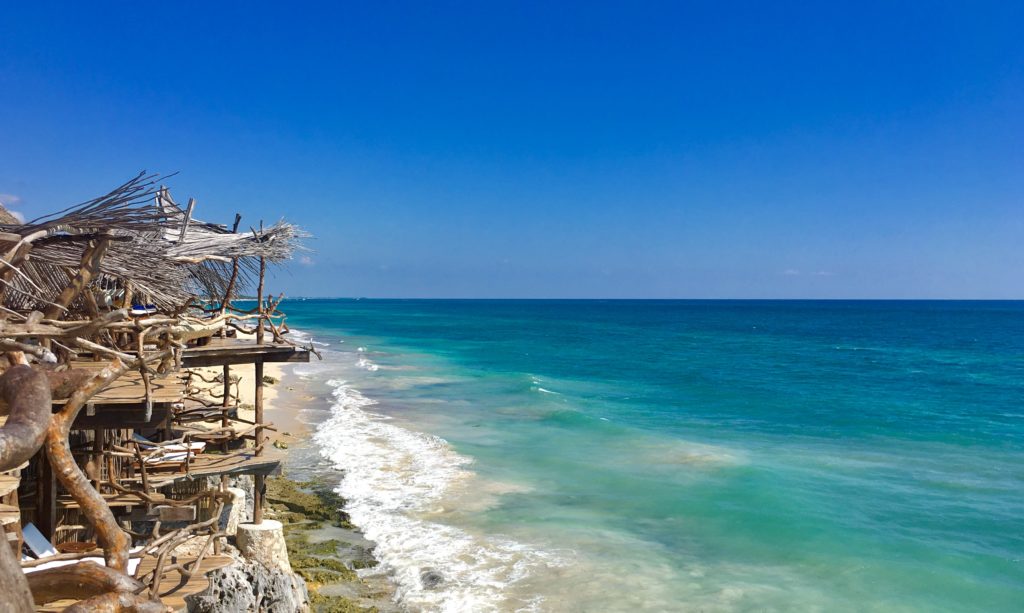 Snorkeling the reef off Tulum
As mentioned above in the Playa Paraiso section, this is where you can get the boats to go out to the reef. The reef off Tulum is actually very nice and not visited often. The boats can take you up the coast to see Tulum ruins from the ocean side, where you will see a couple of other buildings that you do not get to see while visiting the ruins from land.
Usually the boats will take you out for one hour and you will need to negotiate a price depending on your group size. It is well worth it because the reef is in good shape and you might even see some sea turtles.
We actually did this as part of a private tour with Absolute Adventure Mexico. If you are interested in a private tour to see some of the special places around Tulum or the Riviera Maya, we recommend this company.
Visit Tulum ruins and other Mayan ruins
The iconic Tulum ruins are near the top of the list for any visitor to Tulum. Not only are these ruins just outside of the downtown, they are small enough to see in a few hours. There are other Mayan ruins nearby as well. Here are some to see close to Tulum.
Tulum Mayan ruins
Located about 3.5 Km from the center of downtown Tulum, these are some of the most visited Mayan ruins in the Riviera Maya. The ruins themselves are nice but it is the view that makes this location so spectacular. If you are staying in Tulum you can take a taxi or bike to these ruins easily.
See our guide about visiting Tulum ruins. It has the times, prices, where to go and how to get there information.
Muyil Mayan ruins
Many people have never heard of Muyil ruins. They are not visited very often and this is evident when you go. They are however much worth the trip here. Just 23 km south from the center of Tulum, you can drive here and explore this ancient site. Be sure to take the trail behind the main temple that goes on the boardwalk. Here you can see nature and climb the tower to get a view over Sian Ka'an (there is a small extra charge for this)/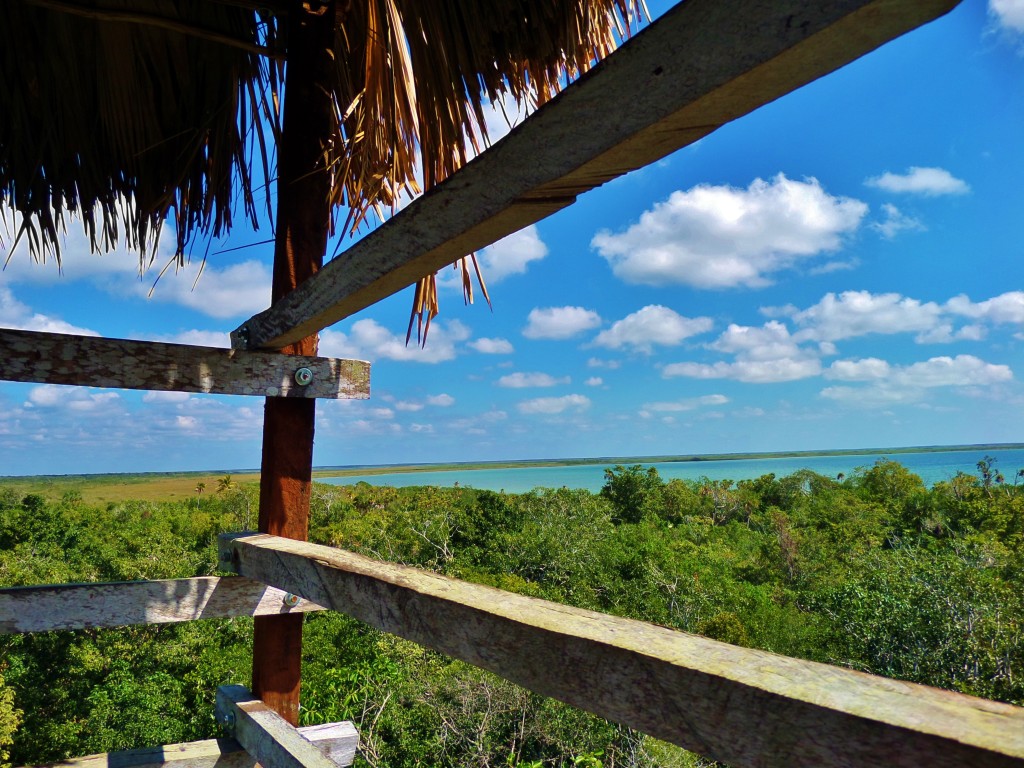 The tower on the nature trail behind Muyil ruins.
Coba Mayan ruins
Coba ruins are the largest Mayan ruins nearby Tulum. These ruins is just over 40 minutes  from Tulum by car. What is nice about Coba is the setting. These ruins are in the woods and spread out. So you are able to rent bikes and go on the trails between the temples. You are also able to climb the main temple here.
You can drive here, take a bus or go on a tour. For more information on visiting Coba ruins see our guide here.
One tour we recommend is the Coba Mayan Encounter Tour. You can see our video and article in the link.
Other Mayan ruins to visit from Tulum
There are the four main Mayan ruins to visit in the peninsula but there are more to see while in the area. For a complete list including a map, see our article here on Mexican Mayan ruins.
A day at Xel Ha Park snorkeling and swimming
Xel Ha is a large eco park about 17 minutes north along the 307 Highway. This is the closest of the Xcaret parks to Tulum. For other Xcaret parks see our articles on Xplor, Xcaret, Xoximilco and Xenses.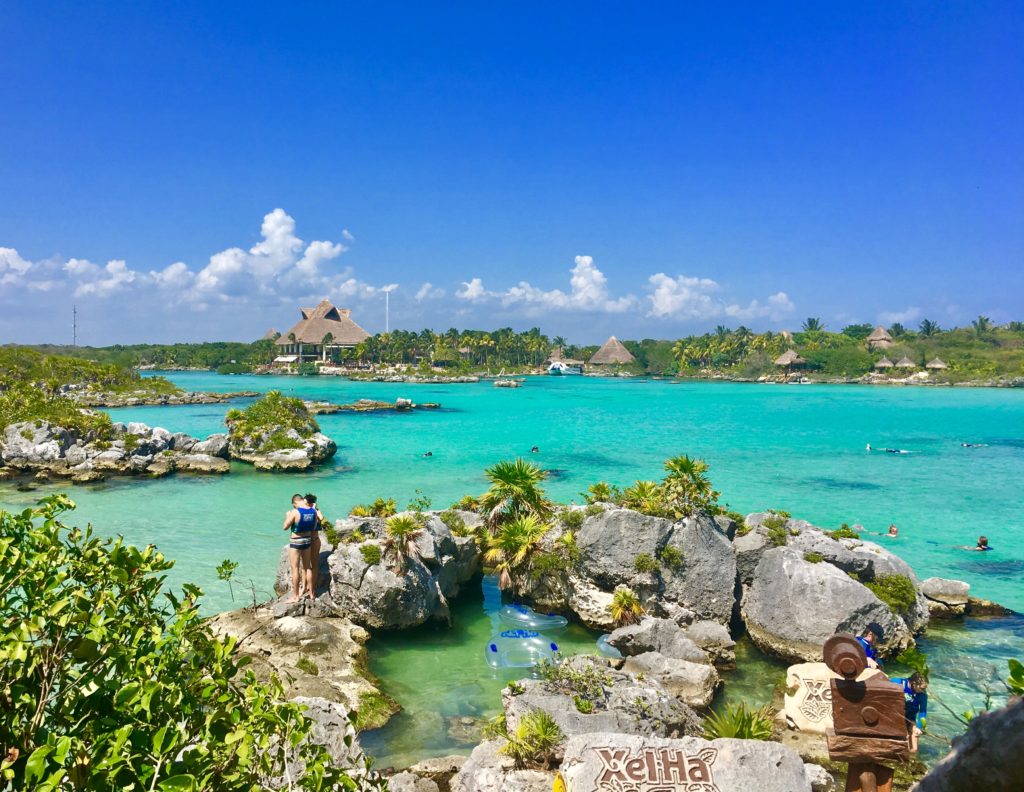 Xel Ha is an inlet where the ground water flows out to the ocean. Here the water mixes and this special place allows guest a large space to snorkel. You will see a lot of tropical fish here other animals. This is an all day experience and we recommend coming when they open and staying until they close.
Tickets and how to get to Xel Ha from Tulum
What is nice about Xel Ha is the fact that all food and drinks (including alcohol) are included in the price of admission.
Xel Ha is easily reached by taking the colectivos from Tulum for both ways, driving or taking a taxi.
If you are interested in going to Xel Ha, you can click below to book ahead on the official website and get the best price possible. Booking 21 days in advance will save you 15% off entrance and 7 days in advance will save you 10%.

Jungle Maya Park near Tulum
If you are looking for a little adventure, this jungle park will give you a lot of things to do. This tour will pick you up and take you to their entrance into the Mayan jungle just north of Tulum. In this Jungle Maya Park you will:
rappel into a cenote
snorkel in a cenote
go on zip lines
walk through the woods with a guide
take the big wheeled trucks into the jungle
Have a traditional Mayan lunch
We like this tour because it is close to Tulum and can provide a lot of activities in one tour. If you would like to know more about going on this tour, you can click below on the reserve now button.

Rauxa Dinner Show just north of Tulum
Rauxa is a dinner show cabaret/Moulin Rouge type show. This is for adults that want a nice night out. Even though this theater is in a resort, it is open to the public. This makes for a nice night out without having to go to far. The quality of the show and dinner are both worth going for. For more about the Rauxa Show and how to reserve see our article  and video here.
The Rauxa Show is located on the 307 Highway on the north end of the map near Xpu Ha.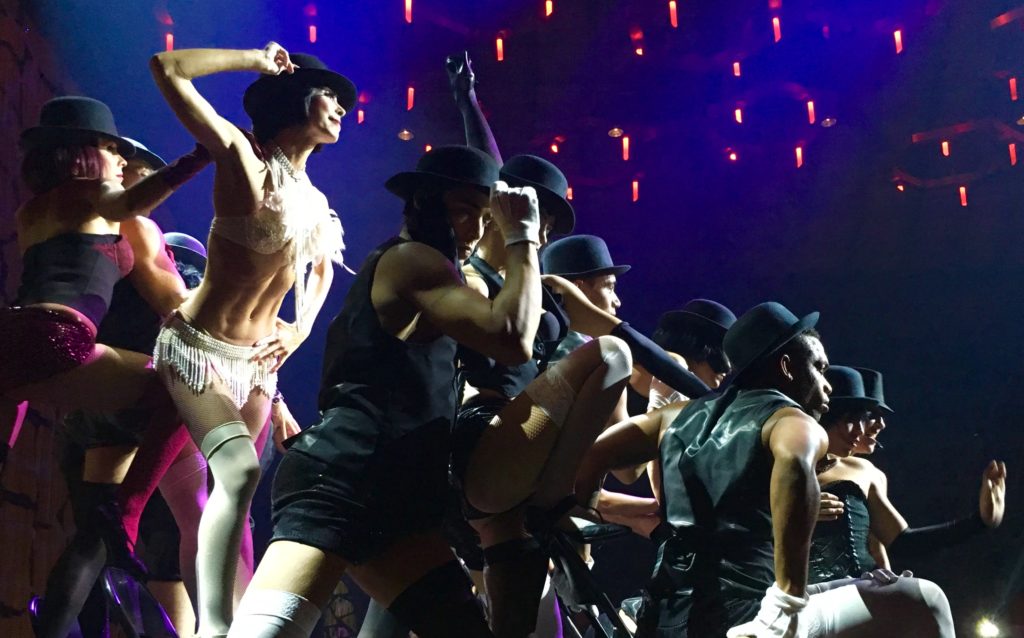 Cenotes in Tulum or near Tulum
Cenotes are something that make this area special. These are fresh water swimming holes where the ground water has worn away the limestone. Some cenotes are open and some are still with roofs in caverns. To many, this is one of the best things to do in Tulum. The best thing is, there are a lot of good options to choose from while in the area.
Cenote Encantado
Cenote Encantado is right in the Hotel Zone of Tulum and might get overlooked. This cenote is tucked into the mangrove area and is a large place to go swimming. The water is darker and this a deeper cenote. This cenote is not the most popular but can be a nice place to cool off in fresh water in the Hotel Zone.
Grand Cenote in Tulum
This is one of the most popular cenotes not only near Tulum but also in the Riviera Maya. It is popular because the water is crystal clear and the setting is gorgeous.
Entrance is 180 pesos and it is open daily from 8:00am-4:00pm. This cenote is close enough to Tulum to be biked to.
Cenote Cristal and Escondido
Cenote Cristal and Cenote Escondido are two cenotes across from each other just south of Tulum. Both of these cenotes are open, meaning not in a cavern. Around the two cenotes you can find tropical plants and places to lay in the sun.
It is possible to bike to these cenotes if you don't mind the two lane road leaving Tulum. The one entrance price of 120 pesos gets you into both cenotes.
To read more about Cenote Cristal and Cenote Escondido, see our article here.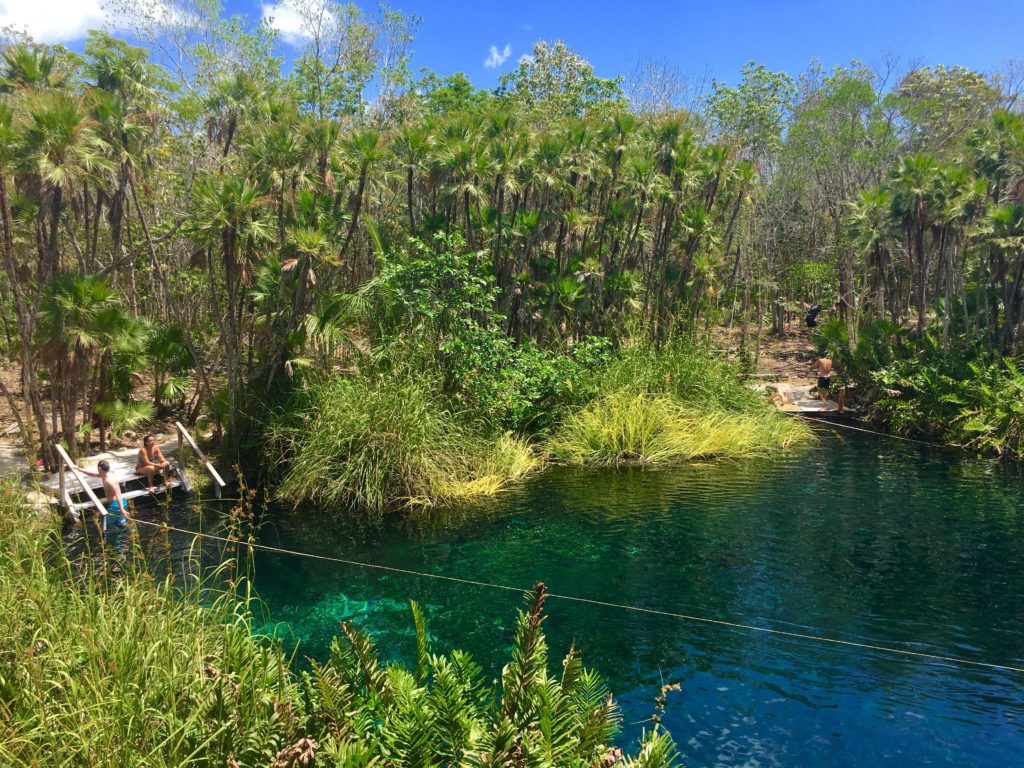 Cenote Angelita
This deep cenote just south of Tulum is mainly for divers to explore. It is however open to swimming and if you are looking for a nice quiet place, this can be it. To know more about Cenote Angelita see our article here.
Casa Cenote
Casa Cenote is north of Tulum off the 307 Highway. This cenote is worth mentioning because it is crystal clear waters, nice to swim and snorkel in and is close to the ocean. Casa Cenote is large enough to have kayaks, so this is another activity you can do here.
For more about visiting Casa Cenote see our article here.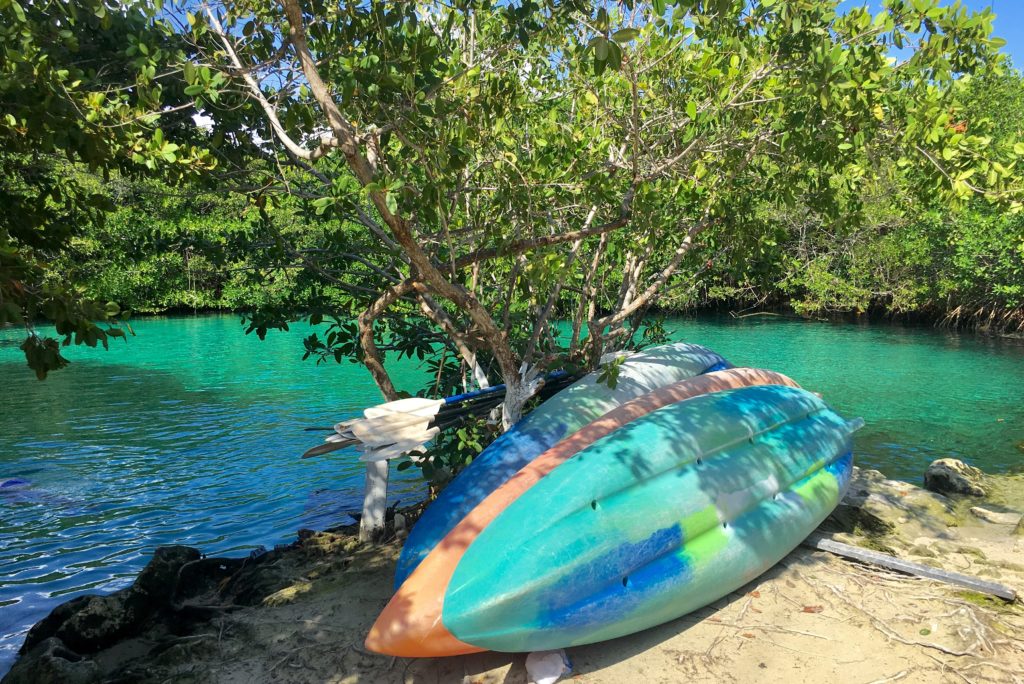 For more about visiting cenotes in the area, we have a great map showing where cenotes are in the entire local area and articles about visiting each one.
Lagoons and river floats near Tulum
Not all water activities are in the ocean or cenotes.  Although related in some form, here are two amazing places to check out when you are in Tulum.
Kaan Luum Lagoon
Another beautiful place to visit is Kaan Luum Lagoon. Even though the center of this lagoon is actually a cenote that overflows into this shallow area, this is called a lagoon. The shallow areas are perfect for swimming and relaxing. Most of the depths are knee to chest height. The water is fresh water and it is clear.
There are not banks of the lagoon to sit on but there are docks where you can place your stuff and enter the water.
For more about visiting Kaan Luum Lagoon, see our article here.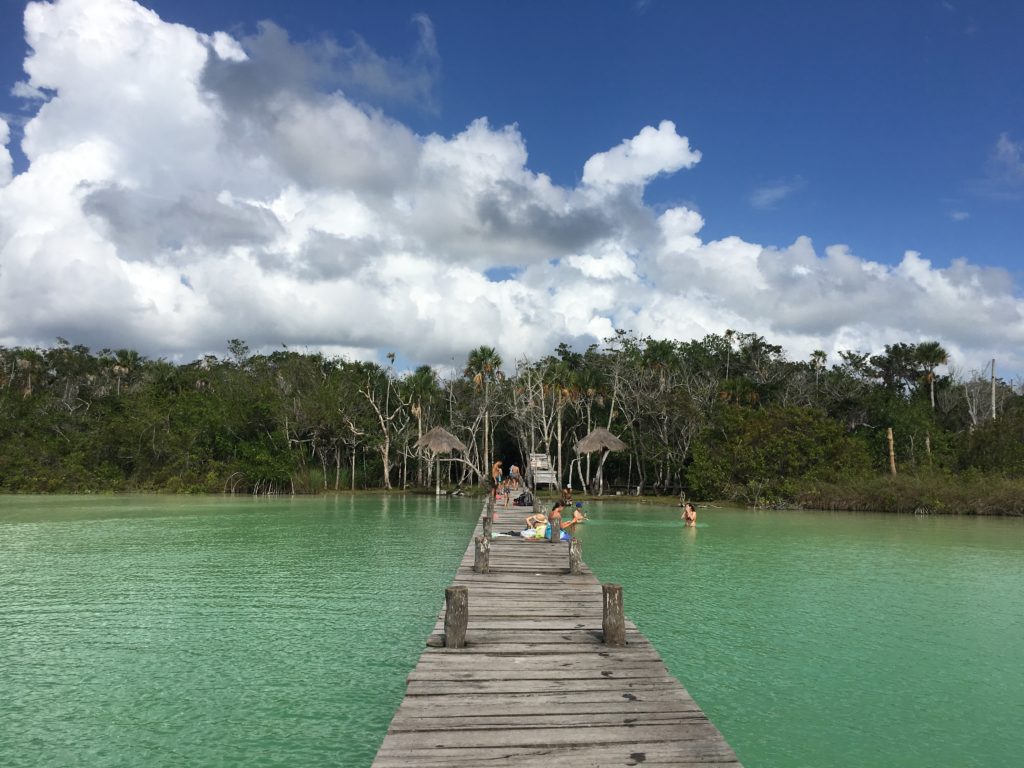 Muyil river float
Enjoy this natural area just south of Tulum that is in Sian Ka'an. Here you will board small boats to pass over two lagoons and enter this area with canals. This is where the ground water flows through the savannah and into the ocean. Your boat driver will drop you off and you will float down the small river with the current. It is peaceful, serene and truly beautiful.
To read how you can do this or what tour we recommend for this activity, see our article here on the Muyil river float.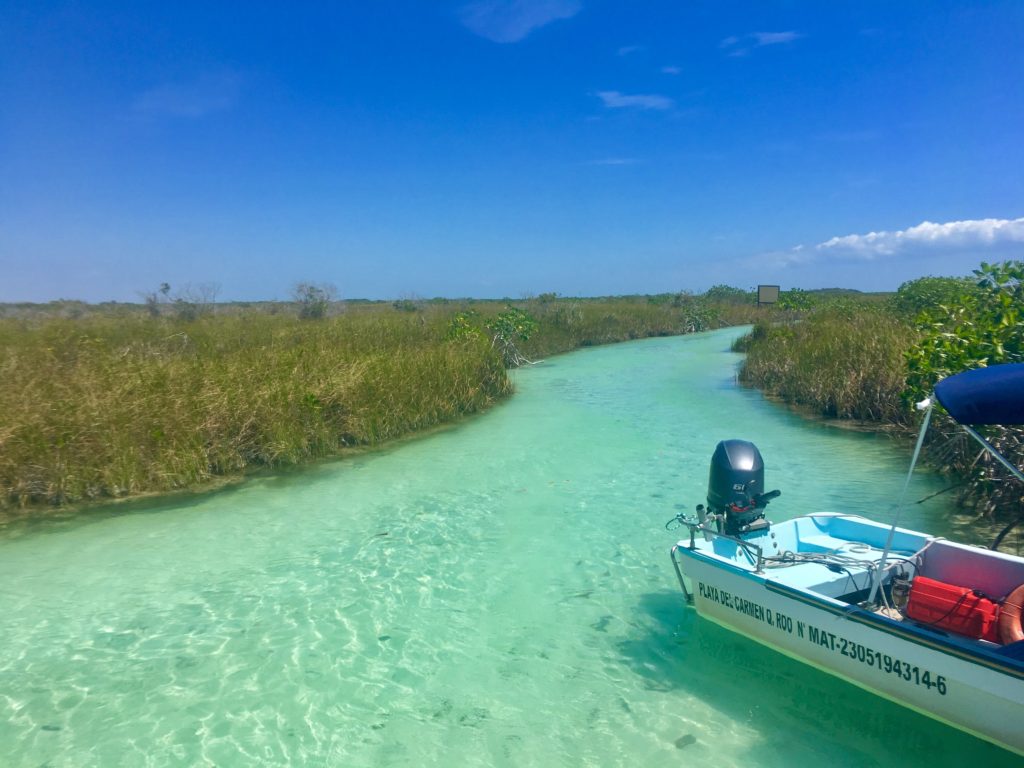 Shopping in the downtown and hotel zone
Shopping for souvenirs or at some of the chic Tulum boutiques is a great thing to do in Tulum. If you see the map above we have highlighted in red both shopping areas.
One is in the downtown of Tulum where you can go shopping for more souvenir type items. Along the main drag of Tulum you will find sandals, Mexican blankets, hammocks and every other type of souvenir.
In the south end of the Hotel Zone you will find small boutiques. Limited edition purses, handmade jewelry, higher quality Mexican crafts and everything that you might expect to find in an edition of Conde Nast or Vogue magazine spread on a fashion shopping spree.
What do you think about our list of the best things to do in Tulum? Did you find some new places to check out? Is there something we should add? Let us know in the comments below. We would love to hear from you. 
If you are going to the Tulum area, you might like to read our article on how to best get there from the airport. We also have this article on Tulum transportation about how to get there and getting around town. For more tips about transfers from Cancun Airport to Tulum see our guide here.