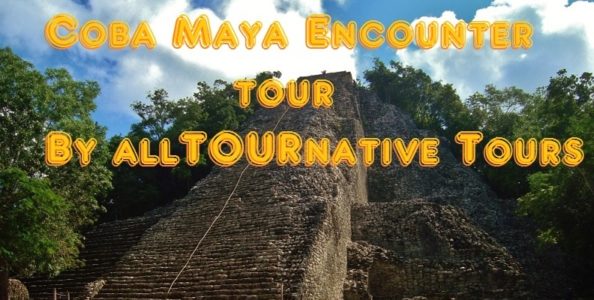 Coba Maya Encounter Tour by allTOURnative Tours
For many that come to the Riviera Maya you will want to go to see some of the Mayan ruins. Coba ruins is a popular site to go. There are tours here and of course you can arrange to drive yourself here as well. There are many tours to choose from but of course you want a tour that fits you and also a good tour. We go on every tour we write about so we can answer questions, take video, photos and be able to compare them for you. This is what allTOURnative's Coba Maya Encounter Tour is like.
As you might know from reading our website, allTOURnative is a tour company that we like. They work with local Mayan communities and give you an opportunity to see beyond the all inclusive resorts and see the real Riviera Maya. This tour will take you to a Mayan community and also give you an opportunity to have some adventure and fun. Just see what we mean by watching our video introduction below.
Our video introduction of this tour to Coba
Here is a video we made of our day on the Coba Maya Encounter Tour. This will give you an idea what you can expect when you go on this tour with allTOURnative.
What activities are on this Coba Maya Encounter Tour?
Besides visiting Coba Mayan ruins you will be able to do some activities in a local Mayan community. These include, two zip lines, rappelling into a cenote, swimming in a cenote, and canoeing across a lagoon. Note: There are two communities that this tour goes to depending if you started from Cancun or Playa Del Carmen. The activities are the same and the tours are equal, you just might see some difference from our video and photos.
This is an active tour that will require walking through the woods and physical activity. There are weigh restrictions for some activities. If you would like to visit Coba or other Mayan ruins and still have the cultural aspect of going on a tour with allTOURnative, they offer tours like the Tulum and Coba Maya Village.
Zip lining across lagoons
Below you can see someone going on the first zip line. Both zip lines on this tour will be over water and you will get to see beautiful areas of the Mayan forest.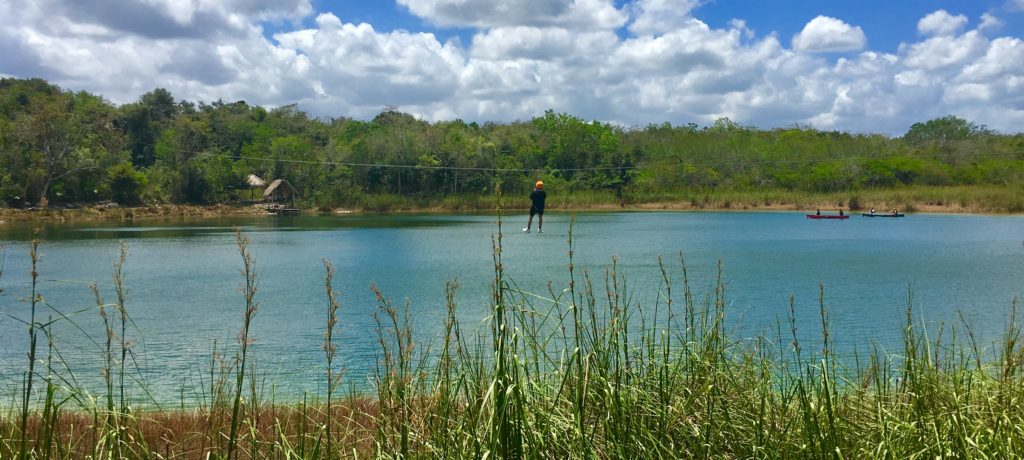 Rappelling into a cenote on this tour
Many people have never rappelled before but don't worry, it is fun and easy. You will be given a harness and instructions on how to rappel. Most everyone is able to do it after learning how easy it is.
Your rope is passed through a figure eight metal loop that allows you to gently pass the rope through as you descend. You do not need to hold your bodyweight and you will not go fast.
When you arrive at the water level in this cenote, a guide will land you in a float and unclip your rope. Then you are free to swim or float around in the cenote observing this ancient sacred Mayan place.
From this cenote you have two options for going back up. The first is the rope ladder where you will have a safety line attached as you climb up. Second, you can be hoisted up in similar fashion to the rappel, just in reverse. This method requires no effort.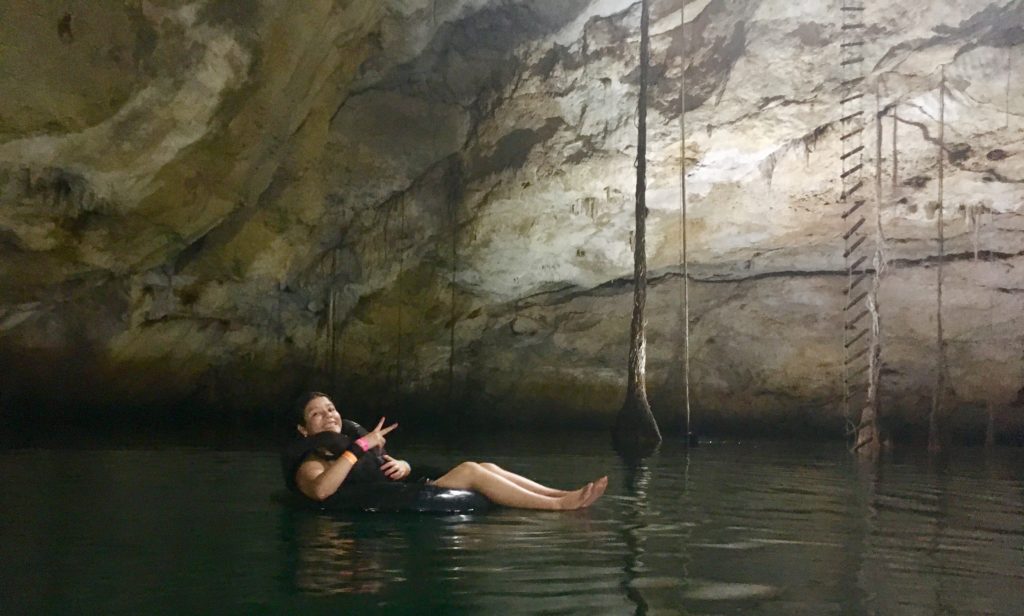 Canoeing on the lagoon and nature walk
An easy paddle will have you going across the lagoon. Walking through the woods to the zip lines, canoes and rappel will give you an opportunity to see what the forest looks like. Your guide can tell you about some of the interesting tress and fauna that live in this area.
Recommendations for this tour to Coba
AllTOURnative is a company we like because of their commitment to nature and cultural preservation. They do a good job with tours and exposing tourist to the local culture. This tour has a little of everything and is one of the reasons why people like it.
You get to visit Mayan ruins, see a cenote, and adventure. This tour is for people that like some activity and you should be prepared to participate. Of course you do not need to do every activity if you do not want to.
Visiting Coba ruins will afford you more time in your day since these ruins are closer to most hotels in the Riviera Maya than Chichen Itza. This tour will have a morning pickup and a drop off around 4:30-5:30pm.
Restrictions for this tour
There is a minimum age of 6 for this tour.
Minimum height of 3 ft. 6 inches for rappel and zip lines.
Maximum weight of 264 pounds for zip line and rappel.
How to book this Coba tour plus adventure
If you would like to go on this Coba tour, it is good if you book in advance. This way you can select the day you want to go since these tours are smaller and done in small vans. Usually groups are between 8-14 people. The link below will take you to the booking site and give you more information. Children 6-12 pay children's price. Age 13 and up are considered adults.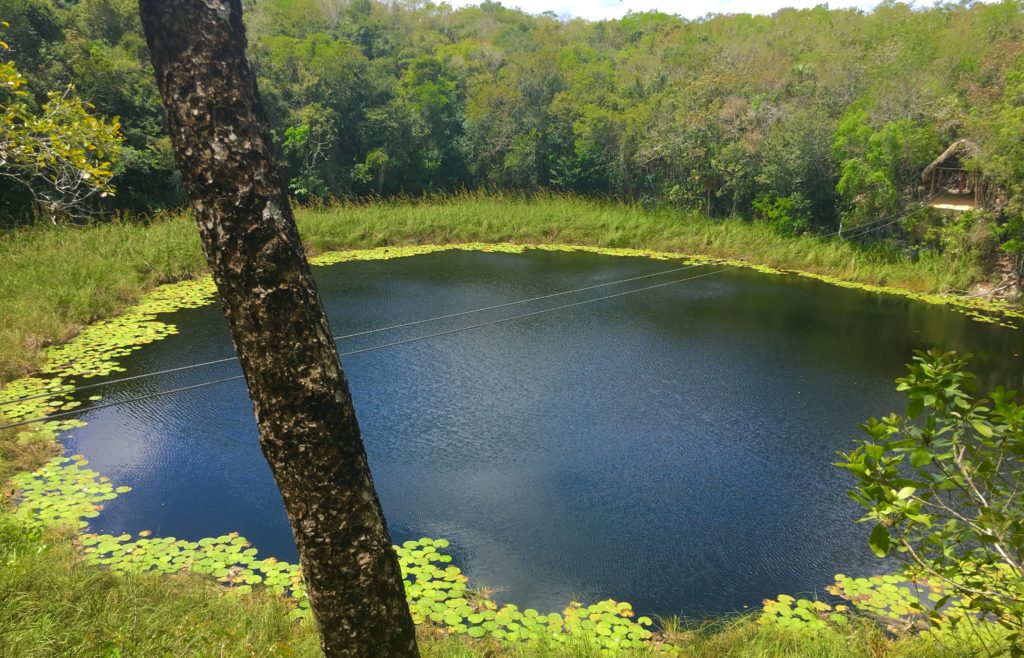 Have you been on the Coba Maya Encounter by allTOURnative Tours? What did you think? Let us know in the comments below. We would love to hear from you.