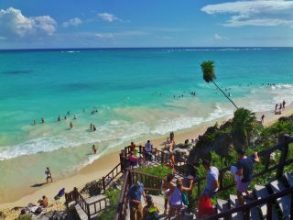 Private transfer from Cancun Airport to Tulum
Since Tulum is a little father away from the Cancun Airport than other destinations tourist go to in the Riviera Maya, you might be more likely to want a direct connection to get to your hotel or rental. A transfer from the Cancun Airport to Tulum takes about 1 hour and 30 minutes. Booking an airport transfer is the BEST way to get to your hotel in Tulum in our opinion.
We have asked around about what transfer services everyone liked and what was recommended. We teamed up with them so you can get the best prices and service. You can check the price to your hotel below on the Book Now button. Tip: Booking round trip can save you up to $25 USD.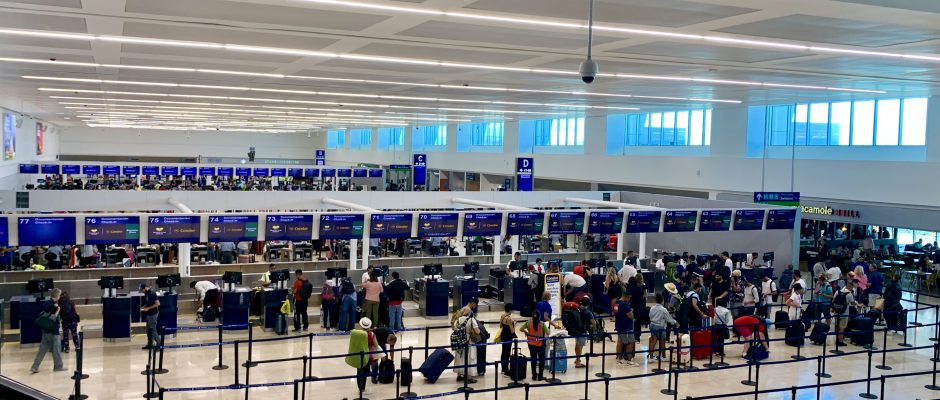 Prices for a transfer from Cancun Airport to Tulum
These transfers from Cancun Airport to Tulum are private and are only for you and who is accompanying you. The price is for the entire van and not per person. All fees and taxes are included. Travel insurance is included as well. The prices of a private transfer are the same or even less than a taxi considering you do not need to negotiate the price and can save on booking a roundtrip. Taxis do not offer this discount since normally you have a different driver taking you back to the airport.
For pricing for your group and to the hotel where you are staying, click below to go to the official transportation website that we recommend. From there you can book your transfer and be all set for your trip.

Why a private transfer is a good option from the Cancun Airport to Tulum
Here are some reasons why we recommend this option for getting to Tulum.
It is the fastest way to get to your hotel or rental.
It can cost less than the public bus especially for larger groups and much faster.
Less stress and hassle. Your private driver is waiting at the airport for you.
No negotiating with a taxi driver over prices and no surprise fees.
More space than a taxi so you can relax on your way to Tulum.
Bilingual driver waiting for you at the Cancun Airport.
No waiting in line to get a rental car and no need to think about driving in Mexico. It also gives you the option to just rent a car for the days you need it.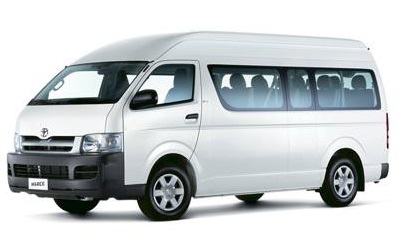 Is there a public bus option to transfer me to Tulum?
Update for travel season 2021: ADO buses have a limited schedule servicing the Cancun Airport due to lower travel volumes (currently just 5 buses a day) . Be sure to check the ADO website for current times. If your flight does not line up with a bus departure, we recommend this private transportation company for getting to Tulum or wherever you need to go.
Yes technically there is but it is a little bit of a hassle and it can take a considerable amount more in time. ADO is the only pubic bus company that services the airport. So this is the only public transportation option.
There are only a few direct busses a day from the Cancun Airport to Tulum. The ride takes about 2 hours and 5 minutes to 2 hours and 25 minutes. The cost of the ADO bus from the Cancun Airport to Tulum is currently 288 pesos. For a very detailed instruction on how to get the bus from the airport complete with photos, see our article here.
What times does the ADO bus go from Cancun Airport to Tulum?
Buses leave from Cancun Airport's four terminals. Each terminal has a different schedule, so check with terminal you will arrive at. Most international arrivals go to Terminal 3 or Terminal 4. If the times do not line up with your arrival and you want to take the bus, the only other alternative is take the bus to Playa Del Carmen and switch to a Tulum bound bus. Busses between Playa Del Carmen ad Tulum leave about ever 30 minutes. If you don't want as much transportation time, we recommend the private transfers.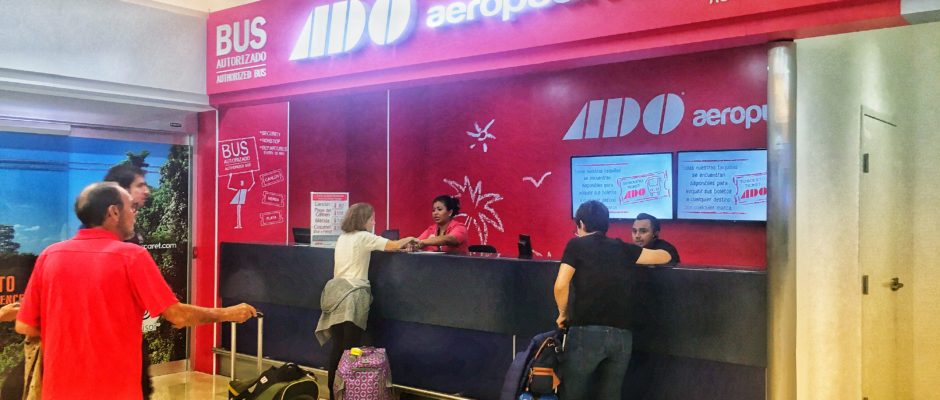 Connecting busses in Playa Del Carmen to Tulum from the airport
If you take an ADO bus to Playa Del Carme from the airport you arrive at the bus station on 5th Avenue and Juarez Avenue. This is the ONLY bus station the airport bus goes to in Playa Del Carmen (there are two bus stations in Playa Del Carmen). At this station you will need to get on another ADO bus to Tulum. You might be able to purchase a ticket at the airport for this separate trip (Playa Del Carmen-Tulum) if not you can purchase it at the station. Busses are frequent to Tulum and the ride takes about 50 minutes.
Note: You can buy tickets to Tulum center or Tulum Ruins. Both stops are close to town and you can take a taxi to your hotel from either stop. It is slightly preferable to take the bus to the center and get a taxi there because it is less about the ruins and tourist and more about transportation for people around town.
Arriving in Tulum by bus from the Cancun Airport
Once you arrive in Tulum you mostly likely will want a taxi to get to your hotel. Tulum is spread out and the beach area is very separate from the downtown. Taxis do not have meters in Tulum so be sure to ask the price before getting in or ask your hotel how much a taxi should be so you know. This can be as much as $20 USD.
If this option of getting to Tulum sounds like too much you might want to consider a private transfer which will take you directly to your hotel. It can save a lot of time and is cost effective in the long run for most.
More information for your time in Tulum
We hope you have a great vacation while in the Tulum area. Here is one guide we have made for people visiting the Tulum area for the best things to do in Tulum. It covers nearby cenotes, lagoons, beaches and more.
Do you have any questions or comments about a transfer from Cancun Airport to Tulum? Let us know in the comment section below.