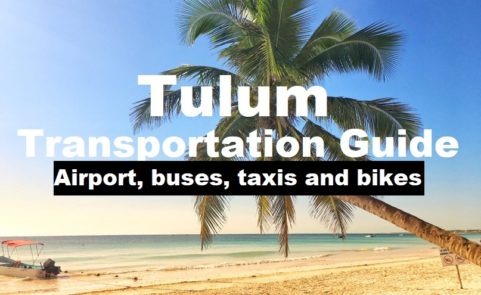 The Best Tulum Transportation Guide
If you are going to Tulum, Mexico on vacation and need to figure out how to get from the Cancun Airport or just around Tulum while there, this guide will help you. In this article we will talk about the best way to get from the airport and all the Tulum transportation options like taxis, buses, bikes and colectivos. Let start with airport transportation to Tulum options.
Tulum Transportation from the Airport
Most people book a Cancun private transfer in advance for their trip. There are a few option for getting from Cancun Airport to Tulum. They are renting a car, taxi, ADO bus and a transfer service. There is no Uber service available in the Riviera Maya.
Since the trip is about 1 1/2 hours it is best to be comfortable and make it a quick as possible. We do not recommend taking a taxi because there are no set prices from the airport and often charge more then a transfer service. Taxis also use small cars only and there is no discount for round trips. The best options are a private transfer or the ADO bus. Below are more details for each of these transportation options.
Private transfer to Tulum from the Cancun Airport (most recommended)
The easiest and fastest way to Tulum from the Cancun Airport is a private transfer service. You can pre book this service by clicking below. A bilingual driver will be waiting for you at the airport upon arrival and this transfer will take you directly to your hotel. This company comes highly recommended from our readers and has been working for years providing great service.
Note: Booking a round trip saves you $25 USD. They also have luxury transfer options as well.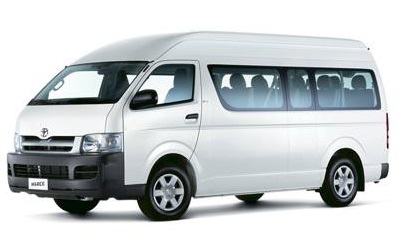 See also our complete guide on how to get from the Cancun Airport to Tulum.
Shared shuttles to Tulum from the airport
If you want a more budget friendly option, a shared shuttle might be a good option for you. these small vans shuttle people between the airport and hotels or wherever you are staying. This can be a better option than the ADO bus because you do not need to get from the bus station to where you are staying. This is important in Tulum because taxis are expensive and this can eat into your budget.
These shuttles must be booked in advance. You can reserve below with the button. You will be taken directly to the booking website where they can also answer any questions you have about it.


Taking the ADO bus to Tulum from the Cancun Airport
ADO bus does service the Cancun Airport and is the only public transportation available. There are currently 6 busses a day that go from the Cancun Airport to Tulum. It takes between 2 hours and 5 minutes to 2 hours and 25 minutes to arrive in the downtown of Tulum. You can check the prices and schedule here on the ADO website.
This Tulum transportation option is best for those traveling on a budget and have the time to make the connection. It should be noted that if you are not staying in the downtown of Tulum, an expensive taxi will be needed to get to your hotel. This can make it a better option to get the private transfer to your destination. See taxi information below.
Transportation around Tulum
If you have not rented a car then you will want to get around Tulum to see the sights. It should be noted that Tulum is spread out and in different sections. Where you stay is going to impact you on how much and what kind of Tulum transportation you need (See our article on the best areas of Tulum to stay in. This will help you plan better and make sure you don't stay on the edges of Tulum without knowing it.)
For example the beach area (aka Hotel Zone) is about 7 km long. From the center of Tulum (town) to the ruins it is about 3 1/2 km. From the main public beach near the ruins to the center of Tulum (town) it is about 8 km. This means that walking is out of the question for most people when moving between areas.
Biking around Tulum
Renting a bike or using one provided by the hotel is a great way to get around. It is a very " Tulum" thing to do. Many people bike around town and to the beach.
Since the beach is separated from the downtown by several kilometers, riding a bike is a good option. There is a bike path from downtown to the beach road that is very convenient. There is also a bike path to Tulum ruins from the downtown.
Notes and tips for using bikes as transportation in Tulum
Make sure you have a bike lock included in your rental or usage of a bike. You will need to lock it up wherever you go.
Bike rentals are offered in the Hotel Zone, and downtown area. There are many available and cost about $5-10 USD a day.
Use caution biking to cenotes just out of town in Tulum. You have to share the road with all the traffic and the shoulder of the road is not that large in places.
The beach road is very congested at times and narrow. Some drivers, like taxis, like to get to where they want to go fairly fast. Keep aware of traffic.
Taxis in Tulum as transportation
Taxis in Tulum are plentiful especially in the downtown. In the Hotel Zone they can be hard to get sometimes. The larger hotels will have some waiting or have some on call.
Rates are more for taxis then many other places in Mexico and the Riviera Maya. In part the cost is because Tulum is spread out and driving in the Hotel Zone can be slow. Depending on the time of year, rates run much higher. Just about any taxi ride will cost at least 100 pesos and can be several hundred pesos. It is good to ask before getting in how much it cost.
Because taxis are expensive, this makes bike rentals popular. We will also say that we do not recommend taxis to the Cancun Airport. A private transfer in a large van is much more comfortable and can be less expensive. Here is one Tulum transportation company we recommend for getting to and from the airport.
Taxi prices in Tulum
Taxis in Tulum are not metered. The taxis charge by zone. It will be hard to find a rate chart and just about as difficult to find a driver that charges the price on the chart. Below is a sample of taxi rates from the Chedraui grocery store to parts of Tulum.
Note: The most expensive routes are from the beach road to town. Taxi drivers know there are very few options of getting around and tourist will pay.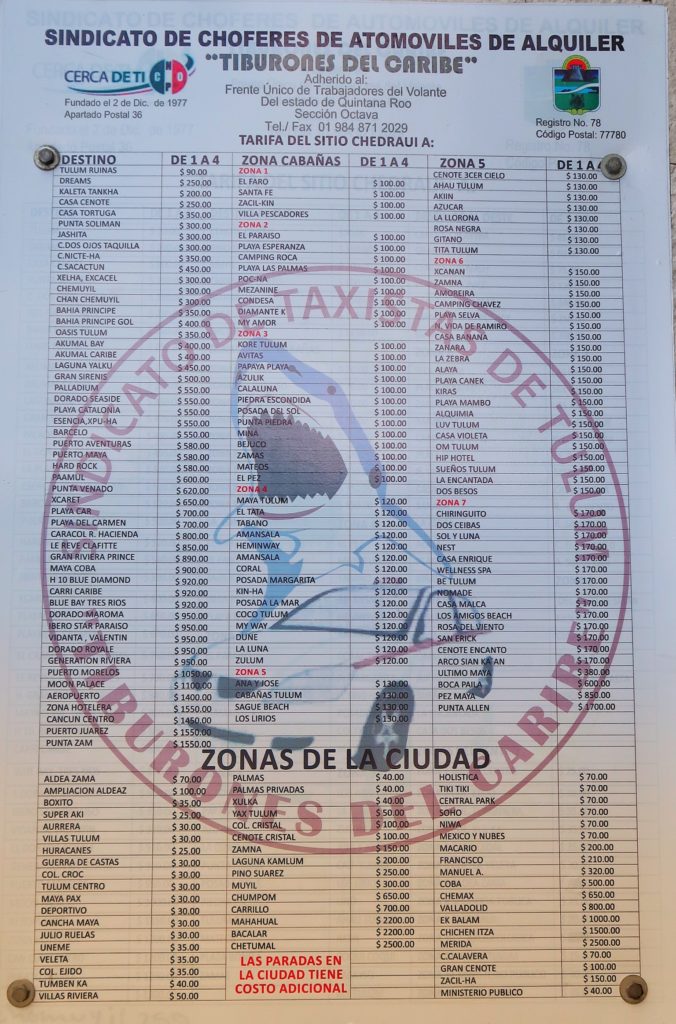 Public buses in Tulum
There are some small bus routes that locals take to work. These however are very inefficient and never really used by tourist. The main route is from the center of Tulum to the Hotel Zone. It is infrequent and often packed with people. It is also very slow because of stops and traffic. Most locals have bikes and scooters to get around because it is faster.
Tulum transportation for visiting the local area
If you are wanting to go to come cenotes, other towns, or eco parks, these forms to Tulum transportation are going to come in handy.
ADO Bus Station in Tulum
ADO is the main bus company that operates in the Yucatan Peninsula. The buses are clean, modern and airconditioned. Their busses are great for visiting Coba ruins, Bacalar, Valladolid or Playa Del Carmen for example. The main bus station for Tulum is in the center of town. It is a small bus station with a ticket office, paid bathrooms and luggage storage. There is a second bus stop near the Tulum ruins. This mainly is for people coming from the north of Tulum. ADO buses drop people off and pick up from here.
Most of the time you can buy tickets the same day and get seats but it is best to buy at least a day in advance to make sure you get the bus you want. Christmas and Easter week at the peak times for bus travel in the area and it is best to buy a least a week in advance during these times. You can buy tickets on the ADO website but most foreign credit cards are not accepted. So that means going in person to buy tickets.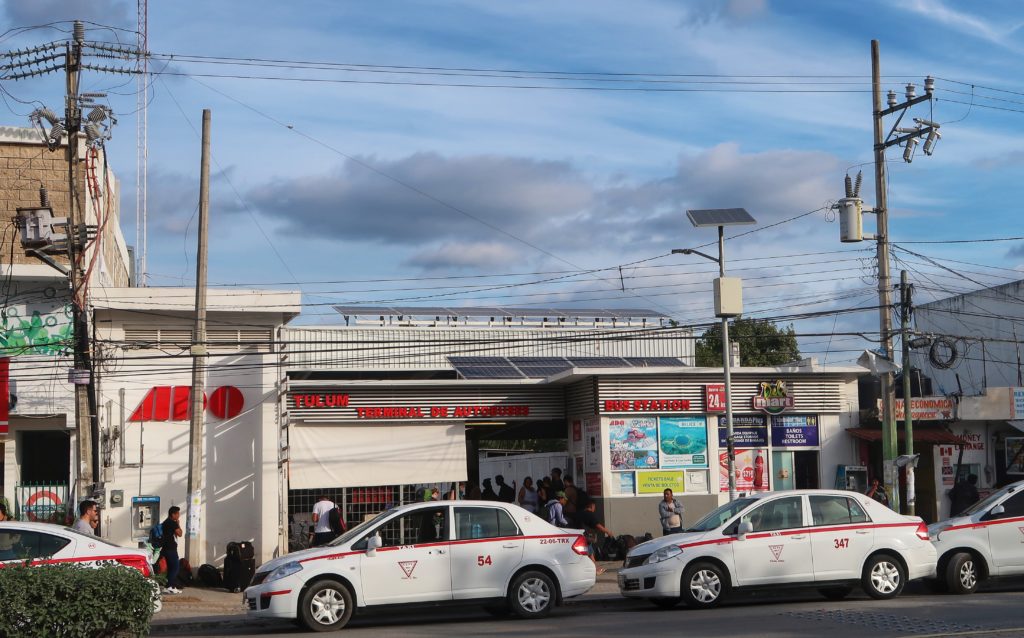 Other local bus companies for transportation out of Tulum
There are local buses like Mayab that service Tulum (this bus company is so local there is no website for it). These buses are for small destinations, most of which tourists are not going to. These are classified second class buses and will cost a little less but take longer due to the amount of stops. The only time from Tulum this might come in handy is going to and from Coba ruins. There is limited ADO bus service here and you might catch a local bus there or coming back.
Colectivos to Playa Del Carmen and the coast
What are colectivos? These are small vans that run on the highways between towns and will stop and pick up and drop off anywhere you want. The cost is around 20 pesos to 45 pesos for most destination. Colectivos are not for luggage or transporting items, just people going places. Colectivos are great to go north to some of the cenotes and other towns (see our guide on the best things around Tulum to see).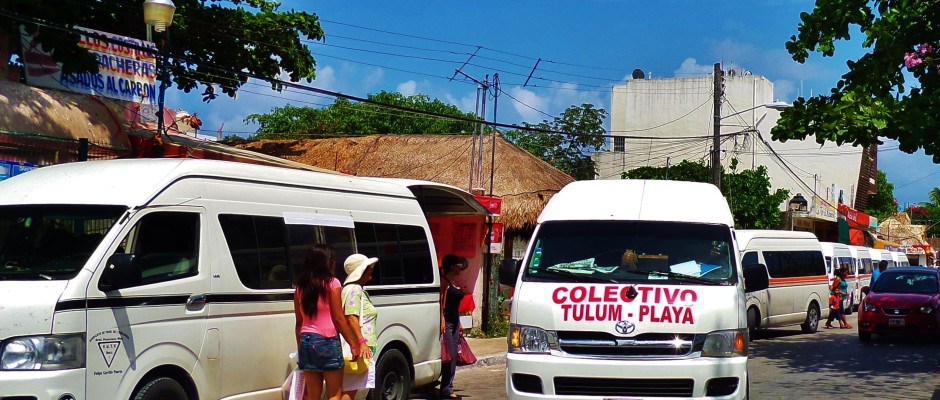 There is one main colectivo route from Tulum that runs north from the center of town on the 307 Highway. It goes all the way to Playa Del Carmen. Colectivos start in the center of Tulum near the ADO Bus Station and pick people up along the main 307 Highway. They do tend to get full by the time they leave Tulum so if you are going to take one, it is better to get on near the center of town.
For more on colectivos between Tulum and Playa Del Carmen, see our article here. It also has details on where to get it to come back to Tulum.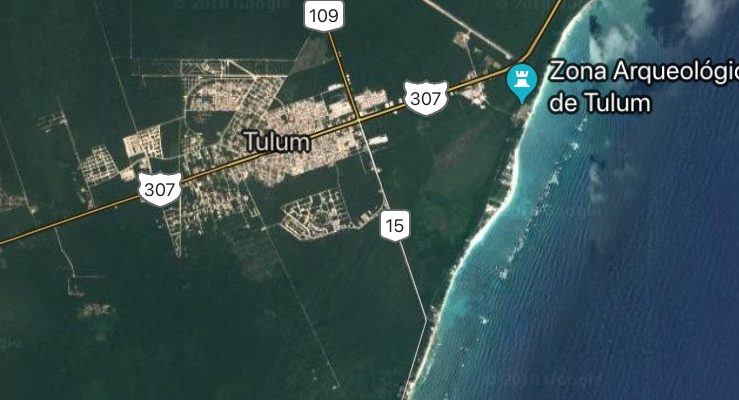 Colectivos going south of Tulum
If you need transportation from Tulum going south there are a few colectivos servicing this route. We only recommend this for shorter distance places from Tulum like Muyil ruins, and Kaan Luum Lagoon.
You can find these colectivos in the center to Tulum and south end along the 307 Highway. These colectivos will say Tulum-Chetumal or Tulum-Felipe Carrillo. These colectivos run all 7 days a week but are less frequent since this route is not as traveled.
Cost can start around 20 pesos. Colectivos are very affordable options for getting around and much cheaper then taxis for going places just south of Tulum.
Thank you for reading our article about Tulum transportation. Let us know if you have any questions or comment below. We will try to get back to you as soon as possible. We hope you have a great trip to the Tulum area.