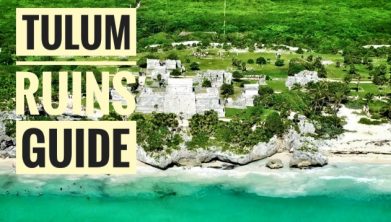 Tulum Ruins
Exploring the Tulum ruins emerges as an enticing day trip from Playa Del Carmen, a captivating venture that beckons travelers with its iconic vistas overlooking the Caribbean. Nestled in the heart of the Riviera Maya, these ruins hold a prime spot on most itineraries. To ensure you make the most of your visit – both economically and efficiently – our guide unveils essential insights. How can you maximize your Tulum experience without breaking the bank or losing precious time? Dive into our comprehensive guide for all the information you need, ensuring your Tulum excursion is both budget-friendly and brimming with unforgettable moments amidst ancient marvels.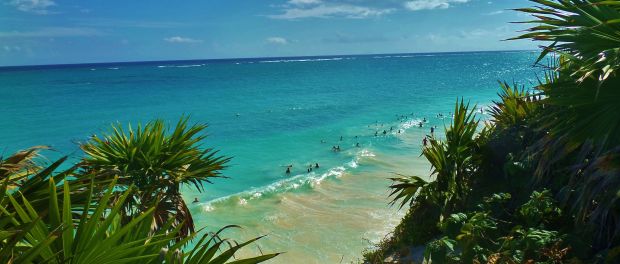 One look at the photo above and it is no wonder why this beautiful spot is so popular to visit. Tulum ruins is just about a 50 minute drive south of Playa Del Carmen and makes for a great day trip. (For a cool model of what Tulum used to look like when it was occupied, check out this gallery). This walled city was occupied all the way up until the 15th Century and saw the arrival of the Spanish. Today this is the most preserved coastal Maya city which makes it so interesting for tourist to visit.
Should you go to Tulum by yourself or with a tour?
Both are good options but for different people the answer is not the same. It really comes down to convenience. A basic half day tour cost about $39 USD and that includes hotel pick up and drop off, entrance fee to the ruins and tour guide. So basically, for two people with a tour it will cost about $80 USD compared to doing it yourself for about $25 USD for two people. The difference is the convenience of not having to figure out how to take the bus and if you go by yourself, you will not have a guide. Other tours will almost always add in something else because the amount of time to get there and see it is not a full day. If it is a cenote or other stop this can be an added benefit to taking a tour, you get to do something that you otherwise might not do on your own, however it will be more than the above mentioned "basic "tour price.
How to get to Tulum ruins
If you drive yourself there it is easy to follow the 307 Highway straight to Tulum. When you enter the town of Tulum you will see a parking lot and signs for the ruins, but this is just for busses. The parking lot and car entrance is farther up on the left side with a large "Tulum" sign in yellow and it will say parking.
You can take the colectivo to Tulum from Playa Del Carmen. You can read our article on the colective in the link. It cost 40 pesos one way and make sure the driver knows you are going to the ruins in Tulum and not just Tulum. The ruins stop comes first but if you miss it, you will need to take a taxi back to the ruins from the center of Tulum. The colectivo is about 15 minutes faster than the ADO bus and cheaper, but not as comfortable.
ADO busses go almost hourly to Tulum ruins. It cost between 85 and 116 pesos each way. Tip: Be sure to check the schedule for the return. They do not start until 1:40pm in the afternoon and you might not want to be there that long. So, a later departure will ensure a bus going back to Playa when you want one. The only problem will be that you are visiting the ruins in the heat of the day.
Note: If you take the bus or colectivo, they both let you off closer to the entrance then parking! Go public transportation!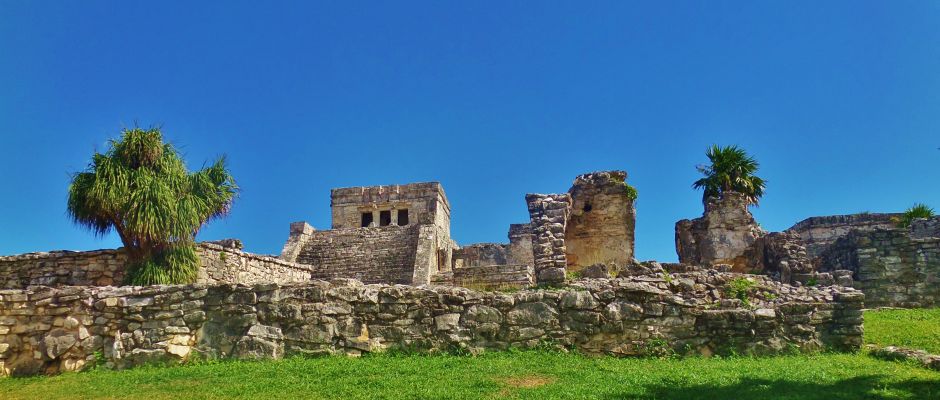 How much is the entry price to Tulum Ruins?
Entrance to the ruins is 85 pesos. If you are a resident or national it is free on Sundays. Parking for a car is 160 pesos, this has recently gone up and bordering on ridiculous prices for parking. Since the parking lot is so far from the entrance, they offer a tractor pulled train for 25 pesos each way. If it is hot and you don't want to walk that much this can be a nice option, otherwise enjoy the free walk. Water and food are all more costly here, so plan ahead and bring a bottle of water if you can.
What hours are the ruins open?
The ruins are open every day of the week from 8:00am-5:00pm. However, it should be noted that you need to enter by 4:00pm because that is the cut off time for letting people in. That way you can have at least one hour to walk around and exit before they close.
What to see in Tulum ruins
If you want to have a guide, you can hire one at the entrance, then you will be shown all the places of interest within the walled city. It is actually not that large. What makes these ruins so special is the beautiful turquoise waters that lap the beaches just below the ruins.
Guides can be seen near the ticket booth offing services. Prices for a guide are all negotiable. A higher price should be given for a group of 4 or more people. If it is a slow day or not the best weather, you might be offered a lower price. Generally, tour guide prices range from about 500-700 pesos. Guides will have official ID and are trained to give good tours.
Tip: Bring your bathing suit or better yet, wear it under your clothes so you can jump in the water. It makes for a fresh break from walking around the ruins. There are no changing facilities by the beach (only the bathrooms by the ticket booth) and having a towel will come in handy.
Fun fact: There is an average of 3,287 people visiting. That puts it in perspective how busy this place can be at peak times. However, it is a large space and that number of people is spread out over the day.
Here is a handy map of Tulum ruins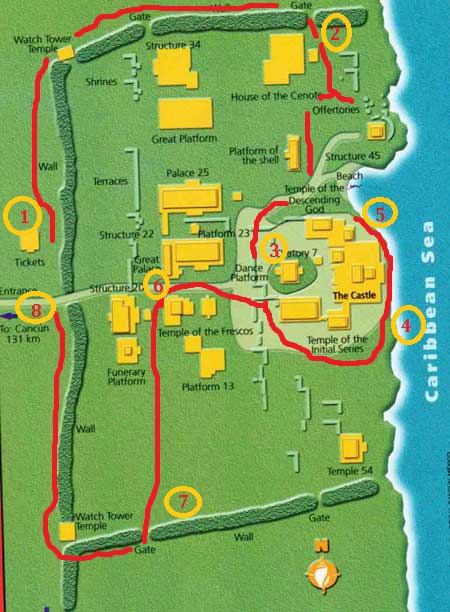 Look at the map and follow the numbers
This is where the trail from the parking lot leads you and the train drops you off. There are public bathrooms here and the only ones near the ruins, so take advantage of them. This is where you will buy your tickets and then follow the red line to number two.
You can enter the first gate, but the second gate is much nicer, and you can get several good photos here. Basically, the side of the ruins near the ocean is much more photogenic and interesting. You can walk the other parts as well, but you can observe them from a distance if you like. As you walk to number three you will get a beautiful beach view.
This spot will put you in front of the most famous spot in the ruins, The "Castillo" or "castle" as it is called.
This overlook here will be where you can take some of the best photos! This is also where there is a large wooden staircase going down to the beach and you can get in the water here.
Make sure you go around the back of the "Castillo" to get another great view.
Walk to here and you will see some detailed carvings on the buildings, then proceed to the exit, number seven.
This is the exit. It is a quiet end of the ruins. As you go out there is usually a person selling water or ice cream, which you might want after being in the sun.
Walk here to go back to your car or bus. This is also where you can catch the tractor train.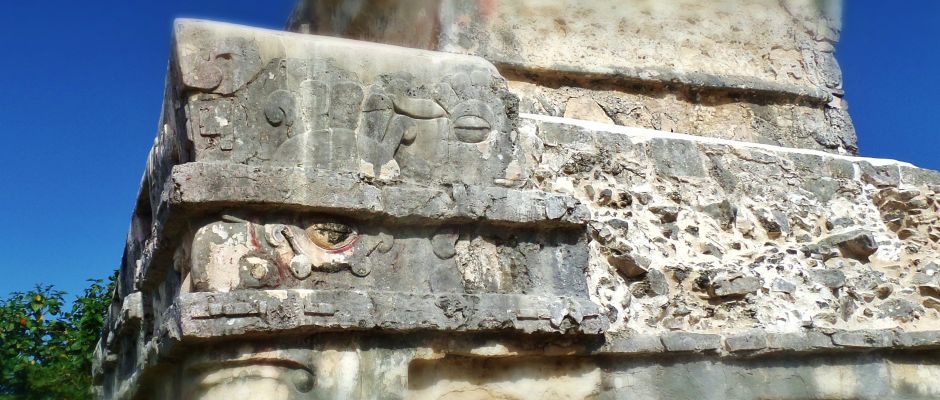 More tips for visiting Tulum ruins
If it might rain, a rain poncho can save the day. There is not any protection from rain while walking around.
It is usually hot walking around, so comfortable clothes, shoes, sunscreen, hat, glasses and water are all good things to keep in mind.
If you drive to the ruins, there are many gift shops by the entrance. It is almost hard to find the trail to the ruins. Don't give attention to overly aggressive salespeople and don't take photos will the animals if you care about them. They belong in the wild and not working all day.
It takes about an hour to walk around. If you have hired a guide, take a swim or are in a large group it can easily be two hours. Beyond that many people will find it hot to be out for that long.
Going to Tulum on vacation?
If you are not only going to be visiting Tulum ruins but also going to Tulum, here are some helpful articles for you.
Here is a short video we made showing you some of the features of the ruins
We hope you enjoy your visit to Tulum ruins. It is one of the spectacles of the Mayan world that is just in our backyard.
Have you been to Tulum ruins? What tips do you have for another tourist? What would you do differently next time? Let us know in the comment box below.