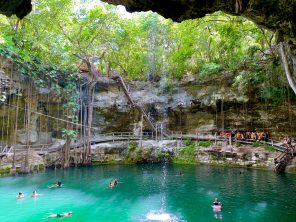 Visiting the Cenote at Ek Balam Ruins
Ek Balam ruins are one of the popular sites that people visit in the Yucatan Peninsula. It is also one of the top four most visited Mayan ruins from the Riviera Maya. When visiting, people also can visit the cenote that is nearby. The Ek Balam cenote is officially called Cenote Xcanche. This is a great place to visit after the ruins to swim and cool off. Here is everything you need to know about visiting the cenote and options.
What Cenote Xcanche Is Like
This cenote is a little off in the distance from the ruins and in a wooded area. The cenote itself is deep. There are two sets of stairs that descend into the cenote, one being much steeper than the other.
Cenote Xcanche is a deep cenote. There are no shallow areas for young children. The water has a darker hue to is not a crystal clear water cenote. Most open cenotes though have more opaque water since leaves and dust fall into them.
There is a wooden walkway around the cenote with a few places to set things down. To get into the water, there are stairs to the water. There is one rope swing where you can drop into the water. It is about 12 feet (4 meters) off the water.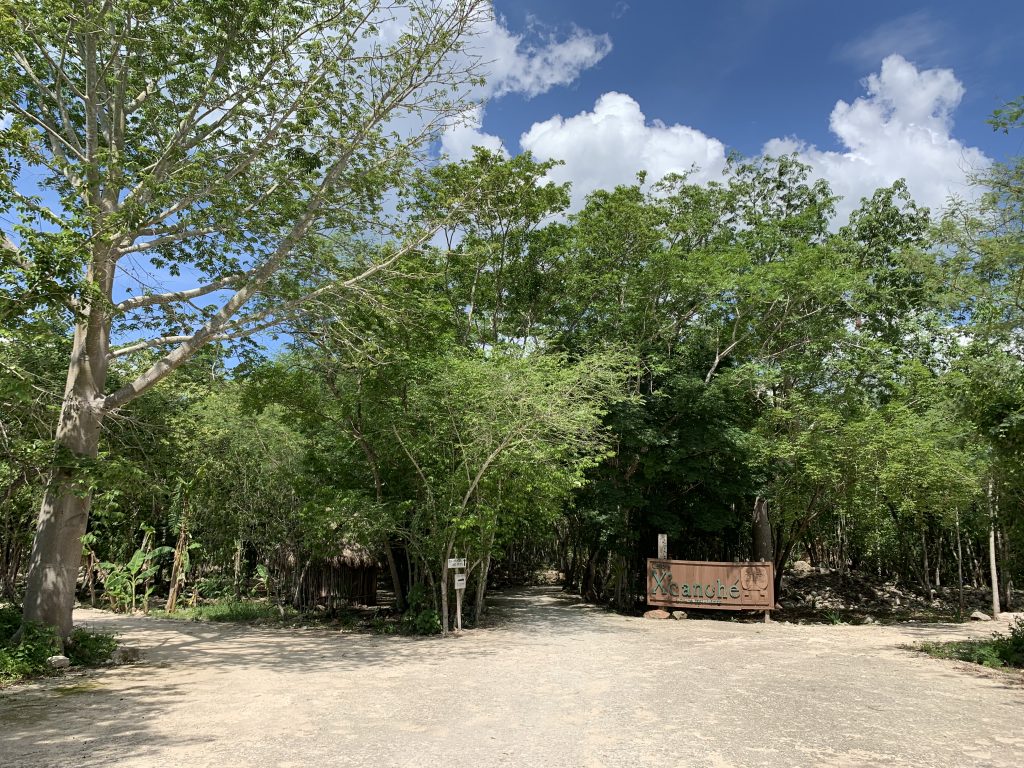 Ek Balam Cenote Entrance Fee
There are several options for entrance fees for the cenote here. If you are traveling by yourself, you can pay 70 pesos for the entrance and walk to the cenote. There are other options that include bike rental or the tricycle taxis. There are other packages which include the one zip line across the top and rappelling.
We mainly recommend taking the package with bike and cenote combined. You can either take bikes or take the tricycle taxi if you don't want to pedal yourself.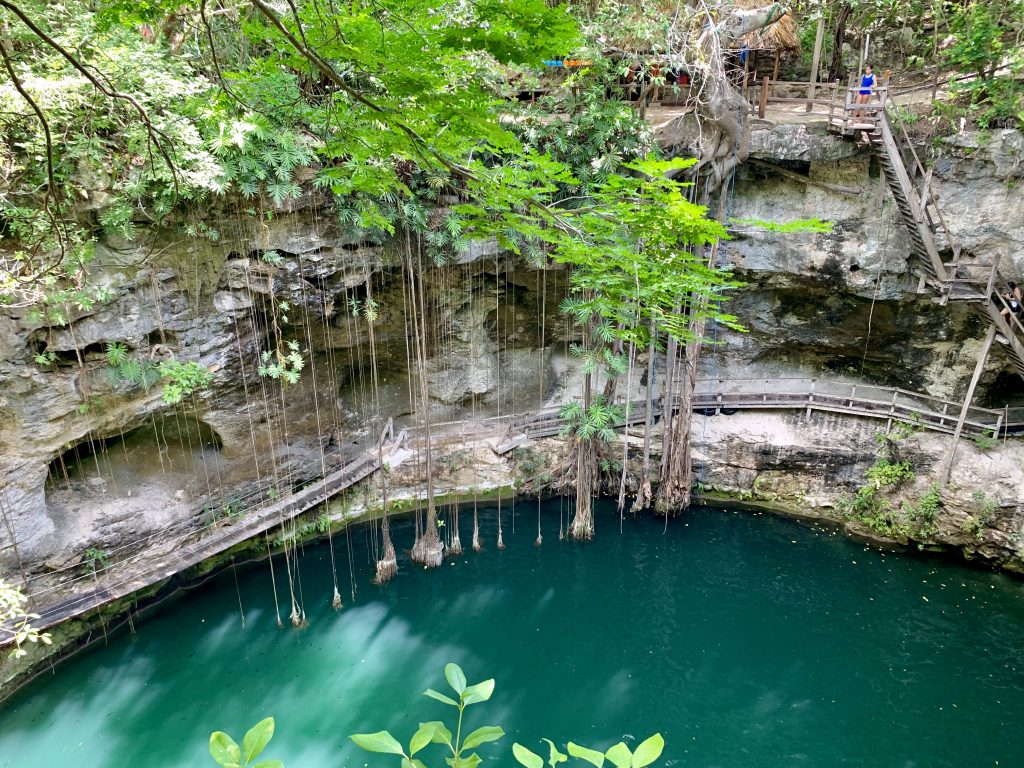 Options for getting to the cenote
The distance from the place where you pay to the cenote is 1.5 km ( almost a mile). If it is a hot day and you don't want to walk to the cenote, a bike rental or taxi is recommended. The trail is semi shaded and can be a nice walk if it is not too hot. You can even imagine being back in time with the same corn fields planted by locals nearby.
Services at the Ek Balam cenote
If you do visit, you will find bathrooms, changing area with outdoor showers, a small restaurant and hammock area.
Since most people come to the cenote after visiting the ruins, they want to change clothes. There are male and female changing areas with lockers, but you need to bring your own lock. If you don't put your things in the locker, you can descend into the cenote and set them on the side. There are areas that are dry and fairly easy to keep your eye on.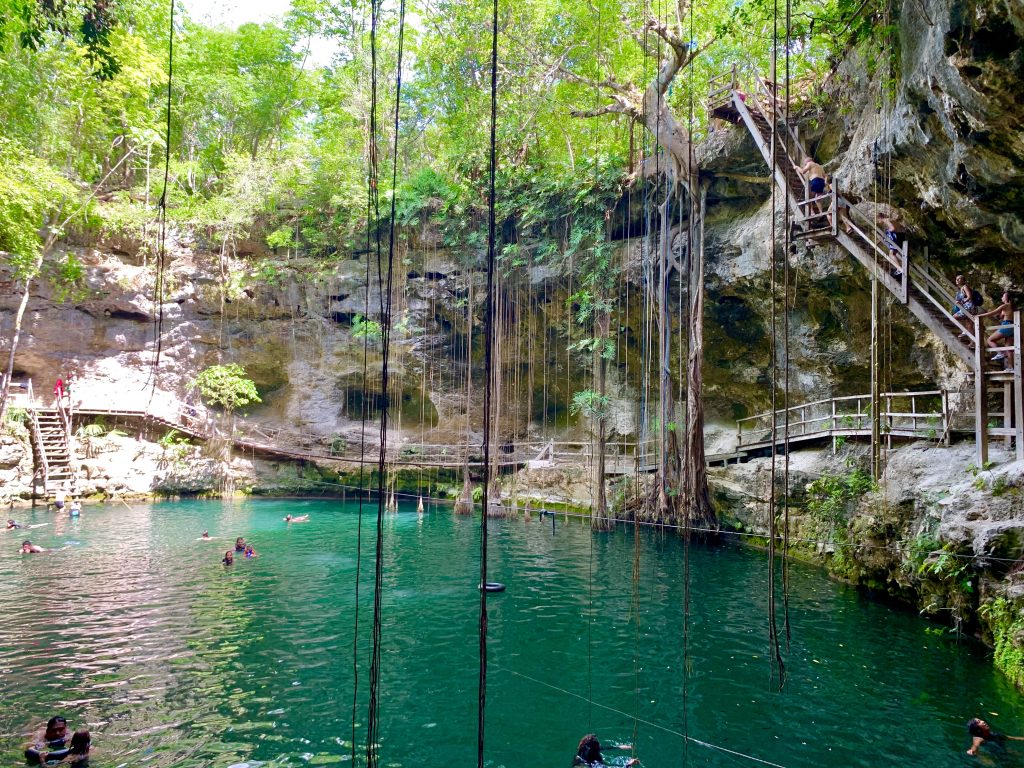 Other cenotes nearby to visit
If you don't want to visit the cenote here at Ek Balam there are some other options nearby. Here they are:
Cenote Hubiku
This cenote is popular with many tours to Ek Balam because it is just off the road and is set up for a lot of tourist per day. The cenote itself is large and mostly enclosed. Around the cenote you will find a large restaurant that offers buffet service, a touristy Mayan village and super touristy Tequila tasting. For more about visiting Cenote Hubiku, see our article here.
Cenote Sac Aua
This cenote is a little further off the beaten path, but work taking the time to get there. It is only possible with a car since there is no public transportation options available nor taxi.
Cenote Sac Aua is an open cenote with a small island in the middle. It is a much more tranquil place, then the Ek Balam cenote.
Cenote Fantasma
Cenote Fantasma (or Cenote Ghost as it would be in English) is a relatively newly opened to the public cenote. This cenote opened to the public in mid 2017. Since this cenote is large and very beautiful, infrastructure has been added that will allow larger groups to visit at one time. This cenote mainly gets bus groups stopping by in the mornings on their way to Chichen Itza or Ek Balam Mayan ruins. You still are able to visit this cenote yourself if you like. You just will need to drive here since there is no public transportation.
What makes this cenote special is that it is enclosed, has beautiful stalagmite and stalactite structures and crystal clear water.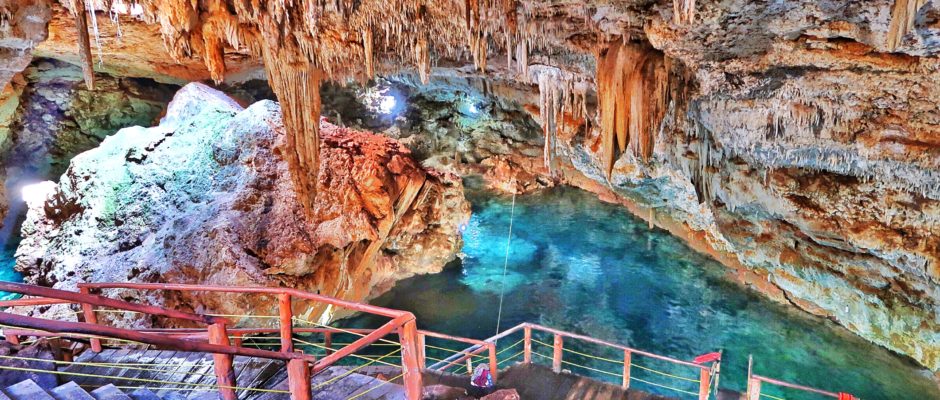 Spending time in the Ek Balam area
Temozon
This is the small town you pass through on your way to Ek Balam if you are heading north from Valladolid. You might miss this town if you blink, but there are a few little things of note here. Temozon is known for its smoked meats and handmade furniture. Driving through town, you will notice many places selling both.
If you want to sample some local specialties, Carnes Concepcion is one of the best places. This place is on the south end of town as you enter, it will be on your left.
If you are looking for a good restaurant, Restaurant Temozon is one of the best in town. This can be a good place before or after a visit to Ek Balam. The restaurant is on the north end of Temozon and has a large palapa roof.
Valladolid
Valladolid is a charming colonial town just about 30 minutes south of Ek Balam. If you are visiting the Ek Balam ruins you might also like to read our guide to the best hotels in Valladolid to stay in. Valladolid is the largest town nearby and a colonial gem that makes for a good base to explore the area. We also have a guide to great restaurants in town.
Chichen Itza
Some tours include Chichen Itza and Ek Balam in one day. Although you might be on a self guided trip and have time to visit the two during your time in the area. We do have a full guide to Chichen Itza so you can get the most out of your visit there.
Thank you for reading our article about the cenote at Ek Balam. We hope you get to explore all around our area. There is so much to see and discover. Just see our clickable map below for more ideas.