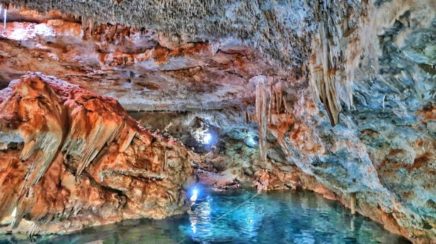 Cenote Fantasma
Cenote Fantasma (or Cenote Ghost as it would be in English) is a relatively newly opened to the public cenote. This cenote opened to the public in mid 2017. Since this cenote is large and very beautiful, infrastructure has been added that will allow larger groups to visit at one time. This cenote mainly gets bus groups stopping by in the mornings on their way to Chichen Itza or Ek Balam Mayan ruins. You still are able to visit this cenote yourself if you like. You just will need to drive here since there is no public transportation.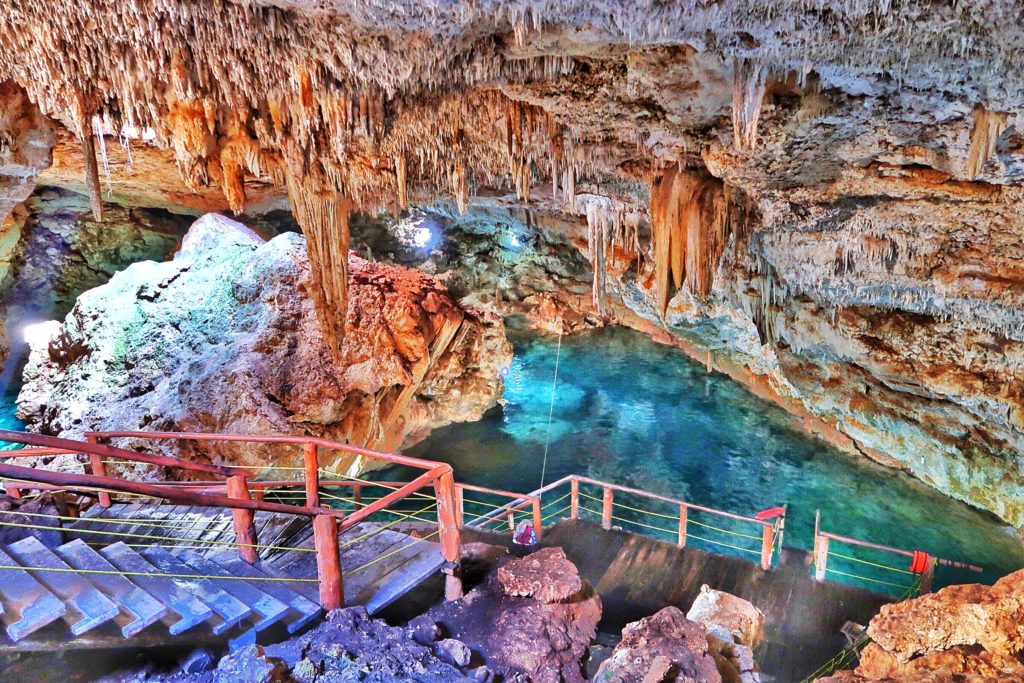 What this cenote is like
After you park there is an entrance building where you can change into a swimsuit. There is a small store with things like soda and chips. You will also pay the entrance fee here.
A trail leads you through the woods to the entrance of the cenote.  At the entrance of the cenote you can get life jackets and there are lockers. If you are there at a time when not that many people are visiting you can carry your stuff down to the cenote. There are platforms and benches where you can leave your things.
Going down into Cenote Fantasma
A large wooded staircase has been built that takes you to the water. There is one jumping platform which is about 12 feet high.
The water in the cenote is crystal clear. Make sure you do not wear sunscreen or lotions on your skin. These contaminate the water. There are showers where you can rinse off before going down into the cenote.
What makes this cenote special is the fact it is so large. It is a cavern or enclosed cenote. A large chunk of the roof has fallen and leans at an angle in the middle of the water. This is very cool looking with the stalactites at angles. There are two small holes in the ceiling of this cenote that let natural light in. Artificial lights illuminate the rest of the cenote.
The water is fairly deep in most of the cenote. Since this water is so clear, it would be good to bring a mask or goggles.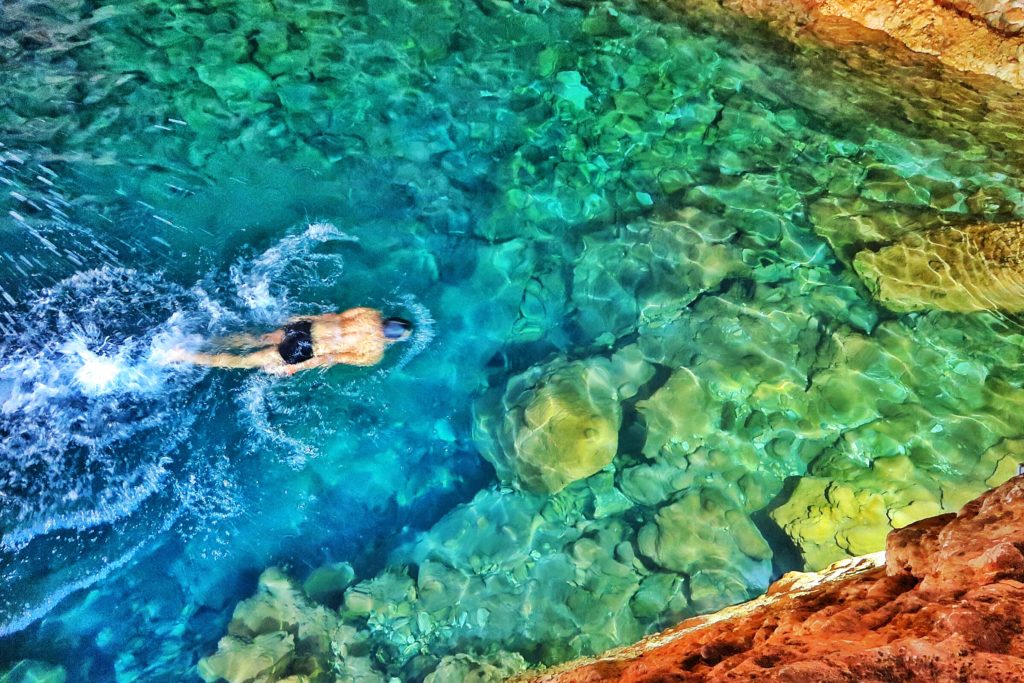 Entrance cost
Price is 70 person. Life jackets are 20 pesos and sometimes required.
How to get to Cenote Fantasma
One Google maps it is known as Cenote Ghost as it is translated. The access is off the non toll 180 road. There is no turn off from the 180 toll road. If you are traveling between Valladolid and Cancun or Playa Del Carmen, this is a place you can stop. It is about 12 minutes off of the old 180 road. The turn is near the town of X-Catzin. The road has a cenote sign at the turn and about 4 other signs pointing you to it.
Other cenotes nearby
If you are going to be in this area and exploring, check out these cenotes nearby:
Both of these cenotes are not well known but certainly good to visit.
Cenote Suytun This cenote is like Cenote Fantasma. It has bus groups arrive in the mornings on their way to ruins. So try to come in the afternoon if you are driving yourself.
Have you been to Cenote Fantasma? What did you think? Let us know in the comments below, we would love to hear from you.