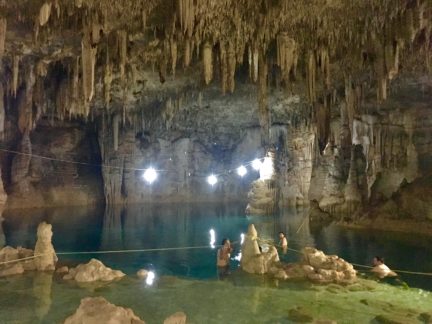 Cenote Cho'o'oj ha in Xcan Yucatan
In some of the remotest parts of the area you can find a hidden beautiful spot. Cenote Cho'o'oj ha in Xcan Yucatan is one beautiful cenote to stop in if you are in the area. Since this cenote is more remote, you just might find yourself here with only a few people.
When you arrive here you change clothes and rinse off, then enter the stairs down into the cavern. The cavern itself is very large and dripping with stalagmites and stalactites. The water is crystal clear and has areas that are shallow and also very deep.
Lights are strung around the cavern for light since there is not much natural light entering.
How does this cenote rank?
Of the dozens of cenotes we have been to this one ranks fairly high. We like it because there is a large cave and the water is large enough to swim in and crystal clear. It is also not that popular so it seems even more so special.
For cave cenotes we would put this on our top 10 list.
Entry cost and services at this cenote
The entrance cost 100 pesos per person. There are changing rooms, showers and bathrooms at the entrance.
It is mandatory to rinse off before going into the cenote. This is to take off lotions and creams that will contaminate the water and cause a film.
Hours: 9:00am-5:00pm daily
Below you can see the entrance hole where the stairs enter into the cenote.
When you come out sometimes there is a person selling coconuts with the water for drinks.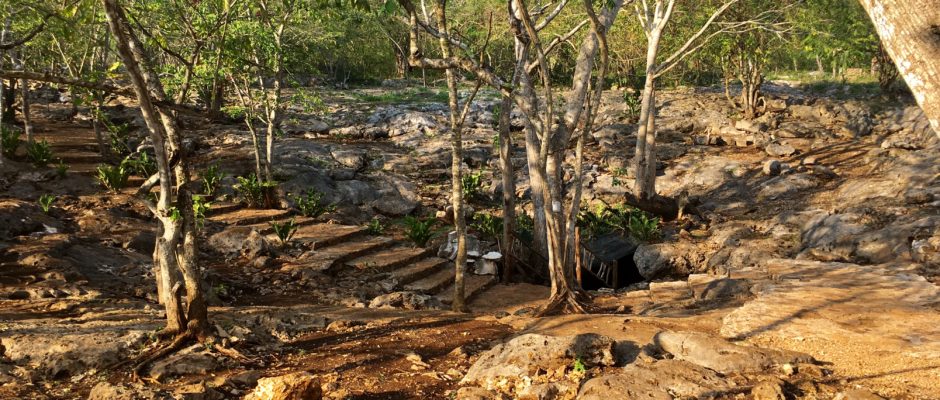 How to get to Cenote Cho'o'oj ha
Below you will find a map with the approximate location. The cenote entrance is roughly 2.5 kilometers west of Xcan. You will see several signs next to the road on the south side. Turn here and follow the dirt road. The dirt road is about 600 meters long. You will come to a parking lot and see the palapas where the entrance is.
Note: Ecoparque Yuum Kaax is the name on the map but look for Cenote Cho'o'oj ha on the signs for the turn.
If you are also in this area you should read our article on the Second Riviera Maya, it is all the things that are close to the Riviera Maya.
Have you been to Cenote Cho'o'oj ha? What did you think? Let us know in the comments below.