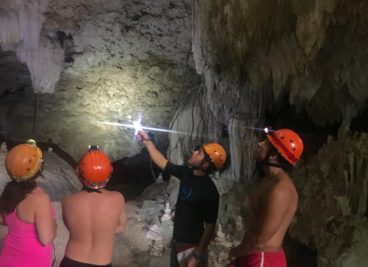 The "See what is beneath Playa Del Carmen tour"
Sometimes you have an impression of a tour before you take it and then are totally surprised. This is what happed to us when we took this jungle tour in Playa Del Carmen. This tour involves taking a buggy (off-road vehicle) into the jungle to explore the underground river system. We thought this was going to be a cheesy tour but were  surprised that the buggy was only a means of transportation to the wonderful world of what is beneath Playa Del Carmen.
This tour consist of driving in the buggy to the edge of Playa Del Carmen and entering into the jungle. You will drive down dirt roads and experience the fun of off-roading. The buggies are easy to dive and have good suspension for the rougher trails.
When you arrive at the cenote you will change and enter the amazing underground world to see the hidden river systems that flow under the Yucatan Peninsula and Playa Del Carmen. For about an hour and a half you will walk through the caverns and learn about the formations, history and importance of the unique ecosystem we have here. This is not only an educational tour but a chance to see a beautiful cavern system. See what we mean by viewing our video below.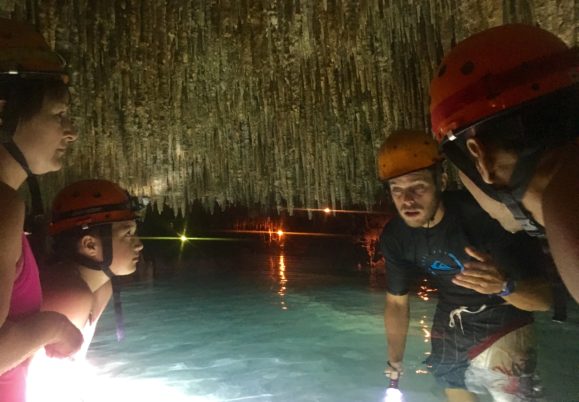 Our video introduction to this tour
Sometimes it is hard to describe exactly what a tour is like so we make a video of our experience for you. Here is the full video of this buggy and cenote tour in Playa Del Carmen.
Charitable giving and opportunity to see the other side of Playa Del Carmen
One activity they offer on this tour is visiting a local community in Playa Del Carmen. As tourism attracts more people to move to the area for work, Playa Del Carmen has expanded. Some of these areas are working communities that have limited wages (see our article on the secret life of the Mexican worker). This tour company likes to help support communities in the area and offers visitors a chance to get out of the tourist areas and interact as well as help out.
At the end of this tour you can stop by a small store and buy a bag of food stables to distribute. Many people enjoy this activity since it is not a normal thing offered on tours. This is however an optional activity and depending on your group, this can be included in the tour.
Everything that is included in this tour
Vehicle for driving
Goggles and bandana for driving
Water shoes, helmets, and lights for the cave
Snack and water
Entrance fees for the cenote/cavern system
Knowledgeable guides
Free transportation to and from your hotel in the Playa Del Carmen area
Tips for this tour and our recommendations
We recommend this tour for people staying in the Playa Del Carmen area. The cenote and walking in the cave system below Playa Del Carmen is one of the most amazing experiences you can have in the area. This tour also gives you an up close look at the other side of Playa Del Carmen and also a chance to helps some of the less fortunate.
This is a four hour tour. This can be good for people staying at all inclusive hotel that want to get off the property and for people not looking for a full day away from Playa Del Carmen.
Limitations for this tour and who should go on it
There are the typical limitations for this tour since this is an active tour. Women that are pregnant, very young children, extreme weight or people with very limited mobility should not take this tour. However even people with some limited mobility can navigate the underground cavern. You can do the tour underground by walking with no swimming or with some swimming.
Group sizes are small and make this tour more intimate and special.  We like this tour company because they are small and have excellent guides which make for a special time. You will be able to learn a lot from the passionate guides and be able to ask questions.
Things to bring for this tour
One thing you should bring is a swimsuit and bag for your clothes. You do not have to swim but you should at least wear clothes that can get somewhat wet. You also will get dusty on this tour, so just know that you will have to shower when you get back to your hotel.
Wear sneakers for driving or closed shoes. In the underground river system you are provided water shoes for walking. Most of the cavern is soft silt and fairly easy walking. Many places the water is ankle deep.
You will be driving to and from the cenote and cavern so you will be in the sun. You will have about 25 minutes each way. If you do wear sunblock please wear biodegradable. This is because the underground water is pristine and chemicals in sunblock can wash off if you get into the water. This contaminates this ground water.
If you want to take a camera in the cenote and cavern you must wear an attached camera like a Go-pro. Hand held cameras are not allowed for safety reasons.
Tips and optional cash for buying food staples for the local community. If you wish to purchase a 100 pesos bag of food (a few US dollars) then you can do so on this tour.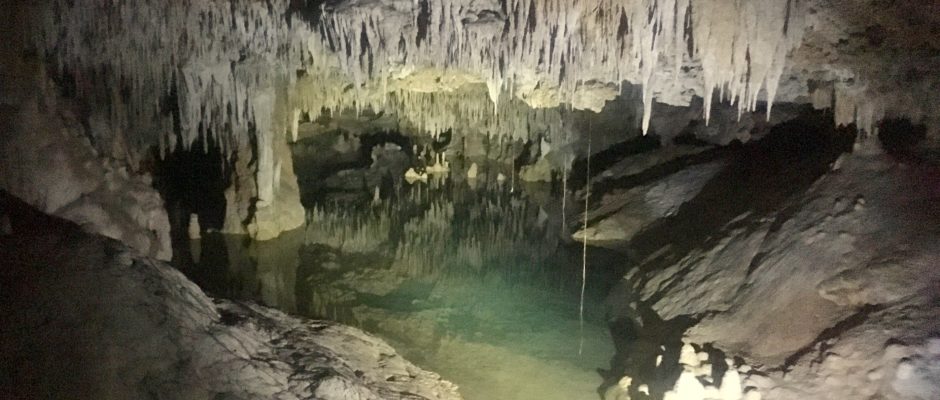 How to book the Rent Buggy Jungle Tour
To reserve a spot on this tour you can click the reserve now button below where you can also get more details. This tour is daily but limited in size, so it is good to reserve in advance. When you go to reserve the  tour company will get back to you with times and arrange your free pickup from local hotels in the Playa Del Carmen area.
This tour does go rain or shine except in extreme weather. It is however possible to move your tour to another day once you have booked based on available days.

Tip: There are similar tours with similar names but not all tours are equal. That is why some prices seem cheaper but you can have one hour less of a tour and not visit the better cenote. That is why we like to go on the tour and make videos for you so you can see exactly what you can expect from a tour.
For more tour ideas and what there is to do in our area, see our Playa Del Carmen tours article here.
Have you been on this  rent buggy jungle tour? Do you have questions or comments? Let us know below, we would love to hear from you.