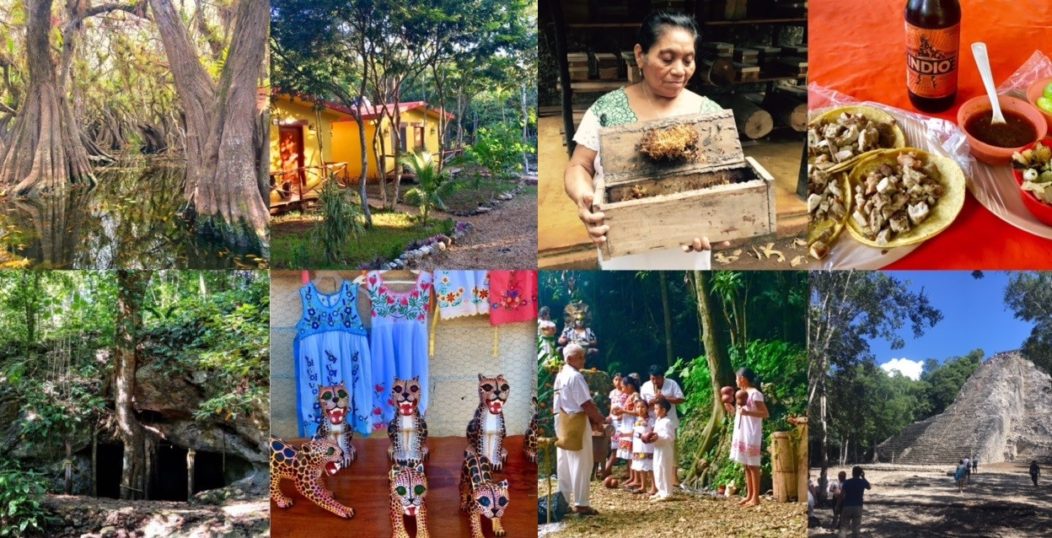 Discover the Second Riviera Maya -Putting the Maya back in the Riviera Maya
The Riviera Maya is very well known as a beautiful destination for tourist. For most people, they visit this area and stay on the beach or at the hotel. There are many things to do and see in the Riviera Maya and there is even more to discover in the second Riviera Maya. This is the area just back from the beach and includes the area that parallels the beach. This is where the deep history, Mayan culture and some beautiful areas are.
We want to help put the Maya back in the Riviera Maya and show people how to discover this whole area that holds a lot of interesting places to go. True, this area is not as touristy, but that can be a good thing. In this area you get the real authentic culture and you get to see beautiful spots without mass tourism.
Out commitment to ecotourism and communities
There are many parts of the Riviera Maya that are beautiful to visit. However some have become overly tourist and some of the real culture of the area has been lost. This area we call the "second Riviera Maya" has many authentic things to experience and naturally beautiful areas. We are creating this guide to help people discover this area. We will continue to add to is as well.
Parts of Mexico are like a living museum. There are still communities practicing centuries old traditions and there are people trying to preserve natural areas. Most guides do not take the time to write about because there are no tours to sell or ways to make money off making a guide. Many places we visit have nothing written in English or nothing online about them.
We are working hard to help communities and families preserve their traditions and create a way for them to share with others in order to make a living. We also champion the individuals that are teaching their communities to preserve natural areas and promote it though ecotourism. Please consider visiting some of the these areas and supporting these hard working people. These truly amazing places  are yours to discover!
Our video introduction to the second Riviera Maya
Just to give you an overview of some of the things you can see in this are, we made this video for you. If you like it, please give us a thumbs up on YouTube or  a comment so we know and we will make more video like these.
Adventurous activities you can do in this area
Kayaking. There are two places where you can canoe or kayak. In Punta Laguna you can rent a canoe and go out on the large lagoon there. Also in Solferino you can go on the El Corchal tour where you can kayak though a cork forest.
Rappelling. In Punta Laguna you can rappel into a cenote and also with the Ta'akbil Ja tour you can rappel into a cenote.
Spelunking. If you like going into caves then you will love Ta'akbil Ja. Here you can spend about 2 1/2 hours in a cave exploring.
Hiking. Around Punta Laguna there are trails in the woods. These should be done with guides because the trails are unmarked.
Swimming can be done in the numerous cenotes and also in Punta Laguna.
Beautiful places to see
Cenotes to see
What is a cenote (see-note-té)? You will hear this name mentioned often when visiting the Rivera Maya. Cenotes are unique natural formations in the Yucatan Peninsula. How are these formed? Well, the entire peninsula is a limestone. When it rains the water filters through this stone and then the ground water finds its way to the ocean. The limestone is soft so it is easy for the water to carve underground rivers or channels. In some places the rock is softer and the a open chamber is caved out. Some cenotes are like this with the roof of the cave intact. Other cenotes that are older, the roof collapses and the cenote is open.
The water is freshwater and often very crystal clear. These make beautiful areas to swim. It is important to keep these cenotes clean by not wearing lotions and other chemicals on our body. These can leave the water with a film on them. Only use biodegradable sunscreens and lotions.
 Cenote Zacil Ha
This cenote is on the road between Tulum and Coba. Cenote Zacil Ha is a smaller cenote that has crystal clear waters and looks like a swimming pool. There is a small store here and restaurant. This is a nice cenote to rest at and let the kids enjoy the water. To see photos and read more about Cenote Zacil Ha, see our article here.
Cenote Cho'o'oj ha
Located on the old 180 road just west of Xcan you will find the entrance driveway to Cenote Cho'o'oj ha. This cenote is a cavern enclosed cenote with many stalactites and stalagmites. The water is crystal clear and a great cenote to swim in. Another nice thing is that this cenote is not visited too often and you can enjoy this beautiful spot.
Cenote Muul Ich
This is an enclosed cenote that you take a spiral staircase down into it. The water is deeper yet crystal clear. This cenote is passed Coba near the small town of San Juan. It is more hidden but worth the effort to visit it. There are changing rooms, showers and bathrooms here. To read more about Cenote Muul Ich, see our article here.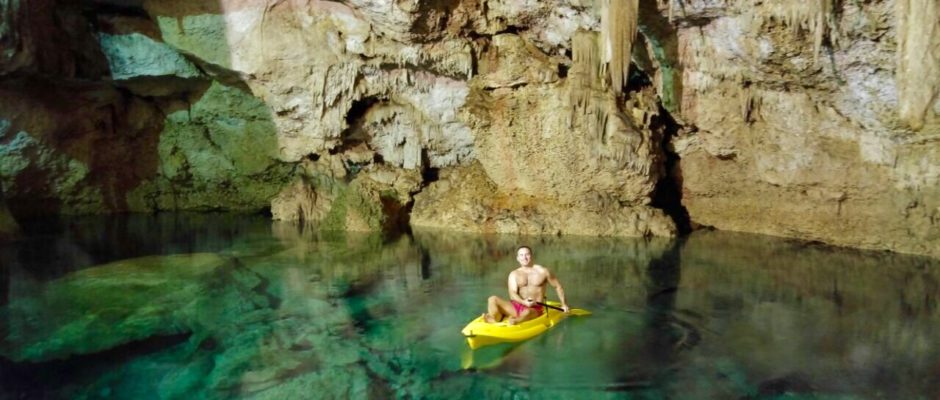 3 Cenotes of Coba
There are three cenotes just passed the Coba ruins. There are a few small tours that stop here. The first and the third are the most popular. To read more about these Coba cenotes and see photos and a video, see our article here.
Punta Laguna
Punta Laguna is a large lagoon that is run by the local community. Here you can do activities a la cart or as a package. You can get a guide to walk some of the trails, take a zip line, canoe in the lake, swim, rappel into a cenote and look for spider monkeys in the trees. There are also small Mayan ruins that dot the woods.
Punta Laguna is on the road between Coba and Nuevo Xcan.
Solferino and El Corchal
The small town of Solferino has a few interesting places to see. The most interesting place is El Corchal. This is a cork forest that you can kayak through. The area is pristine and this is a nature lovers dream tour come true! To read more and see our videos on visiting Solferino and El Corchal, see our article here.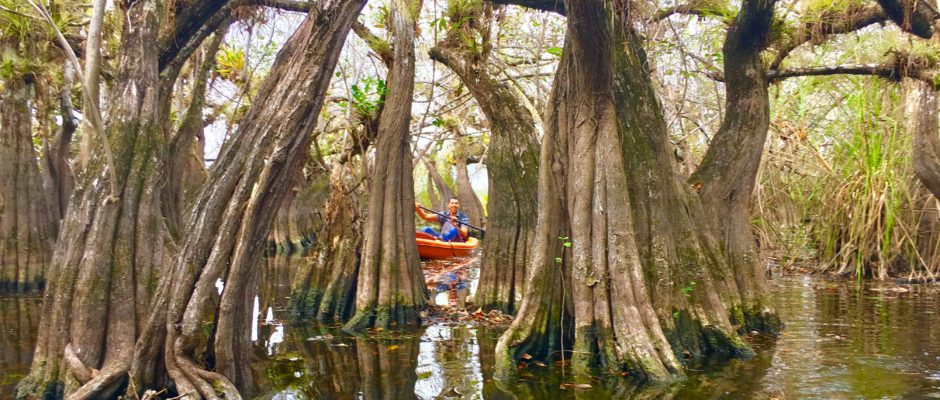 Cultural thing to check out
Visit the garden of Mayan plants and see bees
In the small town of Coba there is Casa Itzamna. This is a cultural center for learning about the area and the Mayan peoples. Here you can get a tour of the garden and they can explain what the plants are used for and their medicinal properties. They also have some of the best examples of beekeeping. They raise and protect the melipona bees, which are the stingless bees. It is $10 USD per person to see these two things. There are other services available, see our article and video for more information.
Directions: When you enter the town of Coba, it is the first road on your left after the police check point. Go two blocks and you will see a sign on your right.
Stop and see a Mayan families house
This family opens up their home to passers by. They have the main house with tables of items made locally and some not. In the back they have a garden with traditional medicinal plants. The family can play some Mayan instruments and if you ask, they can prepare some handmade tortillas with some food.
The family only speaks Mayan and Spanish but can still welcome you if you only speak English. If you buy some things that is great. Otherwise they have a tip jar so you can support the family. If you get food they charge per person for it.
Directions: This is on the road from Coba to Nuevo Xcan. It is on the right in the community before Punta Laguna.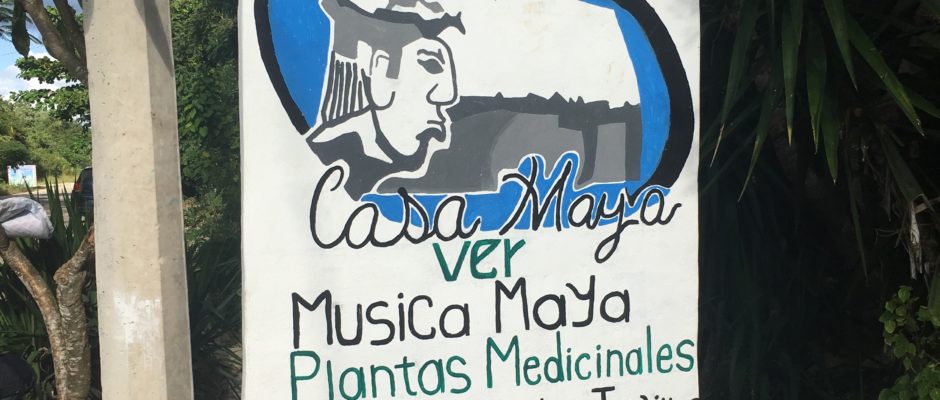 Experience the Mayan traditional holiday of Hanal Pixan
Hanal Pixan is the traditional holiday of the Mayans where they make alters and welcome back the dead once a year. It is the equivalent of the Mexican holiday "Day of the Dead".
Each year allTOURnative tour company sets up a celebration in a local Mayan community. This takes place in a large cenote. Here you can see alters being decorated, a ceremony and then a meal is served for al those that attend. Tickets are very affordable for this once a year event. This takes place around October 30th-November 2 depending on how the days fall.
This is a very unique way to see this traditional ceremony. This is something you should put on your calendars because it is a very special event. To see more photos and our video, you can see our article about this Hanal Pixan celebration.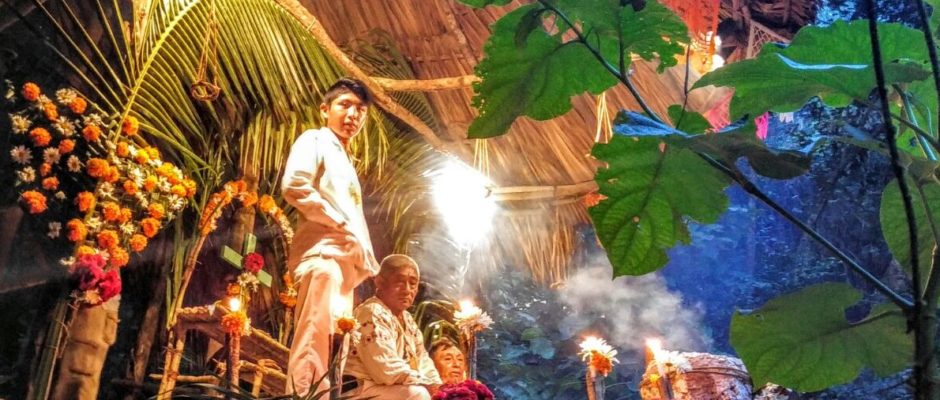 See Mayan Ruins of Coba and El Naranjal
Coba Mayan Ruins
There are many Mayan vestiges in the area. The main Mayan ruin that is open to the public is Coba. This is a large ruin site and great for exploring. What makes these ruins unique is the fact you can climb one of the tall pyramids and you can bike through the woods to visit the different parts of the ruins. To read more about visiting Coba and seeing our video, see our article here.
El Naranjal Mayan Ruins
El Naranjal is a much lesser know ruin. This is a good place to visit if you have your own car because there is no public transportation here. Here you can find some medium size ruins and a small community that has some things to share with the outside world. To see more about visiting El Naranjal, see our article here.
See a Mayan women's collective that makes soap and other products
In the town of San Angel (toward the top of the map) there is a collective of women that work on making products. This is a group of local women that work during the week mainly in the afternoons. They have a small palapa building to work in and in the back a garden of ingredients. You can visit here in the afternoons during the week and purchase products and see the woman at work.
Directions: To get here, enter the main road to San Angel and take the first left by the concrete sign that says "Maya Dzak". It is in the middle of the block on the right, the palapa building.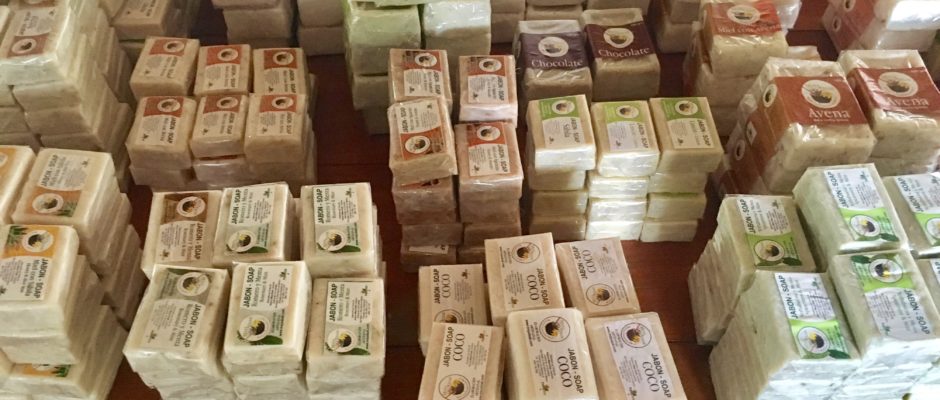 Interesting Hotels to Stay At
Chaktunche Jungle Cabins
This unique hotel is located inland from Puerto Morelos on the Ruta e Cenotes. This hotel features semi luxurious cabins with a pool and hidden cenote. To read more about Chaktunche see our article here.
Map of this area
Here is a map so you can find all the places we mentioned above. We will add to this map as we discover more places for you to visit.
Have you been to the second Riviera Maya? What are some of your favorite places? We would love to hear from you in the comments below.