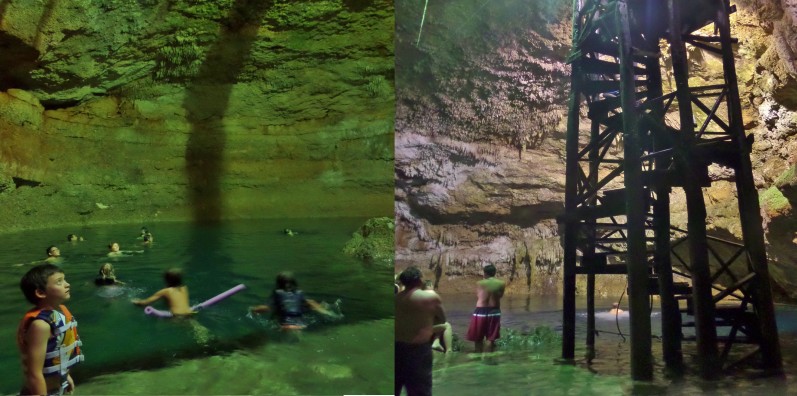 Coba is know for it's ancient Mayan ruins in the state of Quintana Roo but now it has more to offer tourist coming to this peaceful little pueblo. Not only does this area have an amazing day trip opportunity by seeing the ancient Mayan city, it now has opened three cenotes (a unique type of cave that has been carved out by water) for tourism in the area. There are three Coba cenotes to visit.
The area of Coba is owned by the local Mayan community and tourism supports the local people.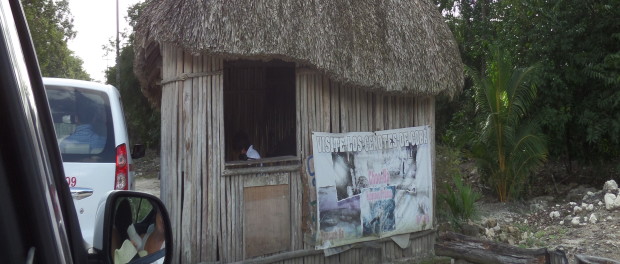 Coba Cenotes
Just past the Mayan ruins in Coba and around the lake there is a newly paved road that takes you to three cenotes. The cenotes are about 6k from the ruins. Previously this was a bumpy ride down an old road. Now there has been significant investment to open this area a little more to tourism. The cenotes also have added shower and changing areas, bathrooms and parking lots.
The three cenotes are Choo-Ha, Tamcach-Ha, and Multun-Ha. All three of the cenotes are underground caves with water, as opposed to some cenotes where the roof collapses and they are open pools. The entrance to each cenote is 55 pesos. Here is a brief description of the three so you can select which one you wish to visit.
Choo-Ha is the closest cenote and good for just looking if you are not interested in swimming and easier to visit if you have young children. This cenote has shallow water and a lot of stalagmites.
Tamcach-Ha is the second cenote you come to. As you enter the small opening in the ground you descend down a wooden spiral staircase. What makes this cenote special is the two platforms you can jump off. One is 5 meters high and one is 10 meters high! (jump at your own risk) The cenote has a large pool of water to swim in and an easy shallow area where you can enter the water. This is the most popular cenote.
Multun-Ha is a little farther then the others. It is the best cenote if you wish to snorkel. It has the clearest water. There is a long dirt road from the paved road with parking at the end. You pay at the desk before entering this Coba  cenote.
You will walk for a spiral staircase until you come to the platform here shown in the photo below.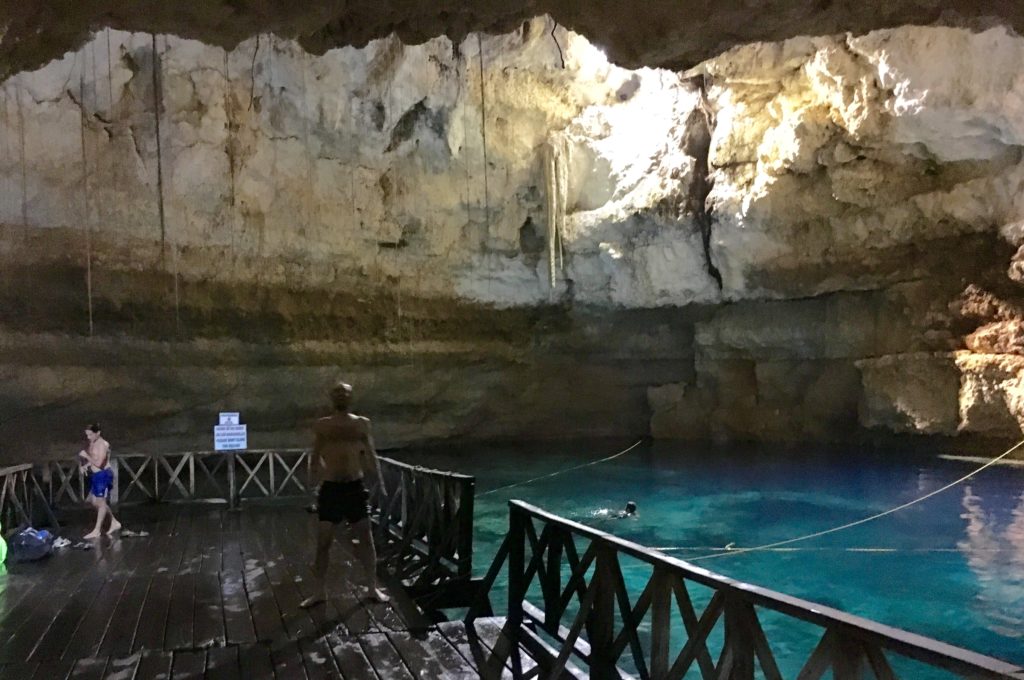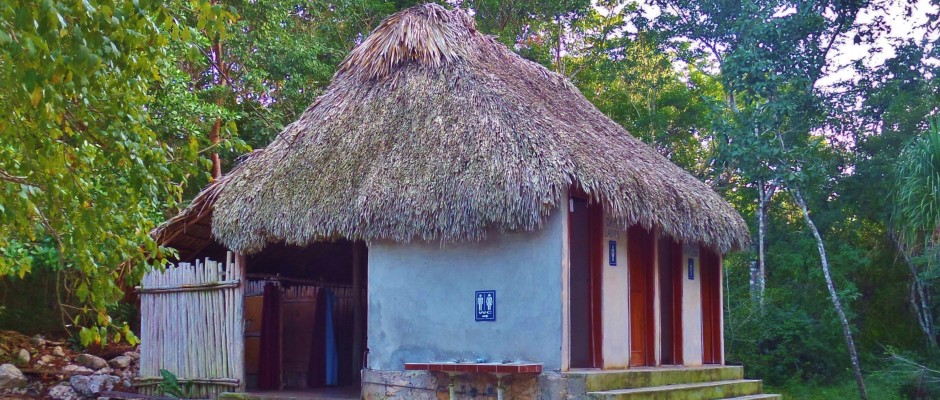 Video of the Coba Cenotes
Here is our video on the cenotes to show you a little more about them. See tips for visiting below this video.

Tips for visiting these cenotes
1. You must shower before getting in. This washes off all oils and sunscreen you have on. This is VERY important to do. It protects the water and also the environment. Please do this and remember to use biodegradable sunscreen when possible when visiting the Riviera Maya. If you want to buy some biodegradable sun screen or bug spray you can do so here.
2. It is best if you can leave your clothes and valuables in your car while in the cenote. Usually if you take things into the cenote there is only a limited amount of places to put your stuff and most areas are damp. Bring a plastic bag with you if you bring stuff. Depending on the day, there may be other tourist and you don't really want to be keeping an eye on your stuff while you enjoy your refreshing swim in the cenote.
3. Bring drinks and snacks with you.
4. There are basic bathrooms.
How to get to the cenotes in Coba
The driving is pretty straight forward. The road is well signed. Tour companies are just starting to offer this as an added excursion to Coba ruins. If you are arriving by bus to Coba and doing things independent of a car, you can get a taxi from Coba ruins to the cenotes. It might be best to ask someone driving back to the town to give you a ride since having a taxi wait for you will be expensive.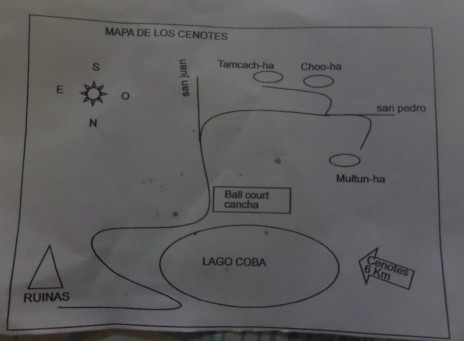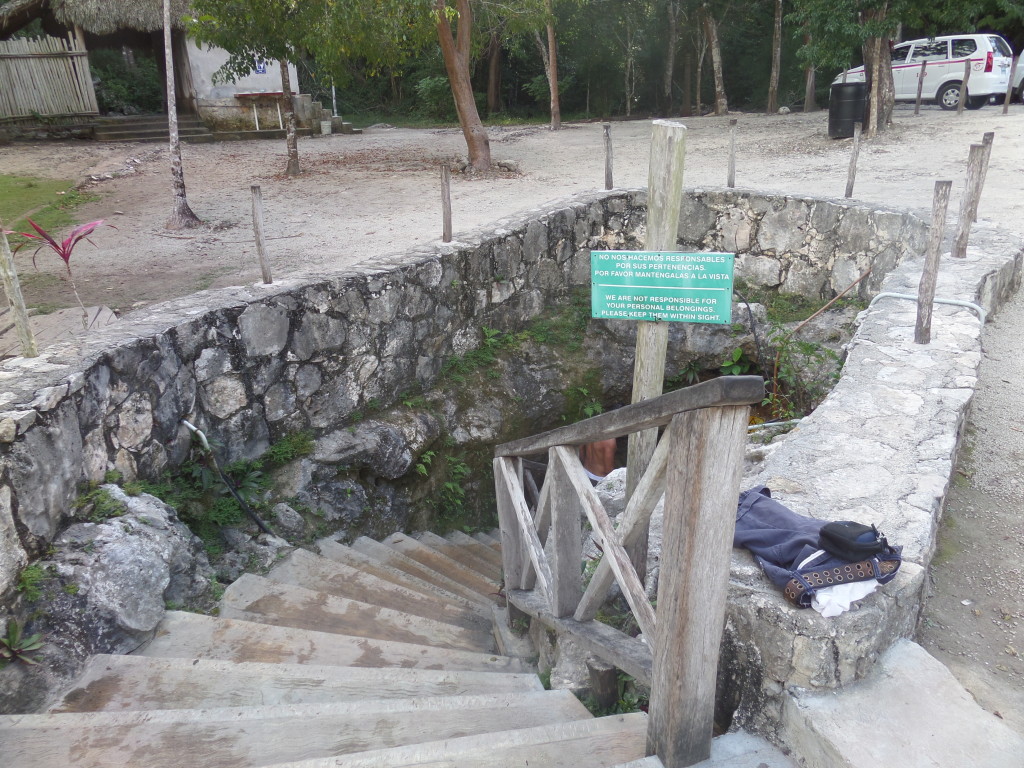 If you are going to be in the Coba area you might also like to read about Casa Itzamna which is in the town to Coba. You can learn about Mayan culture and more.
Have you been to these cenotes in Coba? What was your favorite part? Did you have a favorite one? Tell us about it in the comments below