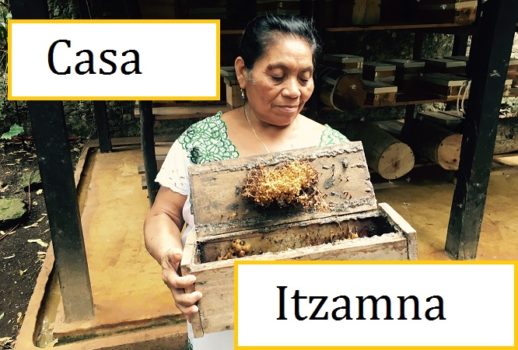 Casa Itzamna – A fascinating place to visit in Coba
Many people visit Coba for the Mayan ruins and just pass through the small town of Coba. Upon a closer inspection there are some true gems to be found in this area. This area is rich in history and culture and Casa Itzamna is working on preserving the knowledge and sharing it with guest that want to come.
We stopped by to learn about what they offered guest and what makes this place so special.
Our video introduction to Casa Itzamna
Since writing about somewhere is one thing, we think this video will give you a good feel for what Casa Itzamna is like.
What can you see and do at Casa Itzamna?
There is a wealth of tradition and knowledge to see and learn at Casa Itzamna. Below are some of the things you can see and do here.
Learn about medicinal plants of the Mayans
Behind the house there is a garden that is labeled with the names of the plants. It is amazing the uses that the Mayans had for so many plants. To many people walking around they just see a plant. But many of the locals plants have medicinal usages.
We learned some things about local plants and have since found some growing right here in Playa Del Carmen. Most people just think these are decorative, but there are very interesting stories to how these were used and how some still use them today.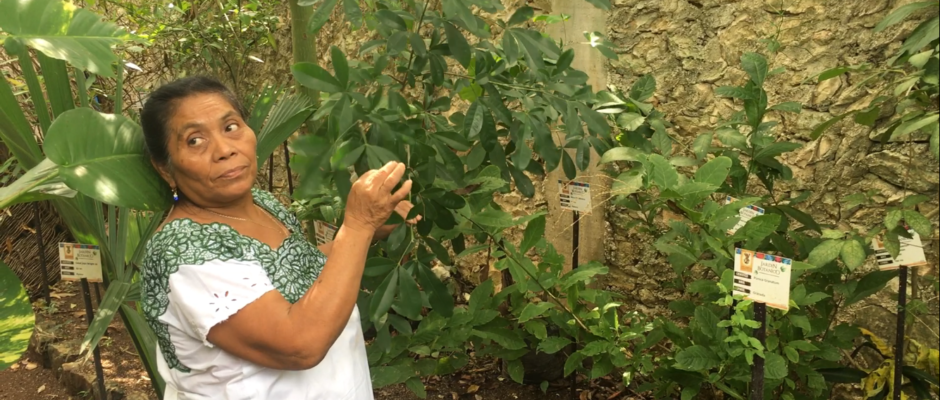 See the meliponary (beehives)
The melipona bees of the peninsula are stingless. They also produce a fine honey that is reported as having healing properties. The Mayans have refined the art of keeping bees and the Yucatan is renowned for it. These stingless bees work very hard in the environment and you will learn why it is so important to keep them healthy.
On a tour of the meliponary they opened a box for us to look in. It was odd at first to have all the bees fly out but they are very friendly. The interior of the hive is fascinating and you will learn how they construct the hive and operate it.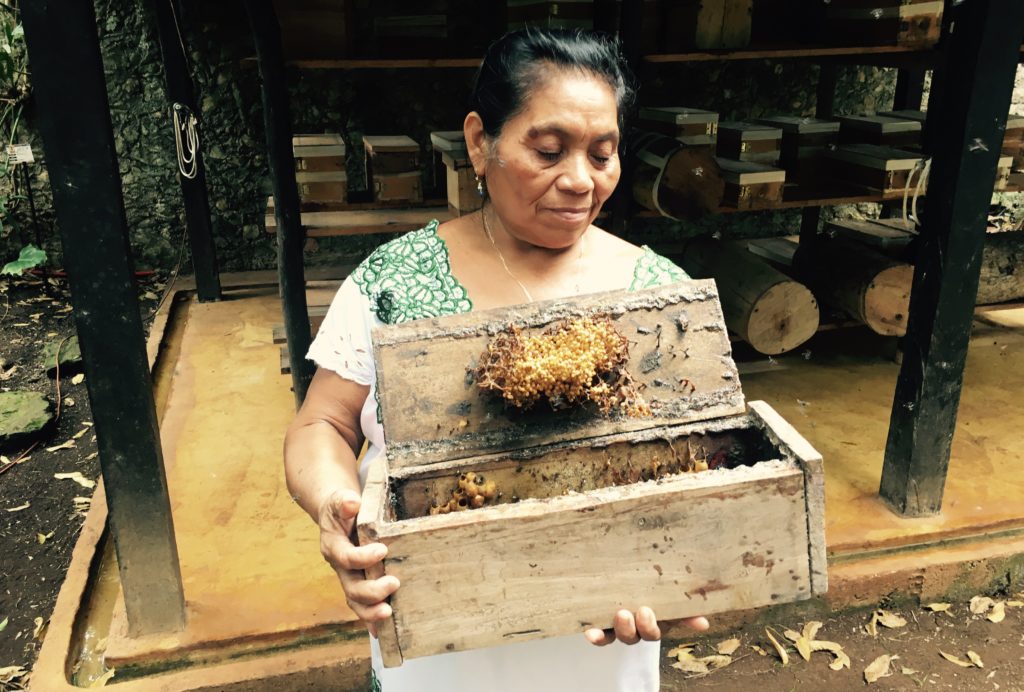 Take a renaissance bath
There are two outdoor baths which can be used for this. A Mayan priest will ask the creator for energies for your healing. Medicinal plants, honey and flowers can be added to these waters. This will make your visit special and magical as you surround yourself in nature.
Enjoy one of their massages
There are two massages they offer here. One is a relaxation massage. The other is a more traditional Mayan abdominal massage.
The abdominal massage is something not commonly found. The Mayans believe that the human emotions are stored in your abdominal area. The massage is said to have multiple things it helps with including digestions and fertility in women.
Taste traditional Mayan cuisine
Traditional Mayan cuisine is presented to you. Some of these foods are things that people have harvested from their fields for millenniums. The food is locally sources and we have to say it is one of the most authentic meals we have found in the Riviera Maya.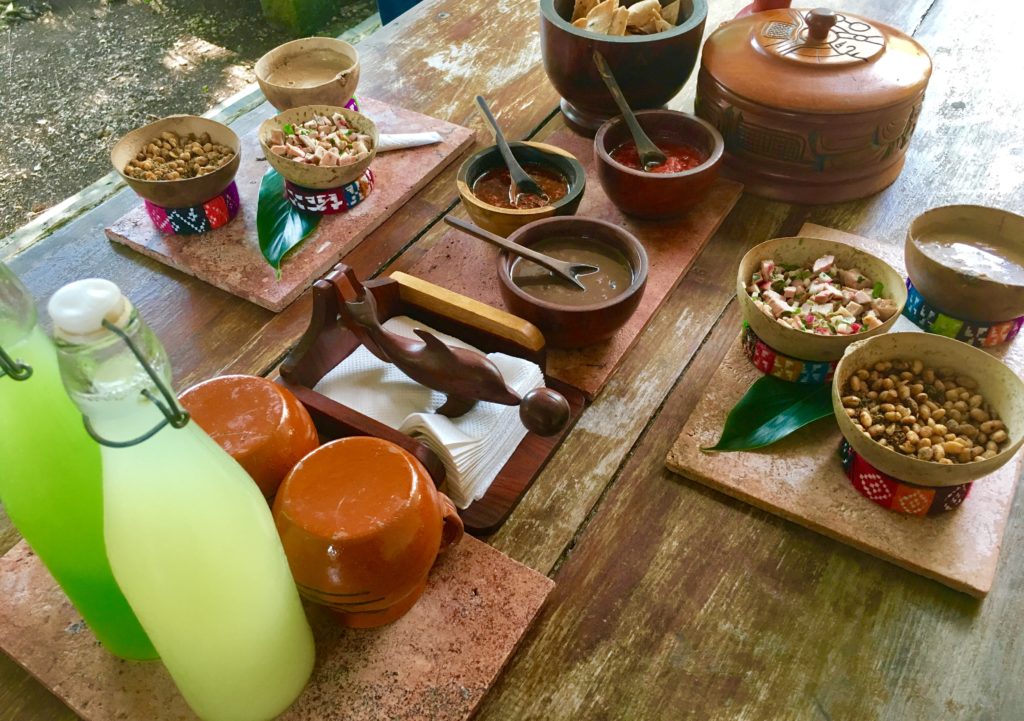 Prices and packages
You can go by and do things a la cart. It is best to call ahead and reserve a time since space is limited and there is some prep time needed. Spanish and Mayan is spoke here but they do have an English translator that can be there with advanced notice.
For example if you would like to stop by and have a welcome tea, learn about the garden with medicinal plants and see the meliponario for the bees, it is $10USD with a minimum of 4 people. This is a great activity to add to your visit to the Coba ruins and/or Coba cenotes.
Full package at Casa Itzamna Coba
If you would like to spend the day here and experience all they have, you can do all of the above 5 things for $90 USD.
If you need to contact Casa Itzamna you can email them at: [email protected] or call 984-143-6764. You can also see their Facebook page.
Become a guest at Casa Itzamna for the night
If you want to enjoy the charm of the small town of Coba or perhaps spend more time exploring (like the cenotes nearby), then you can spend the night here. Casa Itzamna has two guest rooms with a shared bathroom. The rooms are simple and clean with a rooftop patio overlooking the front of the house. The rooms are 700 pesos a night.
To make a reservation of one or both rooms you can call: 984-142-6763  English and Spanish is spoken.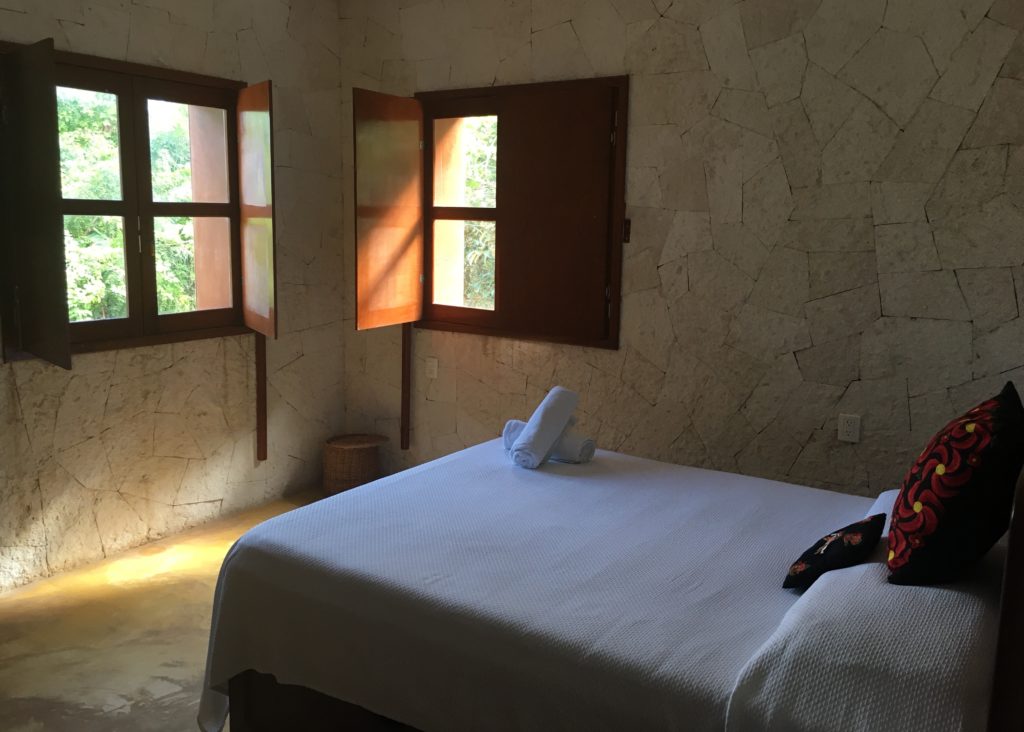 How to get to Casa Itzamna
If you are just entering Coba village from the Tulum Coba road (109) you will take the first street on your left. There are no street signs. Drive two blocks and you will see the sign for Casa Itzamna on the right.
Have you been to Casa Itzamna before? What did you think? Let us know in the comments below, we would love to hear from you.