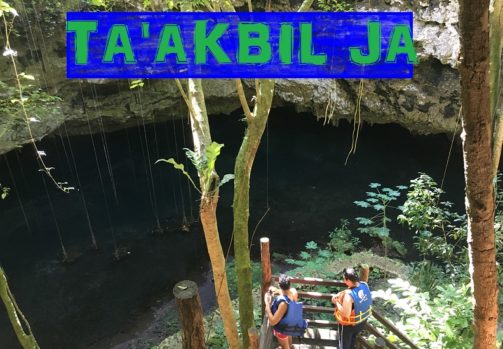 Ta'akbil Ja -Discover the hidden waters and eco adventure
Ta'akbil Ja? What, you have never heard of this place? Neither had we, and we are constantly out exploring. So you can imagine our surprise to find such a hidden wonder! It is with great excitement we can tell you about this place. There are some of the largest caves in the area and beautiful cenotes be discovered here.
Ta'akbil Ja (pronounced Tock-bill-ha) is Mayan for hidden waters. And this is what is here, there are hidden waters in the caverns you can explore and in the remote cenotes.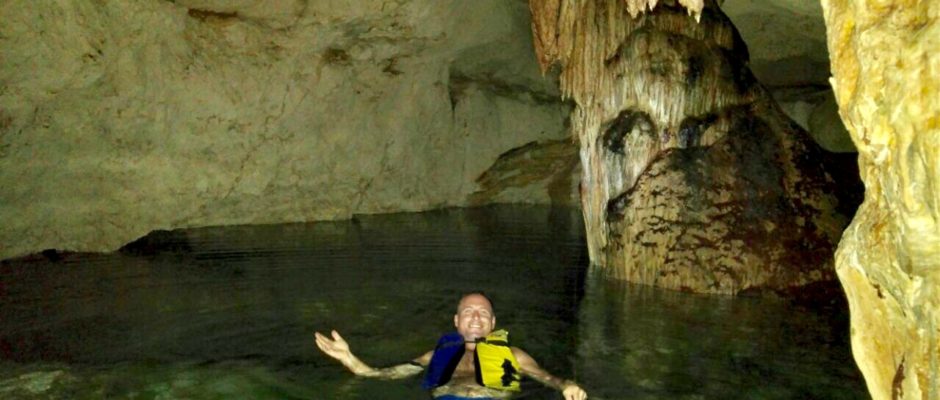 Our video introduction to Ta'akbil Ja
It is hard to capture the feeling and adventure you can have here, especially when you are in the caves. We try to show you what this special place is like in our video below. If you go you will feel like a National Geographic explorer.

What can you do at Ta'akbil Ja?
Exploring nature is what Ta'akbil Ja is all about. There is a regular tour but you should contact them about what they can offer. Not everyone is up for visiting the caverns.
The main tour they offer is a tour of the caverns with a break for lunch (which is included) and then a visit to a cenote to rappel down into it. In the cenote you can swim and relax. The price for this is 700 pesos. This is very reasonable considering you get lunch and a full day exploring. Plus you have the knowledge that your money is going directly to the community.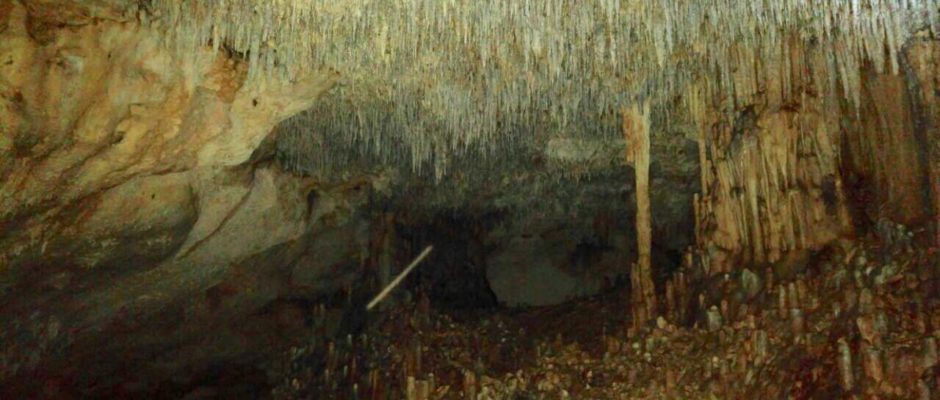 Other options for activities at Ta'akbil Ja
If you are someone that is not comfortable doing the cave tour or are with a group that would like to have a special tour planed, please contact them to ask what is possible. They are very accommodating.
They have bikes that can be used to ride back to the caves and cenotes off the main road.
If the caves sound like too much of an adventure, ask about spending more time at one cenote or visiting two in the area. Ta'akbil Ja has six cenotes that they have worked on and six more in the process of cleaning and building access. The more people visit, the more they will be able to open more to the public.
If you do not want to rappel down into the cenote, there are stairs that go all the way down to the ground. From there you can explore the cenote and swim.
Tips and recommendations for visiting this amazing area
Since this is a physical activity there are some restrictions. Also since this is a sensitive natural area, please be respectful to maintain the pristine conditions here.
Activity restrictions for rappeling and cavern tour
Minimum age required is 5 years old.
If you are pregnant, have a heart condition or other physical aliment, these activities are not recommended for you.
For rappel and cave tour there are size and weight restrictions.
If you are going to do the cave tour, it is not recommended if you are claustrophobic or afraid of bats. Thee are bats but they are fruit bats and will not bother you, but will fly by you in some areas of the caverns.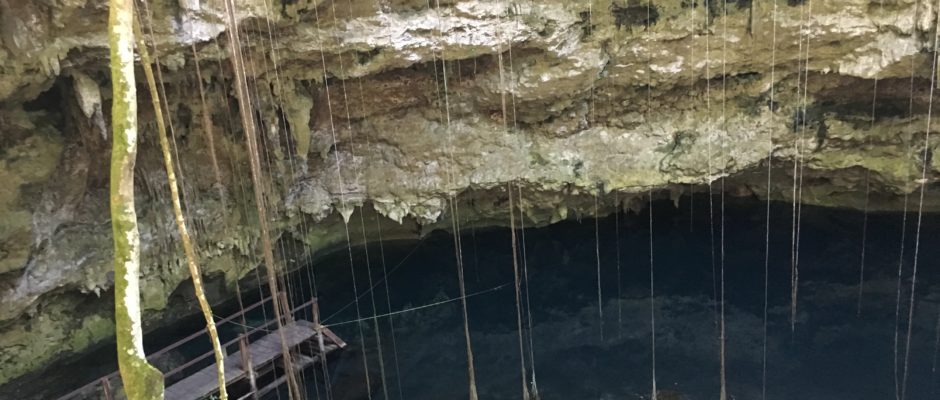 Tips for your tour of Ta'akbil Ja
If you are going into the caverns you should wear aqua shoes or tennis shoes are good. You will be going through water and will get wet.
Wear a bathing suit. Both for swimming in the cenote and going through water in the caverns.
A water camera will be good for photos since both locations can limit the use of traditional cameras.
Bring towels for drying off, there are none available.
Do not wear creams and regular suntan lotions in the waters of the caves and cenotes. Sun creams contain very harmful chemicals that will pollute the water. The good thing is you will not really need them since this tour is not out in the sun and at the cenote you have limited sunlight.
Please leave things untouched. Not only are the caverns the result of thousands of years of natural processes, there are remnants of Mayan pottery and stones here that should not be disturbed.
If you need transportation for a group of more than 10 people from Playa Del Carmen or Cancun, they can do this for $65 USD per person in the large group.
Why this eco tourism project is so important to support
If you are a regular reader you might know that we really support projects like this. This eco project has been supported by the local community for 6 years.  People have been working on this project and supporting it with what skills they have and time without getting paid.
This eco project is a great example of passionate people that have seen the benefit of conservation and working with nature. They now want to share this with the world.
Unlike many tours in the Riviera Maya where large corporations own a park or rent it out, this is the land of the local community. The community has worked together to organize itself. We hope to help get word out about this amazing place to visit.
By coming here you ae supporting the local development of eco conservationism. So far there are six cenotes they have opened and have six more they are working on.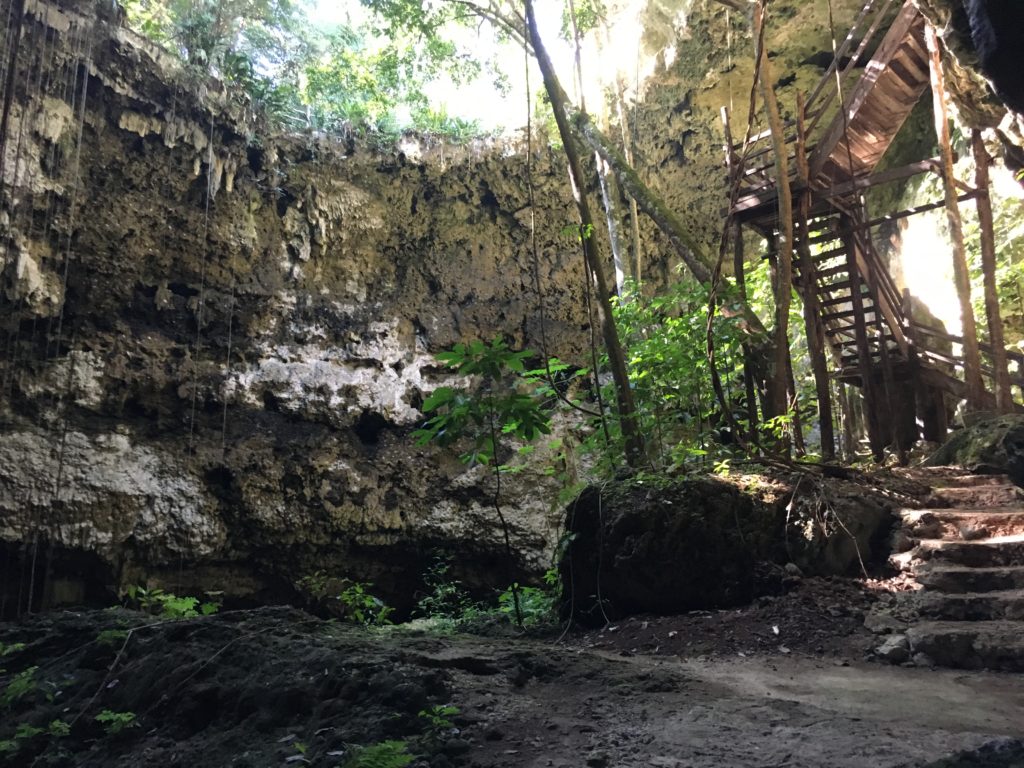 How to contact Ta'akbil Ja and visit
It is best to call ahead or email for making a reservation. Tours are not given everyday and some of the activities need a minimum amount of people. Making a reservation will also allow for time to prepare for your tour.
Email: [email protected]
Phone: 998-162-6761
For an English speaking person: 998-142-4351
How to get to Ta'akbil Ja
First you will need to have a reservation for coming. The reason for this is because there is no reception you can go to. They need to set things up for you. Tours are not everyday since this is seldom visited and new.
You will need to dive yourself here. There is no public transportation here. Once you arrive in the area however they can transport you to the cenote site and cavern site.
From Playa Del Carmen you can take the new highway to Nuevo Xcan. When you exit the toll road you take the local 180 toward Merida (not the toll road). When you get to Nuevo Xcan you will turn left on the 109 road toward Coba. Go down this road until you see the second sign for Ta'akbil Ja (on your left). The first sign is for the cenote and not the main entrance.
You should contact Ta'akbil Ja first because they might be able to meet you in Nuevo Xcan and transport you from there.
What else is there to do in the area and where to stay
This area is growing as an eco tourism spot. Nuevo Durango is the town next to this eco area. Here are some other things to see in the area and you just might want to stay overnight to explore more.
Here are some other things to see in the area:
El Naranjal Mayan ruins. Many people have never heard of these but they offer a nice quiet site to explore.
Nuevo Durango. This is a small town just south of Ta'akbil ja. In this town you can also rappel into a well and into caves. You can also visit a deer farm and insect museum.
Punta Laguna. This nature reserve is  south down the 109 road toward Coba. At this location you can find nature trails, canoes, rappel into a cenote, one zip line and look for spider monkeys. You can pay a la cart for activities of 500 for a package. This is run by the local community. There is parking right off the road and an office with information when you arrive.
Here are some options to stay if you want to visit this area more in depth
Gilmar Hotel and Cabins. This new option has very nice cabins that have bathrooms and air-conditioning. This is just like a modern hotel in the jungle. These cabins make for a nice spot to use as a base to explore the area. There is a restaurant on the premise. Calling ahead is best so they can be prepared for you. Tip: For best rates, book directly with the hotel. English and Spanish spoken. Price for a cabin is 1250 which includes breakfast. http://www.gilmarresorts.com/
Eco Cabins in Nuevo Durango. These charming cabins are rustic and look like a small village of Mayan houses. The eco cabins have basic bed and bathrooms in the cabin. There are no fans or hot water. The cabins are just at the corner of the main square in the small town. There is an office there. If no one is there, someone will come help you. Cost is 350 pesos a night.
Have you been to Ta'akbil Ja before? What did you think? Do you have questions, let us know in the comments below, we would love to hear from you.
For more information and ideas where to go from Playa Del Carmen see our guide here for tours and destinations.