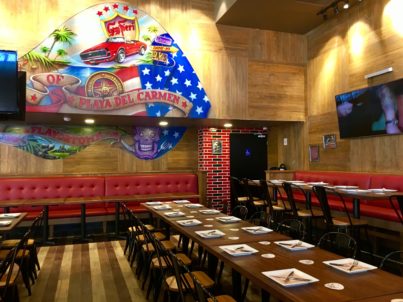 Guy Fieri's Kitchen and Bar Playa Del Carmen
The Guy Fieri's Restaurant has opened in Playa Del Carmen. As we have watched this project progress we have only rolled our eyes because it is the epitome of what Playa Del Carmen does not need. This is another example of investors who do not know Playa Del Carmen and blindly bring Americanism in the tackiest form. This is the reason Americans get a bad reputation in the world, yet many Americans always ask why? So we will spell it out for those who ask.
Bold, brash, unapologetic and overbearing with the pushiness of throwing shiny restaurants, corporate logos and huge, artery clogging food at consumers for a profit. It is the culturally insensitivity that makes this such a glaring example of what Playa Del Carmen should not be about.
This is not Cancun and this is not Any Town USA
What is so glaring with this new restaurant is the contrast between what was here and what is here now. The previous tenant was Yaxche Restaurant, which was a Mayan cuisine restaurant.
We were surprised when the Yaxche Mayan cuisine restaurant closed on Playa Del Carmen's 5th Avenue. It had been around for years and was one of the only Yucatecan restaurants easily accessible to tourist. Although Yaxche Restaurant was not the best representation of Mayan cuisine, at least it tried and offered guest to Mexico a more regional taste. The storyline here could not be more in your face of what is wrong in Playa Del Carmen.
People come to Playa Del Carmen because it is quaint feeling, slightly chic, international city by the sea with great access to many nearby attractions. While some investors and developers only see $$$$ signs for cashing in on the rapidly developing city, They turn a blind eye to what Playa Del Carmen is and what most people want to see it become. Commercialization usually looks like one thing here, and that is the Hotel Zone of Cancun or a corner of an American shopping mall.
Everyone knows Cancun is not Playa Del Carmen and everyone in Playa usualy says they don't really like Cancun. The reason in part is because Cancun is tacky, touristy and filled with malls, traffic, and has a different feel. No one really in Playa Del Carmen wants to see Playa become like a Cancun nor like a strip mall in Any Town, USA.
What is the new restaurant like
Guy Fieri's Restaurant has indoor seating in air conditioning and outside seating. The style is a little like an American Diner and a little like a BBQ restaurant with tattoo art on the walls.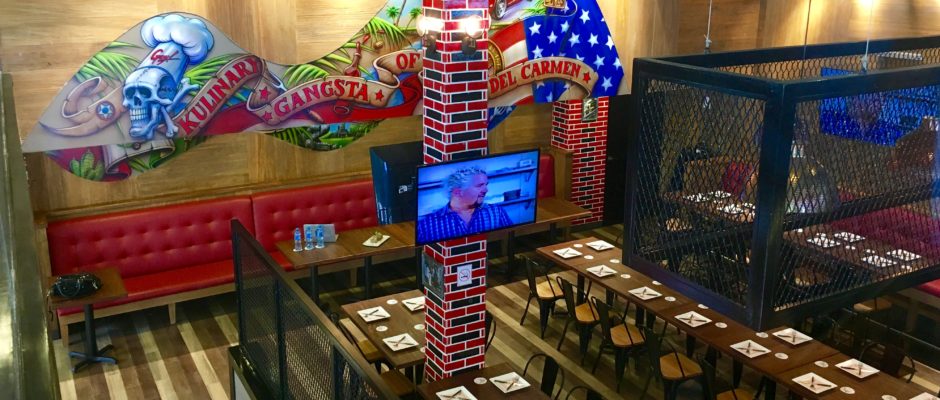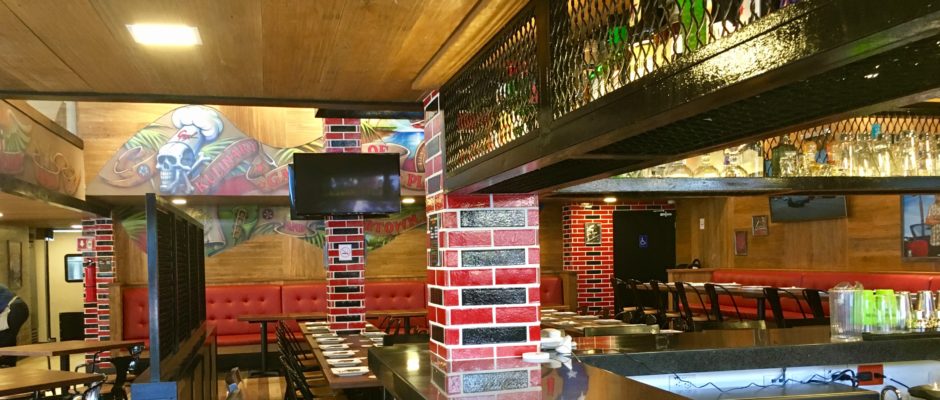 This is what they will be serving on the menu at Guy Fieri's Restaurant
This is a very American style menu no matter how hard they try to sell it as a fusion or homage to Mexican food. Here they have big, fat, high caloric foods. With menu headings like "Flavortown Big Eats" and "Big Bite Burgers", you know you are in for a full plate of food.
In the photo below you can see the Mac-N-Cheese Bacon Burger. Next to it is a basket of fries. We have to ask "What is going to be next? They bring a deep fryer to your table so you can plop the whole basket of fried food on your plate?"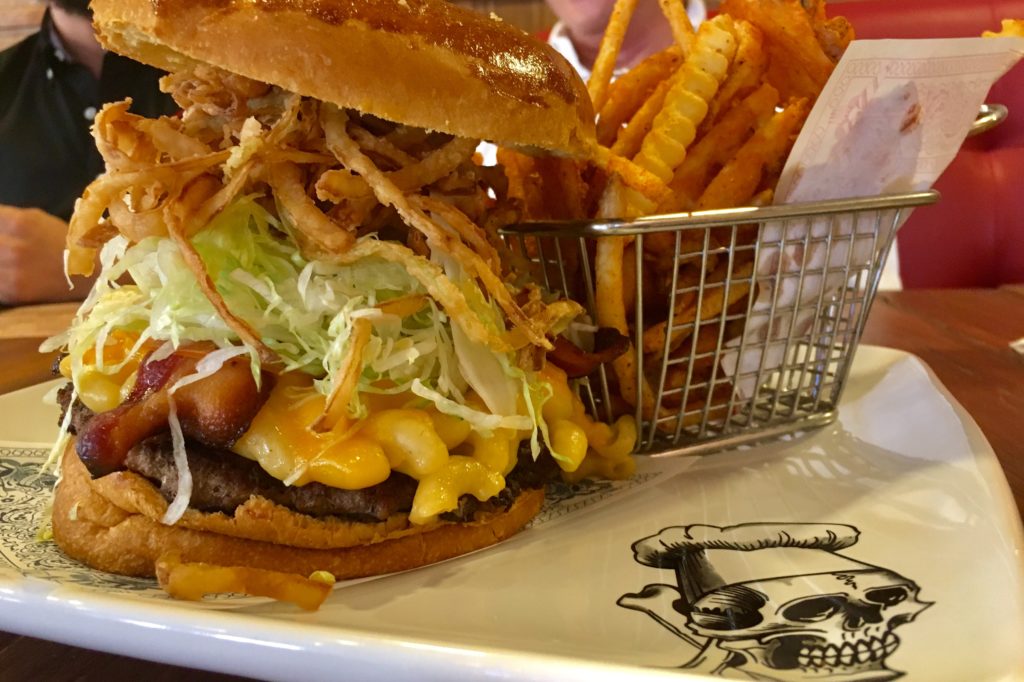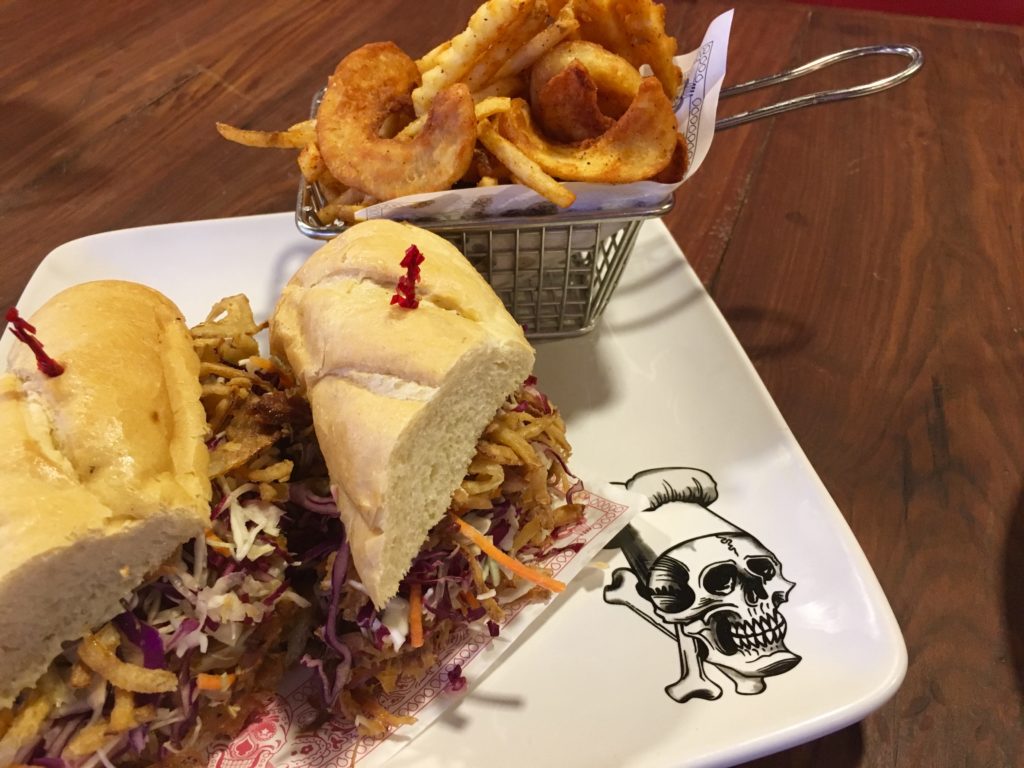 Again, the portions let alone caloric content, is out of control here. This is the "Guy's Cheesecake Challenge" dessert (It is actually larger in person). This is literally half a cheesecake with pretzels, potato chips and hot fudge. If this appeals to you, you will be happy to know that there is a place where they serve a double portion of this dessert, the grocery store. It is called a whole cheesecake.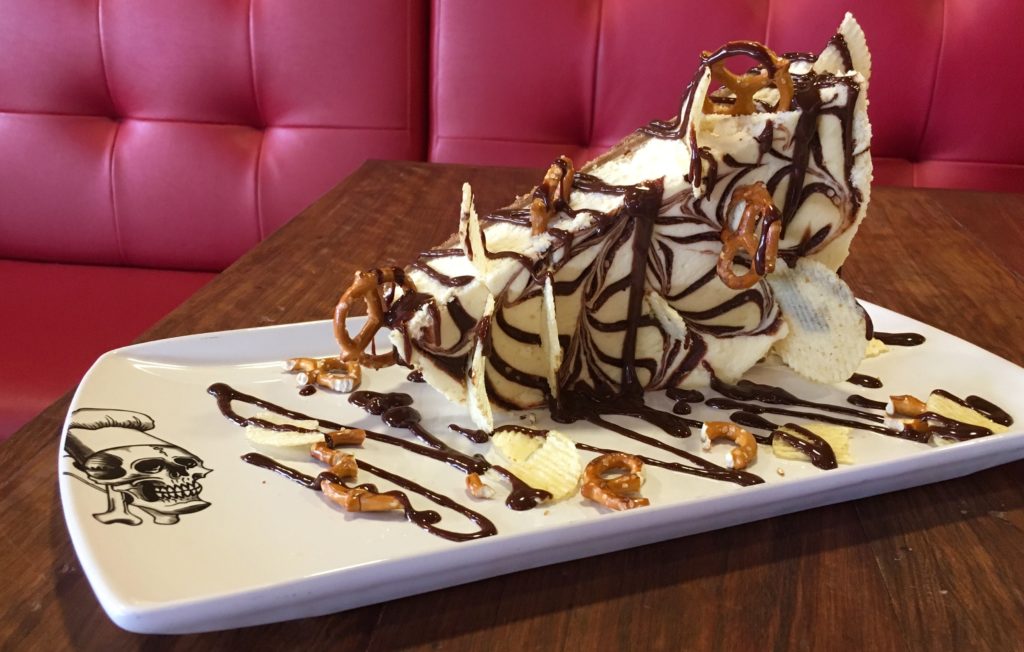 Prices at Guy Fieri's Kitchen and Bar
Appetizers 129-189 pesos.
Soups and Salads 79-169 pesos.
Wings 179-189 pesos.
Tacos 119-139 pesos.
Main plates 179-399 pesos.
Sandwiches 189-259 pesos.
Burgers 219-229 pesos.
Desserts 89-149 pesos.
Cocktails 229 pesos.  This might seem a bit high since most cocktails range from about 110-180 on 5th Avenue. At Guy Fieri's you do get to keep the glass though.
Who will eat here at this restaurant
Since this restaurant is smack dab in the middle of 5th Avenue, this will mainly target tourist.  This will mainly be a restaurant where people that have heard of Guy Fieri's Restaurants before will stop in. They will be comforted to see something familiar and this is a place for people who have no creativity or aptitude to try local restaurants. There will always be tourist who visit different countries only to end up eating at Burger King and McDonalds. Although Guy Fieri's Restaurant is a step above the afore mentioned fast food joints, it will attract the same mentality of people.
Since there is a portion of locals that do like trying new places and also splurging on comfort foods, there will be some Mexicans that go here, even though a meal will cost more than what most people make in a day.
Our recommendations
We have to say that the BBQ sandwich is very good here and you can taste the smokehouse flavor. The sweetness of the sauce and tender meat are a good combination. The BBQ sandwich was one thing that really stood out and there are other dishes that are good here but the other factors of the Guy Fieri's Restaurant overshadow them. The fact this is a commercialized restaurant that has in your face American style and food, really takes away from what Playa Del Carmen is. Yes there are many other tacky restaurants and shops that are open in Playa Del Carmen but this one practically is the breaking point.
Time will tell how this restaurant does in Playa Del Carmen. We do think back to American Joes Restaurant which was on 5th Avenue between 38th Street and 40th Street. We cringed every time we passed that restaurant as well. It did not fit into the landscape of Playa Del Carmen. The restaurant was over the top, American, diner style with American food. It was not the location that failed that restaurant, it was the concept. This is evident because Los Hijos restaurant opened in the same spot and is doing very well.
We are not happy to see businesses fail here in Playa Del Carmen. When some concepts fail though, we are pleased. We will give ideas and consultations to any business who asks us. Even if the owners of Guy Fieri's Restaurant read this and want to know how they can fit in better to the fabric of what makes Playa Del Carmen special, we will be glad to offer suggestions.
Hours
Open daily from 11:00am-12:00 midnight.
Where is Guy Fieri's Restaurant?
Guy Fieri's Kitchen and Bar is on 5th Avenue and 22nd Street.

For more restaurant reviews, see our Playa Del Carmen Restaurant Guide here. There are hundreds of choices for you.
Have you been to Guy Fieri's Restaurant in Playa Del Carmen? What did you think? Let us know in the comments below.