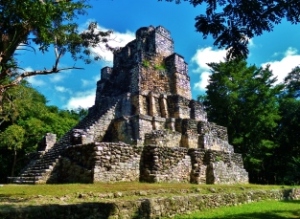 Muyil ruins (moo-yil) are a Mayan ruins site just south of Tulum off the 307 highway. It is a nice place to take in not only the archeological site but also see part of the huge Sian Ka'an Biosphere Reserve. These are some Mayan ruins you can visit without the crowds. Here is how.
Visiting Muyil Ruins
This Mayan archaeological site was inhabited as early as 300 BC-250BC and up to about 1550AD. The site itself is not huge but it is much less visited and you will have more of the place to yourself. There is the largest intact structure called the Castillo (or castle) it is 17 meters tall, which is pictured here in our photos. There are also several other structures to see.
The trail is very well maintained and easy to follow. The path is mostly loose gravel, so if it rains the trail should not be too muddy.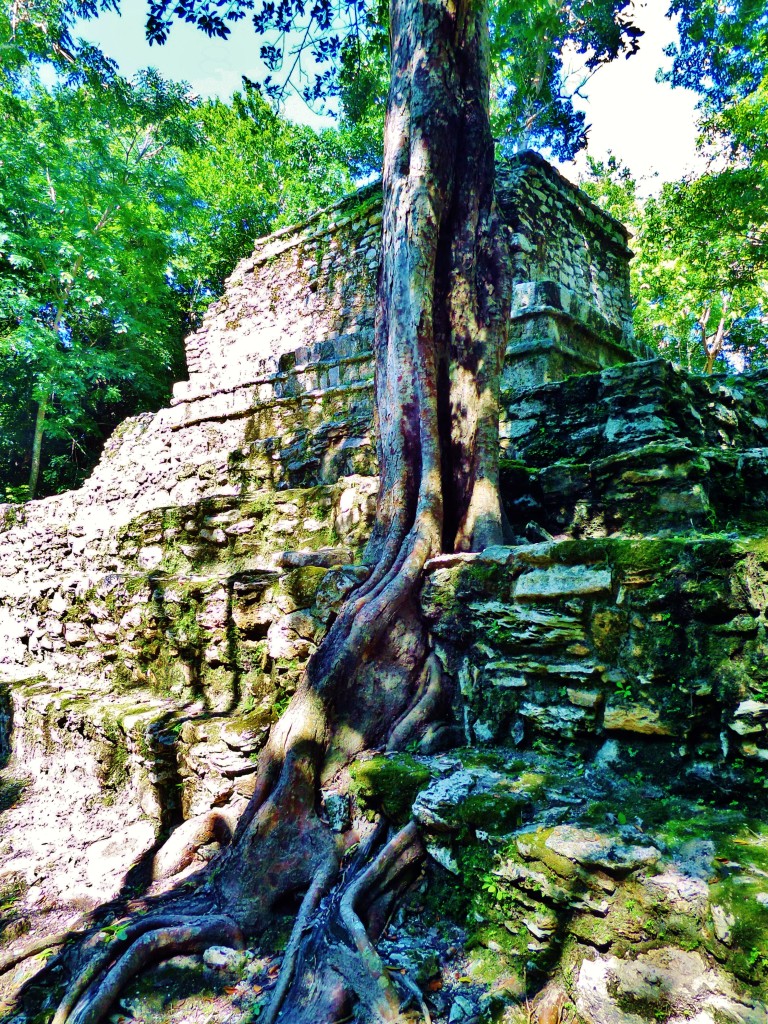 Our video introduction to Muyil ruins
Look for the hidden path!
Behind the main Castillo structure you will find a path that leads you to an small wooden hut (it will take you about four minutes to walk).This is where you can pay a small fee (50 pesos per person) and enter a trail into the actual Sian Ka'an area.
We recommend doing this because the trail is a raise boardwalk in good condition. Walking through the woods is a very peaceful experience and you get to observe nature. Under the boardwalk there is fresh water that boils up from cenotes. Some of these are marked as well as several tree types marked. This is one of the highlights of Muyil ruins so be sure to take time to do this.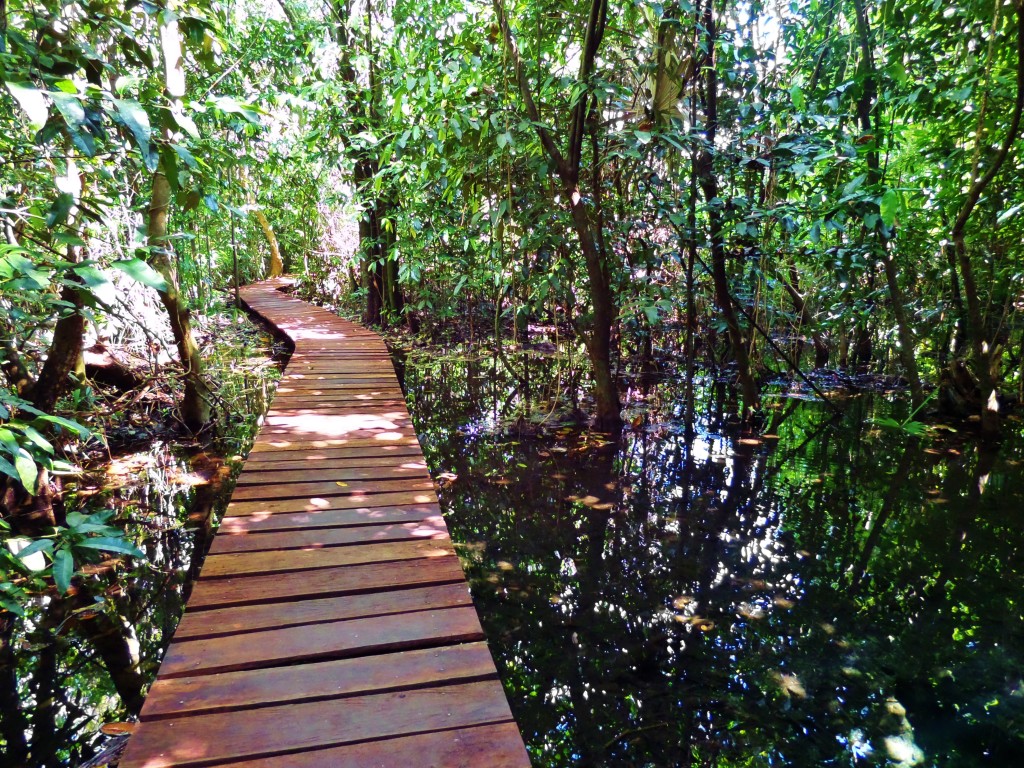 Climb the steep steps of the observation tower
There is an observation tower to climb to get an good look over the treetops and looking over to the lagoon. It is a ladder like climb, so be prepared for a steep ascent. After going up about four stories you get a marvelous view with a fresh breeze. There are no seats but it is a good place to sit on the floor and take in this unique place and imagine what it was like with canals, Mayans, trading and the city that once was.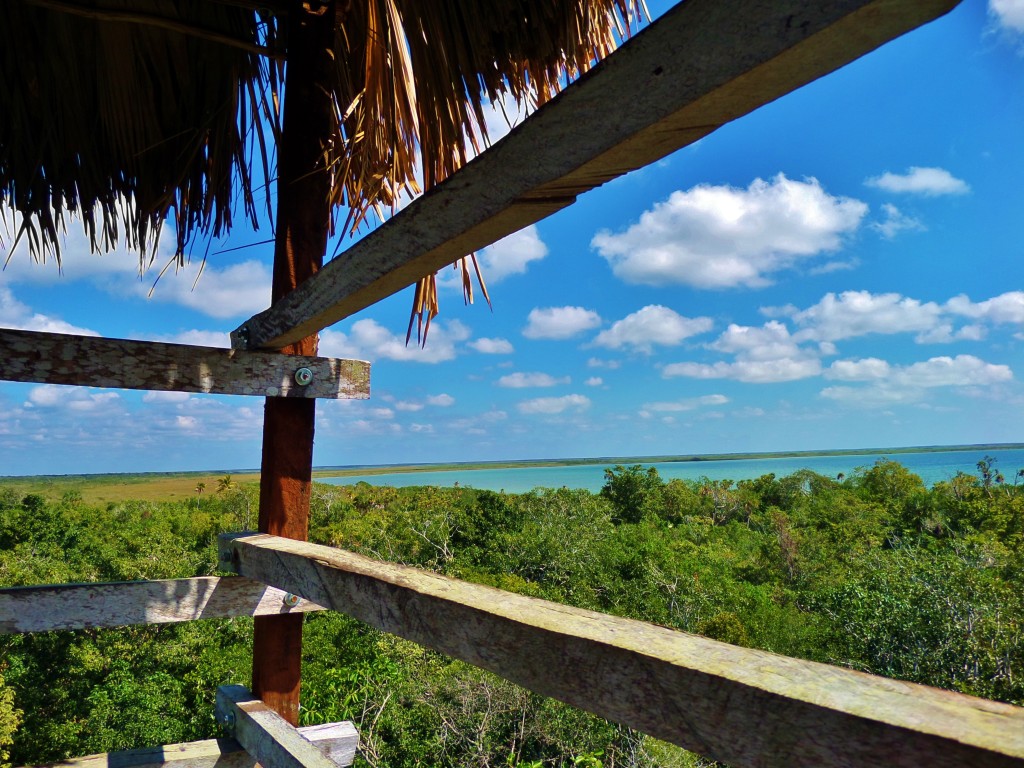 After the tower the trail continues and you come out to the lagoon where tours take off in small motor boats. These tours are pre booked. This could be something you can set up for another time if you can see more of Sian Ka'an. Or you might be able to catch one of the boat captains to jump on a tour that day.
The dock area is a nice area to see the lagoon with its white sandy bottom and blue turquoise waters. After taking it all in, follow the path back and enter the Muyil archeological site.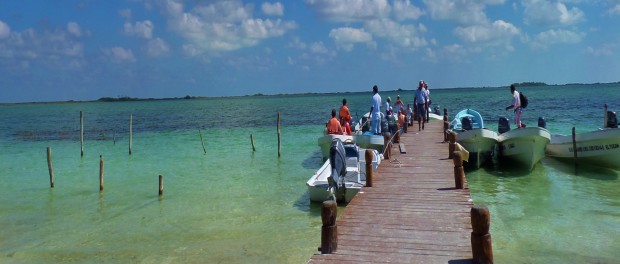 Tips for going to Muyil Mayan ruins
Bring sun protection, the ruins are half in the sun.
Bring hat glasses.
Bug spray is good to have some times of the year.
Lightweight clothes and comfortable shoes.
Bring water with you. There are very limited small stores on the main highway but nothing for sale a Muyil ruins.
A camera for great photos.
Sorry shoppers, there is no gift shop or anything for sale at Muyil ruins.
Parking is free.
Bathrooms are available at the entrance of the site and are free and fairly clean.
There is one restaurant across the highway if you need to get something but otherwise there are no refreshments or anything else in this area.
Looking to visit other Mayan ruins? See our guide here to see what each one has to offer and where they are.
How to get to Muyil Ruins
You will drive south from Tulum on the 307 Highway. The ruins are about 17 kilometers south and will be on your left. There is one good sign that marks the entrance.
If you do not have a car it is possible to take the colectivos that run from Tulum to Felipe Carrillo. These colectivos will let you off at the entrance. Going back to Tulum will mean waiting for these colectivos to return you to town. These do not run as frequent so expect to wait about 15 minutes for one. See our article on Tulum transportation here.
Also in this area is the Kaan Luum Lagoon. It is a nice place to check out and go for a swim. You can read more about Laguna Kaan Luum here. If you are staying in the Tulum area you can also read our article on the best things to do in Tulum.
Have you been to Muyil ruins before? What did you think? Do you have any tips you would like to share with other readers? Let us know in the comment box below.