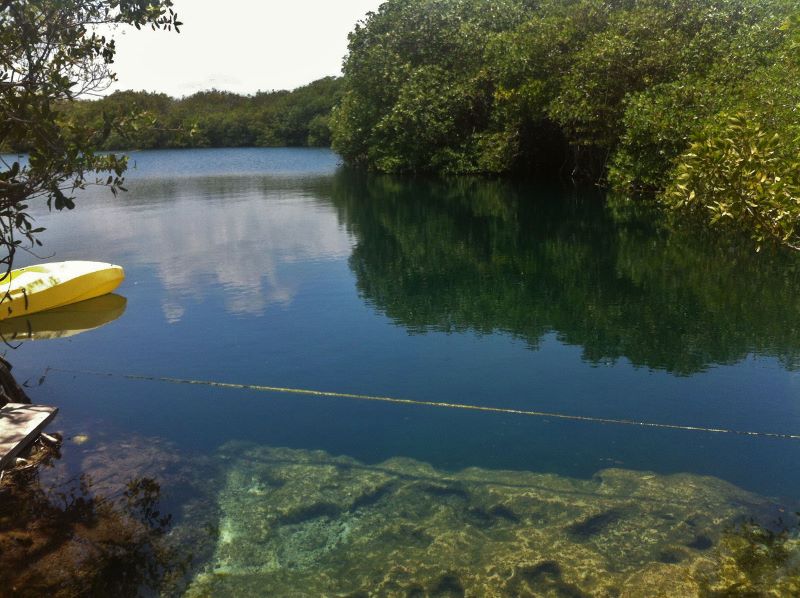 Cenote Encantado is a lesser know cenote in Tulum. This is because it is not on the Tulum-Coba road and is near the edge of town. This is a good thing. You can find yourself as one of the only people here. This is a rather large and deep cenote where you can relax, snorkel, kayak, and swim.
There are two places you can enter and pass through the properties to get to the cenote. You will see a sign for "Cenote Encantado" or the second one with a yellow kayak and the same name. The second entrance a has some limited parking which is nice because you will mostly likely drive here. There is a small table with chips and snacks with a guy there. This is where you can pay the entrance. Then you will walk through a path in the mangrove to the cenote. There is a small tower with deck where you can layout. There is limited shore space at this cenote.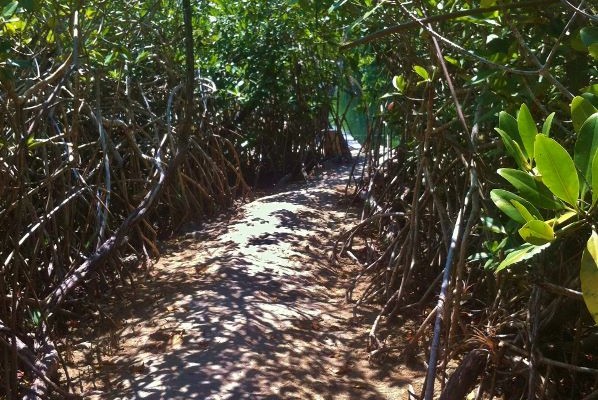 This cenote is fresh water and makes for nice snorkeling. Make sure to bring your own snorkels. There are kayaks for rent and since this cenote is more like a lake, you have a lot more space to paddle around.
Note: As with all cenotes, please only use biodegradable sunscreen and bug spray. This helps keep the waters clean!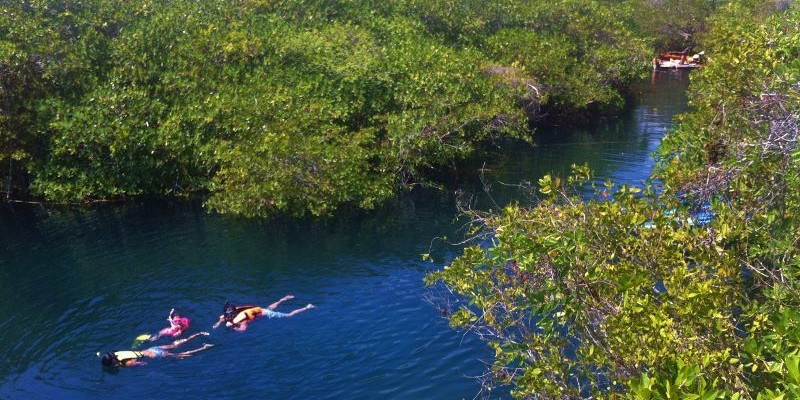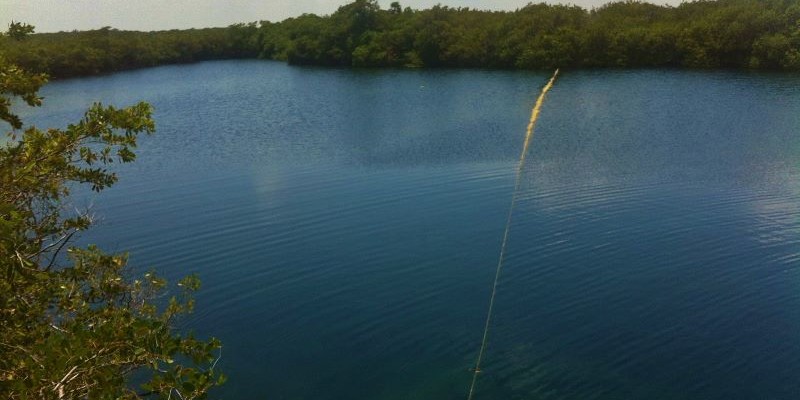 If you want to check out some other cenotes in the Tulum area, here is one suggestion: Cenote Zacil-Ha.
Price for Cenote Encantado
If you stay at one cabins or are camping the entrance is free. There are not posted prices, which means this might change. It is usually 50 pesos per person and 50 pesos to rent a kayak.
Hours
Open 9:00am-5:00pm Monday-Sunday
Location
This cenote is located in what is called the "Hotel Zone" of Tulum. It is the road that runs along the beach. It is the southern stretch of this road at KM 10. It is 1 km before you get to the arch entrance to Sian Ka'an.  You will see it on your right hand side and at the second entrance there is parking.

Have you been here before? What did you think about it? What is your favorite cenote to visit? We would love to hear from you in the comment box below.