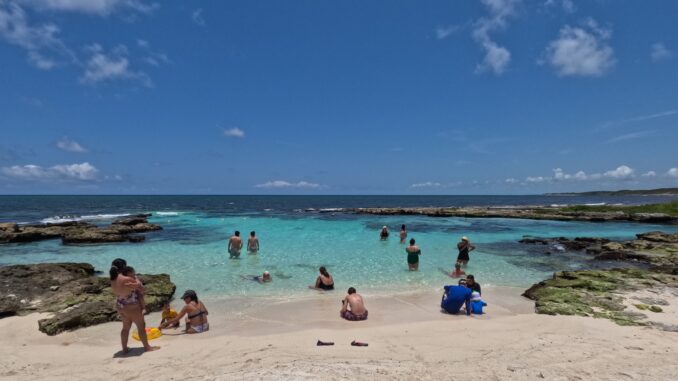 Caleta Tankah
Caleta Tankah is a beach club, cenote, and protective beach cove area that is open to the public for use. This beautiful area is also known for not having seaweed. The protected area has the reef as well as a flow of fresh water that keeps Caleta Tankah beautiful. When you arrive, you are greeted with a white sand bottom cove with the brightest of turquoises.
Our video of what it is like to visit Caleta Tankah
We like going in person to check out places so we can report back to you. This is our video we made while visiting this beautiful place.
How much is the entrance to Caleta Tankah?
The entrance price is 300 pesos per person. This is paid at the entrance of the property. This is the only thing you need to pay, although you might want to get some drinks or eat here. There is no minimum consumption nor discounts for children or locals. Locals can get a discount on food and beverage. No outside food or beverages are allowed, so your options are to eat before or after or purchase food at the restaurant.
The chairs and umbrellas are included in the entrance price. There are a sufficient number of chairs. Some are a little further away from the cove.
What is the beach club like at Caleta Tankah?
The actual beach club is a bit dated and does not seem to match the specialness of the location. So, keep this in mind. You are going here because it is beautiful and a unique place along the Riviera Maya. By no means is this like the beach clubs in the Hotel Zone of Tulum. Don't expect anything gourmet. Prices for food and drink are about 15-25% more than a restaurant in Playa Del Carmen, but it is expected in a place like this.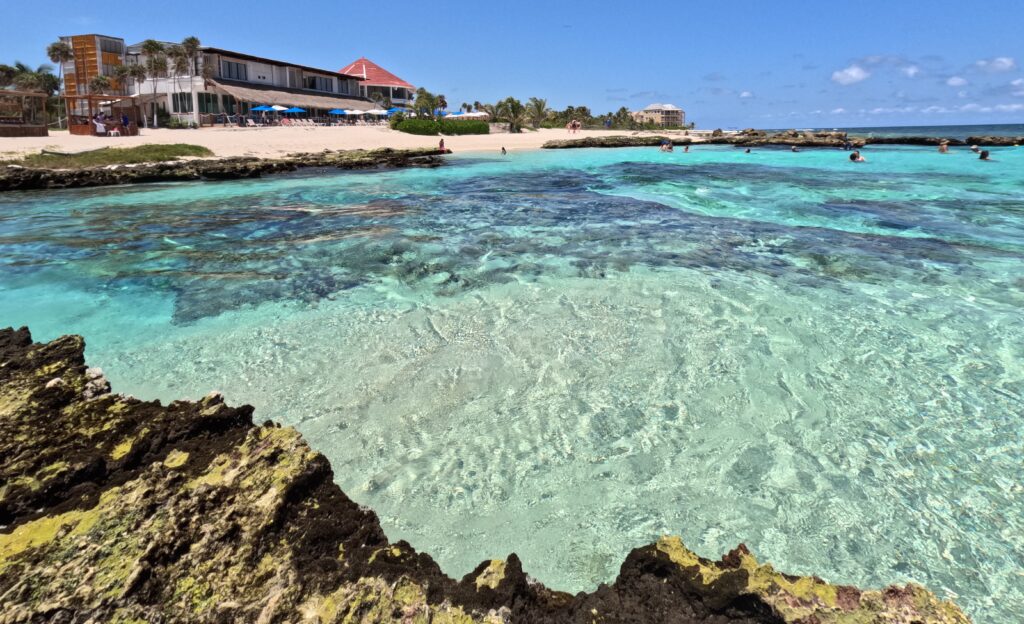 What is there to do at Caleta Tankah
There are two main areas you can visit at Caleta Tankah. First there is the beach with the cove. The cove or inlet is not huge, but usually sufficient for the amount of people visiting. This cove has beautiful turquoise water and a nice depth for sitting, walking, playing in the water.
In the photo below, the right side is where the fresh ground water comes out and fills this cove. This area is actually a mix of salt water and fresh water. The flow of fresh water also helps keep this area clean from seaweed.
Tip: You can talk barefoot to the beach, however there are sharp rocks around the cove. Having good water shoes or thick sandals can allow you to walk around on the rocks and get great photos.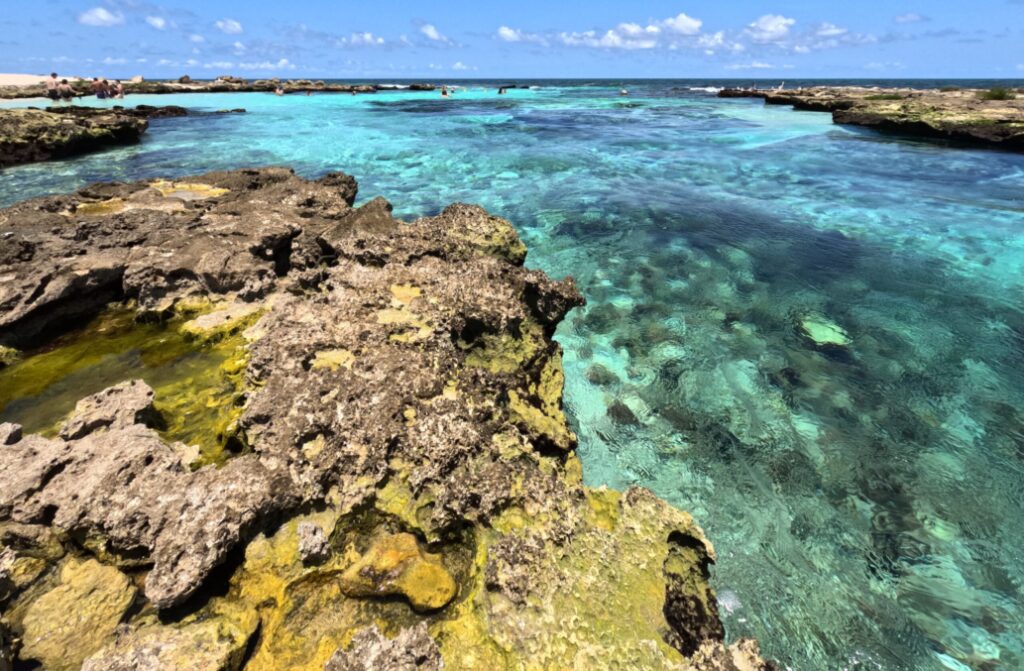 Second, there is the cenote. Cenote Tankah is a short walk from the beach club. The cenote is surrounded by lush plants and is in a nice setting. This is not a huge cenote, but where there are a few people visiting, it is comfortable for swimming. This cenote is included in the entrance and also is a good place to avoid days where there is more seaweed washing ashore. The cenote is not deep and there are many rocks that are good for resting on.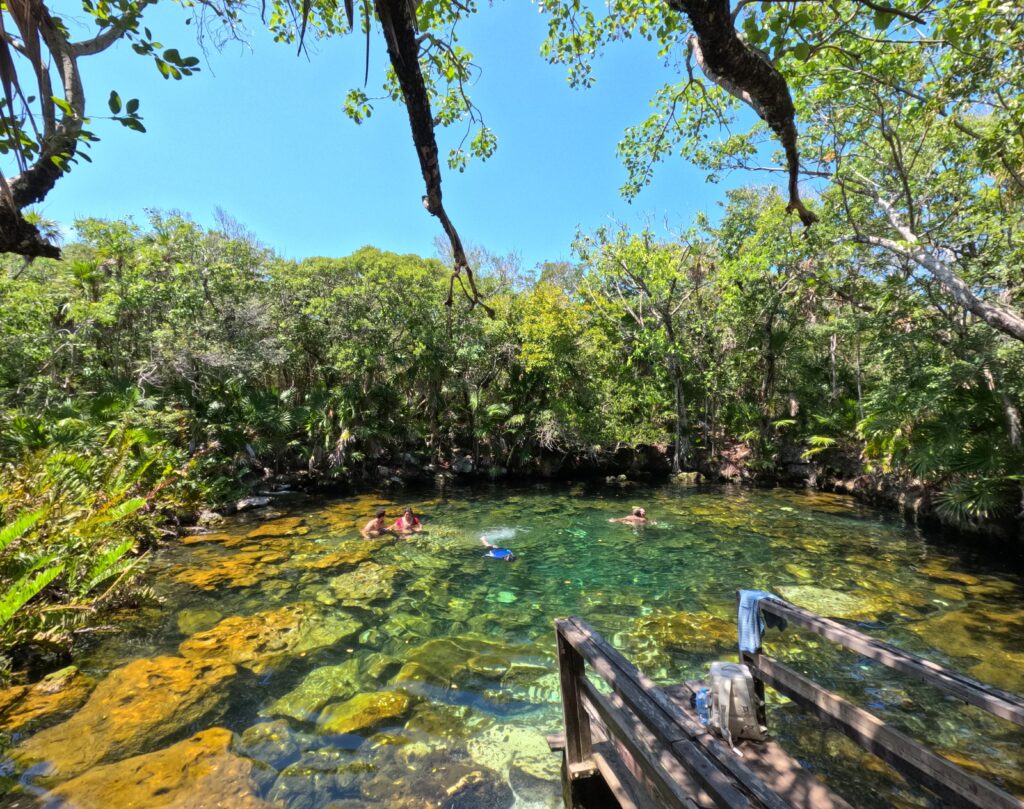 Where is Caleta Tankah
Caleta Tankah is just north of Tulum. If you are coming from Playa Del Carmen it will take about 50 minutes to drive there. You will take the 307 Highway. You will pass the entrance and take the next return to go north again to the entrance. The entrance has a large sign you cannot miss. If you do not have a car, taking the colectivos from Playa Del Carmen to Tulum is pretty easy. They will drop you on the other side of the highway you will need to cross over. The walk from the entrance is about 5 minutes.
From Tulum downtown it takes about 12 minutes to dive the 5.9 km. We do not recommend this by bicycle. Part of this trip is on the 307 Highway and there is not a good shoulder to bike on. Your best options from Tulum are car, taxi or the colectivos going toward Playa Del Carmen.
Note: Sometimes Caleta Tankah is closed for events.
Contact information and further reading