Welcome to Casa Cenote
Do you want to swim in these crystal clear waters of Casa Cenote? This is just one of the beautiful cenotes here in the Riviera Maya that is accessible to people on vacation and living here. Cenotes are part of the underground river system here in the Yucatan Peninsula. This is fresh water that is moving out toward the ocean.
At Casa Cenote you can find divers and snorkelers. This is a beautiful cenote so at times you can find it to be active with people.
Our video introduction to Casa Cenote
Snorkeling at Casa Cenote
If you come here to go snorkeling you will be in for a treat. In some parts you can see the roots of the mangroves reaching down into the water. Among the roots you can see many small fish. On the map below you can see that this cenote extends back from the entrance and into the mangrove area.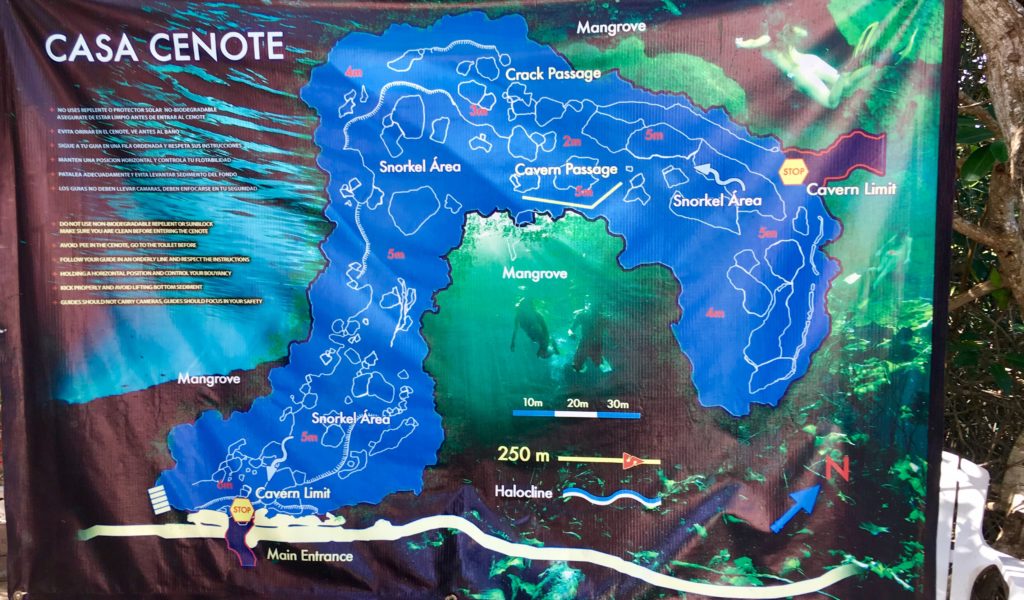 Tips for visiting Casa Cenote
Bring towels.
Snorkeling is great here so bring your snorkel, you can rent them there as well.
Do not wear sun creams or body lotions. These run off your body and create a film on the water. Help keep this place looking beautiful by not wearing any. No sun creams are allowed here, not even biodegradable.
If you want anything like a snack or drink, there is a small store just up the road from the cenote entrance. It is possible to walk there.
If you want to eat something, there is a restaurant directly across from Casa Cenote. There is an ocean view and reasonable prices for the location.
How much is entrance to Casa Cenote?
Entrance to Casa Cenote is 120 pesos. Kayaks are 100 pesos for single and 200 for a double. Lockers are 50 pesos, life jackets, snorkels and paddle board are also available for rent.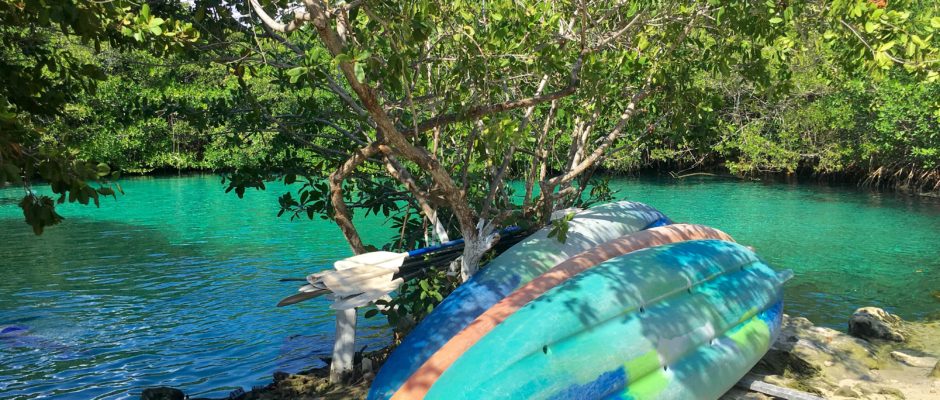 How do you get to Casa Cenote?
Coming from Playa Del Carmen and points north
Drive south on the 307 Highway. Casa Cenote is about 60 kilometers south of Playa Del Carmen. You will actually pass the entrance on your left because you will need to turn around when there is a break in the divided highway. Look for the signs by the road for Pavo Real and Tankan Inn by the entrance. See the instructions for the entrance road below.
It will be about 50 minutes from Playa Del Carmen to Casa Cenote.
Coming from Tulum and points south
From Tulum go north on the 307 Highway for about 8 kilometers. Look for the signs to Pavo Real and Tankah Inn on your right. It will take about 14 minutes from Tulum to Casa Cenote. Then follow the entrance instructions below.
Instructions for the private road to Casa Cenote
Once you turn onto the dirt road, continue to the end where the entrance of Pavo Real Resort is. The road will turn left. Here you will find a guard and a rope across the road. This is a private road.  He will ask where you are going and you just say you are going to Casa Cenote. Drive for about 4 minutes and parking will be on your left for the cenote.
Public transportation to Casa Cenote
We do not recommend planning on visiting this cenote with our a car, but we know there are adventurous people that do not mind walking. You can take the colectivos along the highway from Tulum or Playa Del Carmen to the entrance on the highway. It is a good 18 minute walk from the highway to the cenote. On a sunny day this can be a very hot walk. Of course you will be rewarded with this cenote and swimming.
Do you want to discover other beautiful cenotes in the Riviera Maya? Here are a few to look at, Cenote Eden, Cenote Cristalino, and Cenote Azul.
If you are also looking to snorkel more in the area, we have a whole snorkeling in Playa Del Carmen guide here.
Have you been to Casa Cenote before? Let us know what you thought about it in the comments below.