There are so many good bakeries in Playa Del Carmen and other sweet treats! We complied a list of some of our favorite places to visit when we want some pastries, a cookie or something special. Of course what goes good with baked goods? Coffee and tea, so make sure you check out our guide to great coffee shops in Playa Del Carmen as well.
For further information on any place that sounds good, just click on the link and it will take you to the article with full information. Below is a map with all the mentioned places on it.
The Best Bakeries in Playa Del Carmen
Das Brot Bakery is run by local Anja from Germany. Here you can find pastries and breads all with her special touch. This bakery is known more locally and a great find. Come here for some love "n" from the oven especially in the early morning when the cinnamon buns come out of the oven! This bakery is on 8th street between 20th Avenue and 25th Avenue.

Chez Celine is what most people consider one of the best bakeries in Playa Del Carmen. It is more in the French style of baking if the name did not tell you that already. Walk into this bakery and you are assaulted with a glass display and counter full of baked goods that will temp you into trying at least one thing! Chez Celine is on 5th Avenue near 34th Street.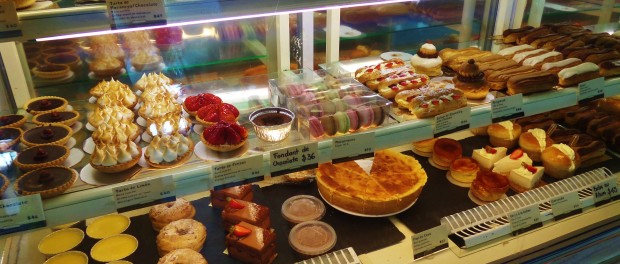 Shoe Box Bakery is a full bakery with cakes, cheesecakes, muffins, brownies and cookies. What is nice is the fact that this bakery has moist desserts and not dry style. This bakery is on Constituyentes Avenue between 10th Avenue and 15th Avenue.

The ShoeBox Bakery in Playa Del Carmen.

Miga Playa Bakery is an Argentinian style bakery on 25th Avenue. They have a slightly different take on pastries. We love the cheese danish here because it is super moist.

La Brioche
La Brioche is a French style café and restaurant on 38th Street just below 5th Avenue on the north side of the street. Here you can have a good breakfast and French pastries. They are open daily from 7:00am-10:00pm.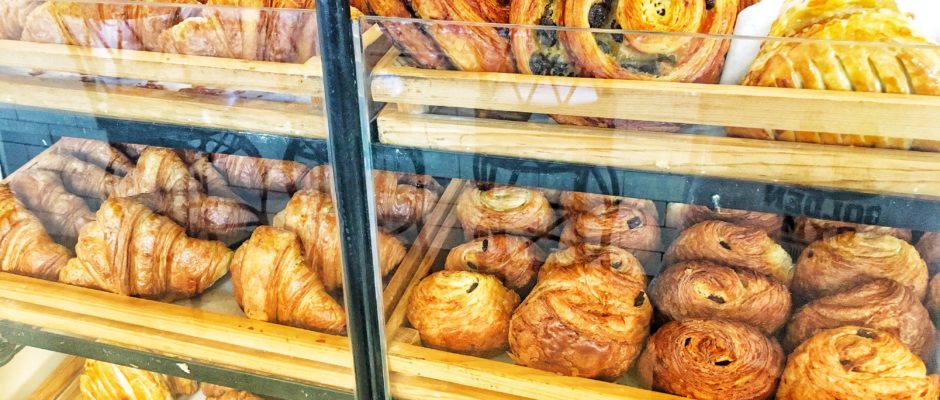 Patty Perez Pasteleria

This is a small cake shop on 34th Street between 20th Avenue and 25th Avenue. You must try their cheesecakes!! They are open Monday-Friday 9:00am-6:00pm, Saturday from 9:00am-3:00pm, closed Sundays.

Patty Perez Pasteleria Bakery in Playa Del Carmen

L'Atelier de Fred

This is a French bakery and café in the Playacar section of Playa. This is a delicious place where you can get pasties and croissants. L'Atelier is on the back side of Playacar Phase 2 near the entrance to Pakal Golf and is in the small plaza with the Oxxo.

Panificacion Castillo
This bakery has a large selection of typical Mexican bakery items but also a few more moist options. Prices are very good here and you can have several bakery items and a coffee for less then a coffee in Starbucks. This bakery is on 10th Avenue between 38th Street and 40th Street.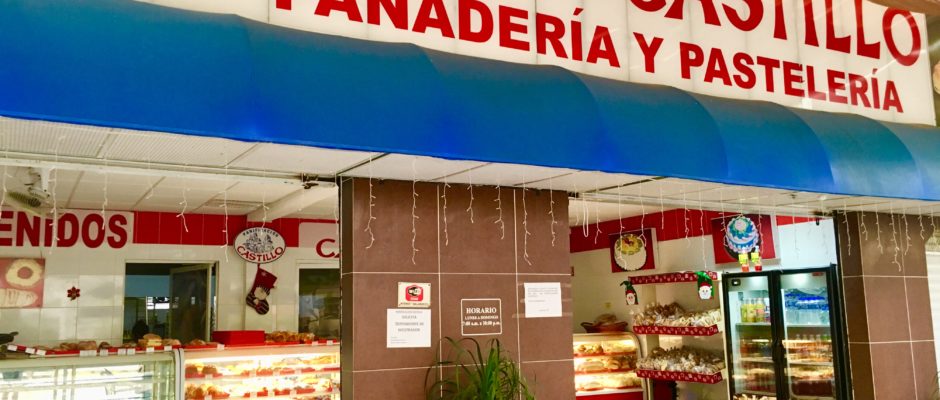 This is the only vegan bakery in Playa Del Carmen. Not only can you get the best vegan goodies, you can also enjoy their restaurant on CTM Avenue.

Sabrina Café is an Italian style café with baked goods. We love the ricotta and blueberry filled pastries here! They have mini tarts too. Sabrina's is on Constituyentes Avenue between 10th Avenue and 15th Avenue.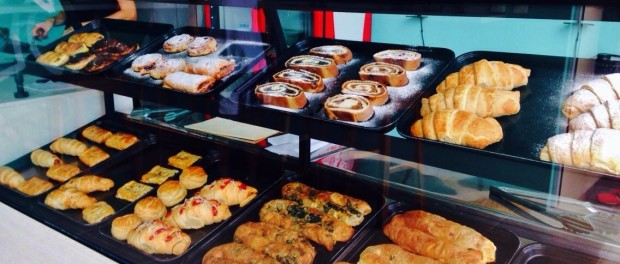 This is an Argentinian bakery on 34th Street between 40th Avenue and 45th Avenue. They have different things from the traditional Mexican bakeries like lemon pie and chocolate mouse. It is not in the direct center of Playa but worth a trip here to taste the goodness.

This is another French style café/bakery that serves up pastries. This is at the south of town on Calle 3 sur just by the Cozumel ferry Pier. So if you are in the area this place is a good place to stop.
All grocery stores have a bakery in Playa Del Carmen and surprisingly enough they all are about the same and make exactly the same things. Mexican bakeries are like this throughout the country. We will note that AKI supermarket is the one bakery we don't recommend because they are so basic, small and don't have very fresh things.
Cakes and Cupcakes at bakeries in Playa Del Carmen
Cakes are really inexpensive at grocery stores and for a simple event, these cakes suffice. Tres leche cake is always popular here because it is Mexican and always moist. Prices range from 160-300 pesos for a cake. For more on shopping in grocery stores and where they are be sure to check out our grocery store guide.
Mexican Desserts and Sweets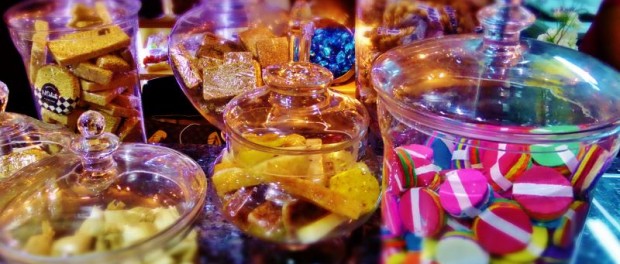 Churros are a very Mexican treat. It is like a long fried donut that is filled with chocolate or what ever filling you like. You can find a churro stand on 5th Avenue between 2nd Street and 4th Street. It is a small stand but you will see a few people in line for them.
Every tried a marquesita? You might not know this local Mexican sweet treat. It is usually served up on the street, in parks and at carnivals. These are like a crepe and filled with different toppings but it traditionally has a strong flavored Edam cheese in it with other toppings added. You usually can find a cart in the park by City Hall at night.

[print_link]
What are some of your sweet treats or bakeries in Playa Del Carmen? Let us know in the comments below. We would love to hear from you.