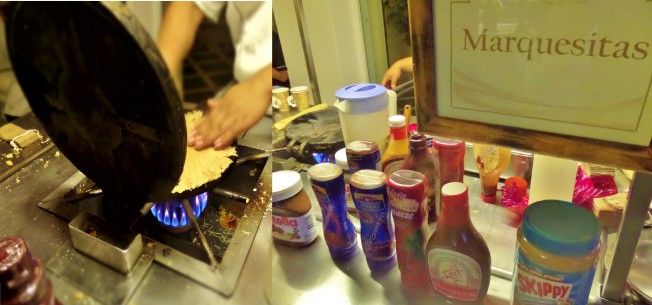 Marquesitas are something that you find made in the street in the Yucatan Peninsula that is a favorite local treat. What is a marquesita you ask?Marquesitas are a crispy crepe that are rolled up and traditionally filled with melted shredded cheese and a sweet filling of your choice. Here is a little history about them and how they are made.
Marquesitas
Watching a marquesita being made is part of the fun of getting one. Even though these are sold in the street from small carts, they use gas flames to heat a waffle like iron press. The preparer pours the batter on the press and lets it cook a little and turns the heavy press over to cook evenly. He then will take a knife around the edge to cut off the excess of batter that comes out of the press.
Next the preparer will open the press and sprinkle in the cheese and spread the topping of your choice and roll it up. Toppings include Nutella (very popular option!) jam, peanut butter, cajeta (a type of caramel sauce) or chocolate sauce. The combination of the sweet and the cheese is good and all wrapped up in the crispy crepe.  The residual heat melts the cheese a little. It is then put in a paper sleeve or napkin and given to you to enjoy.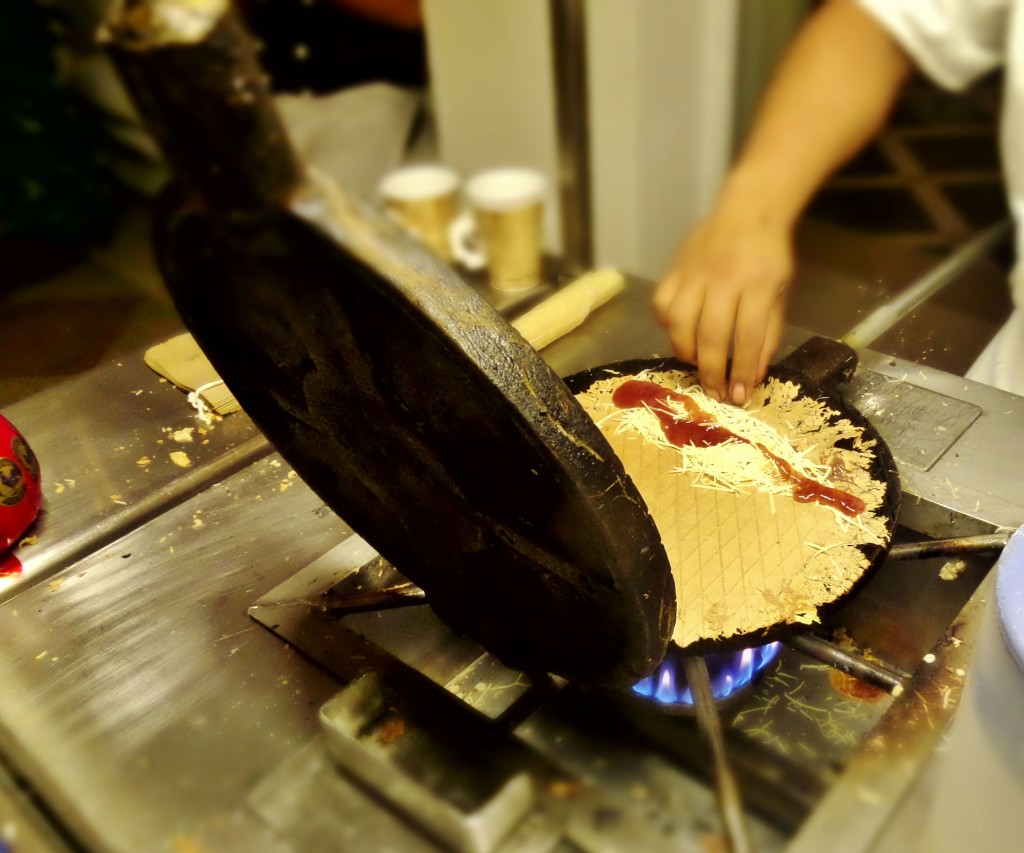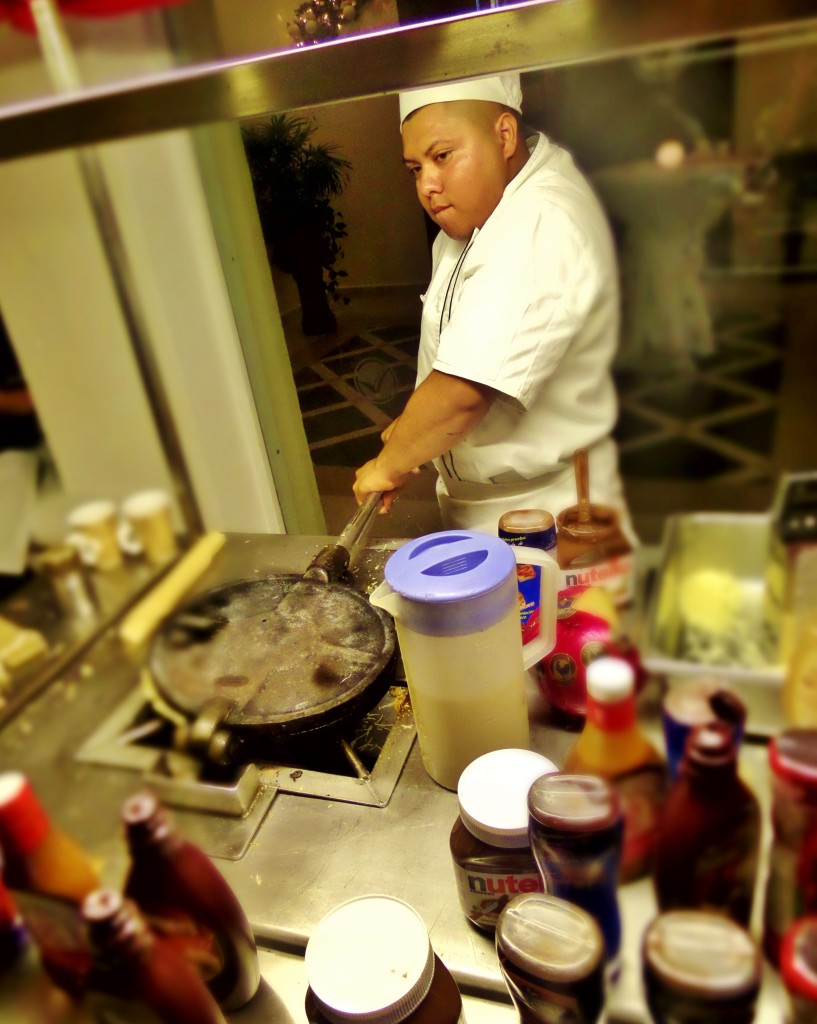 The Cheese in a marquesita
Traditionally Edam cheese is used in marquesitas. This Dutch cheese might seem like a very odd choice to put in a Mexican street food but it has an interesting past and part of the international  influences of food here. There are several stories as to how this cheese became a staple here Mexico.  They all involve Europeans bringing this cheese to the Yucatan Peninsula as far back at the 1800's. The cheese stuck in local food culture and you can find it in stores today and in marquesitas.
Video of how to make a marquesita
Here is a short video we made to show you the process. We filmed this in the park in Playa Del Carmen, Mexico.
Best places to find marquesitas
At any carnival event in Mexico or Playa Del Carmen you can find them. For other non event times in Playa Del Carmen you usually can find a cart in front of the Walmart downtown on 8th Street between 25th and 30th Avenues. The other location you can find them at is the park in front of City Hall. It is between 8th and 10th Streets and between 15th and 20th Avenues. This park at night is nice for strolling around and grabbing a marquesita and sitting down to enjoy the evening. We hope you get to try these on your next vacation.
Marquesitas are on our list of sweet treats to try while in Playa Del Carmen. Be sure to check out our guide so you don't miss out any other great eats!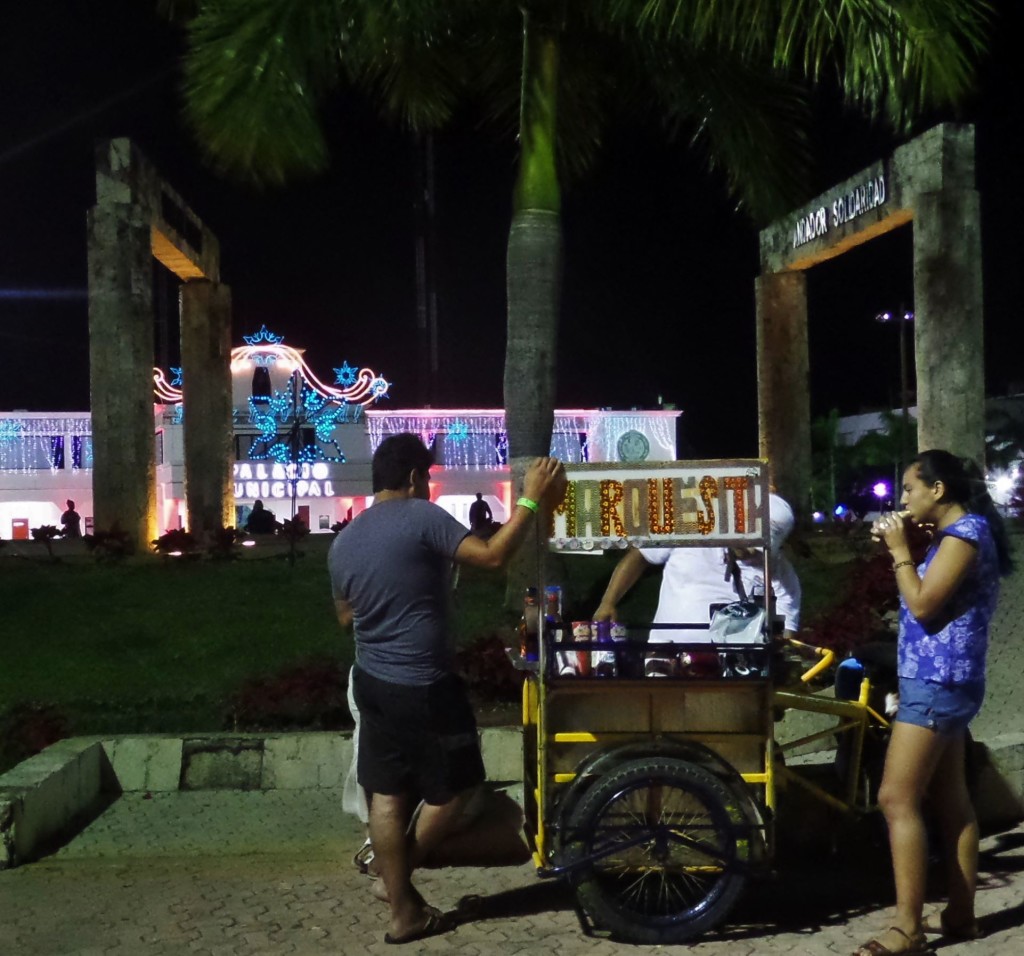 Have you tried a marquesita? What do you think about them? What is your favorite topping? Let us know in the comment box below.