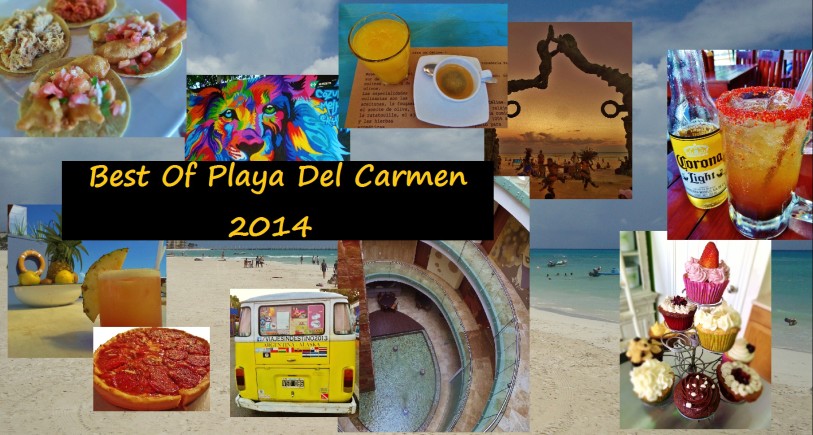 Best of Playa Del Carmen 2014
This past year saw a lot changes in Playa Del Carmen. It really was a HUGE year! The Liverpool Department store opened on the south end of town, a new highway was built from Playa Del Carmen to Yucatan State, Home Depot opened a new store, Cirque Du Soleil started performing in a new theater near Playa and many of businesses that we featured on our website opened in 2014.  Also, we came on the scene and started bringing you all the good and interesting things in and around Playa Del Carmen. So it was a big year!
We wrote about hundreds of stories and visited so many different places. Along the way we found some of the best of Playa.   We have also heard from you and listened to what you thought were some of your favorite places.
Here is our BEST of 2014 list for Playa. Of course this is not every category since some are too broad to pick just one as the best but we hope you enjoy this list of great places in Playa Del Carmen
Check out our new Best of 2015 in Playa Del Carmen and compare what is new and the best!
Best Beach in Playa Del Carmen
The beaches are always changing in Playa Del Carmen. Some get smaller and some get new construction. We did a list of the Top 5 Beaches in Playa this year and our number one is still our best beach. Mamitas beach and nearby is out best beach for 2014. Mamitas beach is where Calle 28 runs into the beach.
Why? Because this beach is wide and has services available. It is also very easy to access. It might be a bit too young for some but perfect for many people. Unfortunately our #2 beach this year got construction of new homes and it made the beach smaller.
Best Beach Outside of Playa Del Carmen
Sometimes residents of Playa like to get away from Playa and enjoy the beach or just have a change of scenery. The best place to go is Tulum.
Why? Because they have beautiful turquoise waters, wide beaches and they are not too crowded. Playa Paraiso is the best beach and more info can be found in our Tulum guide.
Best Expat Beach Club
Wah Wah is at the center of a lot of meetings of expats and is a place to go for  a meal with friendly faces. Wah Wah is located on 2nd street and the beach.
Why? Because it has many beach chairs, a wide beach and cheap drinks. All this and with a lot of friends or soon to be friends that speak your language. They also do all the events for holidays and a Sunday buffet at Wah Wah.
Best Pizza
Often a source of conversation and contention. Everyone has their own taste from flat crust to weird toppings, but there is one that stood out that maybe can satisfy a lot of people at once. That would be the pizza at La Famiglia.
Why? Because it is a nice size pizza for the money and classic soft crust Italian pizza. They offer a lot of styles and use good ingredients.
Best Breakfast Spot
Wake up and smell the coffee! Since coffee might be an important part of a breakfast we choose Chez Celine.
Why? Because they are consistently popular with locals and tourist. They have good value and prices on their menu. There is a bakery in the back and  fresh pastries and bread are made right there. The outdoor seating is nice and the coffee is very good here.
Best Spot for Lunch
This place does not get too many tourist because it is of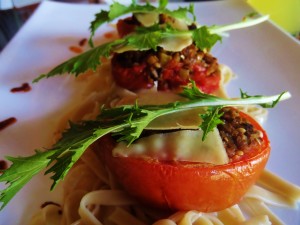 f the beaten path on 25th Avenue but we always wonder why more people do not go there. Elemento Restaurant is our best place to go for lunch.
Why? Because they have well prepared food and it is wonderfully presented. The prices are great at usually under 100 pesos for a nice meal. The seating area inside is nice because you look at the design studio of Casona and outside you have a passion fruit vine covering the patio area. Just look at the food photos in the link above and you will know why this place is so good.
Best Street Food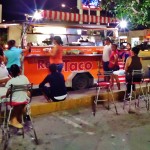 El Rey Tacos is always busy and easy to get to. Located between Mega and Aki supermarkets just off 30th Avenue.
Why? Because they have a good product. The meat is good grilled quality and never with gristle. They have fast service, to go or eat there. They offer about 5 different toppings for your tacos. Plus the price is good at about 13 pesos a taco depending on what you get. You might even get live music played for you. It does not get more local then this!
Best New Drink in Playa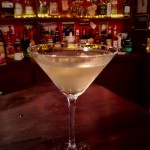 There are a lot of bars to choose from but the creative people at Sala Rosa have created a very good drink called Tanqueray Tea. Sala Rosa is a small local bar on 38th Street between the beach and 5th Avenue.
Why? Because it is unique an creative. It also happens taste amazing. They use top shelf gin, grapefruit juice, honey and chamomile tea infusion. Wow! You have to try this drink! Another great addition to Playa's drinking scene this year.
Best Place for a Casual Beer
The Beer Bucket on 10th Street between 5th Avenue and 10th Avenue will give you a relaxed place to have a cheap beer.
Why? Because this small colorful bar gets customers coming back each time they are in Playa or every time they go out. You have street side seating for people watching, swinging chairs upstairs and beer on tap or draft. For about 30 pesos you can sit here and enjoy the evening. Come as you are because they don't care what you wear, they just serve up a smile and good drinks.
Best Place For Tourist to Eat Tacos
A lot of tourist come to Playa to eat "Mexican" and want tacos. There is taco row between 25th Avenue and 30th Avenue on Constituyentes Avenue. You have a selection of several places but we choose El Fogon as the best.
Why? Because this place has been around for a while and they consistently provide good service and a really Mexican feel and taste. For the true experience, have tacos de pastor.
Best Tourist Souvenir Shop
There are so many to choose from but we are partial to Hacienda Tequila on 5th Avenue near 14th St.
Why? Because they have great air conditioning! They also have a well rounded out section of merchandise, photo ops outside and a large Mexican alcohol selection in the back with a little display of how tequila is made.
Best Local Market
This past year we have seen a focus on buying local and supporting local artisans. We named Kava Kasa market the best of 2014. This market is on 22nd Street between 5th Avenue and 10th Avenue.
Why? Because this market is in the center of Playa and easily accessible to both tourist and locals. It has a nice selection baked good, regional food, hand crafts and more. Make sure to check out this market on Tuesdays from 11-1pm.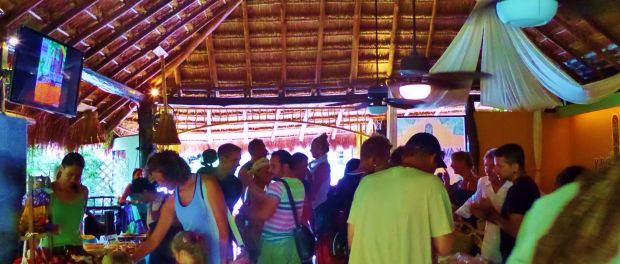 Best New Hotel in Playa
Hotels come and go in Playa but one came about this year and stands out. The Artisan Hotel opened right on 5th Avenue between 26th and 28th Streets.
Why? Because this hotel is beautiful on the inside and has a great rooftop pool. It also offers a nice level of modern service with good value.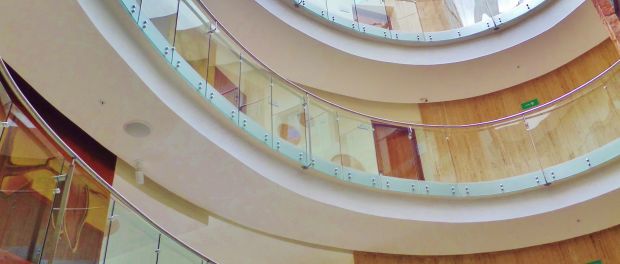 Best Hostel in Playa Del Carmen
2014 saw many new hostels pop up in Playa especially near 6th Street. The one that stands out as the best is 3B Hostel. It is located on 10th Avenue just below Juarez Avenue on the south end of Playa.
Why? Because they approach giving out dorm beds in a stylish way (think boutique hostel). This hostel will not make you feel like you are traveling on a strict budget. They have air conditioned dorms and a cool rooftop deck with small pool and music.
Best Rooftop in Playa
The Palm Hotel opened this year and put a nice rooftop with pool on top. The Palm is located on 8th Street between 5th Avenue and 10th Avenue.
Why? Because it is one of the best views in Playa, it is open to the public and is a good place to grab a drink or spend the day by the pool or Jacuzzi. Enjoy looking out toward Cozumel and feeling the sea breeze from here.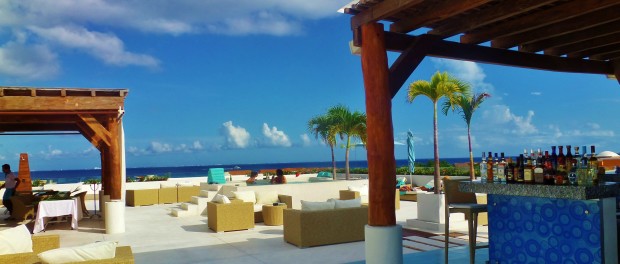 Best Night Club in Playa Del Carmen
Playa Del Carmen knows how to party and with  so many clubs it may be hard to decide where to go that fits your style. Our choice for the best club of 2014 is Santanera on 10th Street between 5th Avenue and 10th Avenue.
Why? Because it moved to it's new location this year and is stylish. It does not get the 20 year old kids that just go out to take selfies and listen to loud music. It has a little more sophistication to it compared to other clubs. It usually has good music and a good crowd. Locals that go out and are "in the know" choose this place.
Best Liquor Store
Of all the places to buy alcohol in Playa Del Carmen, the best is hands down it is the La Europea store in Quinta Alegria Mall. La Europea has two locations in the center of Playa but this one is the best.
Why? They have a large selection of wines and liquors. They have a few tables in the mall area where you can buy a bottle of wine and have table service. They even have a deli counter with nice meats and cheeses. Sometimes they even have wines for under 50 pesos that are not half bad!
Best New Art
This year saw a blossoming of street murals in the Colosio neighborhood of Playa. There were some very famous artist that came and painted murals. We do have almost 200 photos in our gallery and more to add soon. Here are just tow of our favorites. It is just amazing that Playa continues to diversify and the art scene is growing.
Thanks for reading out BEST OF PLAYA DEL CARMEN 2014 Edition. It was a big year in Playa and next year looks even busier with a huge hotel opening, new shopping centers and restaurants coming. We will try to stay on top of everything and bring you the best and most interesting things in Playa Del Carmen.
We also have so many other great places to mention and it is hard to categorize some places. We thank all the hard working people in Playa Del Carmen that work hard to create something different and provide great services. We have had millions of hits on the website and tens of thousands of people checking in each month. Thank you, our readers, for all the encouragement and nice comments. It really motivates us to work hard to bring you everything.  We had an amazing year and look forward to bring you even more in 2015!