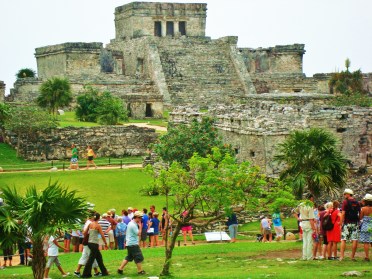 Hello Tulum Mexico!
Tulum is actually divided into two parts physically and psychologically. If you look at a map, Tulum has it's town center on the 307 highway and then there is the part of Tulum nicknamed the "hotel zone" along the beach. Both are very different but both are integrated into what makes the Tulum of today.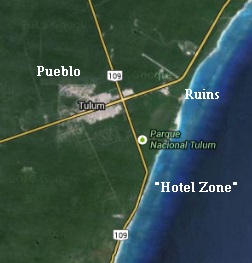 For tourist, the main interest it the ruins. It is located on the north end of town just a you enter Tulum. Tulum Ruins appeal to so many not because they are big or have the highest pyramid but rather because they have a stunning view over the ocean. The ruins are not extensive but nice to walk around. If it is a hot sunny day, be sure to put on sun protection, bring water, and perhaps an umbrella for the sun. One to two hours should be reserved for seeing in the site. Be sure to check out our very detailed guide for the ruins here which will let you know how you can do it cheaply and easily.
Tip: If you want to go swimming right in front of the ruins, wear your swimsuit under your clothes and jump in. There are wooden stairs that go down to the beach from the ruins. Otherwise you can wait until you leave the ruins to take in another beautiful beach in Tulum.
Where to stay in Tulum
Since Tulum is spread out there are some better areas to stay in than others. Here is a map and article on the best areas to stay in Tulum.
What is Tulum downtown like?
The downtown area on the highway will give you many choices of restaurants, shops and budget accommodation. This part of Tulum is evolving. It used to be a dusty side of the highway. Now it is learning from other places where development has taken place in the Mayan Riviera. You will notice a more relaxed atmosphere in Tulum, more people riding bikes, and more natural looking buildings.
If you are only stopping in Tulum for a rest stop from visiting Coba, Muyil, Sian kaan, or one of the cenotes, a great place is directly across from the ADO bus station. It is an ice cream shop called "Flor De Michoacan" It has fresh coconuts which they open with a machete for you, popsicles of all flavors as well as other cooling snacks. They have a nice garden with seating in the rear. It is a perfect place to stop for a rest. Plus they have two bathrooms to use!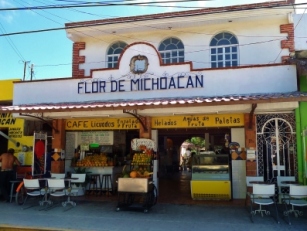 Tip: Restaurants along the highway tend to be more expensive and more for tourist. If you want to get something a little more interesting, try a side street.
Hotels in Tulum
Below is a link to our hotel guide  for Tulum but  we also wanted to let you know of one of the original boutique hotels that you will not find on an online booking site. Teetoum is a stylish designed hotel with modern conveniences that make it a hip choice for your stay in Tulum. http://www.teetotumhotel.com/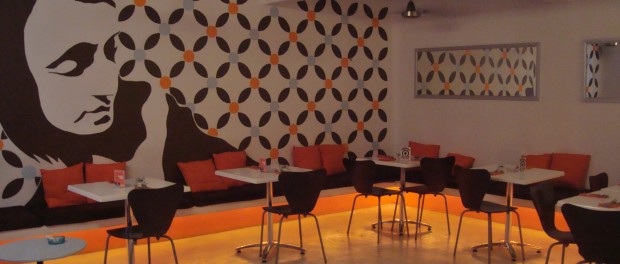 For our guide for hotels in Tulum and the entire Riviera Maya check here.
Tulum is connected to the beach by the 109 road or Avenida Coba as it is known, and now has an attractive bike and walking path that goes the length of it. This makes for renting bikes fun and an easy way to get to the beach if you are staying in town. Bike rental are found all over town. They are mostly rented by the day and half day. Bike rentals are usually about 80-120 pesos for a day.
Best Beach in Tulum?
Everyone is always looking for the beast beach to go to. Tulum has some of the best beaches and photos to prove it! There is not a lot of development and the natural turquoise waters entice people to jump in.
One of the best public beaches to go to is Playa Paraiso.  To get to this beach, drive or bike down Avenida Coba toward the beach, when you come to end it has a left and right turn. Tune left and drive for about 5 minutes. There are some beach clubs with parking but you need to pay to go to these. There is free public parking lots, but they are small. Note: On the weekend this stretch of road can be very busy and there is no parking or only on the main road. If it is extremely busy there will be police at the turn from Avenida Coba blocking more cars from entering. Your only option is to go somewhere else or walk in or bike.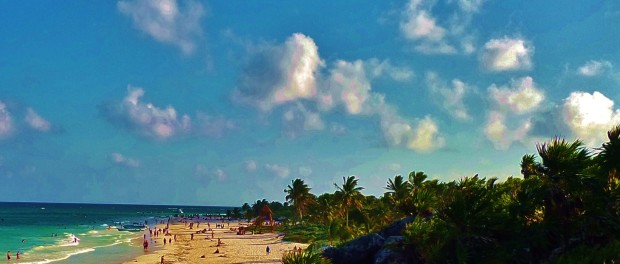 The beach is wide and there are beach clubs, beds, chairs and small beach bars. There are not a lot of facilities but that is part of what makes this places so nice. At the north end of the beach you can actually see the back side of Tulum ruins. Even though parking might be tight, the beach is big and never over crowded. You can enjoy one of the best  beaches in the Riviera Maya here.
"Hotel Zone" in Tulum
Along the "hotel zone" you will find many rustic hotels and more increasingly bohemian chic retreats that are Hollywood star hangouts. There are some impressive, well designed hotels, boutiques of local artisans, and culinary delights in the form of restaurants in this stretch of the road. You can easily pass a week here and be in your own little world with some of the nicest beaches. Just be prepared to pay for it since most places are moving toward the mid and high end and the days of a beach shack with a hammock are gone. Having your own car makes for better access to the downtown area for visiting other restaurants or going to the grocery store. Otherwise taking taxis into town will be the best option.
One of our top picks for boutique hotels in Tulum is Azulik. See our article and video about this amazing hotel to find out why!
Sian Ka'an-the end of the Hotel Zone in Tulum
As you go south along the beach you will reach the entrance of Sian Ka'an Reserve. This area is an amazing section of the Peninsula that is set aside as a natural reserve. Day trips and overnight excursions are possible in this area. They include birding, Mayan ruins, swimming, kayaking or just taking in a sunset boat trip.
Around Tulum be sure to visit some of the amazing cenotes like Dos Ojos, Encantodo cenote,  Zacil-ha cenote and Grand Cenote. Tulum is also close to Muyil ruins and Coba ruins. We also have an article for the best things to do in Tulum you might want to read.
Other Tulum information
If you are staying in Tulum and want airport transfers to and from the Cancun Airport, you can book them here. We have teamed up with this transportation company. They provide reliable and good service to people arriving and departing from the Rivera Maya.
The Tulum of today continues to transform itself and caters to all level of tourist. It still preserves the look of what Play Del Carmen used to look like years ago. We suggest you check it out when you are in the Riviera Maya.
Have you been to Tulum before? What did you think? Let us know in the comments below, we would love to hear from you.