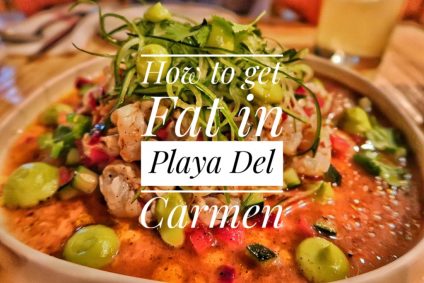 Foodies Guide to Food in Playa Del Carmen!
If you love food as much as us here at EverythingPlayaDelCarmen.com, you will love all the options for food you can find in Playa Del Carmen and the Riviera Maya. The Riviera Maya is not just about beaches and in recent years there has been an influx in culinary events and opportunities to taste some great cuisine. Here is your guide to everything food in Playa Del Carmen and the Riviera Maya area.
Great Restaurants To Try In Playa Del Carmen
Playa Del Carmen is more than just a beach town. It has become a location where people from all over the world have immigrated to. There are the Europeans that like the sunshine and relaxed life, South Americans that look for better economic opportunity and others that have the idea of starting a small business for the opportunity to live in the Riviera Maya. So from all these corners of the world, there is a wide range of restaurants to choose from. You can find everything from Indian to Italian in Playa and of course great Mexican food! Here are a few of our top picks for food in Playa Del Carmen. For a full list of restaurants, see our guide here.
Mexican food in Playa Del Carmen
When most people think of Mexican food they think of tacos or street food. Mexican food, though covers a very wide range of things, everything from pre-Hispanic dishes to modern fusion of flavors from the country. Mexico is also a large country that touches two oceans and has many regional dishes. In Playa Del Carmen you can find both high end and street food options plus everything in between. We are going to mention two places that represent a high end fusion and yummy street food tacos. For more on Mexican food in Playa Del Carmen, see our article here. Also, our article on Yucateca Maya cuisine gives you insight to local dishes.
Axiote Restaurant
This is one of the most experimental fusion restaurants that plays with cuisine from around Mexico. This is a good restaurant for people that want an upscale taste of good food but still has a casual atmosphere. To read more about Axiote Restaurant see our article here.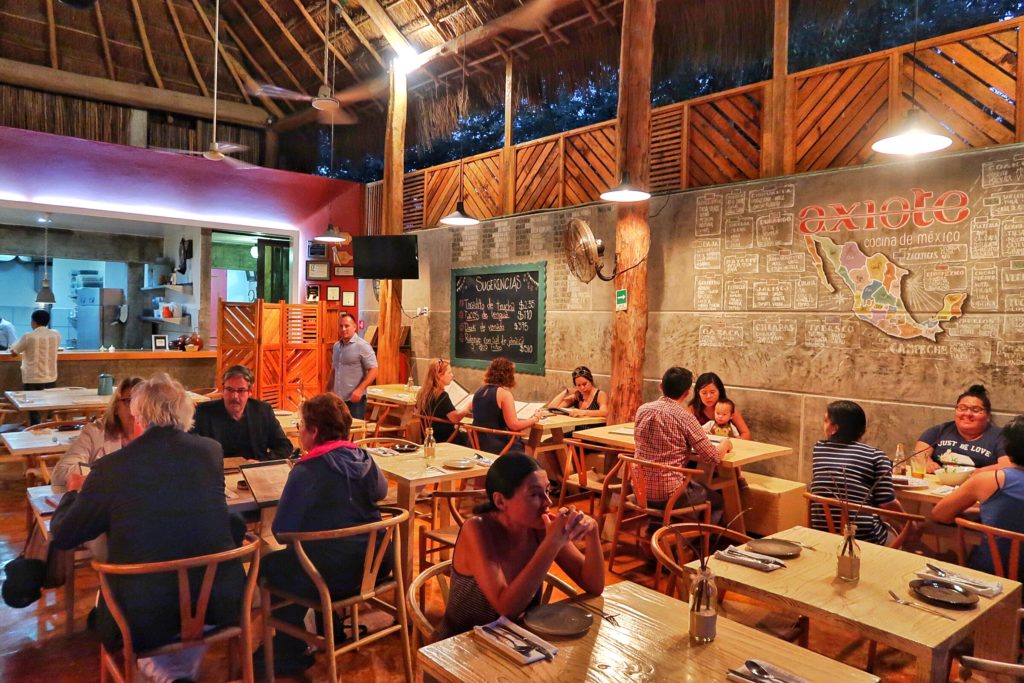 El Fogon Tacos
This is one of the most popular places to get tacos in Playa Del Carmen. It is also where most people will send you if you ask for a local place. It is not necessarily the best, but it is consistent and offers good service. At El Fogon you can get different types of tacos and a range of dishes that are quasi Mexican. The restaurant is always full and they are used to tourist coming.
There are two main locations in Playa Del Carmen. The most popular is on Constituyentes Avenue near 30th (next to Mega). The second location is on 30th Avenue between 6th and 8th Streets.
Special night out places in Playa Del Carmen
Since many people coming into town for one night from a resort or are on vacation, they want a special place to eat. Here are some of the notable restaurants in Playa Del Carmen where you can have a good diner (without the tourist trap feeling) and a nice atmosphere.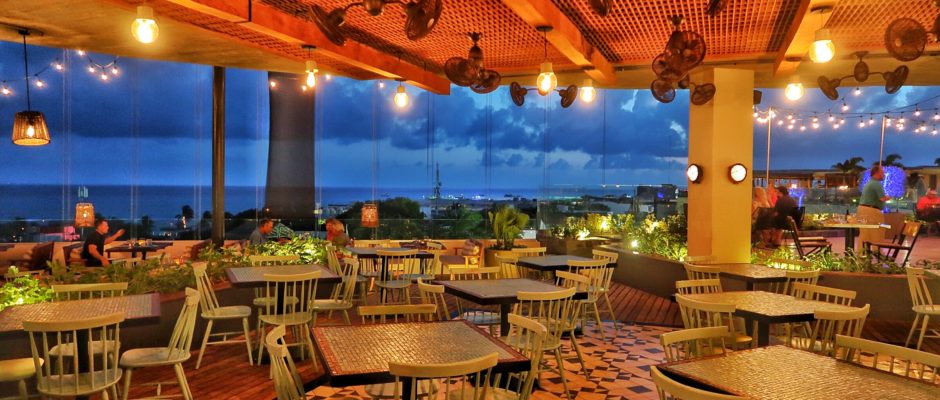 Offbeat Foodie Things To Look For
Here are a few unique things to look for in Playa Del Carmen that are food related.
Marquesitas
These can be found on the street at small carts in Playa Del Carmen and other towns in the Yucatan Peninsula. This is a type of sweet treat that has a local twist. It is best described as a crepe with filling. It typically has shredded cheese and something sweet added like Nutella. For more about marquesitas, see our article here.
Salbutes
What is a salbute (sal-boo-tay)? It is a delicious food that originated right here in the Yucatan Peninsula. Salbutes are a food that is meant to be eaten fresh after cooking so you can get the soft puffed tortilla and toppings to compliment each other. The tortilla is fried in oil where it puffs up and then is set aside to rest while toppings are added. Most traditional toppings are: pulled chicken, diced white cabbage, pickled onions, avocado slices, salsa and a cream sauce on top. This type of food falls into what is called "antojitos". The term antojitos means a small snack or appetizer served in Mexican restaurants, bars, open air markets, and on the street. The literal translation actually means a little craving or desire. See our article here to find the best hole in the wall place to try them.
Pozole in Playa Del Carmen
Pozole (po-zo-lay) is a traditional Mexican soup. This soup is used for meals on special occasions because it does take some preparation. Since this is part of the culture and something you may want to try. Here is where you can find pozole in Playa Del Carmen.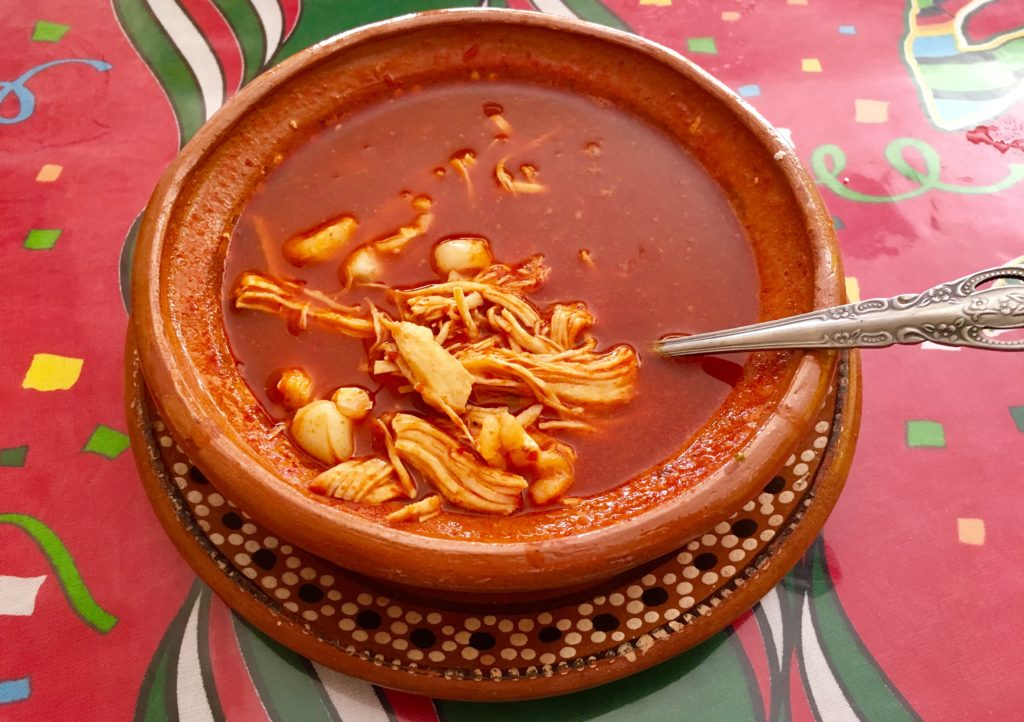 Food Tours and Experiences
Not all things food are for self discovery. Some are organized experience or tours you can go on. Here are some of the best Playa Del Carmen food related things you can partake in while on vacation here.
3 Playa Del Carmen Food Tours
Here are three food tours that will give you a better taste of local dishes and specialty plates. Many that come to the area love the fun atmosphere of these walking tours and fun food.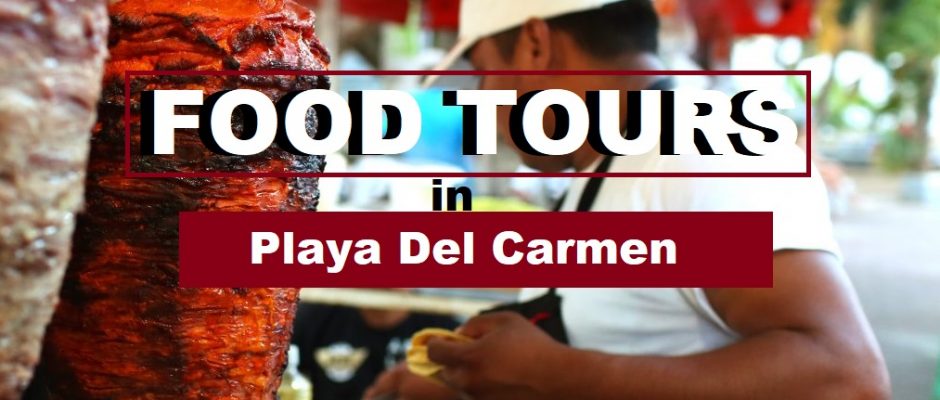 Authentic Mexican Food Tour
This food tour is one of the most popular in Playa Del Carmen because it gives people what they want the most, Mexican food! This is a walking tour of some of the more authentic places where tourists normally don't go. Some of the possible things you will try are quesadillas, some of the best known local tacos, tamales, taste mole, local fruit juices and more. Most people will eat enough to consider it a meal. For more about this tour see the link below.

Vegan Food Tour in Playa Del Carmen
Did you know that not all Mexican food is based on meat? There are some really tasty dishes that vegans and vegetarians can enjoy. Caribbean influences and Yucatecan food will be presented to you on this tour. You will have the opportunity to try vegan tacos and ceviche. Things included on this tour are: beverages, local tasting, guide, and what most people consider a dinner. Things that are not included on this tour are gratuities and transportation to the meeting point.

Gourmet Playa Del Carmen Food Tour
Playa Del Carmen is not just about the beach. There are some great chefs who call Playa Del Carmen home. While on vacation you can enjoy this gourmet food tour with stops at four top restaurants. On this walking food tour you will have two options, plus beverages at each restaurant you go to.

Special dinner and tasting on the beach
This is a new special dinning experience here in the Riviera Maya. There are several things that make this special dinner so special. First, you are picked up and driven to a remote beachside location. Second, there is a limited amount of fellow travelers and food lovers that come together around the table. Third, a special menu is prepared for you, and it is an interactive experience as the video shows below.
If this Playa Del Carmen food experience looks interesting to you, you can get more details and book below.

Fuentes Dinner Theater
All inclusive resorts have gotten in on the action by opening culinary attractions. The El Dorado Royale Resort has the Fuentes Dinner Theater. This is a live show with a chef and sommelier where you are presented with a five course meal and pairing. Here you can be entertained while getting a taste of regional Mexican dishes.
If you are looking for a fun night out or just a memorable dinner, you might want to check this option out for your time in the Riviera Maya. This experience is open to hotel guest as well as the public. To see more about what this experience is like, you can see our link to the article for booking and our video below.
If this dinner theater looks good to you, you can book it with the reserve now button below. You will be taken to the official booking website for this where there are even more details.

Tequila Tasting
If you like tequila or even if you think you know tequila, this tasting can introduce you to some small boutique makers. The tasting involves learning about where it comes from, how to select a bottle and of course, tasting!
If you would like to join a tasting or inquire about a private tasting, you can visit their website here for more information.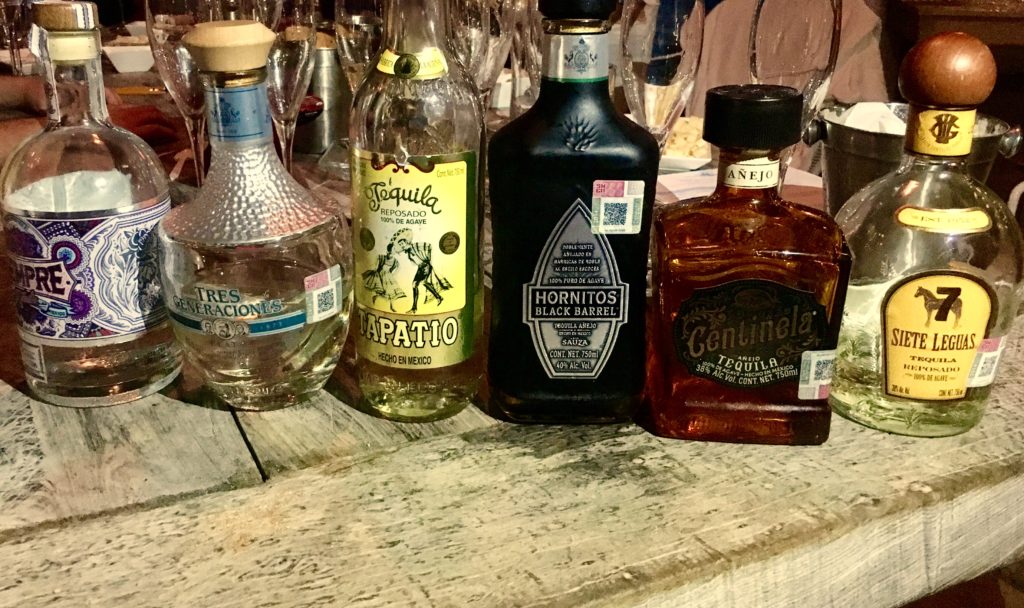 Cooking Classes To Indulge In
Taking a cooking class is a great way to immerse in the culture, meet new people, have fun and taste some great food. Here are three classes you can join in the area.
El Pueblito at Mayakoba
This is the most professional cooking classes you can take based on their stainless steel kitchen. Located on the property of the Mayakoba Resorts property, this cooking school offers a wide range of classes. Class size is small and the price depends on what you will be prepared.
For more about a cooking class here see our article which has a video. You can also check out their Facebook page for more details of upcoming events.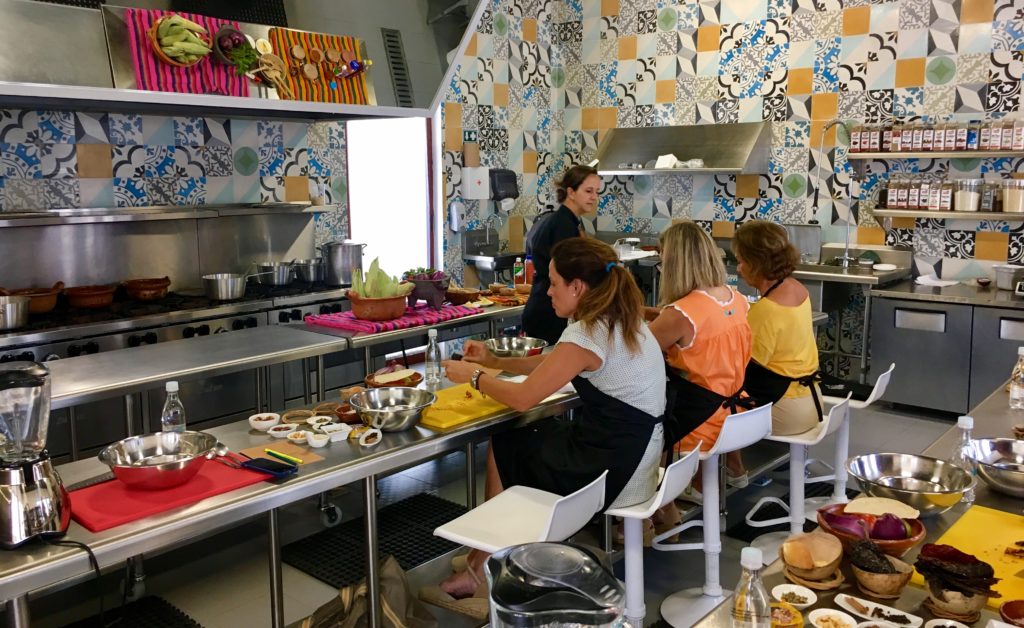 CoCos ( Cocina Cosmopolita) Cooking Classes
There are three different cooking classes you can take at Cocina Cosmopolita.
The three course meal. In this cooking class you will learn Mexican cooking by making an appetizer, main course and dessert. This class is about 4 hours long, so it is like a half day of cooking and having fun. This is the cooking class we featured in our video. Besides cooking and earning about the preparation of Mexican cuisine, you will also learn about Mexican peppers, tequilas and Mezcals.
A second option is a shorter version where you make either one main plate or two appetizers. This can be a two or three hour experience.
The last option is a cooking class in Playa Del Carmen for your partner. Maybe you like to cook, but someone with you does not. Why not share the experience! You can cook while the other person relaxes and watches. After you prepare the meal for the two of you, you both get to eat, and we know everyone likes that! This is an affordable option for eating out, because you would pay similar for a meal at a restaurant.
Note: If you are interested in cooking several times a month and learning more about Mexican cuisine, you can see their website about a monthly cooking class schedule. Cocina Cosmopolita has a 4 class package. For more details you can see thier website here.
Mexico Lindo Cooking Classes
At Mexico Lindo Cooking you are going to experience authentic Mexican cooking and have an enjoyable day at their school. From the collective knowledge of cooking skills and tips passed down through the generations, the chef here will impart this knowledge to you.
After cooking, conversing and having fun, you will enjoy your meal. It will taste even better knowing the history and seeing how it is made.
Our video introduction for Mexico Lindo Cooking
We spent the day at Mexico Lindo to take a cooking class. Here is what our day was like.
If you would like to prepare a seven course meal here at Mexico Lindo, click the reserve link below and go to the booking page.

Thank you for reading our article on everything about food in Playa Del Carmen. We hope you foodies get out to explore some of the good options in town and the Riviera Maya.