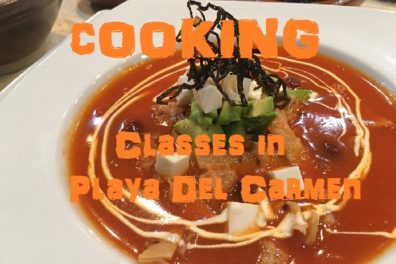 Cooking class in Playa Del Carmen with Cocina Cosmopolita
Are you a foodie that loves learning about food and cooking? Would you like to take a cooking class in Playa Del Carmen when on vacation? We went to a Cocina Cosmopolita cooking class to find out what it is like. (If the name is a mouthful, you can call it Cocos.)
As always, we only have things on our website that we have experience and approve of. This way we can tell you what it is like and recommend the good services in Playa Del Carmen.
Our video introduction for this cooking class
Since reading about something is one thing, a video can show you even more. So we made this video of a cooking class here. We hope you enjoy it.
What are these cooking classes in Playa Del Carmen like?
There are three different cooking classes you can take at Cocina Cosmopolita.
The three course meal. In this cooking class you will learn Mexican cooking by making an appetizer, main course and dessert. This class is about 4 hours long, so it is like a half day of cooking and having fun. This is the cooking class we featured in our video. Besides cooking and earning about the preparation of Mexican cuisine, you will also learn about Mexican peppers, tequilas and Mezcals.
A second option is a shorter version where you make either one main plate or two appetizers. This can be a two or three hour experience.
The last option is a cooking class in Playa Del Carmen for your partner. Maybe you like to cook but someone with you does not. Why not share the experience! You can cook while the other person relaxes and watches. After you prepare the meal for the two of you, you both get to eat, and we know everyone likes that!  This is an affordable option for eating out, because you would pay similar for a meal at a restaurant.
Note: If you are interested in cooking several times a month and learning more about Mexican cuisine, you can see their website about a monthly cooking class schedule. Cocina Cosmopolita has a 4 class package.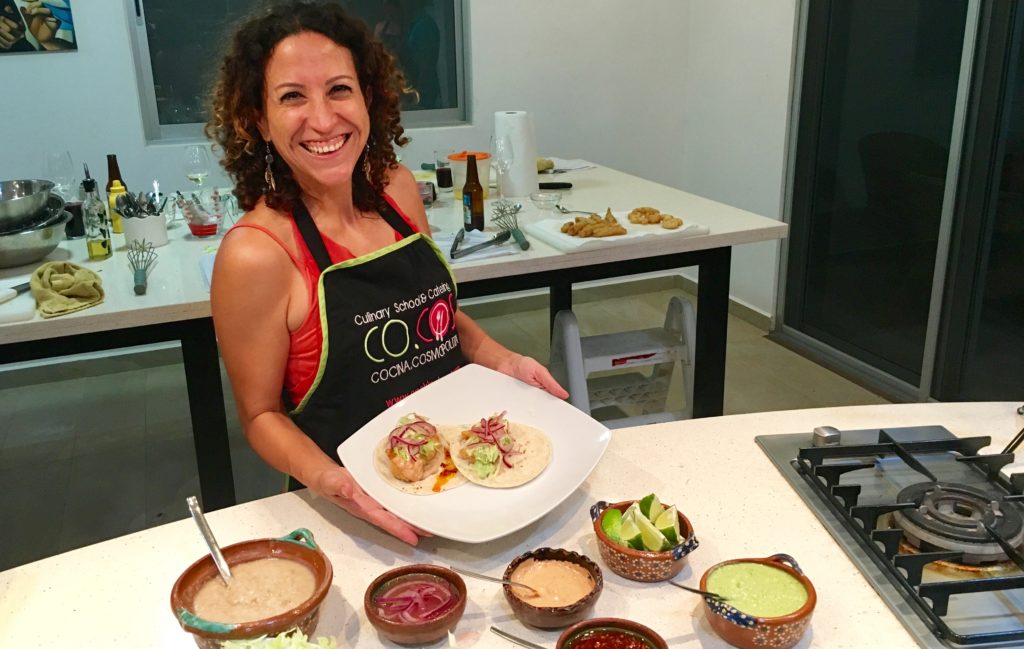 Here are some of the things we liked about this cooking class
If you choose the three course option, this can be over 4 hours of instruction and class time. This makes this a half day event and a good value.
The kitchen is well equipped with cooking stations and equipment.
Classes can be in Spanish or English.
There are assistants at this cooking class that set up the next station for you and clean up behind you.
The instructor is well versed in cooking and makes the class fun.
People find this class a good experience and will come back to take it again. We were there with people that returned from last year to take another class.
Our food tasted great, so maybe that is the best recommendation. Not only for the good recipes, fresh ingredients provided, but also the excellent instruction that was given.
How to book your very own cooking class in Playa Del Carmen
For booking any of these cooking classes you can go directly to their website. Here is Cocina Cosmopolita Cooking School's (Co.cos) website: www.CookinPlaya.com
Telephone : +52 984 593 1245
Email : [email protected]
More Activities in Playa Del Carmen
You can find this activity as well as many more in our article on activities in Playa Del Carmen.
Have you taking a cooking class with Cocina Cosmopolita? What did you think? Let us know in the comments below, we would love to hear from you.