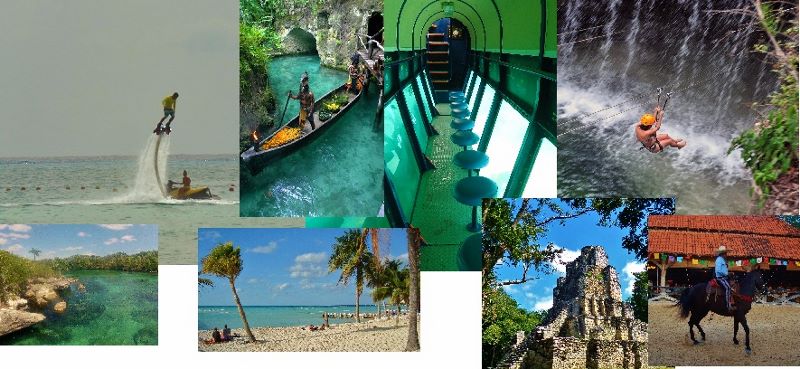 Playa Del Carmen Activities List
Playa Del Carmen activities are what many people look for while on vacation. Even if you are staying at an all inclusive hotel, most people want to get out and see what things there are to do. When you come to the Riviera Maya you will find so many activities in Playa Del Carmen and around! Don't worry about not having enough to do while here! The Riviera Maya is a very safe place to get out and explore, so feel free to get out there and see the amazing things to do here!
We want to run down a list of fun and adventurous tours , Playa Del Carmen activities, and things you can do when here on vacation. Some of these things are more for people staying in Playa Del Carmen but most are activities available to people staying everywhere in the Riviera Maya. Make sure you look at the Tips at the bottom of the page. Some of the tips save you money!
Activities in Playa Del Carmen for active people
With year round warm temperatures you are guaranteed to be able to do a lot of outdoor sports.
Beach Activities in Playa Del Carmen and around
Most all inclusive hotels have staff that round up people for sports on the beach but if you are staying at a non inclusive hotel and in Playa Del Carmen, here are some things you can do at the beach.
Swimming right off the beach. The water is beautiful and warm year round.
You can play beach volleyball anywhere you like with friends as long as you have space or you can join in a game. The two best locations are Mamitas beach just north of Mamitas Beach Club and the beach where Juarez Avenue ends with the beach, that is just north of the Cozumel Ferry Pier. Both of these beaches usually have nets.
Wave boards, have you seen or heard about this? It is where you have a board that shoots out water and it lifts you up out of the water. You can also dive in to the water like a dolphin and be propelled by the shooting water. It is pretty crazy to see and something new to try. You can do this at Mamitas beach.
Mamitas beach (where 28th Street goes to the beach) is also a popular place rent jet skis, go parasailing, or take a small catamaran out on the water.
Other things to mention are kite surfing, paddle boarding, or just snorkeling off the beach to see a little underwater life although the beaches off Playa Del Carmen does not have the best snorkeling.
Tours and Excursions from Playa Del Carmen
Many of the tours go to Mayan Ruins like Chichen Itza, Ek Balam, Tulum and Coba. These are all day trips from the Rivera Maya and Playa Del Carmen. Many tours add on other activities to round out the day like a stop at a cenote or in the colonial city of Valladolid.
Make sure you see our master list of all the Excursions from Playa Del Carmen that includes a cool interactive map.
One tour company we like is allTOURnative. We like them because they work with the local communities and preserve the living Mayan culture that is here in our area. Many of there tours provide activities like ATV's, snorkeling, rappelling and zip lines in addition to a visit of a Mayan ruin like Ek Balam. Many of the tours go to natural areas that only they take people to.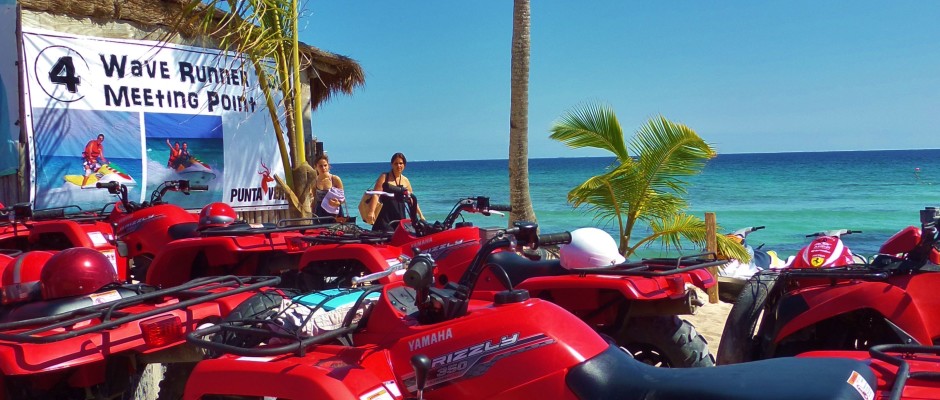 Some other interesting tours to take are fishing tours right from Playa Del Carmen, whale shark tours, Sian Ka'an Tours, diving tours, snorkel tours or Sky Diving tours.
For boat tours and getting out on the water you will have to go out of Playa Del Carmen just a little bit because there is not a marina or dock for boats. Puerto Aventuras offers many catamaran tours. This is just 20 minutes south of Playa Del Carmen. Catamaya is a company we have taken and we like the large catamaran they have. One option you can do with them is sail up the coast, go snorkeling at a reef, eat a meal and then sail back down the coast. It can be a great way to get out on the water. Did we mention they have open bar as well? You can make this trip what you want and it can be fun for all ages.
Cooking classes and tastings in Playa Del Carmen
If you like tequila you might be interested in a tasting to learn more about tequila. The Tequila Academy does public and private tasting classes. These events are about 2- 2 1/2 hours long and where you will learn about tequilas and sample about 5 different tequilas.
Cooking classes in Playa Del Carmen include learning local dishes. These can be something to enrich your vacation time in Mexico and are great indoor activities when it rains.
Cocina Cosmopolita Culinary School is one place you can take classes. They focus on regional dishes and offer classes on the north end of Playa Del Carmen.
In El Pueblito you can take short or longer cooking classes. See what this cooking classes are like in our article on El Pueblito cooking school here.
Mexico Lindo cooking school focusses on Mexican cooking in its jungle location near Puerto Morelos.
Day trips on your own
Are you looking to do some exploring on your own? We have a Day Trip Guide From Playa Del Carmen for you. We mention 11 different excursions you can do, each a full day trip. Some of the best are going to Cozumel on the ferry to explore there, the three adventure parks listed below or going to the colonial town of Valladolid.
Adventure Parks and Activities
Mentioned in our Day Trip Guide were three parks that you can visit. Each is a full day and well worth the money. these are one of the most popular Playa Del Carmen activities! They are Xplor -which is a zip line swimming in underground rivers and more park. Xel-Ha -which is a bay that you can snorkel all day in. Xcaret -which highlights Mexican Culture and has shows and animals to visit among many other things.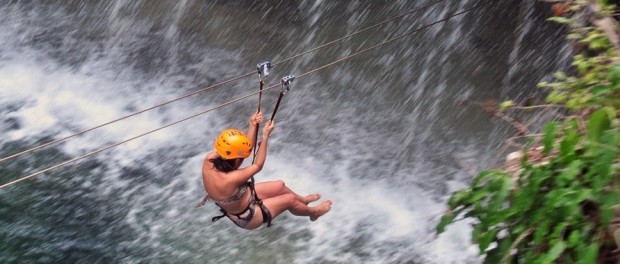 Other Playa Del Carmen Activities
Still looking for something to do?
Why not walk on 5th Avenue in Playa Del Carmen? It has about 20 blocks of restaurants, shops and entertainment. It is bound to keep you entertained for many hours. For unique places to shop in Playa Del Carmen, check out our shopping section. Discover more of 5th Avenue in our article about it here.
Go out for a dinner in one of Playa Del Carmen's great restaurants.
The 3D Museum is a fun place to take photos and jump into the art.

The 3D Museum where the art comes alive!

Go to a beach club or roof top pool in Playa Del Carmen. Both can be great places to relax ad get a drink. There are five good roof top pools to visit and all are a good place to grab a drink. One of our favorites is The Palm Hotel roof top.
Clubs and bars. One of the most popular is Coco Bongo Night Club. This is a Vegas style show that will have you entertained from about 11:00pm-3:15am in the morning! This is a must if you want to go out for a big night on vacation!
If you like seeing birds, there is the Xaman-Ha Aviary in the Playacar section of Playa Del Carmen.
Looking for some free entertainment? All over 5th Avenue in Playa you can find street performers (of course tips are welcome). One of the best places is Park Fundadores right at the beach and Juarez Avenue. There are usually several performances going on at the same time. Make sure you watch the Papantla dancers fly!
In Akumal you can swim in a bay with sea turtles! There is the Yal Ku Lagoon where you can snorkel.
Shows that you can attend
You can visit Cirque Du Soleil's Joya show. This is an evening experience that is unrivaled entertainment here in the Rivera Maya. This makes for a good activity to do later in the day and leaves your day for the beach.
Another show you can visit it Rauxa. This is a dinner show between Playa Del Carmen and Tulum. It is an amazing show that is a mix between cabaret, Moulin Rouge, rock band, and pop culture all mixed together in a creative show. For more on Rauxa show see our article here.

Some of the performance of the Rauxa show.
Enough options for activities? Here are some tips
We hope you have found some great activities for you to try while here on vacation. If you would like a more specific recommendation for things, feel free to contact us here on the site. We like to give unbiased opinions to our readers and try to give you the best advice for you.
Tip: Always try to book directly with the tour company, you will get the best price. Even booking online can save money. When we talk about a tour or activity from Playa Del Carmen we always try to tell you the best price.
Tip: Before you book a tour, know what their rain policy. Ask yourself, will the tour goes rain or shine, do I want to go if it is raining. Some places will let you book 24 hours in advance.
Tip: If you want to visit a cenote make sure you check out the information on colectivos . Public transportation can save you money. This saves renting a car. Also make sure you don't wear chemicals on your body that pollute the water. This includes sun cream unless it is biodegradable.
What Playa Del Carmen activities do you like here? What are some of your favorites? We would love to hear from you in the comment box below.