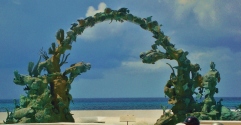 Visiting Cozumel
Cozumel is just off the coast from Playa Del Carmen and a short ferry ride. The island is about 10 mile wide and 29 miles long and features amazing beaches and even better diving. Some prefer staying on the island for vacation and other prefer visiting for a day or two. Whichever you choose, here are some things that make Cozumel unique and things you should try when visiting the island.
Diving and Snorkeling in Cozumel
One of the best things to do on Cozumel is actually not on land but in the water. Explore the Mesoamerica Reef by diving it or snorkeling. It is the largest reef in the Western hemisphere. Cozumel was a sleepy little fishing community until 1961, when a Frenchman by the name of Jacques Cousteau declared Cozumel one of the most beautiful scuba diving areas of the world. Since that time Cozumel has become an underwater marine park. You will be able to see over 250 species of tropical fish, sea turtles and other amazing sea life. There is a reason this is one of the Worlds best dive places. There are 19 reefs to dive and on a clear day you can see 200 ft.
Tip: Booking diving tours is easy to do on the mainland but you can book directly with the dive shops in Cozumel and save money. The one advantage if you book on the mainland is that you can book and make sure there is availability for the following day and getting the schedule. If you just show up in Cozumel you might miss a tour or not be able to find one that has space for you.
If you want to do some snorkeling and take a tour, here is one we recommend you check out. This tour will pick you up at your hotel on the mainland in the Rivera Maya and take you to the Cozumel Ferry. All transportation is included. You get to snorkel and use a waterpark on Cozumel. Lunch buffet is included and you get some time to walk about the downtown of San Miguel, Cozumel to do some shopping.
Sightseeing and activities in Cozumel
Don't want to get your feet wet but want to see the underwater world? Atlantis submarines run each day giving people tours and a window to see the beautiful marine life. Don't want to go that deep? You can also try a glass bottom boat to peer down in to the sea.
Cozumel also has a Mayan past. One site is San Gervasio, located in the center of the island just off the East West transverse road. Dating back to around 100 B.C., San Gervasio is the largest of the remaining ruins on Cozumel. It existed until Spanish conquistadors arrived on the island in the 16th century, the San Gervasio ruins served as an important religious destination for Mayan women. Originally built as a temple to the Mayan goddess, Ixchel, the governing deity of fertility, San Gervasio served as a pilgrimage site for Mayan women who sought Ixchel's blessings for family prosperity. Another site is El Cedral. This is Cozumel's smallest Mayan ruin. It sits just off the main road that travels along the southwest side. Easily accessible, El Cedral is a current-day farming community that takes pride in being the first Mayan settlement on the island. Neither site is extensive or heavily restored but give you a glimpse into the past. Like other archeological sites, bring sun protection and water with you when going.
Events in Cozumel
Some noted events on the island are the Ironman sports competition, Cozumel Airshow, and Carnival. For all these events the island really goes all out and it is a good time to go visit from the mainland.
Renting a car on Cozumel
One of the most popular ways to see the island is renting a car and driving the loop (the road that hugs the coast around the southern end of the island). It is very easy to drive on Cozumel since there are so few roads. The loop will only take a few hours with stops. Having the freedom of your own car allows you to stop at some of the ruins, beaches along the way or a great fish taco stand. On the Caribbean facing side of the island the road goes past remote beaches that are stunning. It will be photo op after photo op. Make sure to have your camera.
Tip: You get what you pay for in a rental car. Some of the cheaper rental places have very old cars with bad maintenance. There are a lot of specialized vehicles and Cozumel is a great place to drive these fun cars since it is a small island. You should note that most insurance does not cover specialized or modified vehicles. But don't sweat it, it is a small island and drive safe.
San Miguel Town, Cozumel
The main town on Cozumel is called San Miguel. This is where the ferry is to Playa Del Carmen is, grocery stores, most restaurants and shopping. Most shopping on Cozumel is geared toward the cruise ships that come to dock here. ( We have no idea why cruise ships and jewelry stores go hand in hand, but where there are cruise passengers….) Cozumel gets the bulk of all the cruises on this side of the peninsula because it is one of only place they can dock. That means when ships are in town, there can be crowds of people walking around and parks and tourist attractions are busy. Only a small portion of the town looks like the idyllic Caribbean island with pastel colored buildings. So don't expect to many photo opts and don't spend all your time in the town.
Tip: Since so many cruises come to this island with foreign staff, there are some great restaurants with international cuisine like Indonesian.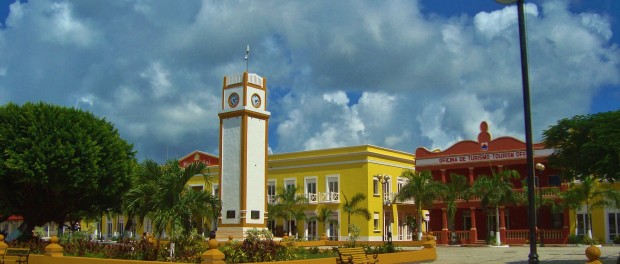 Cozumel Airport
Cozumel has its own airport. (CZM) You can fly directly to Cozumel from many destinations. The airport is very modern, and you can tell it gets an upscale crowd that flies through this airport. It can be an alternative airport for coming to the peninsula.
Tip: If you book a trip to Mexico with frequent flyer miles, usually you can book a flight into one city and back from another. If Cancun is not available, try booking a reward ticket with Cozumel, either both flights or one using this destination. You can add some time in Cozumel to your vacation or connect with Playa Del Carmen via the ferry.
How to get from Cancun Airport to Cozumel
If you do fly into Cancun Airport and are wanting to stay on Cozumel, see our article here on all the options from getting from Cancun Airport to Cozumel.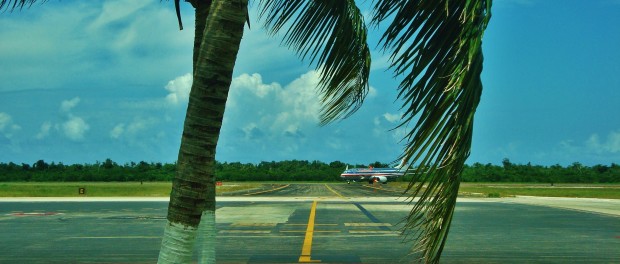 Ferry to and from Playa Del Carmen
Getting back and forth between Cozumel and Playa Del Carmen is very easy using the ferry. There are three companies that provide services. Mexico Water Jets, Barcos Caribe and Ultramar. They offer alternating times for crossings so if you don't know when you will be using the ferry, wait to buy your ticket so you can hop on the next departing ferry. The crossing takes about 30-35 minutes. If the waters are rough, the ride can be a little nauseating. They will be prepared with bags for you if it is choppy. Rarely is it too rough to make the crossing. For more details on taking the ferry to Cozumel check out our article here.
Taking the car ferry to Cozumel
If you want to take a car over to Cozumel, there are two car ferries that make this trip. We have a full guide here about how to take the car ferry to Cozumel from the mainland.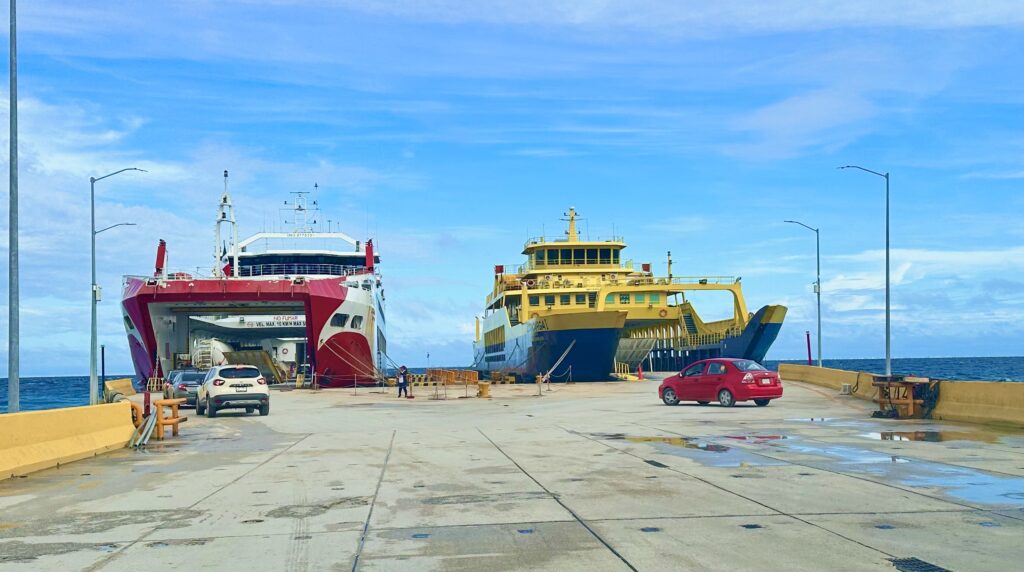 Cozumel is a nice day adventure from Playa Del Carmen, or a quiet island stay. We hope you enjoy a visit to soon.
Have you been to Cozumel? What did you think? We would love to hear from you in the comments below.