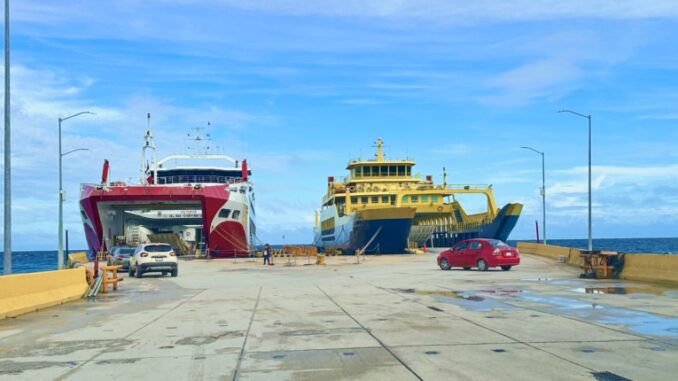 How to take the car ferry from Playa Del Carmen to Cozumel
Here is everything you need to know about taking the car ferry from Playa Del Carmen/Calica to Cozumel. We will walk you through the steps and include some important details that you will not find on the ferry companies' website or elsewhere.
There are actually two companies that offer ferry service for vehicles to and from Playa Del Carmen to Cozumel. The older and more well-known ferry company is Transcaribe and the other is Ultramar's service called Ultracarga. Both companies are about exactly the same with prices and similar crossings.
Where is the car ferry leave from?
Most people call it Calica because that is the name of the port just south of Playa Del Carmen. It is also referred to as Punta Venado and the Sac Tun Terminal. The ferry terminal is about 15 minutes from the center of Playa Del Carmen on the 307 Highway. Leave Playa going south and pass by Xplor and the entrance to Xcaret. You will see the Xcaret gas station on the left, then there is a break in the center divider for a left-hand turn.
Note: This is before the Calica bridge, but if you do not make the turn or there is a lot of traffic, you can drive to the bridge and take it across the highways and loop back to the entrance. There are large signs for the ferry companies, and one will have the next timed departure on it.
What do you need to do before taking the ferry to Cozumel?
You want to see the times and select what time you are going over to Cozumel. If you are only going for a day or two you should reserve your return also. Many times, the ferry is fully reserved. You can show up without a reservation, but you might have to wait a while or for the next ferry. Reservations are cut off 24 hours before departure.
You will then need to drive to the port with a recommended one hour before departure (reservations do not have to be respected if you are late). This is so the boat can be loaded evenly with weight and the dockworkers can assess what has to be loaded. Most drivers arrive more than one hour before departure.
Note: The ferries to Cozumel leave on time! The doors close about 10 minutes before departure.
What to do when arriving at Punta Venados/Calica for departure
The first thing you will do is pass by the booth at the entrance. They will ask you why you are there and make sure you are in the right place. Then drive directly in and to the ferry company that you are traveling with. Here you can pay or confirm your reservation at the small mobile offices. Then you will drive the ferry where there will be a lineup of cars on one side. About 30 minutes before the departure time, you will start to enter for parking onboard.
Where does the car ferry arrive on Cozumel?
The ferries arrive at the small pier just at the south end of town on Cozumel. It is where the tall white statue is that looks a little like a lighthouse. The address is: Terminal Félix González Canto (API) Avenida Rafael E. Melgar y Calle 31 Sur.
Instructions before leaving Cozumel (Important!)
Do not just go straight to the pier! There is a holding area and check-in across the road from the pier (follow the signs or staff will direct you). If you have reserved online, you go to the office and get your receipt checked. They will ask for id and details of how you paid. Then take your receipt and wait for an attendant to tell you which line to get in.

It can be a bit confusing because there are lines of vehicles in different rows with numbers. Once you have your receipt and are in the waiting line, about 25 minutes before the departure time, cars will be directed out in a line to the dock. One you arrive at the dock, there will be an attendant directing you onto the boat.

What parking your car is like on the ferry
Driving onto the ferry is self-driving. You will be directed to park on one of two decks. The main deck is shared with tractor trailers, construction trucks and trucks hauling supplies for Cozumel. Usually, cars are directed to park on the sides. This is where your parking skills come into to play. Cars are parked close together and sometimes you need to parallel park on the right or left to get into a spot.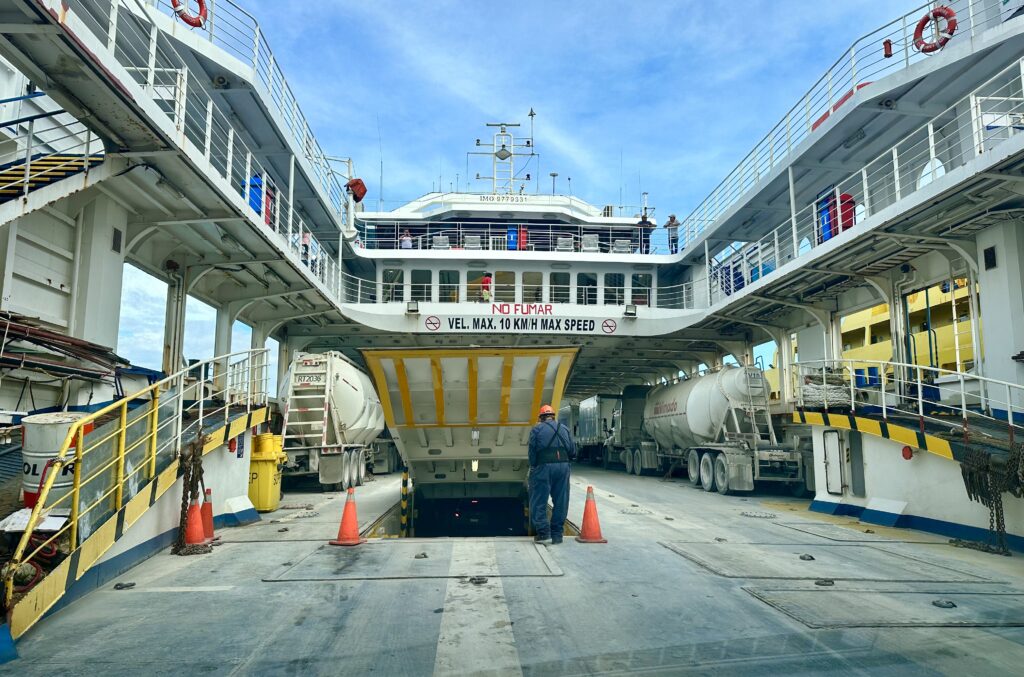 If you are directed to drive the lower-level deck, you will enter the small door above. First though, passengers are asked to exit and go up to the passenger area. It is too crowded to have people exiting below. Parking is very tight below. Cars are staggered so doors can open. If you are bad at parallel parking or maneuvering in tight spaces, you might have some issues parking and getting off the ferry. Also, if you are a bigger person, you might need to plan how you will exit your vehicle after parking.
Tip: If you park on the lower level, when the ferry is arriving at the destination, you might want to wait a little before going down to your car and getting in. It is warm below and most people will want air conditioning to have while waiting. It can take 15 minutes to exit the vehicles on the main level before the door opens to exit the lower level. When you are down there waiting, it is not the best idea to idle the vehicles in a closed space. It can feel a little claustrophobic let alone the fumes.
What are the passenger facilities like on the car ferry to Cozumel?
Once you park your car, the second level is for passengers. There is a large airconditioned seating area with plenty of seats for the amount of people on board. Some seats have small tables near them for eating or playing games. There are also USB and electrical plugs for charging. There are bathrooms and a snack bar in the seating area. Cell phone coverage is 4g near the shores and 3g in the center of the crossing. Usually, one or two TVs onboard will have a movie playing which can be entertaining for kids.
You can also go outside to the decks to get some fresh air or take some sun. When you are arriving, the captain will make an announcement for guests to go to their cars.
Note: There is absolutely no smoking onboard.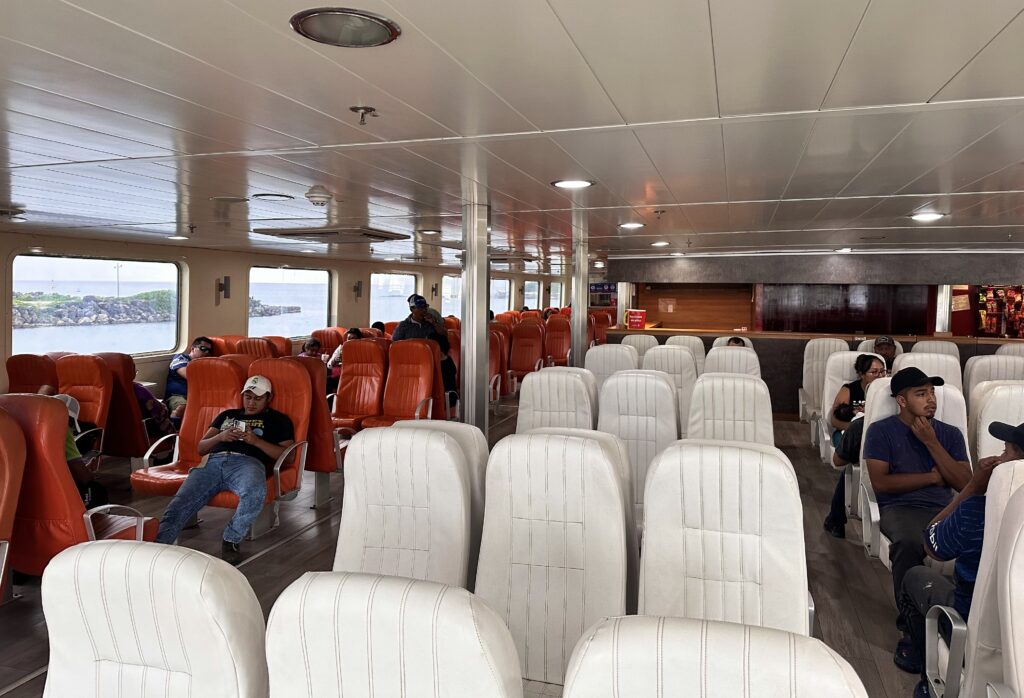 What are the schedules for the car ferries to Cozumel?
The two ferry companies have alternating schedules, so they are staggered during the day. Schedules change depending on the season and reservations. Below is a sample schedule of times from Transcaribe. There are usually two or three crossings in each direction per ferry company.
Tip: Before you book your return, check the schedule, because you might want to take the other ferry company back.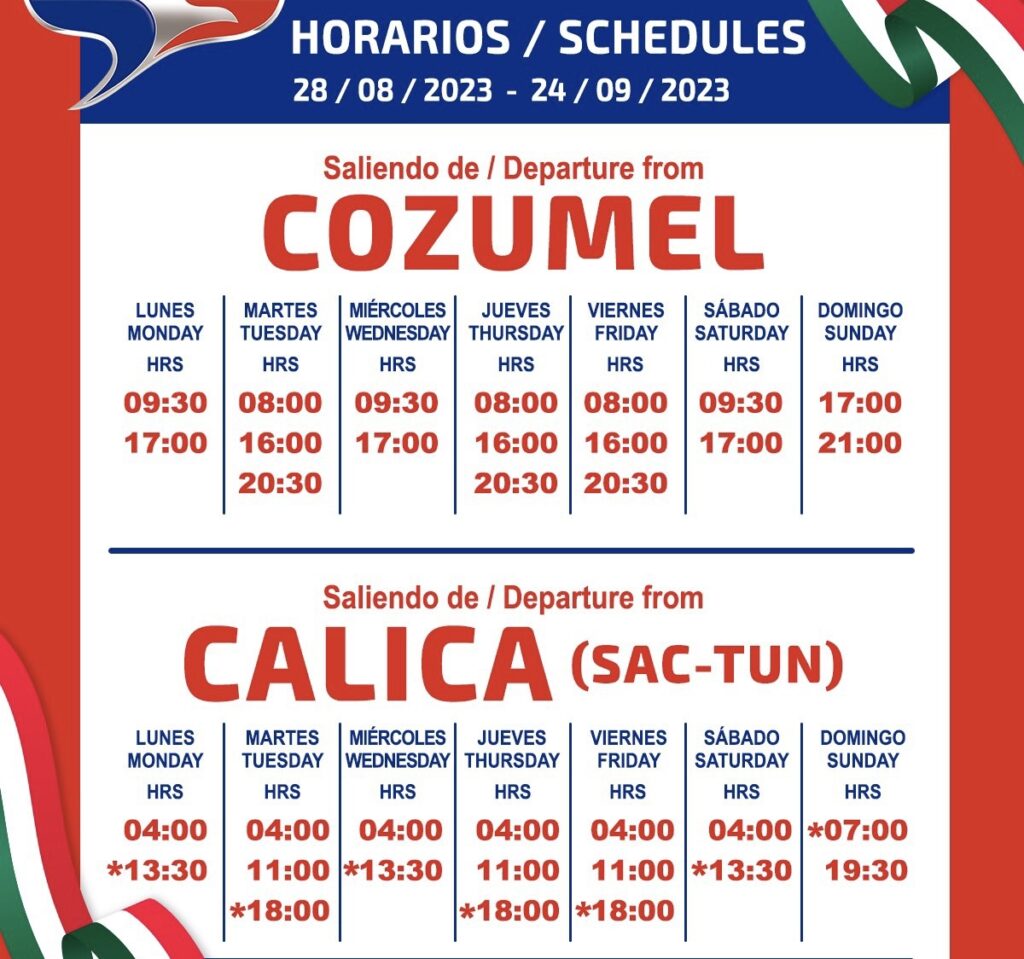 What is the difference between taking the passenger ferry and the car ferry?
You might be debating about taking the regular ferry to Cozumel or taking the car ferry. So here are some important things to think about that might help you make a decision.
It is 580 pesos per adult for a round trip ticket on the passenger ferry to Cozumel. So, two people is 1160 pesos. So, the car ferry is almost double the price, but you have your car.
Car rentals on Cozumel start at about 1,100 pesos and up per day. So, if you need a car for more than one day, it is cheaper to take your own.
If you are taking a lot of luggage or supplies back and forth, it is easier in your own car, and you can take a lot more.
There is the option to rent a scooter on Cozumel. Prices start at 500 pesos for two people and helmets on one bike. This can still get you around the island, but there are disadvantages to this.
Scooter rentals should come with warnings. There are accidents with these often on Cozumel. There are new traffic patterns, potholes, and other first-time drivers getting off cruise ships. Plus, you are out in the elements all the time.
If you are staying in town and you don't have a desire to see the more remote parts of the island, than you can do with just the passenger ferry. There are bike rental on Cozumel also, but we only recommend these for in town since distances are too great for visiting some parts of Cozumel.
Frequent questions about the car ferry to Cozumel
How long does the car ferry take to reach Cozumel?
From land to land it takes 1 hour and a half. This does not calculate the hour needed before your crossing for the lineup. If you are assigned to park on the lower level, this will add about 15 more minutes to getting off the ferry.
How much is the car ferry to Cozumel?
The reservation price is 1,100 pesos each way for a small car and two people. The list price is about 250 pesos less, but you can only get that price if you show up without a reservation. But then chances are you will not get on the ferry you want to take. So basically, it cost 2200 to go round trip on the car ferry to Cozumel. Some locals show up without a reservation, but they often know what times better chances have of getting on.
Is there a ferry between Cancun and Cozumel?
There are no ferries between Cancun and Cozumel. The only option is taking land transportation from Cancun to Playa Del Carmen and taking the passenger ferry to Cozumel or driving to the car ferry and taking it from Playa Del Carmen to Cozumel.
Can you bring pets on the car ferry?
Yes, pets must remain on outside decks and be under the control of the owner at all times.
When are the busiest times to cross between Cozumel and the Riviera Maya?
July and August are vacations for local school children. This means that locals travel more via the car ferry in these months. Also, in general, weekends are busier times to make the crossing.
Other Cozumel Articles to check out