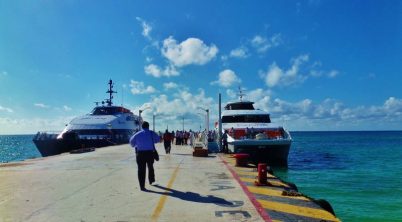 Are you looking to get from the Cancun Airport to Cozumel? Here are easy instructions and the transportation options for you so you can have a smooth transfer. If you were not able to get a flight into Cozumel Airport you will need to fly into Cancun Airport and transfer to Cozumel. Here is our guide on how to do it. It is actually pretty easy to do.
How to get from the Cancun Airport to Cozumel
The first step is getting from the Cancun Airport (CUN) to Playa Del Carmen. This is because the ferry for Cozumel leaves from Playa Del Carmen to make the crossing. You have two options to get from the Cancun Airport to Playa Del Carmen.
The ADO bus.
Private Transfer.
Note: We do not recommend renting a car because you will need to park it in Playa Del Carmen and take the ferry and also the time involved in picking it up would take much more time, they just taking a private transfer or bus. We also do not recommend taxis because there are no meters and no set prices, plus you cannot get a discount for a round trip like the private transfers.
There are advantages to both of these options for getting from the Cancun Airport to Cozumel. So, we will tell you about your options and you can decide what is the best way for you to go. First, we will tell you about the bus.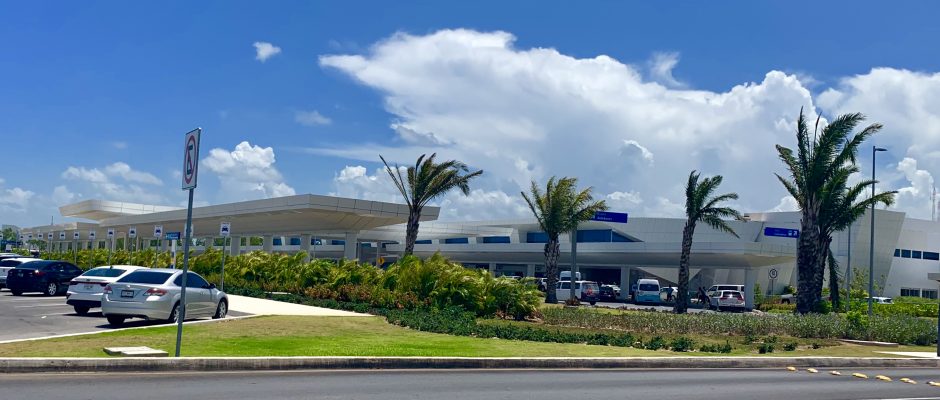 ADO Bus to Playa Del Carmen from Cancun Airport
ADO is a public bus company that has a direct line from the Cancun Airport to Playa Del Carmen. The bus leaves from each of the three terminals at the Cancun Airport and there are ticket booths at each location. For a very detailed article with maps and instructions you can read our article her on how to get from the airport to Playa Del Carmen.
The advantage of the taking the bus is:
If you are traveling solo, it can be an affordable option. Currently the price is 190 pesos.
The bus station you arrive at in Playa Del Carmen is just three blocks from the ferry, the same distance as where the transfer companies drop you.
The disadvantages to the bus are:
You cannot get your ticket in advance because you do not know how long it will take to get through customs and immigration and since tickets are timed, you don't want to miss your exact bus and have to buy another ticket.
If you arrive at a particularly busy time (usually midday and some holiday periods in Mexico) the bus leaving might be full, and you will need to wait until the next one. Usually, they are 30 minutes apart.
If you are arriving very late the frequency is almost every 50 minutes, but then again if you arrive very late you will not be able to catch a ferry. The latest you should leave the airport on a bus should be 8:30pm in order to make your connection and get the ferry, but even this is close, and you are going to be stressed. So, if your fight is arriving after 7:30pm you might consider spending the night in Playa Del Carmen or coordinating with a private shuttle to give you a little more time.
Private Shuttle to Playa Del Carmen from the Cancun Airport
You can take a private shuttle service to Playa Del Carmen from the Cancun Airport. These are like a taxi with car service or van and are very professional. You can book this service in advance and a driver will be waiting for you at arrivals with a sign stating the company name. From the Cancun Airport they drive you directly to your destination. It takes about 45 minutes to get to Playa Del Carmen, this is about 15 minutes faster than the bus.
We recommend this transfer company because they have consistently been good for years now to our readers. They are one of the largest and most professional. We have also found their prices to be the best for our readers. To check prices or to make a reservation for your trip, click the link here or the Book Now button below. Remember the price is for the whole vehicle and not per person. Prices can be comparable to taking the bus. Tip: Booking round trip can save $10-$25 USD.

There are several benefits to taking a shuttle van/private transfer to Playa Del Carmen.
It can be faster for you. This helps make your transfer from the Cancun Airport to Cozumel as little smoother.
If you are a group, you can book a private transfer for about the same amount as taking a public bus.
This can be less waiting for you since your driver will be there at arrivals. If you book for your group only then you are all set to go when you arrive.
You can pre-book and have it set before you take off on your flight.
The disadvantages of taking a private transfer are:
If you are traveling solo or in a couple it can be more expensive.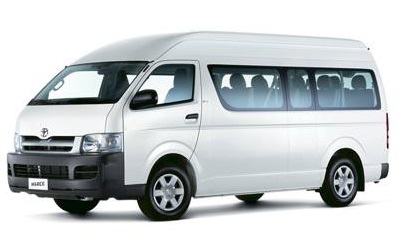 Getting from Playa Del Carmen to Cozumel on the Ferry
From Playa Del Carmen you will either be dropped off at the bus station or just a few blocks from the Playa Del Carmen Ferry Pier. There are two companies (Ultramar and Winjet)that provide service and there is one leaving about every 30 minutes (check the Cozumel ferry schedule article here). The ride across takes about 45 minutes and you arrive right in the middle of San Miguel, the main town of Cozumel. From there you can walk to your hotel if it is close by or take a taxi. For more exact details on the Cozumel Ferry you can see our article here.
If you want to take a car to Cozumel, there is a separate car ferry just outside of Playa Del Carmen. To see how to do this trip, see our guide for the Cozumel car ferry service here.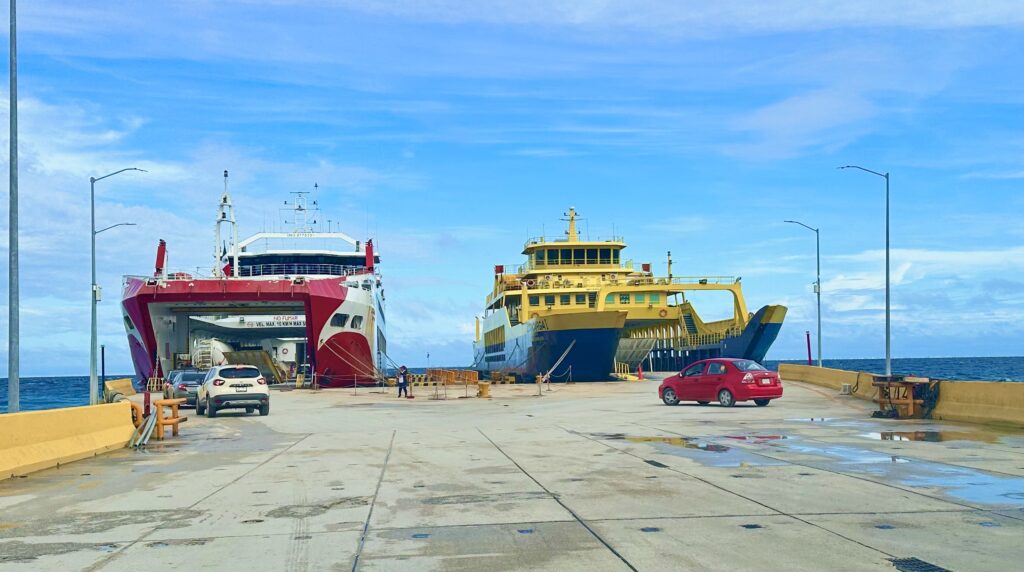 We hope you have enjoyed this guide on how to get from the Cancun Airport to Cozumel. We hope you have a great vacation or stay. Check out our dozens of other guides too for everything you might need while here.