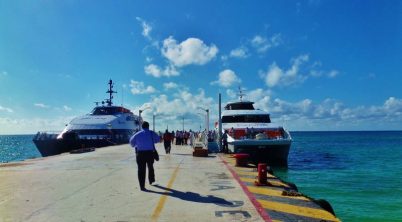 Cozumel Ferry Schedule
Here is the Cozumel ferry schedule for all the ferry companies. Below the schedules you will find information on taking the ferries, how much does the ferry cost and more.
Winjets Ferry Schedule
Here is the website for the current schedules for Winjet Ferry Service to Cozumel.
From Playa Del Carmen to Cozumel
9:00am, 11:00am, 1:00pm, 11:00am, 3:00pm, 5:00pm, 7:00pm, 9:00pm.
From Cozumel to Playa Del Carmen
8:00am, 10:00am, 12:00noon, 2:00pm, 4:00pm, 6:00pm, 8:00pm.
Ultramar Ferry Schedule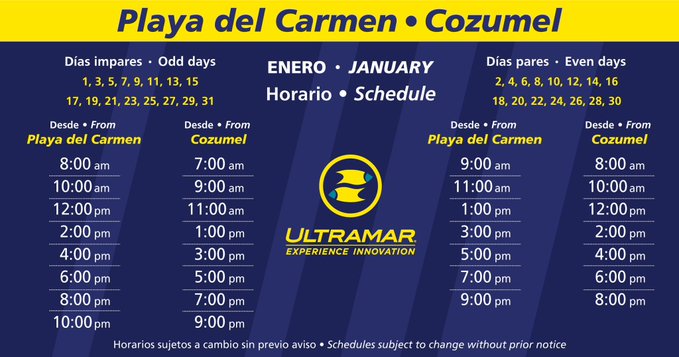 This is the schedule for January 2023. The schedule varies a little each month with different holidays. To check the latest schedules, see the website here for Ultra Mar in English.
Buying tickets for the Cozumel ferry
Now there are two ferry companies that make the crossing between Playa Del Carmen and Cozumel. All boats are similar. Both of the ferry companies have kiosk near the ferry pier.
Most people just show up and take whatever boat is leaving next. You can buy one way or round-trip tickets. There is a small discount buying round trip and saves you from getting in line again to buy another one. We recommend just getting a one-way ticket and then buy a ticket when you are ready to come back. That way you are not waiting for a ferry that you already bought a return ticket for or trying to catch a certain time ferry.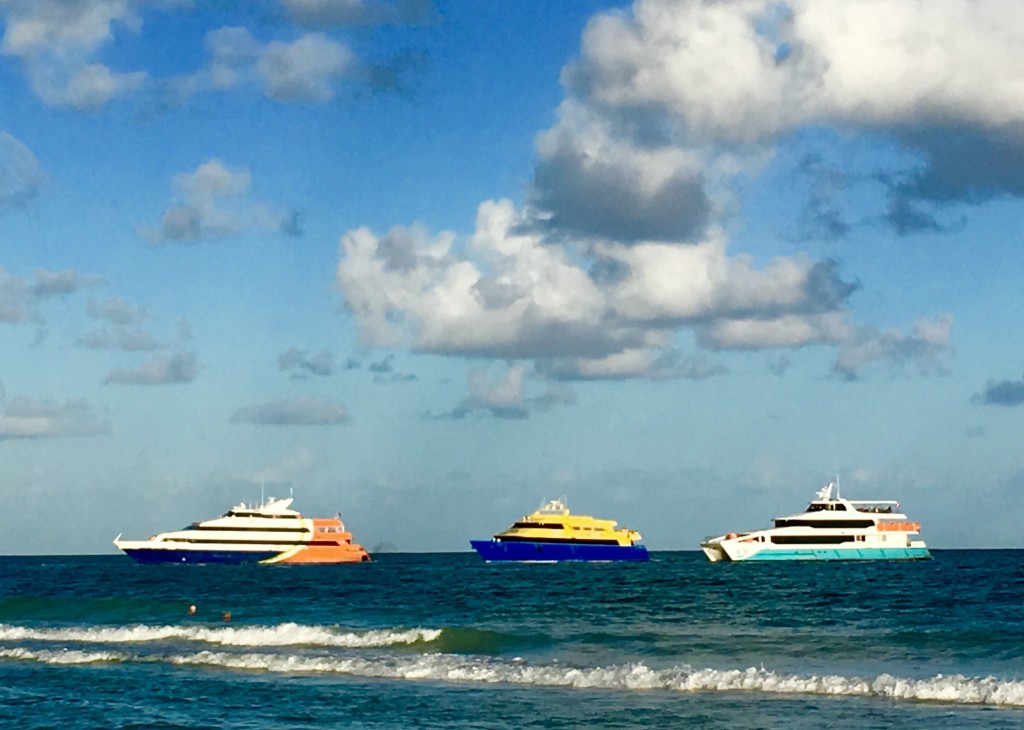 How much does the Cozumel ferry cost?
The Cozumel ferry cost about 250 pesos one way or 500 pesos round trip. Basically, both are all about the same price and convenience of what boat is leaving next is going to be the deciding factor.
What are the child prices for the Cozumel ferry?
Children 2 years old up until 12 years old are 200pesos one way or 400 round trip.
One big money saving tip is for locals with proof of ID is get a local ticket price.
How long does the Cozumel ferry take?
The ferry is just over 30 minutes to cross. Boats leave very close to schedule. If there are rougher seas, then the crossing can take a little longer. Make sure you get there at least 10 minutes before they leave so you can walk out and get on.
Is there a car ferry to and from Cozumel?
Yes. It is called Trans Caribe but this is totally different than the above-mentioned ferry companies. It leaves from the Calica port which is about 10 minutes south of Playa Del Carmen.
There is however no need to take your car over for the day. It is much easier to rent a car while on Cozumel. The price of shipping a car over out ways any benefit to renting a car.
What is the Cozumel ferry schedule for the car ferry?
The ferry crosses 4 times a day except Sundays when it just crosses twice. For exact hours check the link above to Trans Caribe.
If you are looking to get from the Cancun Airport to Cozumel, see our article here.
For other questions on taking the ferry, your questions might be answered here in our Cozumel ferry article.
Do you have any questions about the Cozumel ferry schedule or taking the ferry? Let us know in the comments below, we would love to hear from you.