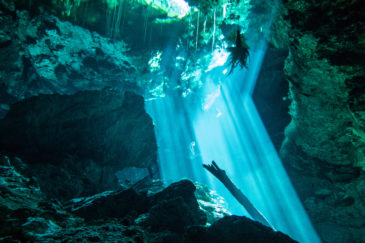 Scuba Diving is a popular vacation activity in the Riviera Maya. Whether you are looking to learn to scuba dive or as a certified diver you are looking to plunge in to the stunning tourquise ocean or dive under the jungle in the beautiful freshwater cenote caverns you will find unforgettable diving here in the Riviera Maya. When you arrive in Playa Del Carmen you find a huge choice dive centers available for you to dive with. In this article we wanted to tell you about one dive shop that has been operating since 1990 and we have gotten to know and can recommend them to you as one of the best dive shops in Playa Del Carmen.
Tank-Ha Dive Shop
Why do we say they are one of the best? Well we have the following 10 reasons:
PADI 5-Star Dive Center, operating since 1990.
They take you direct to Cozumel. No need to take the ferry.
They have their own boat.
All guides are instructors.
In house guides
They own their own tanks.
They are a Cressi partner shop.
Use long wetsuits.
The owners work in the shop.
They prefer small groups and are happy to take just one person to dive in cenotes or Playa Del Carmen.
From all of this you can get the picture that they care about the quality of the shop and the customer experience. They are an ecological dive shop that believes in continual education so that divers never stop improving their skills which leads to an enhanced enjoyment of the sport here in the Riviera Maya. We feel that if you stop by their shop on 1st Avenue between 20th and 22 Streets and talk to them, you will feel very comfortable with and see for yourself that this is a good dive shop.
Why is diving in the Riviera Maya so good?
This part of the world is unique because it has three distinct dive locations, all of which can be easily accessed daily from Playa del Carmen using Tank-Ha Dive Center
Playa Del Carmen: Large amounts of fish as well as moray eels, turtles, nurse sharks and occasionally an eagle ray.
Cozumel: Stunning wall dives with stronger currents. The fish in this National Marine Park are usually large beautiful specimens.
Cenotes: Freshwater caverns which are available to recreational divers when guided by appropriate professionals. Magnificent underwater structures to explore.
Being based in Playa Del Carmen is an advantage over being on Cozumel because you have different options available to you if the weather is less favorable.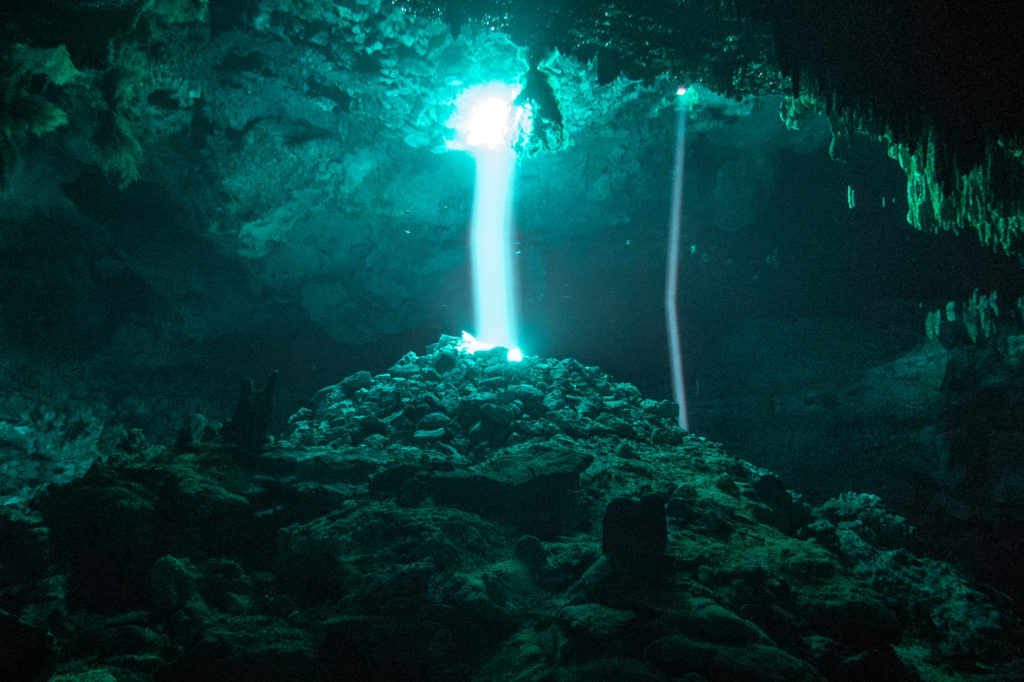 Our video of cenote diving with Tank Ha dive shop

We sent our diving correspondent Marianna out with Tank Ha. Below the video we have her interview to tell you how it was.
Meet Mariana our dive correspondent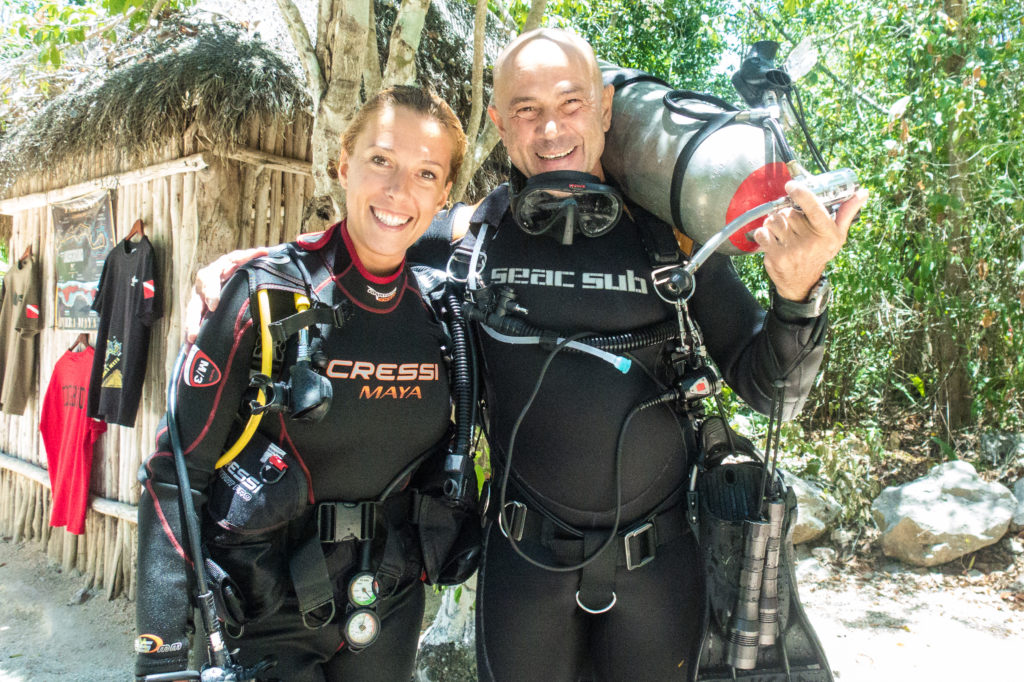 Where have you dove before?
I have been to Brazil to dive, Nicaragua, The Galapagos Islands, Honduras and Colombia.
How is diving here in the Rivera Maya different from the other places you have dove?
I think the level of professionalism is higher here in the Rivera Maya. Some people travel to certain destinations to get certified just because it is cheaper. When you get to those destinations sometimes there are people just working there for a short period of time or do not have a lot of experience. Here in the Rivera Maya there is such a long tradition of diving and it is more set up in a regulated way that there are good standards in place.

Also diving here in the Rivera Maya is exciting because not only do you have the ocean diving you have cenotes which are a whole world to themselves and unique. When I first came to Mexico I wanted to dive in them and am glad I got to experience that.
Did you like diving with Tank Ha and if so why?
Most definitely! They have good personal care, good equipment and really know the local area. My overall experience was very good. I think it is a good thing for divers to note that what sets dive shops apart in Playa Del Carmen is the service and how you enjoy your overall day. Scuba diving does intail some risk and you want to feel safe and comfortable with the guides and I certainly felt comfortable with the Tank Ha team.
What are the prices for diving in Playa Del Carmen?
Prices tend to be about standard in the Riviera Maya but really what comes into play is the quality of the tour. If there is a large difference in prices then you have to ask yourself why? We have found that most of the good dive shops don't negotiate prices and only offer discounts with multiple dives.
Here is the prices for Tank Ha Dive Shop. These are subject to change.
Ocean dive prices
Playa Del Carmen (2 dives) $70
Cozumel Direct (2 dives) $140
Night dive (1 dive) $60
Cenote dive prices
Cenote (2 dives) $115
Cenote extreme (2 dives) $160
Dive course prices
PADI Discover Scuba Diving (2 dives) $110
PADI Open water diver (4 dives) $390
PADI Advanced open water diver (5 dives) $299
PADI Enriched Air (Nitrox) Speciality course $100
Discounts available:
Dive for 3 days on more and get a 10% discount on standard dive prices
Manuals and certification fees included in recreational courses. Equipment including dive computer is included in the PADI Open Water Course.
Tanks and weights included on all dives. Dive equipment rental is $15 per day.
Are you interested in diving with Tank-Ha?
Here is their contact information.
984-873-0302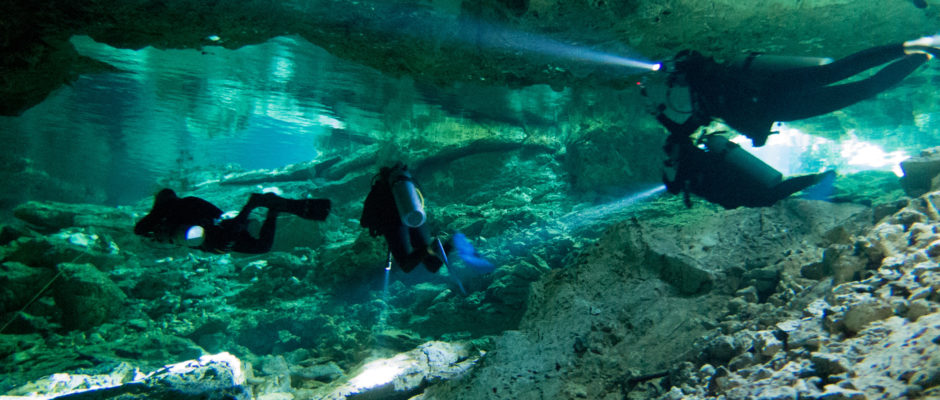 Have you been scuba diving in the Rivera Maya? What did you think? Let us know in the comments below.