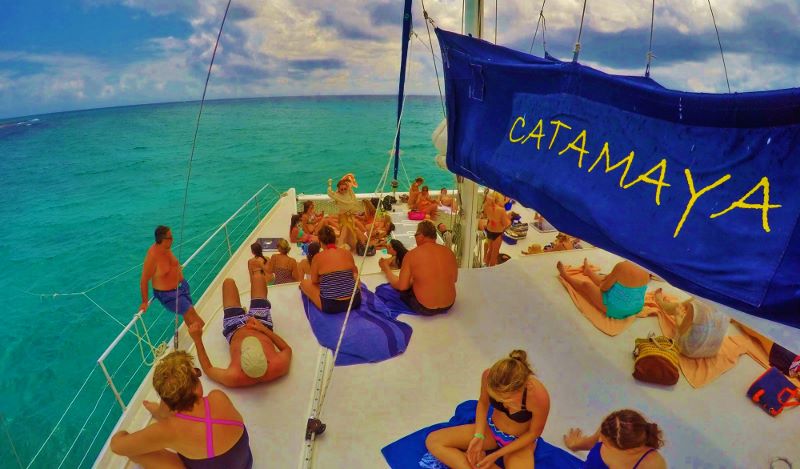 What is a Catamaya catamaran tour like?
So many of our readers ask about boat tours and the truth is that in Playa Del Carmen we do not have a marina for boats and the only way to go out is a small fishing boat or take the ferry to Cozumel. But there are some great options to go out and enjoy a boat tour on the Caribbean. Here is one good catamaran tour. It is Catamaya catamaran boat cruises based in Puerto Aventuras.
Our video introduction to this catamaran tour
Since words are sometimes hard to describe everything, we made this video for you of this tour.

Catamaya Catamaran Tours
Catamaya has a large catamaran which is a great way to be out on the water. Catamarans glide across the ocean and give you a unique feel and lots of fresh air. Catamarans are great because they are not a regular boat just rocking on the waves and plowing through the water. You feel so open on these boats and especially the front where there are nets you can sit on, this is an awesome place to be as you sail over the turquoise Caribbean sea. You might even get to see some flying fish as you cruise along!
Snorkeling in a beautiful bay
If you are on a cruise that includes snorkeling, you will sail up the coast for 1 1/2 hours to a beautiful bay with a reef. The water is about 15 feet deep and crystal clean on a calm day. You will get to see various coral, tropical fish and possible manta ray and sea turtles. The snorkeling is with guides and last for about 45 minutes. The photo below is where you snorkel. Beautiful right?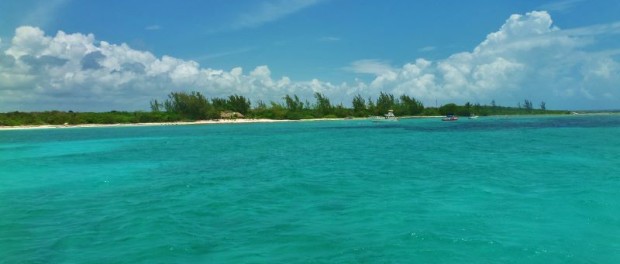 Food included on the Catamaya catamaran tour
When you get on the catamaran tour you get to choose between four options. Lobster, chicken skewers, steak and angus burger. They then give you a ticket for your meal, that way you don't change you mind later and you get what you ordered.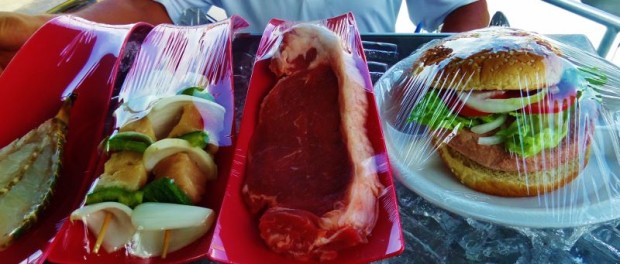 While you are out snorkeling, they fire up the grill and start cooking. When you arrive back they set up the bar inside the cabin. They included a green salad and pasta salad side with the meal (see final product below).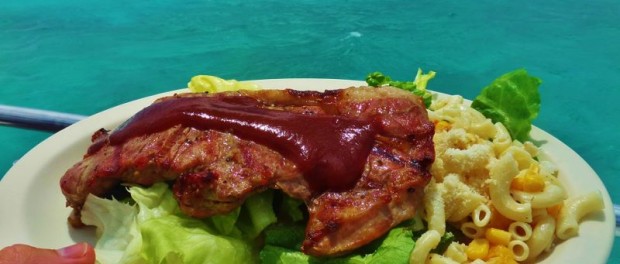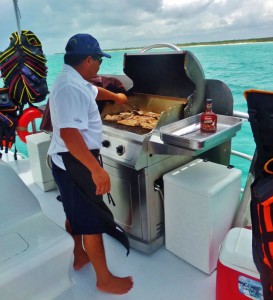 You will eat while anchored by the bay or back in the lagoon by Puerto Aventuras. After your meal is the best time to have drinks and lay back.
Drinks on the catamaran tour
If you are on a cruise with open bar they have a few alcoholic drinks, cocktails and corona beer. It is good if you plan on snorkeling to save the heavier drinking until afterward. Please be careful with cups, having them blow off the boat into the beautiful water would be a shame.
Tips for this catamaran tour
Bring sunscreen since you will out for several hours. It is best to bring only biodegradable since you will be swimming in fragile reef areas.
You will drop you shoes in a container when getting on the boat so don't worry about what you wear on your feet. Bring a large bag that closes to keep your stuff in. It can be windy on the boat and you can keep all your stuff together.
Make sure you listen to instruction from crew about snorkeling. This is a very fragile area, please do not touch anything!
Bring your own towel to dry off after snorkeling although you can easily drip dry.
Be careful with cameras not only for falling off the boat but also from splashes as you sail through the water (especially in the front).
Tips are appreciated for the staff.
Catamaya does mainly snorkeling cruises that sail up the coast, but also does sunset cruises, fishing excursions, dinner cruises, sailing charters and party sailings.
About Catamaya catamarans
Catamaya has a 65 foot catamaran that can hold up to 100 people.
Normally sail Monday -Saturday but will arrange Sunday tours if there is a large group.
There are bathrooms and a hose shower on deck to clean off salt water.
They have indoor shaded area to sit in if you don't want too much sun.
They have good quality snorkel gear including fins.
Are available for charters.
Sails in most weather and is able to sail around temporary rain showers.
How to book this tour and get special price!
To book individual trips you can book directly at Catamaya's website. Since we really like this company and we think you will enjoy this tour, we have a special booking code for you.  This special code will get you a 10% discount and make this cheaper than booking this anywhere! For group bookings contact us here at our website under the about tab. We re authorized to give you special group rates also!
How to book this special price ticket on this catamaran tour
Go to the website: http://catamaya.com/
Go to the Book Now option.
Select the day you want your tour.
when asked at checkout click Redeem Gift Card/Promo Code
Enter the code: I9TBTTIM
Transportation to get this tour
We recommend  taking  the transportation that is included . You will arrive on time and not have to worry about parking and driving after drinking on this tour.
You can also easily get to Puerto Aventuras by driving or colectivo. If you did take a colectivo to Puerto Aventuras, you will need to walk into Puerto Aventuras or take a taxi. It is about a 15 minute walk. It is best to take the transportation least you know options.
Sailing days for this tour
Monday-Saturday normally and sometimes two cruises a day. Sunday is only available with large groups (they need to rest sometime).
Location in the marina for the catamaran tour
Catamaya is docked in Puerto Aventuras. This is just 20 minutes south of Playa Del Carmen. (Note: the marker is just a little off from the actual dock area by about 50 ft. )
Have you been on a catamaran tour before? What did you think? Let us know in the comments below, we would love to hear from you.