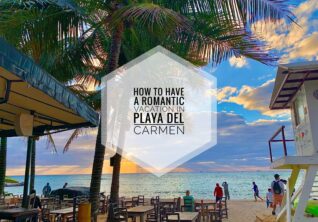 The Romantic Guide to Playa Del Carmen
Do you have a special day coming up or just want to impress your loved one with a romantic time in Playa Del Carmen? We have everything laid out for you in this guide. all types of budgets are considered so you can have a good stay in Playa Del Carmen without going overboard. We hope this guide helps you have a great time in Playa.
Like all our guides on our website, we strive to get them updated. If you find something has changed, please let us know in the comments below.
Romantic Hotels for Lovebirds
Most couples will tend to stay at resorts because you have everything set for yourselves. There is no planning for each meal and you can focus on time together. There are, however, nearly 100 options for resorts in the Riviera Maya area. To help people select and book the best one for your needs, we recommend Lori, who is a local travel agent who knows the resorts very well.
Tip: For those looking for a romantic getaway and a place to stay, we recommend narrowing it down to adults only if you are traveling without children. This can give you a more adult feeling resort and a more tranquil time together.
Hotel recommendations in Playa Del Carmen
There are many options for hotels in the downtown of Playa Del Carmen. This is the best area to stay since you will have access to the restaurants and walking 5th Avenue.
Here are some recommended places to look at to stay: (On a side note: we have seen some list of "romantic hotels" for Playa Del Carmen and really think they are just crazy. Many of them are promotions for a certain hotel and not really good list for you.)
These hotels are listed in approximately order from most expensive to least expensive.
Mahekal Resort

. This is right in the middle of Playa but has a secluded feel. This is not a modern fancy resort, but more of a low key relaxed Caribbean feeling place. To

check prices and more information, click here

.

The Reef 28 Hotel

. This is close to the beach, has a spa in the hotel and rooftop pool. This hotel is perfect for the younger couple that wants to be in the center of things. To

check prices, click here

.

Vacation rentals. These are good if you want more space and perhaps staying a longer time. Check out this article on the Oceana Building. There is even a discount code for all the vacation rentals from this company.
Hotel Thompson Beach House. This is right on the beach with a more luxurious feel. There is a pool and gourmet restaurant on the first level.
The Fives Downtown Hotel. This is a trendy city hotel that is newer and offers a great rooftop. You can base yourself here and spend time at the hotel and exploring. For more about The Fives, check prices here and get more information.
It Hotel. This is a small boutique hotel that is urban feeling, has a rooftop with pools and restaurant on the main floor. This hotel is on the north end of downtown and gives you access to upper 5th Avenue where some of the nicer restaurants and shops are.
Senses Quinta Avenida. This is a small adults only hotel right on 5th Avenue. There is a small rooftop pool and this hotel makes a good base for exploring the center of Playa.
Hotel Posada Mariposa. This is a small hotel on 5th Avenue that has been around for many years. This is a budget option. What makes this hotel nice is the courtyard with lots of plants and decent for the location and price.
Tip: Pre booking a transfer to and from the Cancun Airport is the best option. This will show your loved one you planned well and give you more time on your romantic vacation rather than waiting for transportation.
Romantic Settings Perfect for Dinner
If you want a beachfront restaurant, rooftop dining or just a special place, we have you covered. Lets start with romantic beachfront restaurants.
Romantic Restaurants on the Beach
Here are the best options for a romantic dinner by the ocean. Fuego Restaurant is a romantic setting by the beach. It is on the Mahekal Beach Resort property but open to the public. This is one of the more expensive restaurants in Playa Del Carmen and also secluded. Another option is Inti Beach Restaurant where you can sink your feet in the sand and have dinner. Good overall presentation here and experience. The last option is C-Grill at the Thompson Beach House Hotel. This is an open air restaurant right on the oceanfront. You get gourmet food in a small restaurant setting.
Rooftop Restaurants in Playa Del Carmen
Getting a great view with dinner as well as breezes off the Caribbean is the makings of a romantic time. Here are several notable rooftop restaurants in Playa Del Carmen.
Catch Restaurant. This is on the roof of the Thompson Hotel on 12th Street. You will have a large gourmet menu to choose from and expansive views overlooking Playa and the Caribbean.
Purobeach Restaurant. This restaurant is on the roof of the Fives Downtown Hotel and open to the public. The atmosphere is loungy and has good views at sunset.
Nice Settings for a Romantic Dinner
One of the most unique settings for a romantic dinner is Alux Restaurant. This restaurant is in a cave not too far out of the downtown area. Here you can get gourmet food and after dinner walk around the circuit of the cave. Tip: They do have some tables in private cave rooms if you want that extra special place to be alone.
Oh Lala Restaurant sounds fancy, just by the name. This is a very small restaurant that tops the list of best places to eat in Playa Del Carmen. Reservations are a much and well in advance. Here you get great food and service.
Great Gift Ideas for Lovers
Do you need to buy something special for your special someone? Or is it just expected? Well, here are some great things at all budget levels for lovers.
Gifts for Her
Chocolate or chocolate massage oil. Ah Cacao is a local chocolate shop with great products from Mexico. The massage oil is very romantic and smells good too.
Jewelry. Many people think about gold and silver items, however, we always tell people that these metals are not mined in this part of Mexico and you won't find any deals. Also the quality and materials of jewelry can be questionable. It is best to buy a handcrafted piece or from a reputable location.
Flowers. These are very traditional and inexpensive. You can find three floral shops near the intersection of Constituyentes and 30th Avenue. One of them is Dac Market.
Perfume. The chain store of Sephora or Liverpool might be your best bet for finding the best selection and quality.
Some new clothes. You can also see our Fashionistas Guide to Playa Del Carmen here for more ideas.
Gifts for Him
Getting a gift for the man in your life is going to depend a lot of what he likes. Here are some typical things guys like.
Tequila or other spirit. A good bottle of something is a great gift. The best place is L' Europea liquor store in the Quinta Alegria Mall. You can get local prices for tequilas, mezcals and more.
Send him fishing. If your man likes fishing, going out on the ocean might be a good gift to give him. One good local fishing tour that has been around for a while is La Reina.
Give him the tour he wants. See below for some good tour ideas.
Activities for Couples in Playa Del Carmen or Nearby
Go to the Spa Together
A couples day out to the spa can be very romantic. Many spas have jacuzzis where you can soak before or after massages. Many spas also offer couples massage packages. Here are a few places to check out.
Bric Spa. This is an affordable spa with good services.
The Okom Spa. This is a modern spa with great water therapy pool.
The Revive Spa at Mahekal Resort. This is on the property of the resort, but open to the public. It is a tranquil space to get away from it all.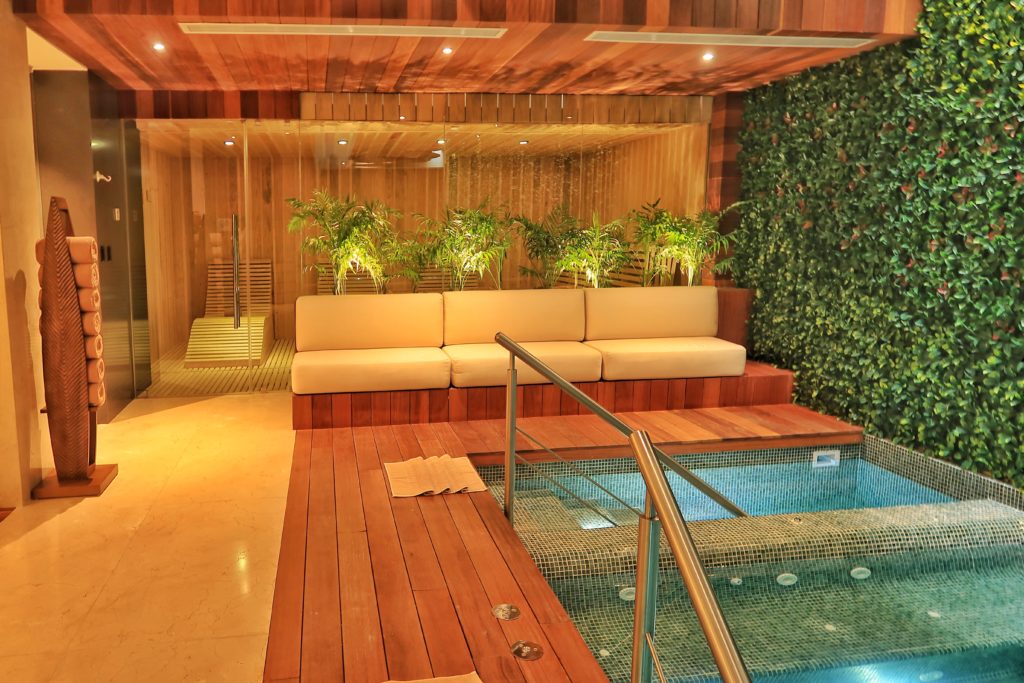 Go out Paddle Boarding Together
A nice way to see Playa Del Carmen is from the ocean. The Aloha Paddle Club takes people out on the ocean from the downtown beach area. See their website for information on reserving a spot.
Take a Catamaran Tour
Sailing on the open ocean is very romantic. One of our favorites is Catamaya. This tour takes you sailing up the coast and you get to go snorkeling on the tour.
Spend the Day at a Beach Club
Having a beach lounger, pool and service is a great way to spend the day at the beach. In Playa Del Carmen there are many beach clubs to check out. See our beach club guide here.
Relax at a Rooftop Pool
If the beach is not your thing or you want more of a lounge type setting to relax in, a rooftop pool might be good for you. There are more and more each year in Playa Del Carmen. Each one has a different vibe. We have this guid here for rooftop pools you can visit.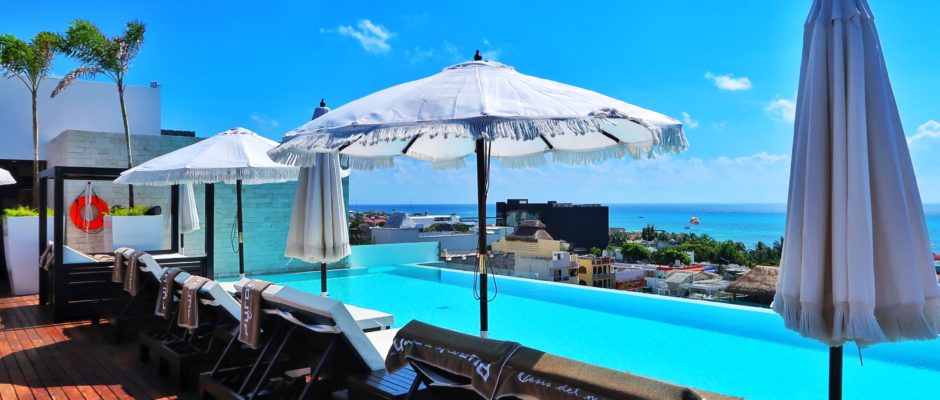 Go on an Adventure Together
There are some great tours and parks to visit in the area. Some are more adventurous than others. Here are some for couples that want a little action in their vacation.
Xplor Park. This is an adventure park with lots of zip lines and fun for all day.
Xel Ha. If you like snorkeling, this is a huge inlet where you can swim and explore. All your food is included and you can have a lot of fun under the sun.
Drive to a Romantic Getaway
To some, renting a car and driving is a great way to go out to explore. This can be a time to explore together and make those stops along the way to make memories. Some great getaways are :
Driving to Tulum for the day.
Visiting the colonial city of Valladolid. If you decide to spend the night, we have a list of recommended hotels in Valladolid.
Drive to Chichen Itza. If you want to see ruins we have a full guide on how to drive there and things to see along the way.
We hope whatever you end up doing, you have a great time. Playa Del Carmen and the surrounding area are a perfect place for lovers to visit. You can certainly fall in love and fall in love with everything there is to be offered here.