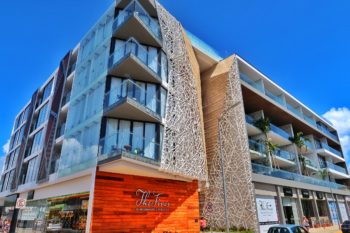 The Fives Downtown Hotel & Residences
A brand new hotel has emerged on the south end of the downtown. The Fives Downtown Hotel and Residences now resides on 10th Avenue and 2nd Street. We have to say this was not the most likely sport for a new hotel but they are making their mark. With 93 rooms, rooftop pool and several restaurants, bars and a coffee shop, this hotel has a lot to offer.
As soon as you enter you notice how stylish it is and the attention to detail. A central courtyard is lined with a towering green wall and pool. It is a nice way to step off the street and into the world that is The Fives Downtown Hotel. Here is our review and photos with video of what you can expect if you stay here.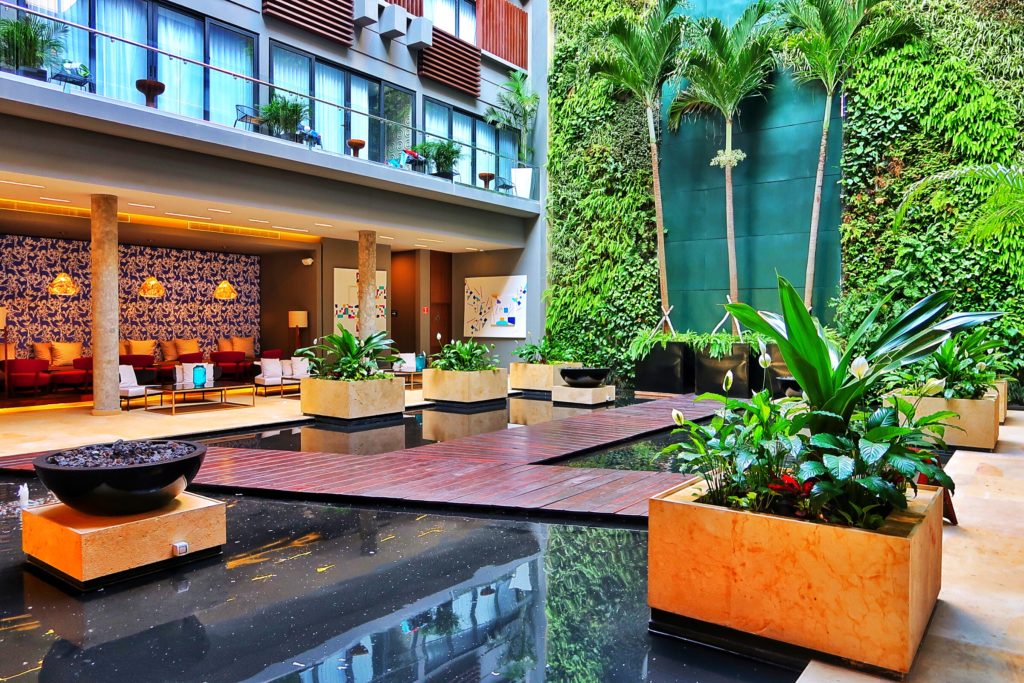 Our detailed video review of The Fives Downtown Hotel
Like everything on our website we work hard to experience it so we can give you a feel for what a place is like. Here is out video we made of our stay at The Fives Downtown Hotel.
What the rooms are like
We have to say the rooms are very comfortable here. It is not just white walls and a flat screen TV. Textured wall panels, LED lights, and features that most of us could only want in our dream house are here. Most of the rooms have a balcony that either face the courtyard or out at the city.
Some of the amenities in the rooms include:
Floor to ceiling windows with both light and black out curtains.
Walk in shower with huge rain showerhead.
Full size refrigerators.
Illy coffee machines.
Free WIFI.
Smart TV's,blue-tooth audio and clock radio.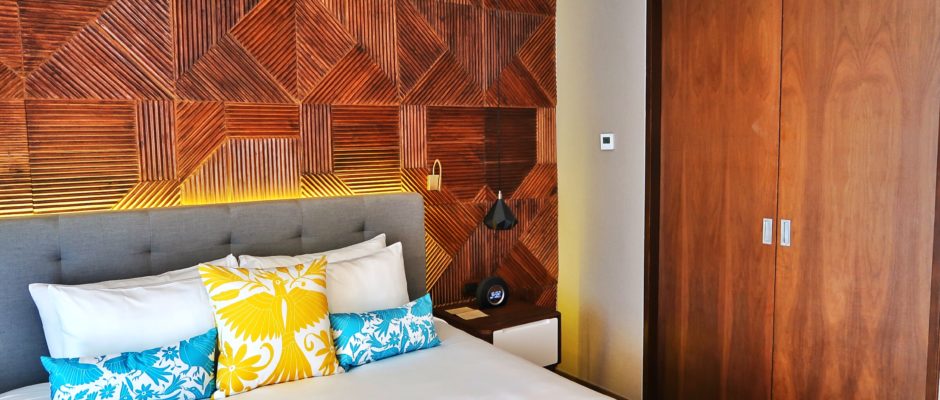 The beautiful rooftop at The Fives Downtown Hotel
The rooftop is open to hotel guests and public during the day. Reservations are a good thing because this is a popular place to hang out in Playa Del Carmen. Lounge chairs and beds can be rented or used for laying out by the pool. Waiters service the area and supply you with drinks from the bar and food off the menu. For more about the Purobeach Rooftop Club see our article here.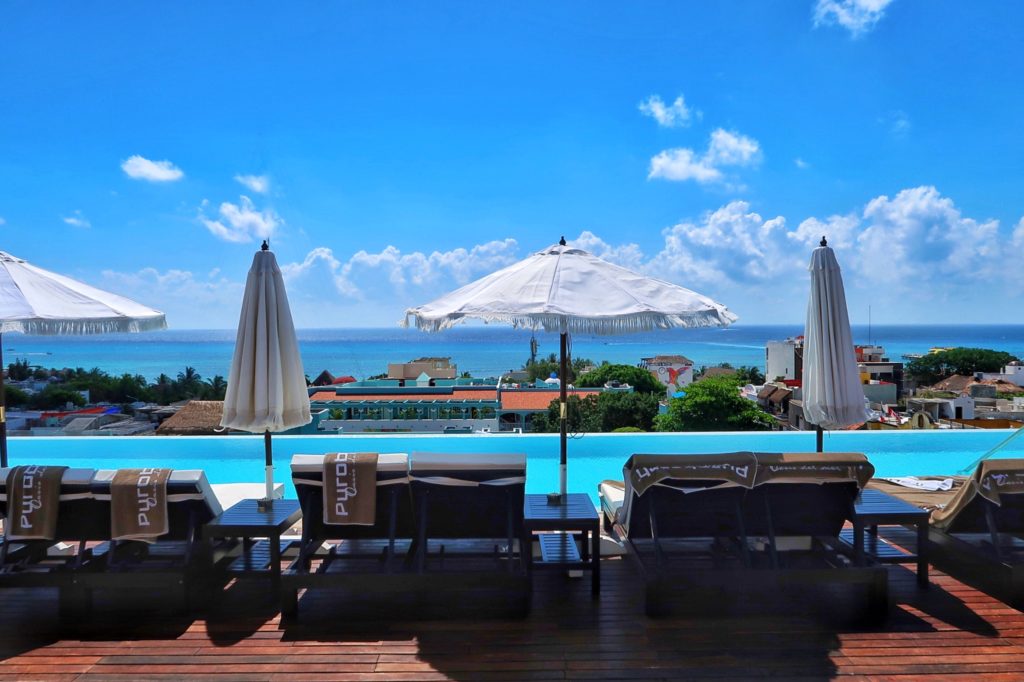 Restaurants, bars and services at the hotel
Purobeach Restaurant
This open air roof top restaurant serves a smaller lunch menu for people hanging out at the pool during the day. At evening time the restaurant prepares to watch the setting sun over the horizon and then cooks up chill music and lounge vibe. Mediterranean food and international cuisine is served. This restaurant is upscale but still casual. For more about the Purobeach Restaurant, see our article here.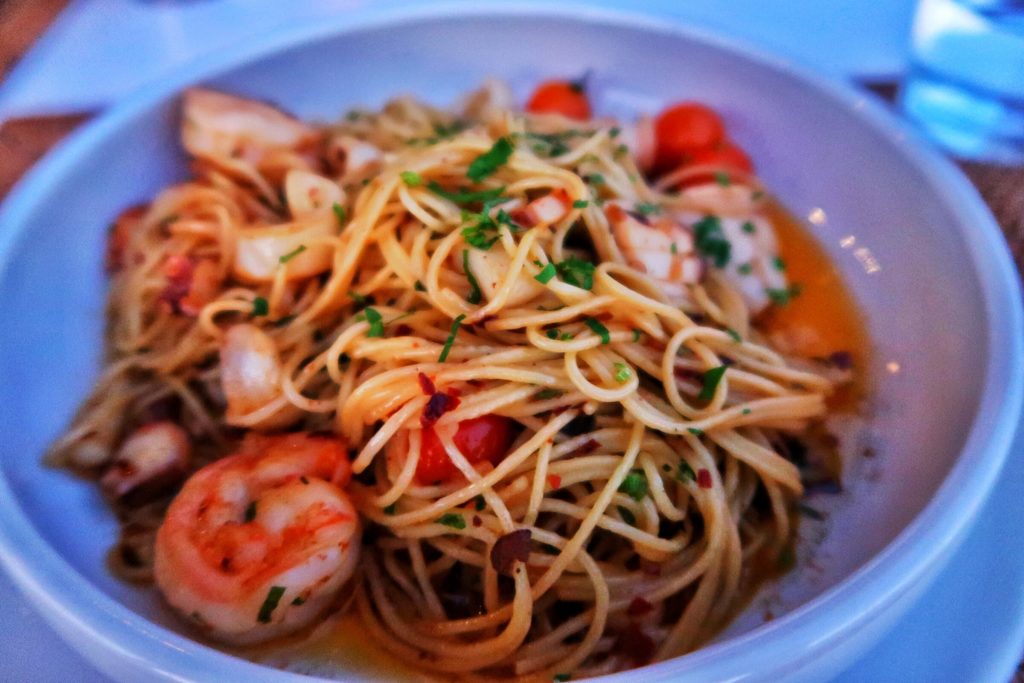 Mercatto Restaurant
This restaurant is used to serve breakfast for hotel guest. At dinner time it serves Italian cuisine in the trendy industrial style restaurant. For more about what dinner is like here, see our article about Mercatto Restaurant.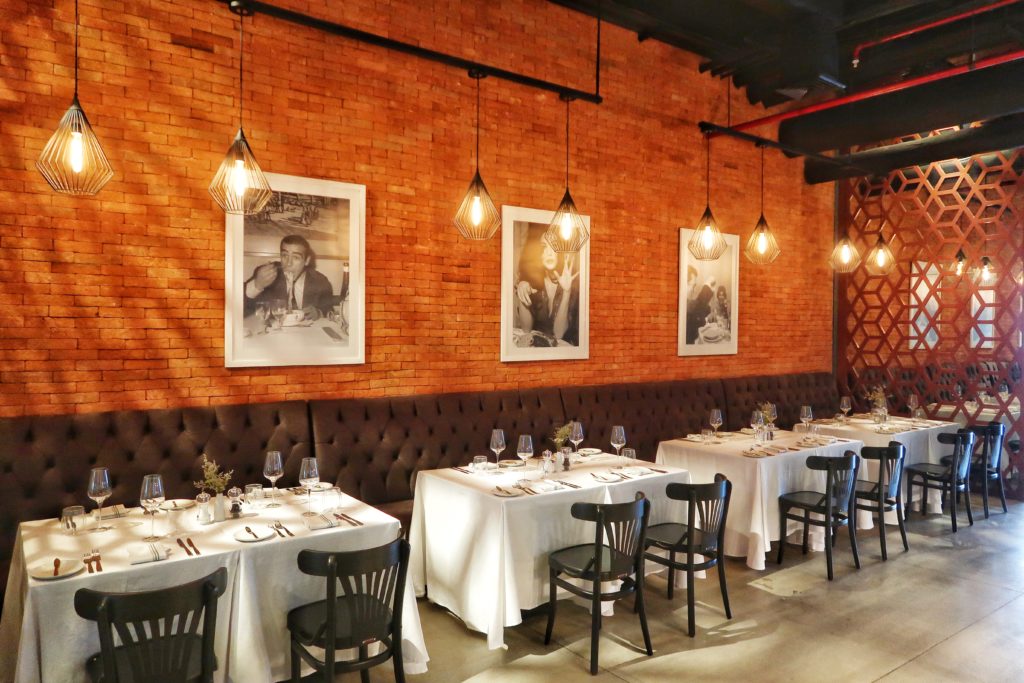 El Tigre Bar
Styled after a Mexican cantina, this bar gives you a modern take on a old Mexican bar. There is a large menu of drinks that include lot of Mexican spirits. There is also a small snack/tapas menu to go along with your drinks.
Marley Coffee
This is a chill coffee house offering good blends from around the globe. Hardwood floors and large sofas great guest who want a good cup of coffee and place to relax. For more about Marley Coffee, see our article here.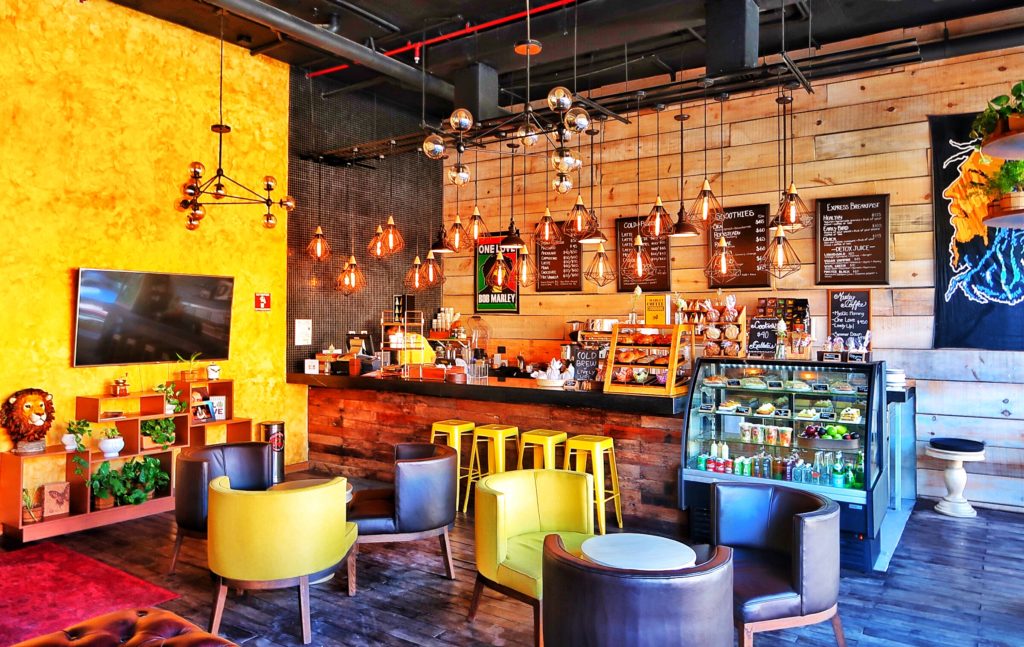 Gym
On the first floor there is a well lit and air conditioned gym with a good range of equipment for those that want to workout on vacation.
Our recommendations for this hotel
If you are looking for a cosmopolitan place to stay in Playa Del Carmen, this just might be what you are looking for! With a great rooftop pool and many services located in the hotel, you can make this as much an inclusive stay or be independent in the city.
The hotel is well located. You are only one block off 5th Avenue for strolling or shopping. Two blocks from the beach and close to bars and restaurants.
This hotel seems to attract guest in the age ranges of 31-59 years old. People that want a comfortable hotel yet still want a classy place to chill should like this hotel.
We really enjoyed our stay here and very much recommend this to our readers.
Booking this hotel
If you would like to check the prices and possible reserve here, click below.

Have you stayed at The Fives Downtown Hotel? What did you think? Do you have questions about this hotel? Let us know in the comments below, we would love to hear from you.