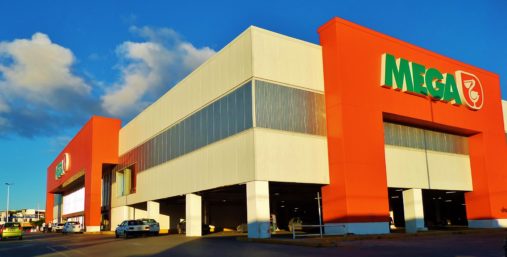 Shopping in a foreign country and going to the grocery store can be fun. It is a great way to see new products, try new things and even pick up some souvenirs to take home. It can however be a little intimidating navigating the newness of everything, so we want to bring you this guide to grocery stores in Playa Del Carmen to help you make the most of your time.
Grocery Stores in Playa Del Carmen
Where to go? Most people that come on vacation go to, in this order, 1) Walmart 2) Mega 3) Chedraui 4) Soriana 5) Aki. In the downtown area Walmart and Mega are in the best locations to walk to. Walmart is on 30th Avenue and 8th St and Mega is on 30th Avenue and Constituyentes Avenue. Chedraui has one location on the south end of town just south of Avenida Juarez and next to the 307 highway and another location in Plaza Las Americas (accessible by car or public transportation). Soriana is located in Centro Maya shopping area at the south end of town. You need a car to get to this location or by public transportation. Aki is right on 30th Avenue between Walmart and Mega grocery stores an is between 12th and 14Bis St. So based on location you might pick one of these. Each has a little different offering. There are some other smaller markets but in general, these are where tourist and people that live here shop.
Walmart has a little of everything. If you need some snorkels, clothes, groceries, alcohol, or even souvenirs, they have it. Walmart has a good selection of light bulbs which can be good because they sell warm yellow bulbs in addition to the stark white bulbs. Walmart even has late closing hours (1:00am). Prices are pretty competitive on most products. Prices for tuna, hair dye, and cereal are usually lower at Walmart. Wine tends to be cheaper at Walmart than other stores as well. (For a whole list of where to buy wine and alcohol in Playa Del Carmen check out our article.) Walmart has sushi unlike the other supermarkets. Walmart also has the best floral selection, but don't get crazy about this, it is still much better to go to a florist. For where to buy flowers in Playa Del Carmen check out our list. Checkout lines however are longer (always!) at Walmart. The lines can even be long late at night. There is an express line fr 20 items or less but depending on how many cashiers are working , this can take 15 minutes or more. We have personally written to them about this and they actually wrote back saying they had to let some cashiers go and had to train new ones. This however seems to be a chronic problem at this store ( for many years now).
Hours
Monday-Sunday 7:00am-1:00am
Location
Walmart has two location in Playa Del Carmen. This is the one that all tourist go to and most expats as well. The other one is back in a residential neighborhood.

Walmart in Playa Del Carmen Photos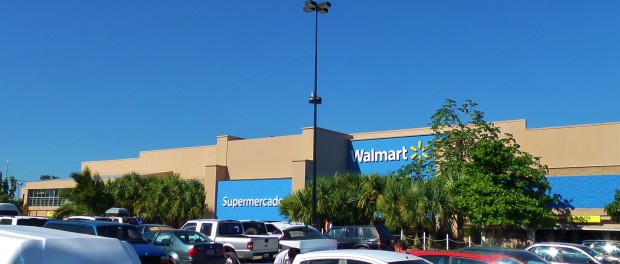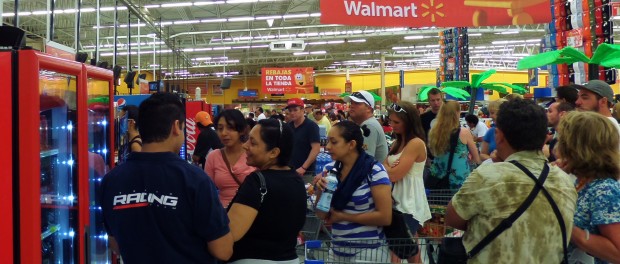 Mega is a Mexican owned supermarket chain (although this Mega has just been bought by Soriana, expect in the future for it to change over and hopefully be even nicer). It offers bright cheery shopping. Like Walmart, they have a little of everything, not so much souvenirs though. They have a café for coffee if you care to stop and sit if you like. (You can buy their blend of café here in whole bean or ground for you at the Café, the quality is usually better then the stuff in the coffee isle). They also have a cafeteria at the front of the store. Like most other super markets the quality of food and prices are not good. I find meat a little fresher here then Walmart. The bakery is good here as well.
Hours: Monday-Sunday 7:00am-11:00pm and only special hours around holidays.
Location

Mega Grocery Store Photo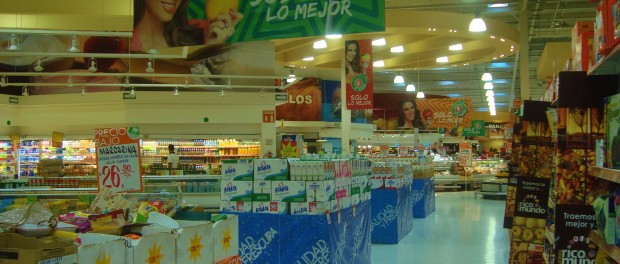 Chedraui has large stores that have a little of everything as well. They have a good alcohol department, bakery and fruits and vegetable section. Actually they are very similar to Mega, Soriana, and Walmart. If you are staying or living in the Playacar section of Playa, this is one of two stores closest to you, the other being Soriana.
Location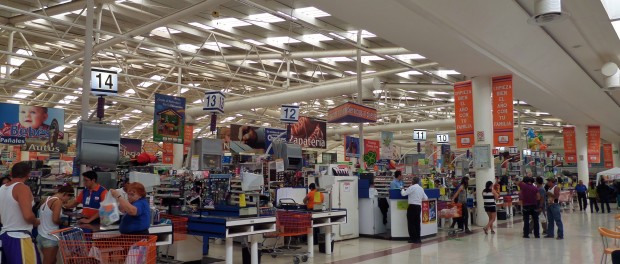 Soriana has the best donuts of any supermarket. That is not a huge claim to fame but the fact is they are very similar to the other supermarkets. This supermarket is where most people shop if you have a car and are staying or living on the south end of town. Note: There is a small Soriana on 30th Avenue near 38th Street. this location is a little bit north from where most people are staying but as Playa moves north this might be an option if you are staying or living on the north end of town.
Location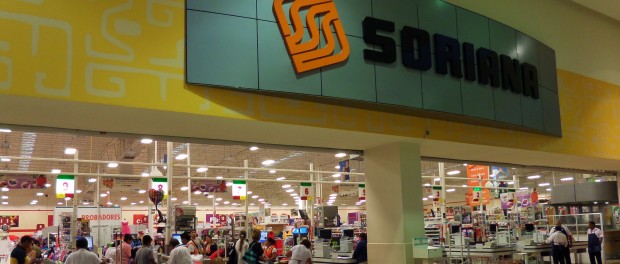 Aki is the lowest priced market. It caters to small restaurant entrepreneurs and people shopping on a budget. It does offer a lot of styrofoam and plastic products in bulk and does offer most food items at a discount if you buy large quantities. This can be a little confusing while shopping. You might think the price is actually lower, but check the individual price for things here, not the bulk price. The bakery is the worst of all the supermarkets with only a small offering of baked goods. The alcohol section is small and usualy does not have the best prices (only when they have 3×2 prices on wine you get a good deal). Since wine is not a big seller among the normal crowd that shops at Aki, it might not be the best to buy wine there since it will sit for a while on the shelf. Aki is usually one of the quickest in and out markets with little waiting at the register. Have your receipt out when you leave, the security person checks each one.
Hours
Monday-Sunday 7:00am-11:00pm
Location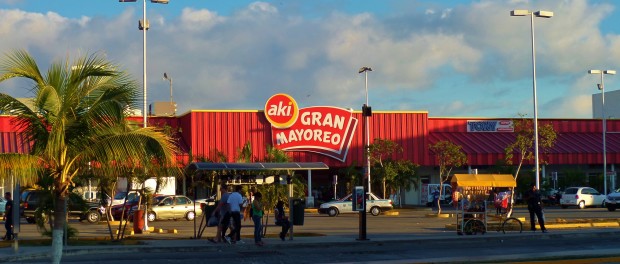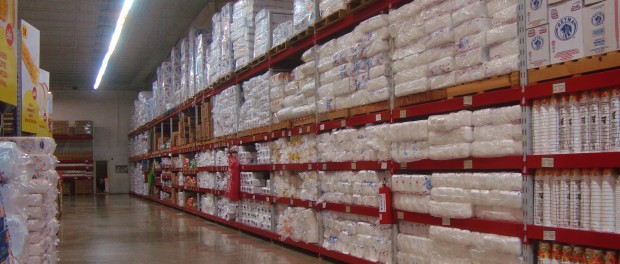 Don't want to go shopping? Want a delivery service?
We want to tell you about a great service in Playa that will do your shopping and deliver to your place. This service gets great comments from our readers and we wanted to share it with you. You can read more about it in our article here.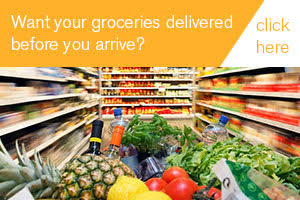 When should you go shopping?
It is an important factor in your shopping experience. The best times are early in the day and mid day when it is sunny. The reason for this is, when it is sunny and nice, people are at the beach. In the late afternoon everyone starts coming to buy stuff for dinner or for the evenings events. Also when it is the 1st. and 15th. of the month, everyone in Mexico gets paid then. The grocery stores are usually much more crowded then. If you go later at night it can still be busy and often the supply of produce and meats are low by the end of the day. Try avoid shopping around these times.
Special things about shopping at grocery stores in Playa Del Carmen
If you buy meat that is not marked with a price, make sure you get it weighed and priced in the meat department before checking out. In the bakery, pick up a tray and tongs, select your baked goods and then go to the counter in the bakery to price and package your goods.
Make sure you select things with readable bar codes. There is nothing like getting to the register and then having to have them look up the price or get another product. This is actually an issue with many products stored in freezers or refrigeration since they get wet and damaged.
In all large grocery stores you can add credit to your cell phone. It is called "recarga". Sometimes the cashier will ask you if you need "recarga" or you can just refill there by asking. Usually there is a minimum of 20 pesos. You will need to know your number and provider. Usually if you charge 100 or more pesos at one time you get some extra bonus credit.
Most grocery stores have shaded or indoor parking. This helps keep your car cool while shopping. Aki has no shade for their parking lot. If you park outside in the sun, there will be people that lay cardboard on your windshield for you. This is to keep your car cool. Sometimes the same people will help you back up out of your parking space by waving a towel and gesturing to you when is safe to back up. A small tip is usually nice for this service ( 4-6 pesos is customary)
When you check out here is a little tip for you, if you want to pay in USD you can at all of the above supermarkets.(This applies only in tourist towns like Playa Del Carmen and Cancun) You will get a good exchange rate, better then the ATM or at a casa de cambio in the street. This can stretch your spending power a little. Many people get tips in dollars and the markets encourage people to spend them in their stores. You must note that you are limited in the change you get back. You cannot give a $100USD (approx. 1,850 pesos) for a purchase of 400 pesos because the amount of change exceeds the 10% back in pesos limit of the law. The total limit of USD you can use in one transaction is $250USD. Also if you are using dollars, make sure there are no rips and it is in good condition because otherwise it will be rejected.
At each market there are people that bag your groceries. They work on a tipping rate. If you have just bought a weeks worth of groceries, a tip 8-12 pesos is appropriate. For small amounts, just a few pesos or small change.
Grocery stores in Playa Del Carmen do not offer free plastic bags. You must bring your own bags or buy a reusable one.
If you are interested in knowing 7 things that are more expensive in Mexican grocery stores, you might want to check out this article.
Interesting facts and tips for grocery shopping
Interesting fact: The lights go on and off sometimes during the day. This is because many super markets use some skylights for natural light. They have programs that adjust the use of electric lights to save energy. Sometimes through it seems to be a little noticeable having the lights turn on and off.
Fact: Alcohol sales are regulated in the state of Quintana Roo. For the most part you can by from 9am-10 pm everyday except Sundays which is 9am-5pm. Be sure to get in line in time because the scan has to be in the timeframe.
Tip: Fruit tends to ripen fast here. So mix up buying some not ripe and some ready to eat fruits. Buy the time you eat the first ones, the rest will be ready. This saves going to the store more and wasting food that goes bad. For example green bananas ripen in about a day or two. Much faster then what most people are used to.
Tip: Meat tends to last about three days or less. Buy what you need for a few days or freeze extra meat. In general you may find yourself going to the store more often then the weekly trip you were used to.
Tip: It should be noted that products sold wrapped in plastic wrap can absorb the store smells and flavors. Not only are there strong detergents that but some foods can sit on the shelves for a while. Raisins are a good example of this. Aki grocery store tends to be the worst offender.
Other Food Markets in Playa Del Carmen
Besides the big grocery stores there are some small specialty stores and market to shop at that can be good to check out.
DAC Market is a more local style fruit and vegetable market. Besides getting a large selection for fresh herbs and spices you often can buy some Asian product that you cannot find at other places.
Sapori Di Casa is an Italian specialty store in the center of Playa where you can get Italian products and fresh made food at the deli counter.
Pacsadeli is a small restaurant supplier type store that is open to the public. You can buy some bulk items here but most is normal size. What is good about Pacsadeli is the range of products from Asian sauces to random North American foods that you cannot find in other places
Fresh meat and seafood markets. Here are two small independent markets that specialize in seafood and the other in fresh cut meat.
What is your favorite grocery store in Playa Del Carmen? Do you have some tips for other readers you would like to share? Let us know in the comments below.