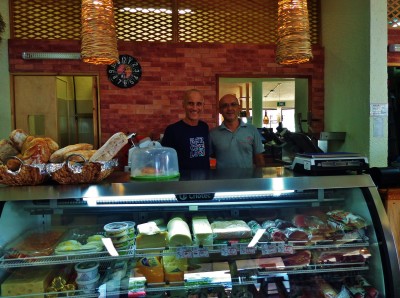 Sapori di Casa
Sapori di Casa is one of those stores that if you know about it, you go, but otherwise you might pass by it all the time and do not know it is there. We wanted to tell you what you have been missing.
Sapori di Casa imports many Italian products that you cannot get in the big grocery stores. They have pastas, tomato products, olive oils, vinegars, cookies and a deli selection of meats and cheeses. In addition to importing Italian food they also make a lot of home made Italian cooking on the premises. You can find things like lasagna, cannelloni, octopus salad and other things for takeout. Since there is a sizable Italian community in Playa Del Carmen this store fills a craving for Italian foods from back home. It can also fulfill your cravings to cook something different and get out of that food rut where you are cooking and eating the same things and are having a time coming up with new ideas. This place will give you some new options.
The two Italian guys that run this place have been here for years and really know their stuff. Why not stop by this specialty store an see for yourself.
If you are looking to buy good Mexican coffee, they sell the locally roasted Kaawa Café here.
Hours
Open Monday- Saturday 10AM-7:45pm
Location
Located on Constituyentes Avenue on the corner with 20th Avenue. South side of the street.