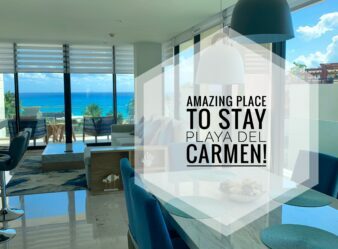 Could the Oceana Building be your next vacation rental?
Ever since the Oceana Condo Building was being built we thought it was a beautiful design and nice luxury concept for Playa Del Carmen. Recently we were able to stay in one of the condos there to see what it was like. Here is our review and video plus lots of information on the local area. In the video we visit a lot of local restaurants in the center of Playa Del Carmen so you can see exactly what a vacation would be like here. We hope you enjoy.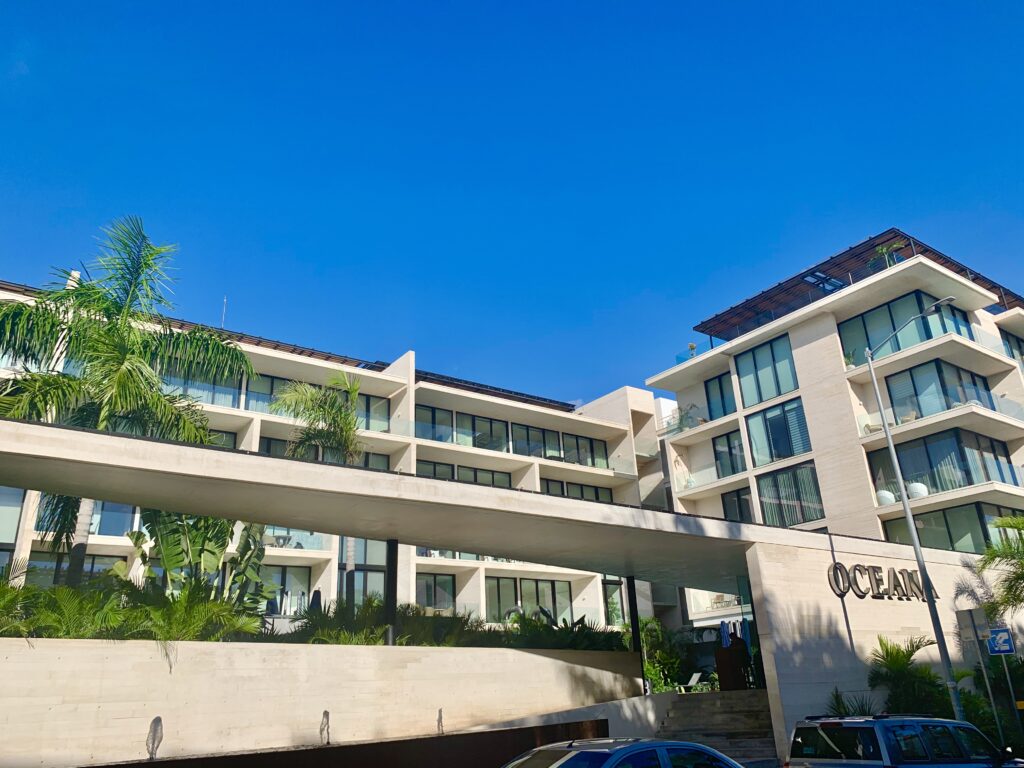 Our video about staying here in a penthouse condo
Like everything on our website, we stay there, visit and experience it so we can tell you just what it is like. This way we can also answer any questions you have about it. Besides just staying in a penthouse unit, we also visited several select units that Bric Vacation Rentals offers on their website.
Details of the featured unit here in the Oceana Building
The condo featured in the video was 435. This condo is on the 4th floor with a view overlooking Mamitas Beach. The condo has two bedrooms, one with king bed and one bedroom with double beds. There are three bathrooms which makes it very convenient for all guest staying in the condo. There is a full kitchen, living room and dinning area. Three balconies on three sides of the condo allow you to get views of the pool, street and ocean.
The air conditioning works very well in this condo! We enjoyed the cool living here and made it a joy to come back after being outside. The washer and dryer also make it easy to clean some things during your vacation without having to go to a laundry service.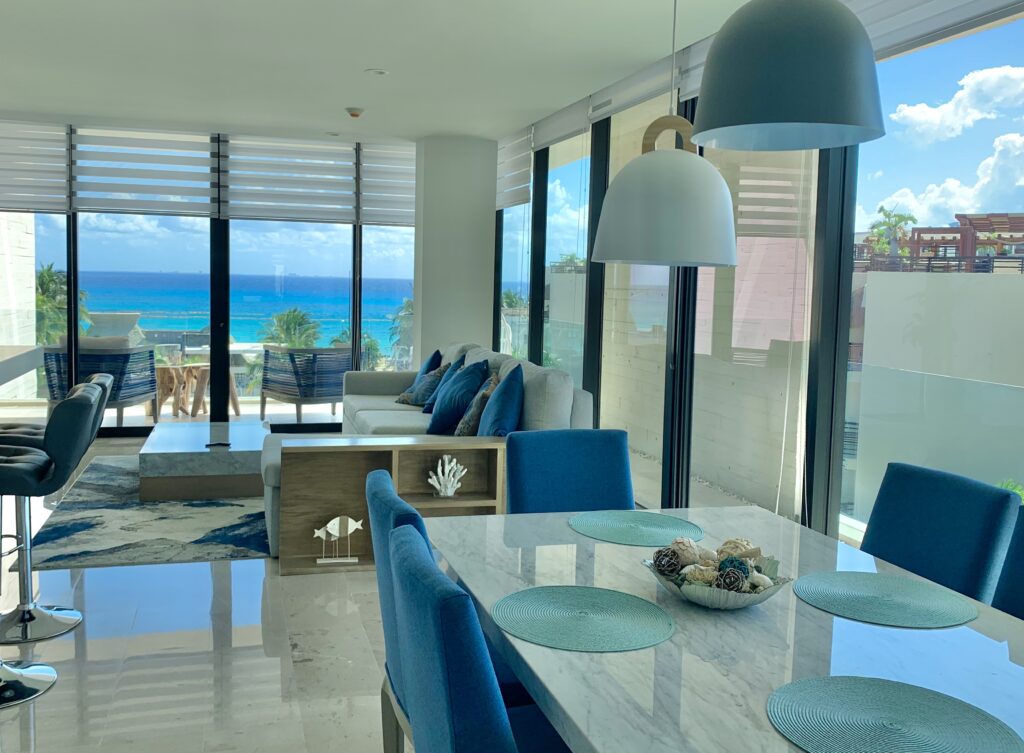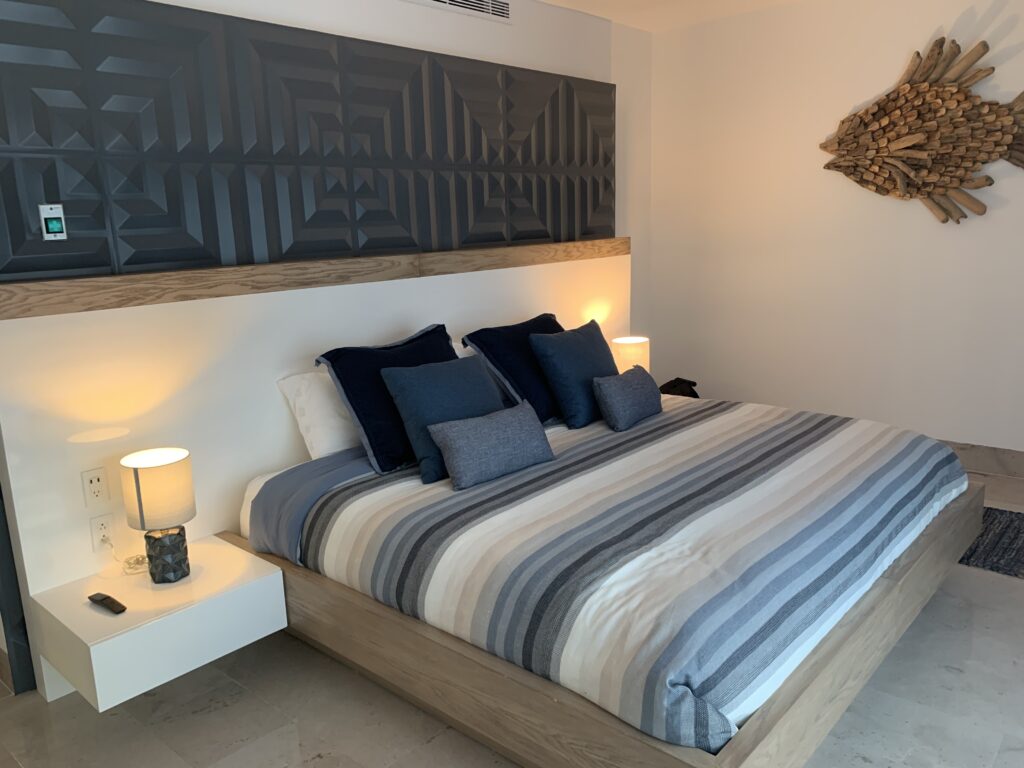 What the Oceana Building is like in Playa Del Carmen
The Oceana Building is on 28th Street between 1st Avenue and the beach. This is the same street that goes to Mamitas Beach. This area is pretty much the most central area of the downtown of Playa Del Carmen.
Some of the services in this building and when renting with Bric Rentals are:
Underground parking (this is very nice since parking in this area is hard)
Gym on the main level
Swimming pools
Bar next to the pool
24 hour security
Personal contact with Bric Ambassador to assist with check in and questions.
Free beach loungers at Mamitas Beach Club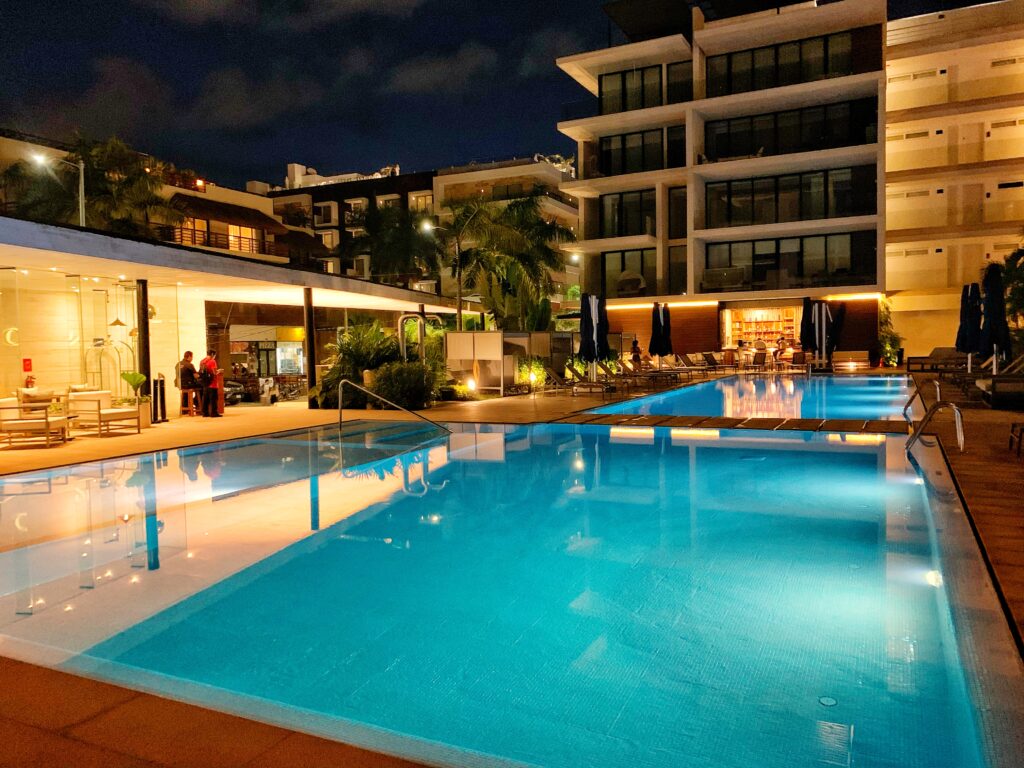 What is nearby these condos?
Let's start with the beach which is just at the end of the street. The street leads to Mamitas Beach, where you can find Mamitas Beach Club and Kool Beach Club. On the same street as this condo building you will find convenience stores, dive shops, casual seafood restaurants, bars and other more formal restaurants.
A block and a half is the famous 5th Avenue. This is the main pedestrian street that runs parallel to the beach. Here you have about 22 blocks of shopping, restaurants, and entertainment. Closer to 28th Street on 5th Avenue you can find these restaurants (some of which are in the video) Chez Celine, El Diez Restaurant, Ah Cacao Cafe, Parilla Urbana, and Il Baretto just to name a few.
Of course, there are many shops and even more restaurants to choose from that are nearby. You really have many options that you can eat somewhere different every day.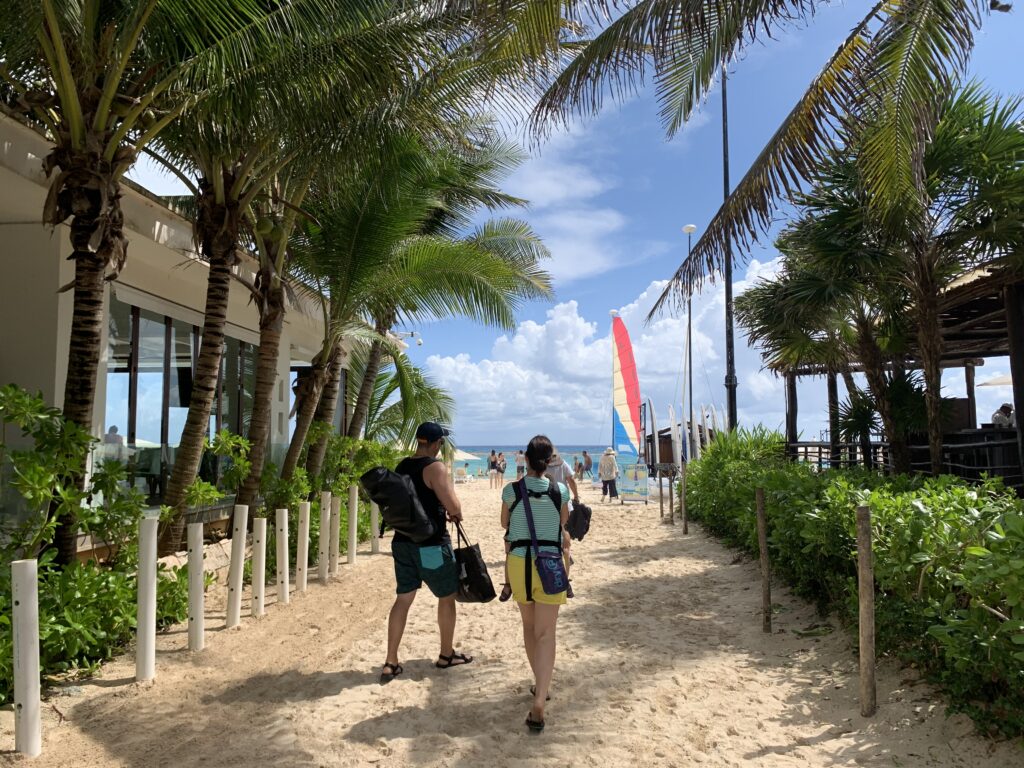 Tips for staying here
This condo building is a little more upscale than some of the neighboring buildings. This is not a party place but rather more fitting for adults that like to be near the ocean and centrally located in the center of Playa Del Carmen. Since some of the units here have multiple layouts and bedrooms, families can also enjoy staying here. The three pools offer different depths and can make for a family hangout by the pool to be a fun day. Also Mamitas Beach Club has a special kids pool, which is just down the street.
Adults will love the style of the building and ability to enjoy everything Playa has to offer. As we mentioned in the video, having the condo for eating in or even a drink is great. The best liquor store is La Europea in Quinta Alegria Mall. Quinta Alegria is just a few blocks away on 5th Avenue.
Booking a vacation rental here with discount!
We love supporting good local businesses and even better when they offer our readers a special promotion! For years we have recommended Bric Rentals to readers that are looking for vacation rentals in Playa Del Carmen. They have a lot of different types of properties in Playa Del Carmen that are available and offer good customer service. Unlike a lot of do-it-yourself rentals, Bric Rentals offers standardized service across the board and have a good reputation in Playa Del Carmen. Also, with our video review of this condo and this building, you can see exactly what you get.
Get 10% off your next vacation rental in Playa Del Carmen!
We are very pleased that Bric Rentals has offered our readers a 10% discount off not only this condo shown in the video, but all rentals they have! All you need to do is visit their website here, and enter the coupon code everythingPDC and you get the discount! This can save you hundreds of dollars off your next vacation! We thank Bric Rentals for offering this to our readers. We hope you get to use this for your next vacation to Playa Del Carmen.
If you have any questions about this rental unit or staying in Playa Del Carmen, please feel free to comment below and we will be sure to get back to you.