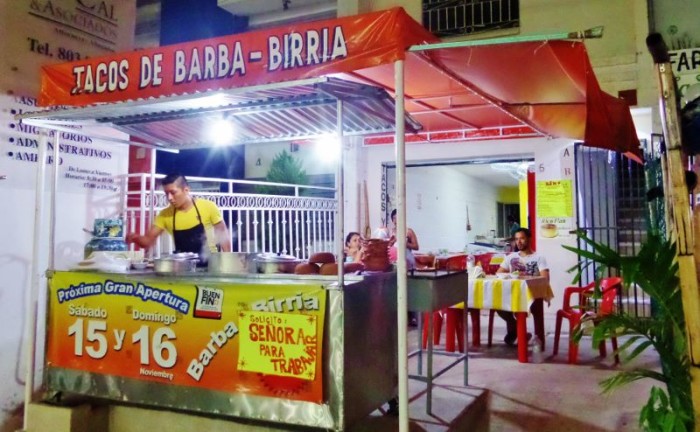 Looking for an authentic Mexican birria tacos?
Tacos de Barba-Birria is a very authentic Mexican taco restaurant/street cart here in Playa Del Carmen. They have some of the best tasting tacos in Playa Del Carmen so this is somewhere you will want to try. It is also a style that you don't find much here, so the uniqueness is also a great draw to go have a taste. This is a place for Birria tacos.(Make sure you see our video below about this place).
What are Birria tacos?
The meat is slow cooked in adobo spices and then chopped finely. The quality of the meat is excellent since it is broken down in the cooking process and you don't get bits of gristle. Usually onion and cilantro are added to the taco. The tortillas are dipped in the adobo sauce and then heated on the grill. This gives them the unique orange color (see photo below). Dipping the tortillas in the sauce softens them and adds full flavor. This gives an overall great taste to the tacos.
On your table will be a good assortment of condiments including peppers and oils.
You can eat in or take out here. If you do get it to go you will usually just get one salsa and you just might find out later that you ordered too few and will be left wanting to go back for more!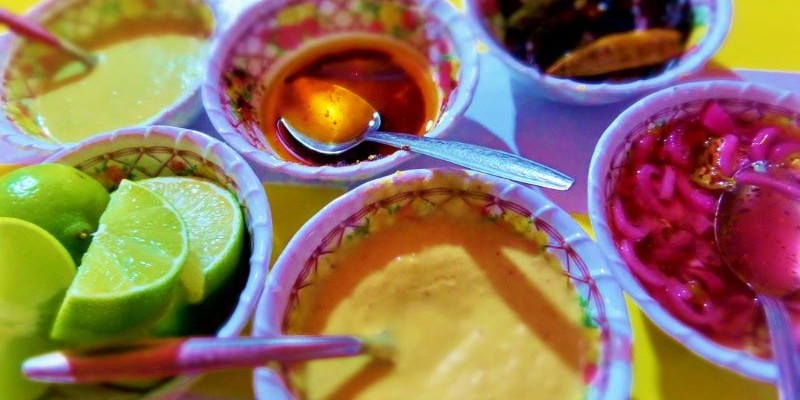 What is barbacoa and birria taco styles?
Birria
Birria is a Mexican stew that is from the state of Jalisco, Mexico. Many restaurants serve this in Guadalajara. The meat is slow cooked traditionally with adobo spices making it tender and flavorful. It can be spicy but it is not too spicy here. Usually it is goat meat but can be beef and chicken as well. This restaurant here uses beef.   Random Fact: Birria is also used sometimes as a hangover food.
Barbacoa
Barbacoa is a slow cooked meat that falls off the bone since it gets so tender as well. It is traditional cooked over fire, in  a pit or steamed for long periods of time. So both styles are similar end qualities of the meat, just birria is cooked in liquid.
How is the adobo sauce made?
Adobo is mainly made from garlic, vinegar, salt and paprika. Different peppers are added in Mexico to give it more local flavors. Interesting fact: Paprika has antibacterial properties and helps break down fats in the meat.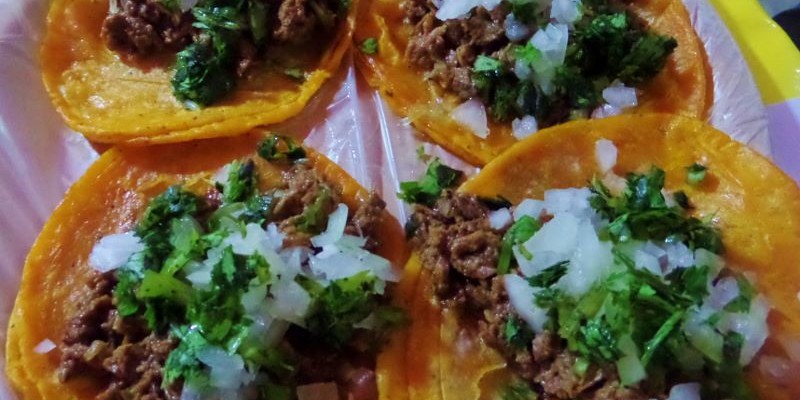 Menu for birria tacos
There are just a few things on the menu here. There are beef tacos (res) or  marrow tacos (tuetano). They do run out of marrow tacos since it is harder to get. You can get it mixed (beef and marrow) as well and that is the suggested way to order so you get the best of both the beef and marrow taste. Prices are 12 and 13 pesos for tacos. The tacos are a little smaller and very delicious so keep that in mind when ordering.
This restaurant has two sizes of consume (soup)  50 and 70 pesos.
They have sodas, horchata, jamaica drink and flan for dessert.
Other options
If you liked reading about this taco restaurant you might also like to see our complete guide on taco places in Playa Del Carmen. Another authentic Mexican taco is made from bone marrow. See our article here on where to find this culinary treat in Playa Del Carmen.
Hours
Open everyday from 8:30am-10:00pm
Location
This small taco restaurant is on 30th Avenue between 34th and 38th Street. It is almost on the corner of 30th Avenue and 38th Street on the east side. It is across from the Pemex gas station. Just look for the orange tent.

Our video introduction to Tacos de Birria
We always find that video can show more of the story. This place is interesting to the foodie so we made this short video for you.
Have you had birria tacos before? What did you think? Where do you like to get tacos? We would love to hear from you in the comments below.