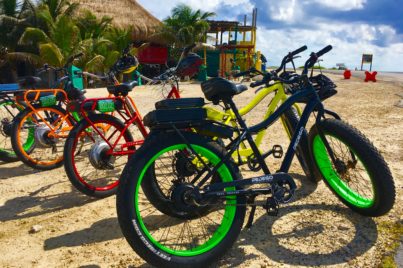 See the coast of Cozumel with this amazing bike tour
Many people stop in Cozumel by cruise or to go diving but there is more to see on this island. We have always liked the east coast of Cozumel because it is raw and naturally beautiful. With this Cozumel bike tour you can see a less visited side of the island.
You might not be up for biking a lot, but this is a special tour, it is with electric bikes! On this tour you can peddle or you can also have the assistance of the electric bikes. This makes it fun for the whole family.
We have driven around Cozumel and seen this side of the island, but have to say that riding a bike gives you a closer experience and freedom to stop and see more. Not only is the bike trail closer to the ocean you are also more aware of  what is around you. Along this route, your guide will show you some of the naturally beautiful spots like the one below.
Our video of the bike tour on Cozumel
Since writting about it can only tell so much of the story, we took along our cameras and made this video for you.
What is this bike tour like an what is included
This bike tour leaves in the morning. You meet at the bike shop on the weat side of Cozumel and they drive you and the bikes to Punta Sur, the south end of the island on the east side. Here they will unload the bikes, fit them to your size, give you a helmet and vest, and instructions on how to use the electric bikes.
Once ready your group will take off. The overall route is a flat course. One really nice thing is the road that you ride on. It is the old coastal road that parallels the new road. You have this road just for bikes. About 95% of the time you are on this road with only a few times you use the new road.
It will be about 14 kilometers to the halfway point. At the halfway point there is a crazy local bar where you stop. Here you can see some tropicl birds, buy a drink or food and enjoy the vista.
After resting you will go back the way you came down the coast. You will see turtle nesting areas, birds and other animals. You will also see scenes like the one below. This is what makes this bike route so special. True natual beauty of the area.
Lunch on this bike tour
When you finish this tour you will have lunch included. You have a selection of drinks and plates. We have to say the food is very good and generous portions. Be sure to see the video above to see where you eat lunch. It is another eclectic bar in Cozumel with stunning views.
What to bring on this Cozumel bike tour
Here are some things we recommend for this tour:
Sunscreen. This tour is in full sun and being protected is good. We usually recommend biodegradable when swimming in cenotes and by reefs. If you only plan on riding the bikes then the regular sun screen is ok.
Money for drinks or snack at the halway point. You also might see a souvenir you want.
Comfortable clothes and sun glasses.
Camera
Money for tips at lunch restaurant and for the guide.
How to book this Cozumel Bike Tour
If this bike tours looks like something you want to enjoy then click below to get all the details. You can check availability and book right there! We definelty recomend it as a way to see a beautiful part of Cozumel. This is also a great eco tour.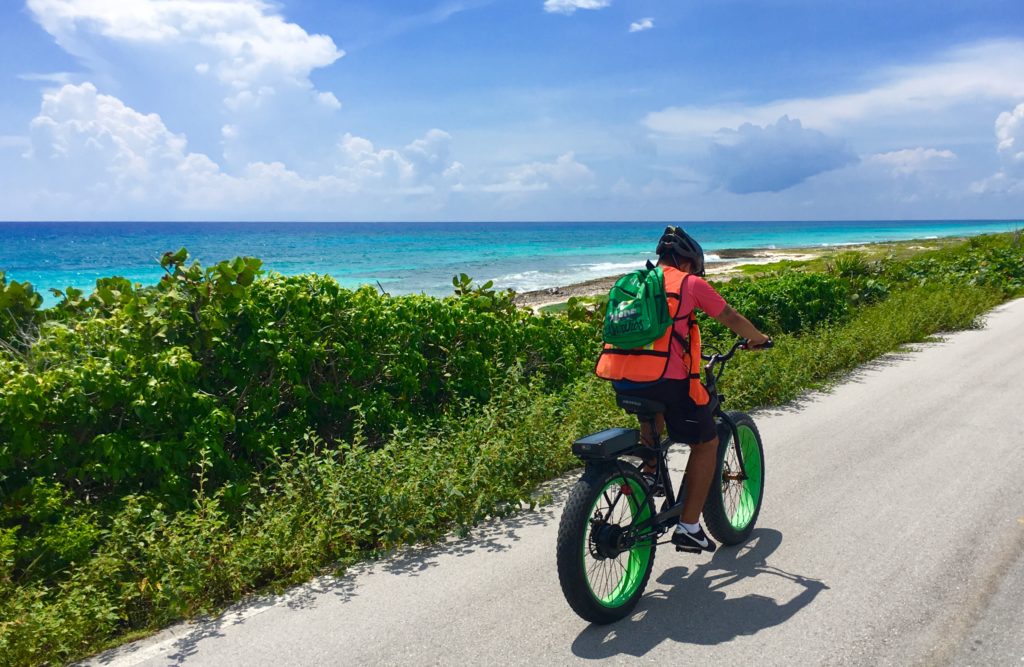 If you liked reading this article about biking on Cozumel, you might also like to read about a great bike tour in the center of the Yucatan Peninsula you can go on. Bikers Zaci does tours of the Mayan back country around Valladolid. These are very affordable tours and well recommended.
Have you been to Cozumel? Did you do a bike tour on Cozumel? Let us know about it in the comments below. We would love to hear from you.