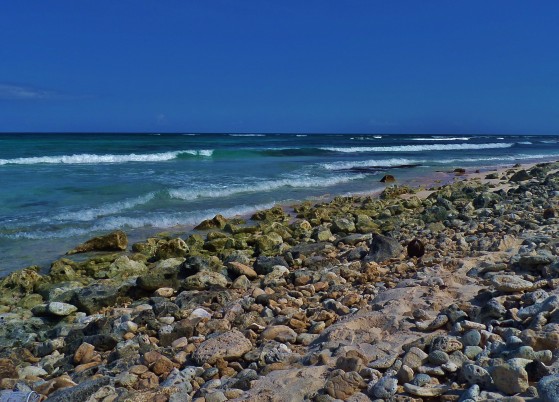 Beaches in the Mexican Riviera come in all sizes and types. If you want to see a more natural beach that is an easy day trip from Playa Del Carmen, Xcacel (es-ca-shell) is a nice option.
Xcacel Beach
This beach offers a small cenote and a large stretch of beach with coral on both ends and bathrooms and showers in the center.
There are no restaurants at this beach so be prepared to bring your own food and drinks. Also be prepared to take all your trash with you please.
If you want to go snorkeling off the beach, the north end is the best area. From May-October there is turtle nesting season and you should respect all roped off areas or restricted sections of the beach so you don't squash any turtle eggs.
The official entry price is (?) sometimes 10 pesos a person and sometimes it is a donation basis, other times people have been told 20 pesos, so we think it is more of a sliding scale. It is inexpensive to say the least and the donations help preserve this beautiful area.
Xcacel Beach hours of operation
The beach is open 9-5pm each day. Sundays will be the busiest time since more local families have off this day and it is a custom to go have a picnic somewhere. The cenote closes a little earlier then 5pm to help move people out and toward the exit.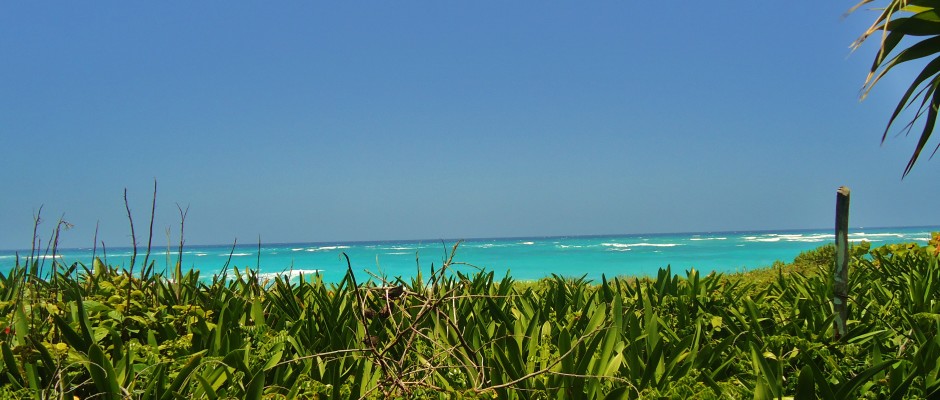 Xcacel Cenote
When you first arrive there are showers and bathrooms in a building in the center. To the right is a picnic area under palm trees and the path to the small cenote. The cenote is only about 15ft (5 Meters)wide, so don't expect anything grand.
Make sure you check out the video below!
Directions to Xcacel Beach
To get to Xcacel Beach you drive south on 307 from Playa Del Carmen. It is just past Bahia Principe's large condo development on the right with the massive concrete arch. You will then pass the entrance to Chemuyil pueblo. The dirt road will soon be on your left. If you take a collective they should know where it is. Unfortunately there was a sign on the road facing south but it has come down.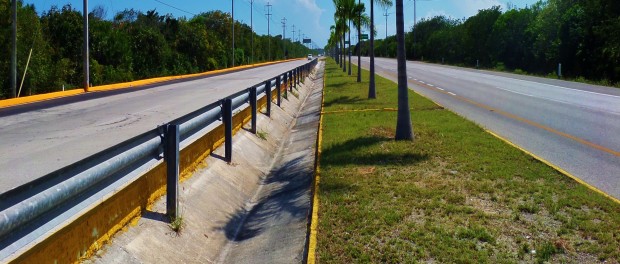 The first photo shows 307 southward looking, the entrance is just the left. The second photo is the dirt road driving into Xcacel Beach. There is parking but on Sundays when it is more busy, cars will park along this road.
So next time you want to get out of Playa Del Carmen and relax on a more remote beach, think of Xcacel.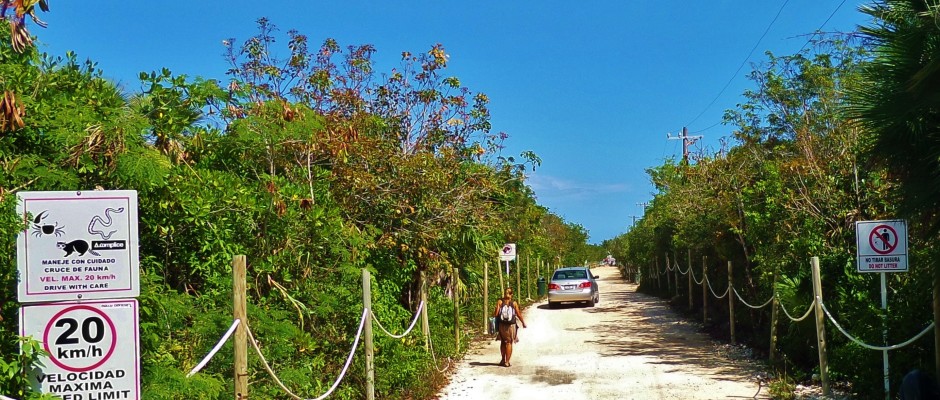 The other popular beach between Playa Del Carmen and Tulum is Xpu Ha and you can see photos and our article here.
Have you been to Xcacel Beach? What did you think? We would love to hear from you in the comment box below.