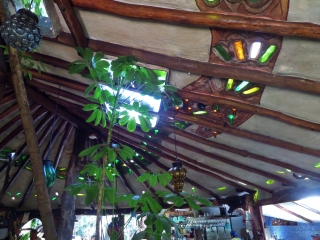 La Cueva del Chango Restaurant
With all the changes going on in Playa Del Carmen it is nice to go to this old style Playa restaurant. La Cueva del Chango is tucked into nature and built with organic style, there is even a little stream that flows through the property and restaurant floor. It is refreshing to visit this natural style place as well be refreshed in the cooler setting. This place is a little more of a local find that a lot of tourist will not find, so why not treat yourself next time you are in Playa Del Carmen and visit here.
La Cueva del Chango offers Mexican inspired cooking for all three meals a day. It is the type of restaurant you want to go with friends with on a lazy Sunday for brunch and enjoy some fresh juice and fresh air. It also feels like it should be a little more of a special occasion to visit since the prices are 5th Ave. prices, then again if you are on vacation, it is a special occasion.
Hours
Mon-Sat. 8:00am-11:00pm Sunday 8:00am-2:00pm
Where is the La Cueva del Chango Restaurant?
La Cueva Del Chango is located on 38thSt. just off 5th Avenue between the beach and 5th Avenue.
Have you been to La Cueva del Chango Restaurant before? What did you think? We would love to hear from you in the comments box below?
Gallery of photos