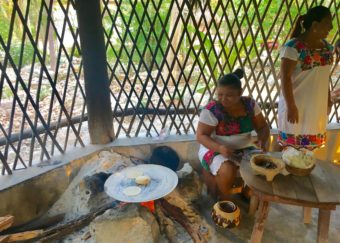 What is Mayan food and Yucatecan cuisine?
The cuisine from the Yucatan Peninsula in Mexico is a mixture of Mayan food staples and European influences over the past 500 years. The cuisine has developed from what grows here and the styles of cooking by the people here. Today the food scene is hotter then ever! Yucatecan food is different than Mexican food. People are rediscovering this unique cuisine. Here is how you can fine and taste it.
What are the flavors of the Yucatan?
Some of the local ingredients that grown well in the Yucatan are: achiote, sour oranges, chaya, pumpkin seeds, habanero peppers, and cilantro.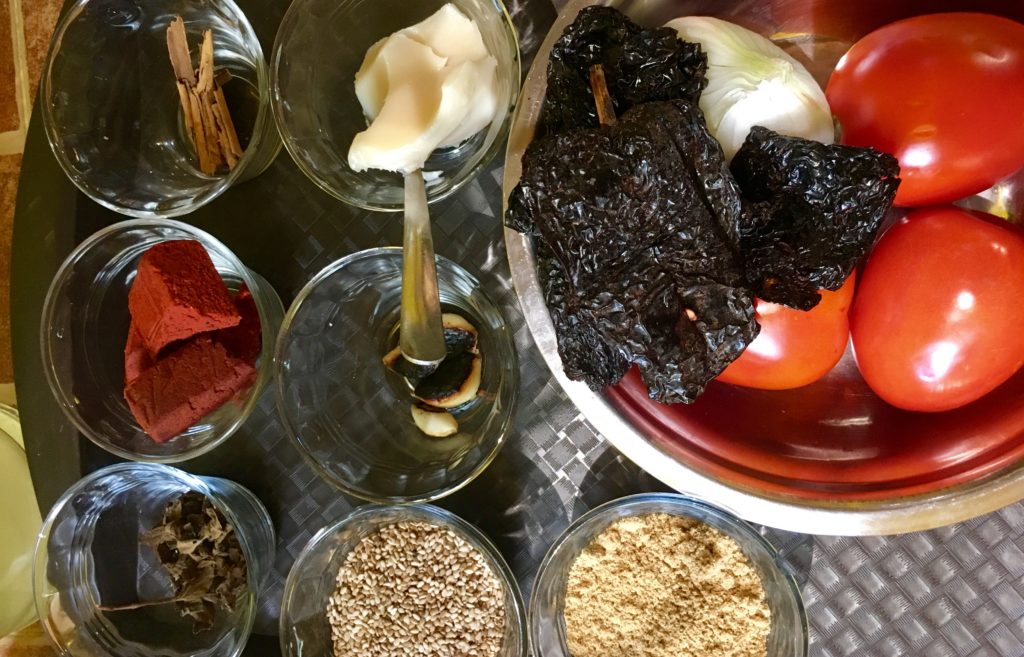 Some of the ingredients for Yucatecan and Mayan foods.
What are some Mayan food dishes? Here are a few and what they are. You will be able to cook some of these at the cooking school below or at some of the mentioned restaurants.
Conchinita- pork meat seasoned with achiote, sour orange and other spices. Then it is wrapped in banana leaves and cooked in a pit overnight.
Sopa de lima- chicken soup often with cut up tortillas and lime.
Salbutes- fried corn tortilla with shredded chicken, marinated onions, avocado, and salsa.
Pipian de res- beef cooked in a sauce of pumpkin seeds, peppers and a whole host of other spices.
Relleno negro- this refers more to the black sauce this dish come in and can be chicken, turkey or other meat.
Learn to cook Yucatecan dishes
Are you interested in learning how to make Mayan food and regional dishes from the Yucatan? There is a great cooking school in the Riviera Maya that has a special class of just Yucatecan food.
Mexico Lindo Cooking School is located in Puerto Morelos. Here you will spend one day cooking a full meal and then sit down to enjoy it.
Our video of cooking Yucatecan food
At Mexico Lindo Cooking you can spend one day cooking, eating and learning all about Yucatecan cuisine. This is a video of the day we spent there.
Why is it hard to find Yucatecan cuisine
There are three states in the Yucatan Peninsula in Mexico. The three states are Campeche, Yucatan and Quintana Roo. In the state of Quintana Roo, where Cancun and Playa Del Carmen are, there is less Yucatecan cuisine found. This is because historically the population centers were more in Yucatan State. Yucatecan food (meaning from the peninsula) is still influential in Quintana Roo but is harder to find since modern resorts cater to international guest.
After the development of Cancun as a tourist destination and then sequentially the Riviera Maya, cuisine has been effected by three factors. One being the people that have moved from other parts of Mexico and bring their food culture to the peninsula. The second factor is the people that move to this part of the world from other countries and open restaurants with different cuisines. And lastly the tourism trade that demands a more international menu. These factors have made it hard to find Yucatecan cuisine or Mayan food in the area.
Restaurants in the area to try Yucatecan cuisine
Below are some restaurants where you can sample some of the flavors of Yucatan. Some of these are in Playa Del Carmen and then some are in Yucatan State. We hope you get to try some of these.
Yucatecan restaurants in Playa Del Carmen
Rincon Yucateco
Rincon Yucateco is perhaps our favorite Yucatecan restaurant in Playa Del Carmen. Although not as good as being in the Yucatan, it does transport you a little there. This simple restaurant has a palapa roof and simple menu. The food though has some soul to it. The soups have the spices, fat and flavor of your grandmothers house. They also have handmade tortillas which is key to a get Mayan food meal.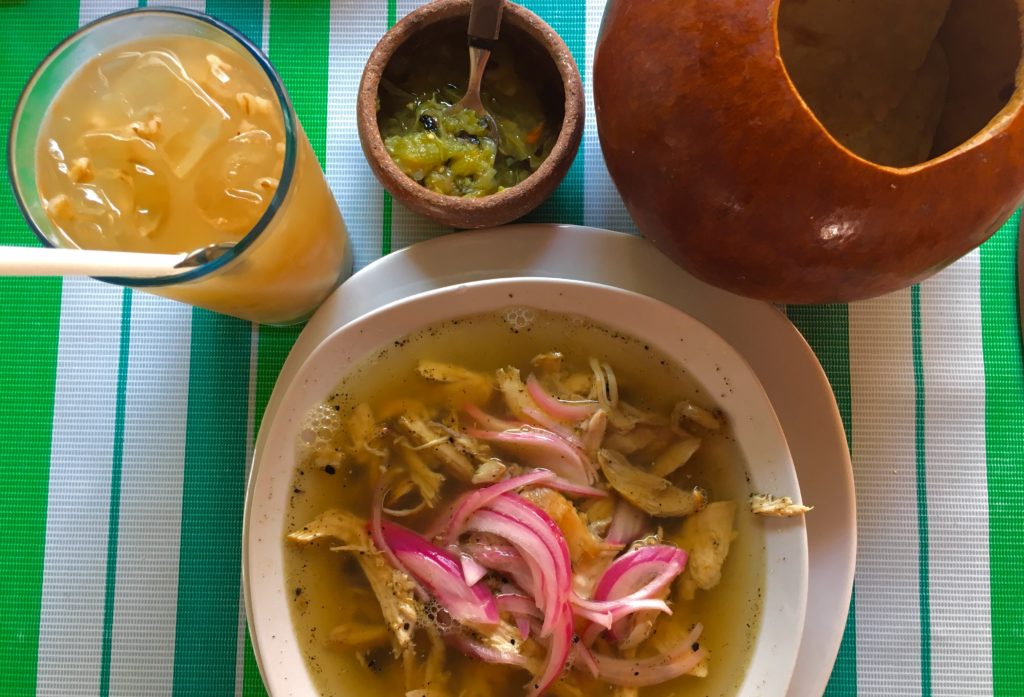 El Faisan y Venado Restaurant
El Faisan y Venado Restaurant is an old mainstay in Playa Del Carmen. This was one of the original highway restaurant where people would stop when traveling between Cancun and Tulum. The restaurant has a large menu of Yucatecan food items. If you go here try some of the higher priced menu items. These are usually some of the more complicated dishes to be prepared and hard to find other places.
100% Yucatan Restaurant
100% Yucatan Restaurant is a simple restaurant that serves up daily meals to locals. The prices are very reasonable at this roadside restaurant. It is nothing fancy but you get a taste of the Yucatan at good value.
Antojitos Playa Del Carmen
This is a very "whole in the wall" place to eat that has simple menu. It is all about the salbutes here. Salbutes are a very Yucatecan street food meal. They are a fried corn tortilla with shredded cabbage, chicken, marinated onions, and then you put a little salsa and cream on it. They really are delicious!
Axiote Restaurant
For a taste of where Mayan food and Yucatecan cuisine has gone, try Axiote Restaurant. This restaurant is stretching the boundaries of what was typical and fusing it with new twist. This is a more upscale restaunt but you still get good value.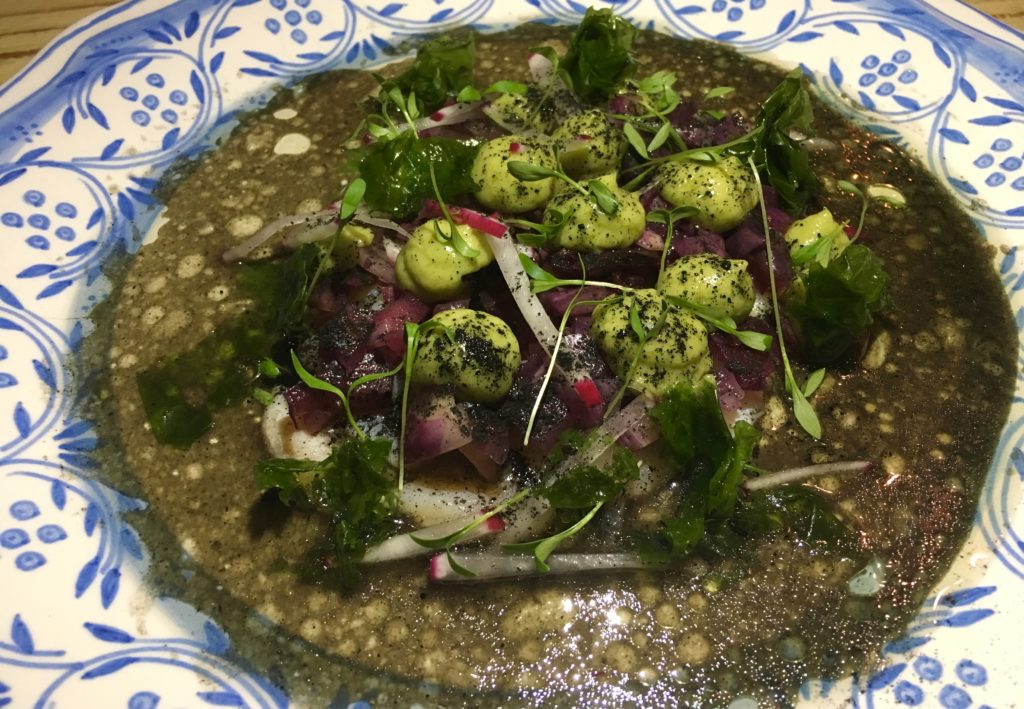 A new twist on traditional flavors of the Yucatan at Axiote Restaurant.
Marquesitas
We did not forget about dessert! Marquesitas are a very Yucatecan food item. These are crepes filled with a sharp cheese and then a sweet topping. You can read more about the history of this sweet treat in the link.
You can find marquesita carts in Playa Del Carmen usually in the plaza in front of City Hall on 15th Avenue between 8th Street and 10th Street or in front of Walmart at night.
Yucatecan food in Tulum
Taqueria Honorio in Tulum
What looks like a simple taco stand turns out to be a bastion for retaining the Mayan culture and a fine example of Yucatecan food today. This taqueria is always popular because it is so good. For some of their meats, they prepare them in stainless steel pans and lower them into pits in the ground for cooking all night. When it comes out in the morning the meat is tender and full of flavor. To see our video and article about Taqueria Honorio, click this link.
Mayan food and Yucatecan restaurants in Yucatan State
Kinich Restaurant in Izamal Yucatan
Kinich Restaurant is actually one of our favorite restaurants in the Yucatan Peninsula. It has the prefect combination of atmosphere, good food, handmade tortillas, and good value. In the charming yellow city of Izamal this is the restaurant to go to. Here you get a good representation of Mayan food.
Paakal Restaurant in Valladolid
During the day this simple garden restaurant serves a few Yucatecan dishes. There is an open fire where they cook which makes it more authentic. The prices are very reasonable.
During the day here the Mayan women in the kitchen make tamales. Then at night this restaurant becomes a tamale restaurant. These are some of the most authentic tamales you can taste. You can read more about Paakal Restaurant in our Valladolid guide here.
Chaya Maya Restaurant in Merida
Merida is the largest city in the Yucatan Peninsula and a center of Mayan cultural heritage mixed with European influences. Here you can enjoy several tourist favorites where you can taste good examples of regional food. Chaya Maya Restaurant is near to the Zocalo in Merida and easy for tourist to find. To read more about things to do in Merida and visiting this city, see our guides here.
We hope that if you are in this part of the world you get to try some Mayan food and Yucatecan cuisine. Let us know what your favorites are in the comments below. We would love to hear from you.
If you like learning about Mayan culture you might also like to see our gallery of Mayan houses here. If you want to see a video of how Mayan houses are built, see our article here with the video.
You might also like to read about a tour that takes you to a Mayan community and temazcal here. On this tour you will get to see Mayan food made as seen in the photo below.