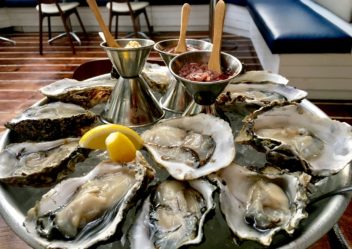 Sundowner Yacht Club Restaurant
Update: This restaurant is currently closed but will be remodeled and reformatted by the same owner. We are so pleased to be telling you about the Sundowner Yacht Club Restaurant here in Playa Del Carmen! This is a new restaurant that has opened, which just happens to be the first Australian one here. We thoroughly enjoyed our experience at this restaurant.  Not only is the restaurant warm and welcoming, so is the staff. There is quality through and through both in food and drink. We have already been sending friends there and they have been very satisfied! Here is our review with all the details.
New! Now serving brunch on Sundays! See our article here about brunch at the Sundowner Yacht Club.
Atmosphere and setting
Sundowners has a nautical theme going with the décor. Dark hardwood floors with rich details makes this place seem like it has been part of Playa for years.
Outside in the front are high-top tables which makes for a good place for drinks while looking over the plaza. There is a small bar inside and in the back is a glass atrium room for dinning. The back dining room is intimate and more relaxed.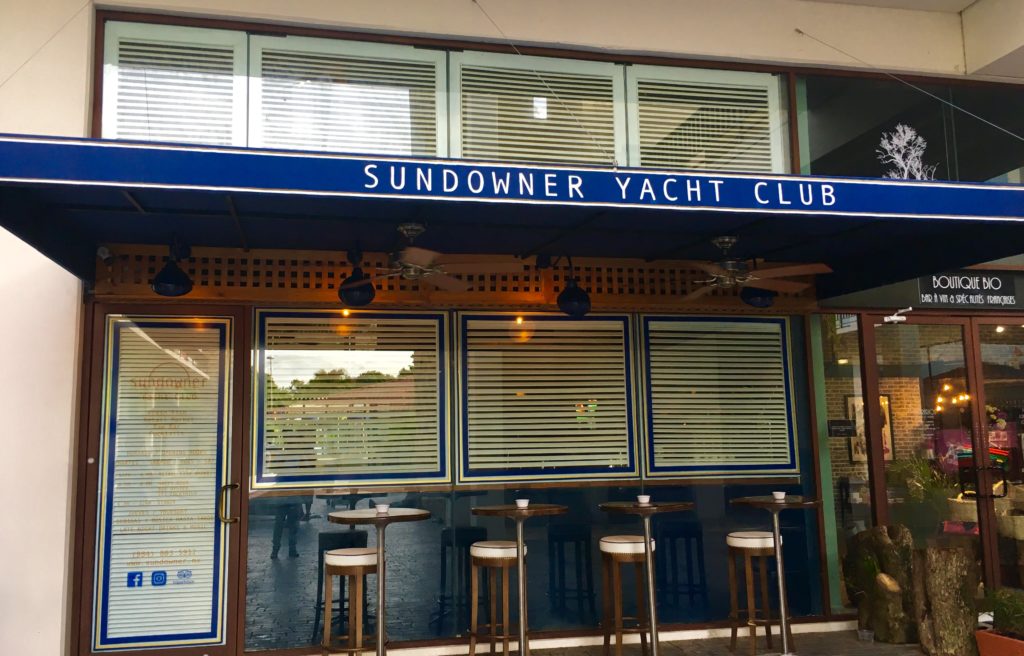 The Menu
Being an Australian restaurant might confuse people a little since the cuisine of Australia is not that identifiable. Just think seafood, lamb, fresh ingredients, and a little British influence.
The lighter menu includes things like fish and chips, the Sundowner burger with gruyere cheese and a salmon burger to give you an idea.
The raw bar and oysters are superb here! You can get individual or platters like the above photo.
Some of the appetizers include a warm beet salad with blue cheese and candied walnuts, salt and pepper squid, and a crab cake.
Main dishes include a catch of the day, salmon, lamb chops, steak frites and a whole fish. Sides with your entre can include whipped potatoes with sour cream and chive, roasted cauliflower with capers, or coconut and turmeric rice just to mention a few.
Menu prices at the Sundowner Yacht Club
Lighter menu of fish and chips or burger type items is 85-250 pesos.
Raw bar items that are individual are 20-35 pesos.
Seafood platters are 400-700 pesos.
Appetizers range from about 95-200 pesos.
Main courses of meat range from about 125-500 pesos.
Seafood dishes are by weight and start at 150 pesos for 100g.
Sides are 75 pesos each.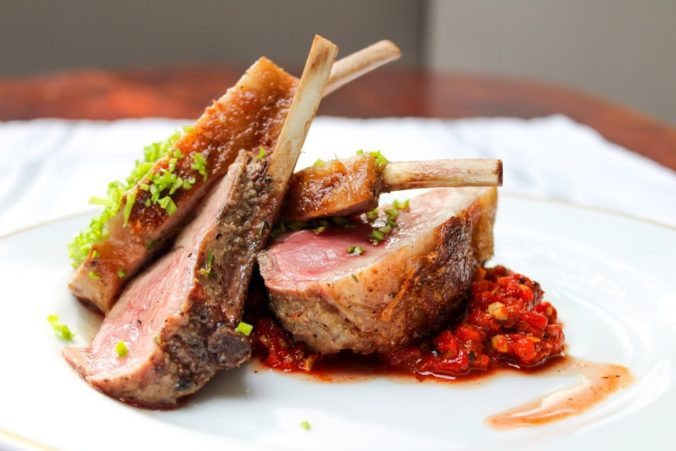 Bar and Cocktails at Sundowner Yacht Club
Another highlight of the Sundowner Yacht Club is their cocktail menu. With 8 specialty cocktails you will be impressed by the creativity and quality of the drinks. It is a pet peeve of ours in Playa Del Carmen to get watered down cocktails. Many places, especialy on 5th Avenue do not pour a good drink. We are very pleased to say that the cocktails here give you a good pour and good value.
Make sure to check out their happy hour when drinks are 2×1 and a special food menu is available. Even if you come for dinner, make sure you enjoy a cocktail. Prices are 180 pesos.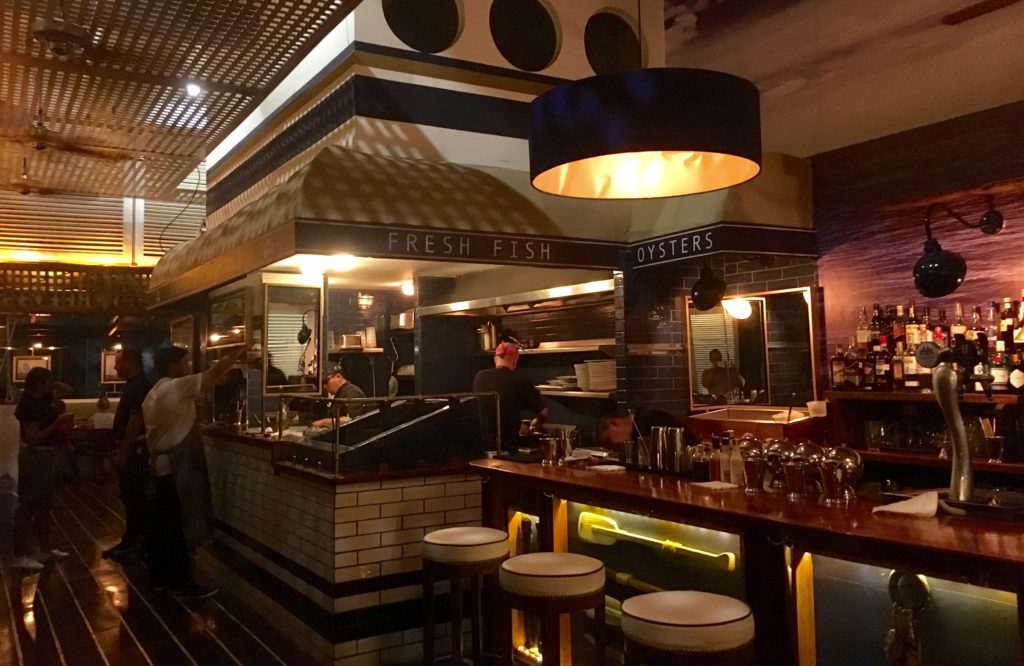 Our recommendations
If you like good meals, meats, seafood, and or cocktails, you should check this restaurant out. This might not be the first stop for tourist coming to town because it is not on 5th Avenue but that just means it will be a hidden treasure for residents. If you are a tourist and this restaurant looks good to you, it is worth the short trip!
For locals, especially residents in Playacar, we bet this will be on the "go often" list of restaurants. For those living on the south end of town you know there are limited restaurants nearby. Sundowners makes a nice addition. For other residents in Playa Del Carmen this also will make for a casual bar night with friends or a nice dinner spot.
Sundowner Yacht Club Restaurant is off to a very good start. With a nice atmosphere, quality food and good value we are sure they will be around for a long time.
We also never really mention service in Playa Del Carmen because it changes so much, but we have to say they have trained their staff very well. We experienced very good service from all the staff. Their standards are similar to a good restaurant in New York City. That is something you don't see too often in Playa Del Carmen.
Where is the Sundowner Yacht Club Restaurant?
The Sundowner Yacht Club is located on the south end of Playa Del Carmen. It is on Avenida Aviacion in the same plaza as Casa Sofia Restaurant. It is on the back side of the plaza.
There is parking below in the garage and a few parking spots out front.
Hours
Closed Mondays
Tuesday-Saturday 4:00pm-11:00pm.
Open for brunch 11:00am-4:00pm. See our article here about brunch at the Sundowner Yacht Club.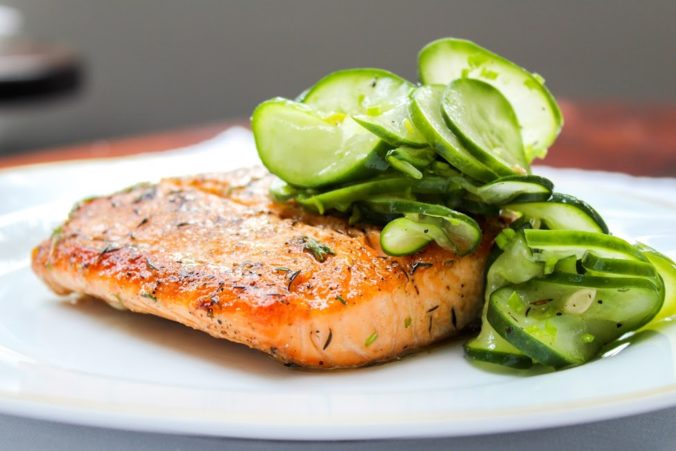 You can find this restaurant on our restaurant guide to Playa Del Carmen.
Have you been to the Sundowner Yacht Club Restaurant? What did you think? We would love to hear your comments below.