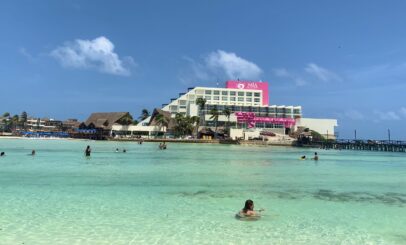 Best Places to Stay on Isla Mujeres
If you have seen some photos or videos of Isla Mujeres and want to visit, here is your guide one where to stay. No doubt you want to be in the best place with views and whatever you want for your perfect vacation. We have traveled a lot and wish we could have maps like the one below that we made. We hope this makes it easier to sift through hotels and actually helps you pick one that will work for you.
Our map of areas to stay on Isla Mujeres
To use this map, click on the color portion of the map and a box with a description will pop up. Below, for each part of Isla Mujeres (1-6) we have some recommendations for places to stay.
Hotels and places to stay in Playa Norte area 1
This is the most popular place to stay on Isla Mujeres. The reason being is the access to the Playa Norte beach. There are not a ton of hotels in this area because of size and just because it is near or on the beach does not mean it is a new hotel option with everything one might want. Here are some of the hotels in this area and what our opinion of them is.
Mia Reef Isla Mujeres is really one of the only all inclusive hotels on Isla Mujeres. The hotel has great views overlooking the ocean. It is a little older and not as good a value as some hotels on the mainland, but it does pretty much guarantee beaches free of seaweed.
Ixchel Beach Hotel is a popular option because it combines nice views of the beach and services combines with value.
Lotus Beach Hotel is about the trendiest hotel to stay at in this section. You can enjoy newer and better service at this hotel. This is a good hotel for a couple looking for a romantic special holiday.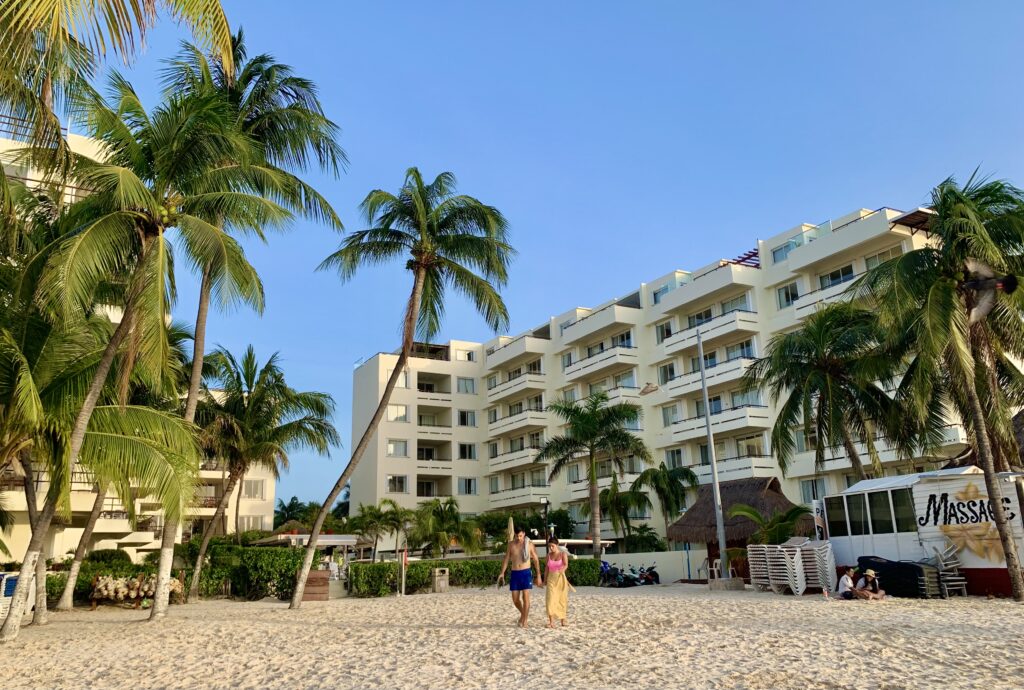 Places to stay in area 2
This is the second most popular area just because it is close to everything. It is part of town and near to the beaches. In this area you can find many smaller hotels that might have 20 or less rooms available. The advantages to staying in this area is the walkability to most places you want to visit and access to services. The overall value of the places in this area is ok, but you are paying more for location rather than "new" or "trendy" hotel. This area is good to stay in if you are on a budget and staying for a short time on Isla Mujeres.
Hotel Kinich is a small hotel in the town part of Isa Mujeres. It is a clean and decent place to stay. As a bonus, there is a good golf cart rental business on the street level here.
Imperla Hotel is another small hotel in town that gets fairly good comments from readers.
Suites Los Arcos will give you a little more room in your room. The rooms have a microwave and mini fridge. This hotel is also on the pedestrian street, so you are close to the action here.
Staying in area 3
Area three offers more cliff views since the east side of the island has the stronger force of the ocean. In this section you an find houses that overlook the ocean. Some of these homes are in town and some are more along a coast road. This area is good if you want to stay more in a house and you have some time on the island.
Casa Alkimia Oceanfront is a house but offers rooms for rent. This will give you a good idea of what type accommodation is available in this area.
Villa Isla Dorado is a large house you can rent in this area. This is a two bedroom house with a nice pool
Place to stay in area 4
This is an area where many of the residents that work on Isla Mujeres live. It is more of a regular town feel with small houses and apartments. The only reason someone might stay in this area is if you wanted to stay for a couple of weeks or more and needed an affordable place to stay. For most people though, they would not find this are to be good.
What area 5 offers for accommodation
This area is growing in popularity because of new hotels that offer more chic stays. It is still out of town and away from Playa Norte, but there are still some beaches in front of some of the hotels here. This can be a middle point between getting a cool hotel for the value. This ideally would be better for more that one or two nights since you want to relax at the hotel and not have to move around a lot.
Zoetry Villa Rolandi is a hotel where you can hideaway for a while. You just might not leave this hotel and the small beach area in front of the hotel.
Hotel Belo is a newer hotel that certainly offers a nice stay. This is a very good example of a trendier hotel that offers more value that hotels in the downtown or even on Playa Norte.
Casa Coco is a smaller hotel that can offer a couple a quieter stay.
What area 6 is like on Isla Mujeres
This southern tip of Isla Mujeres offers some good views on the west side and toward the southern tip. Some of the nicer homes are in this area. This area can be good if you want to rent a house for more that three days. You will need to work with transportation but you can make it a nice base to explore the island.
Casa Santosha is a villa with three bedrooms and four bathrooms. This is a good example of a luxurious house on the southern end of Isla Mujeres.
Hotel La Joya Isla Mujeres is not a home but it is nice to mention this secret hideaway. This smaller hotel certainly takes advantage of the views.
For more about visiting Isla Mujeres…
You might find these articles interesting.
If you like our maps on where to stay….
You might also like our guides to these local places so you can pick the best places to stay.