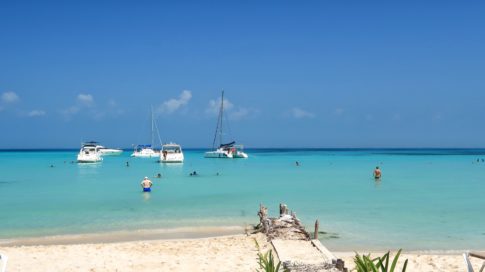 Playa Norte Isla Mujeres Mexico
Playa Norte or as it is otherwise know as North Beach is on of the most beautiful beaches in Mexico. It is on the island of Isla Mujeres which is just off the coast of Cancun. The beach is about 690 meters long (2250 ft.) of white sand brushing up against turquoise waters. For beach lovers this is just paradise! Yachts and boats dock here for the day to let people jump off and enjoy the water. Residents, tourist to the island and day trippers all come to the beach as well to enjoy it. So if this beach looks good to you, here are all the details you need to visit here.
Our video introduction to Playa Norte
Where is Playa Norte?
Playa Norte is on the north end of Isla Mujeres. Isla Mujeres is just off the coast of Cancun. The island is easily accessible by ferry from two points in Cancun (see below for more information).
What hotels are on Playa Norte?
There are a few options of places to stay right on the beach here. Here is an overview of what is available. See the search box below for prices and availability.
Vill Kiin. This is the more budget option. There are 21 rooms here with casual no frills beach hotel.
Cabanas Villa del Mar is the next on the budget option. This is a 73 room hotel with a little bit more modern rooms as the first option.
Ixchel Beach Hotel. This is right in the middle of the beach and mid range in price. The hotel has 48 rooms. There is a nice pool and the top floor has killer views!
The Mia Reef. This is an all inclusive hotel which is practically on it's own island off of Isla Mujeres. This is the higher end of hotels for Playa Norte. There are 164 rooms here. You are paying for the unique location on the island. The mainland can offer some better values but here you are pretty much guaranteed a nice beach nearby.
One good beach club to visit on Playa Norte
There are a variety of beach clubs on the beach here. Most people go to the closest one to the ferries on the western end. Here you will find more local beach clubs with plastic Coca Cola chairs. If you want something a little less crowded and nicer, we recommend going to the more eastern end of Playa Norte. Here you can find the Green Demon Beach Club. It has good chill music and heathy food items and beach food as well as cocktails.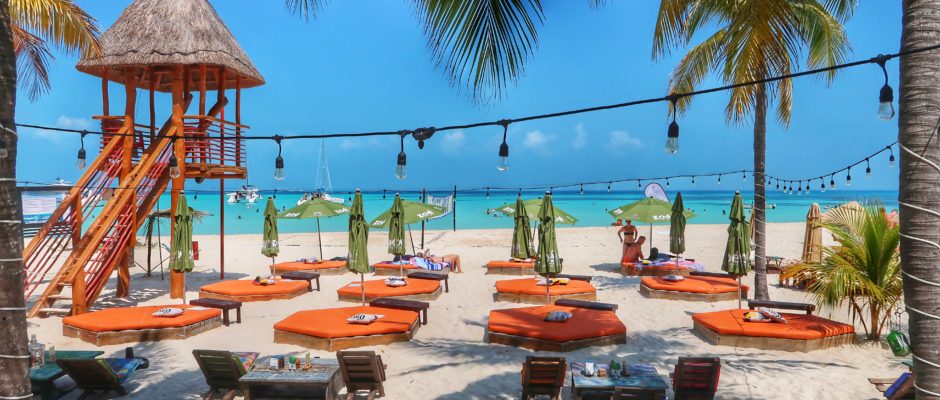 How to get to Playa Norte on Isla Mujeres
Once you arrive on Isla Mujeres you have three options to get to Playa Norte. They are:
Walk from the ferry. It takes about 11 minutes to walk to the center part of Playa Norte, so a little less for the west end and a little more for the east end.
A taxi. There is a taxi stand right next to the ferry dock and taxis in front as well. The ride is short. Just know what beach club you want to go to so they can take you to the correct street.
If you are going to be in the island for the day and also want to see some other parts, renting a golf cart is a fun way to get around. For about 700 pesos you can rent a golf cart for the day. There are places right across from the ferry dock and people offing them as you walk off the ferry. If you rent one for the day you can drive to Playa Norte and park on a side street pretty easily.
Of course getting to Playa Norte on Isla Mujeres is fairly easy but how do you get to Isla Mujeres? Below are the answers.
Coming from the mainland
There are two ferry docks where you can get a ferry across to Isla Mujeres. There is one in the Hotel Zone of Cancun at Km 4. UltraMar is the ferry company from here and you can check their website for times and current price. The Hotel Zone crossing is really only used by people staying in that area. Most people use the Puerto Juarez ferry crossing.
The Puerto Juarez crossing is less expensive and very frequent. You can drive here and park in the garage attached to the pier or take a taxi or mini bus here from downtown Cancun.
If you are coming to Cancun from points south like Playa Del Carmen you will have taken the colectivos or ADO bus to the Cancun Bus Station. It is easy to get a taxi or mini van to Puerto Juarez from here. For public bus routes in Cancun, see the interactive map here. This map will show you the options for local busses to Puerto Juarez where the ferry is to Isla Mujeres.
Coming from the Cancun Airport to Isla Mujeres
If you are coming from the Cancun Airport and staying in Isla Mujeres the best way is a private transfer. A driver will pick you up from the airport and take you to the ferry dock where you can make the crossing. Below is a link to a company we recommend all our readers. They offer great service and prices.
For 1-3 people is $45 USD one way to the ferry and $75 USD roundtrip. They can add on the ferry tickets for you at the time of booking if you like.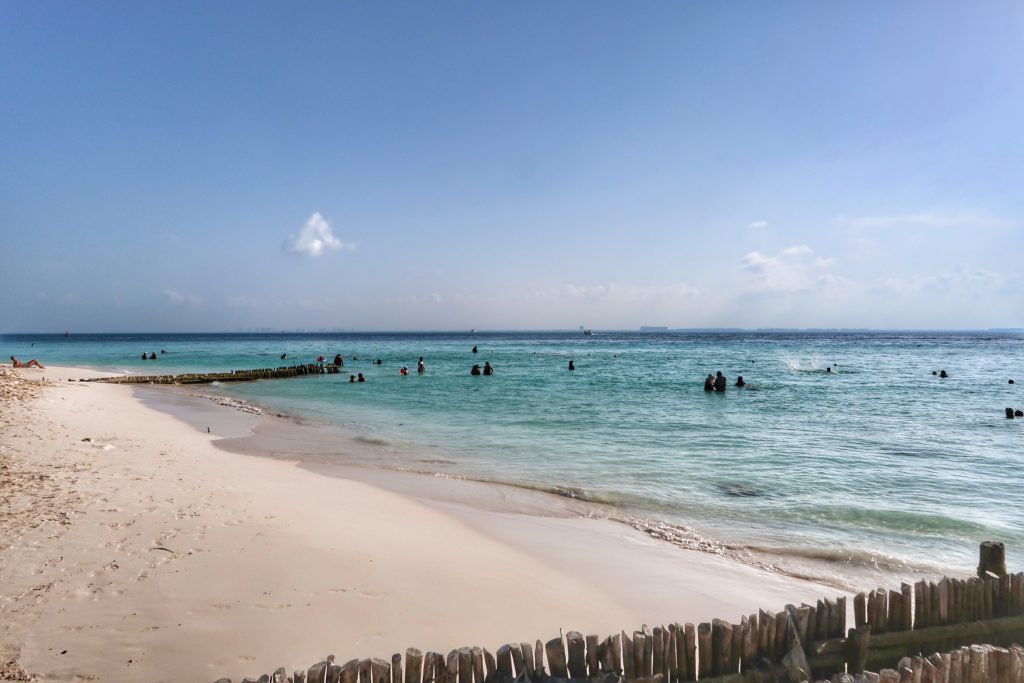 Playa Norte photos to make you want to visit!
Just one photo of Playa Norte usually sells someone on going but here are two more.
Looking back at the beach from the water you can see the palm lined beach. It is nice that there are so many palms and the beach is not just big hotels.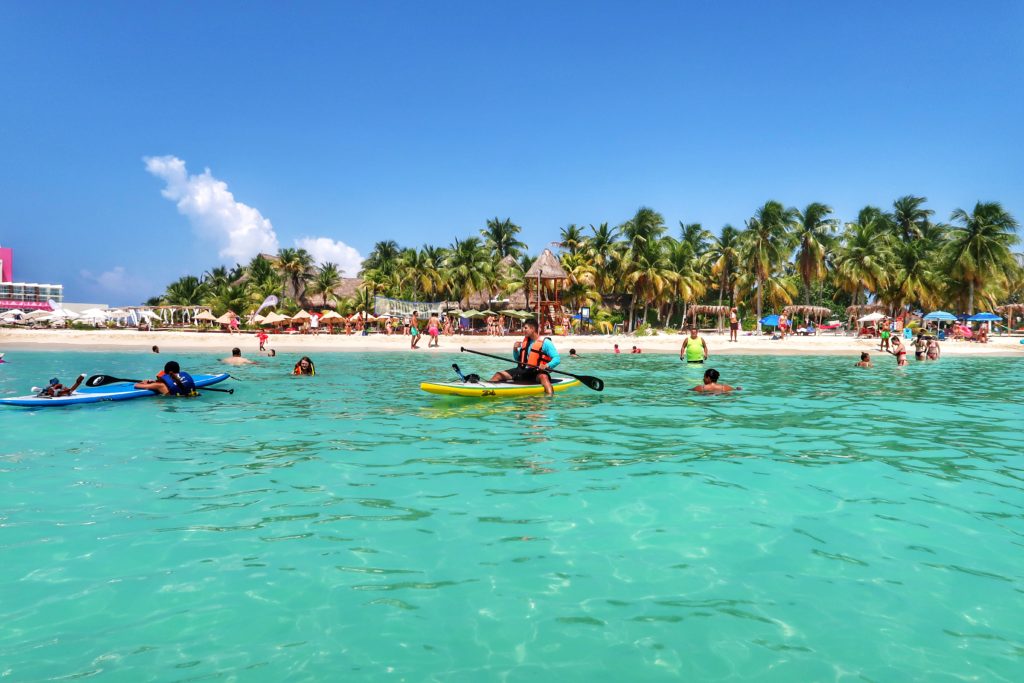 Sunset on Playa Norte is special. This is one of the few west facing beaches where you can see sunset over the ocean.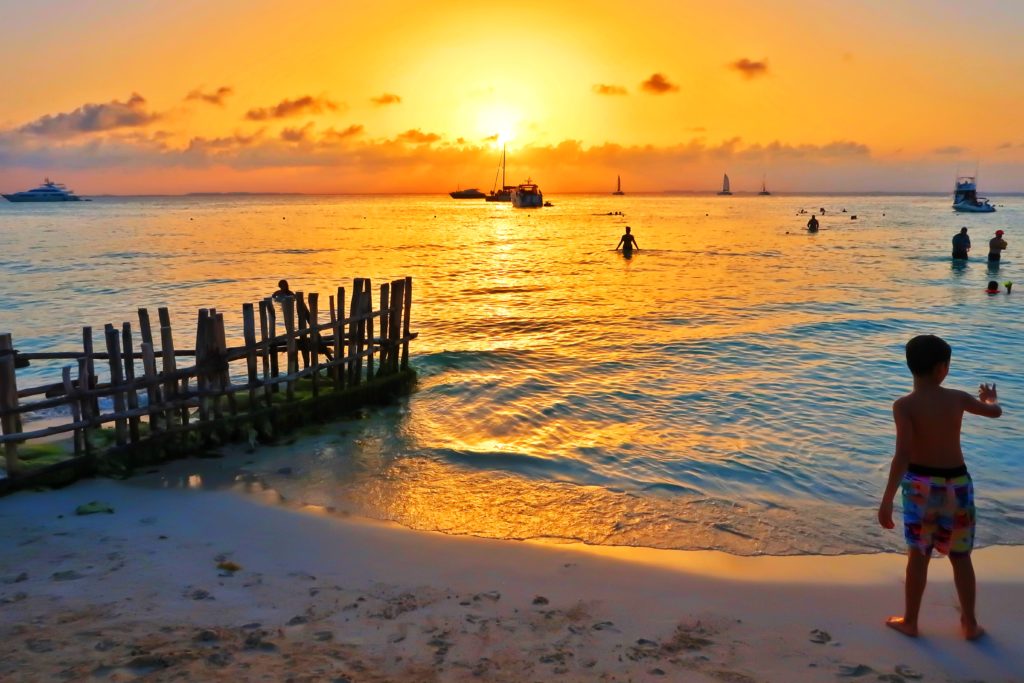 Have you been to Playa Norte on Isla Mujeres? What did you think? Let us know in the comments below, we would love to hear from you.
If you liked reading this article, see also our article about snorkeling on Isla Mujeres here.