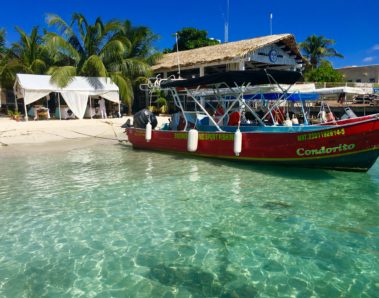 Isla Mujeres Snorkeling
Isla Mujeres snorkeling is a wonderful way to see the underwater beauty of the island. If you have ever visited or seen pictures of Isla Mujeres, you know how beautiful the waters are. Snorkeling in Isla Mujeres offers many spots to see tropical fish and marine animals. This is also a very affordable local tour option while visiting Mexico. Here are all the details so you can enjoy this activity.
Where are the spots to snorkel off Isla Mujeres?
The west side of Isla Mujeres has the best spots for snorkeling. However you must go on a snorkeling tour since they are all in a protected area.
Close to the north end and where the downtown is, there are some more shallow spots. Here you can see lots of fish, sea grass, a half sunken boat, the underwater statue of the Virgin Mary and the small lighthouse. Just south of this you can find an area will less current that is about 12 feet (4 meters)deep. There are some artificial reefs here with fish.
At the southern end of Isla Mujeres is the Musa Museum, or underwater statue museum. Here there are over 470 life-sized statues that are placed in the ocean bed. This also forms an artificial reef. If you get a snorkeling tour that includes this area, you will be able to see them but it should be noted the water is about 30 feet (10 meters) deep. Life jackets must be worn so you cannot dive down for a closer look.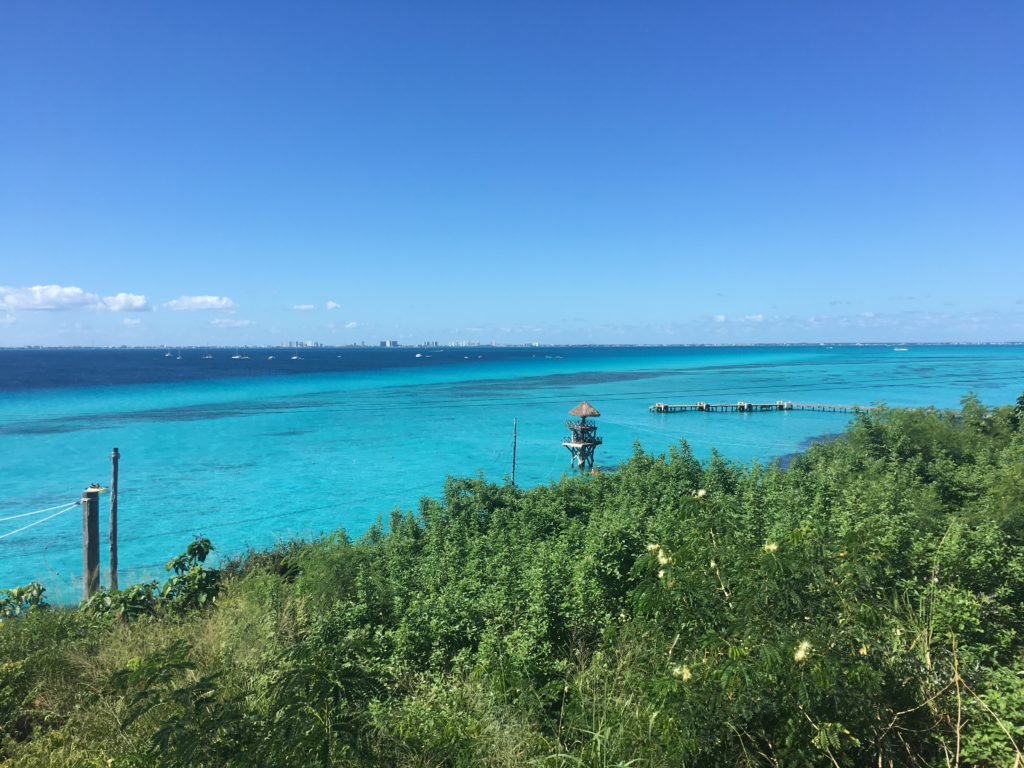 Isla Mujeres snorkeling tours
One of the best ways to go on a snorkeling tour from Isla Mujeres is with The Cooperativa Isla Mujeres. Since 1977 they were the first cooperative of tourist services registered in the State of Quintana Roo. This cooperative organizes local fisherman and people with a knowledge and passion for the preservation of the natural beauty of Isla Mujeres.
The Cooperativa Isla Mujeres offers tours from Pier 7 just north of where the Isla Mujeres ferry arrives. Most of the time when you arrive you will see the men in their logo shirts with brochures. These men are very helpful in getting people to the boats and set up with tours. This is a great local way to snorkel and support the people living on Isla Mujeres.
It is not really necessary to book in advance since there are many tours per day that go out. It is our recommendation to book a tour when you arrive on the island.
What is included in your snorkeling tour
Guide. Spanish speaking and some speak English. Most have some basic English.
National park fee.
Life vest.
Snorkel and mask. Some fins are available but most of the time the snorkeling is done with the current so you do not need them.
If you get the longer snorkeling tour a stop for grilled fish is included.
How much is a snorkeling tour from Isla Mujeres?
Prices range from about $55 USD-75 USD per person. There are two basic tours. One is for 2 hours and the other is 3 1/2 hours and includes a stop for a meal (drinks not included). There are a lot of people from the Cooperativa Isla Mujeres near the ferry dock. Prices are often given in pesos or dollars and there is a slight range of prices.
Make sure you know what is included in your tour and how long it will be. Boats are colectivo style, which means when people come, they fill up a boat. Most likely you will be on a boat with other people wishing to snorkel.
What you should bring on this snorkeling tour
Biodegradable sunscreen. This will not only protect the coral reef and animals living there, it is also better for your eyes. When you have a mask on and the sunscreen runs into your eyes, it can be uncomfortable.
Towel for drying off.
Bag for your clothes. It is best to have something that has a waterproof bottom since it can get wet on the boat after people get out of the water into the boat.
The boats do have some sun protection but it will not cover you all the time nor all people onboard. It is good to bring a hat and sunglasses.
Waterproof camera case so you can take pictures of all the wonderful things you will see.
Optional tip for your guide.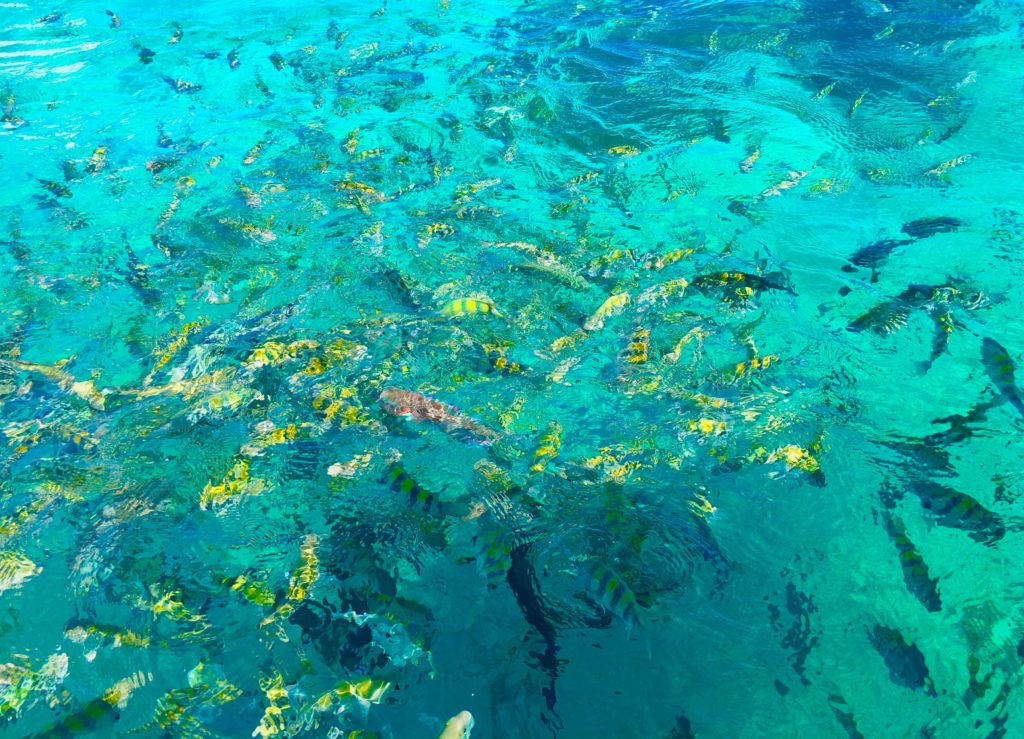 Have you been on a tour for Isla Mujeres snorkeling? What did you think? Let us know below, we would love to hear from you.
For more on visiting Isla Mujeres, see our article here. If you are staying on Isla Mujeres and need transportation from the airport, see our article here on transportation. If you also want to go snorkeling in other spots along the Riviera Maya, see our article here on many other locations. If you are going to be visiting Playa Norte on Isla Mujeres be sure to see our article here.