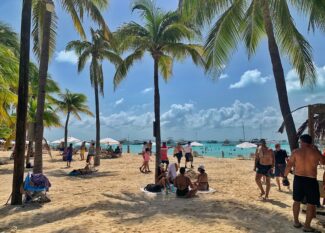 How to get to Isla Mujeres
Isla Mujeres is a popular destination in Mexico. Both people coming on vacation or people doing a side trip to visit this charming island want to see everything it has to offer. So how do you best get to Isla Mujeres? What ferries are best to use? How do you get around Isla Mujeres? Well, there are several options as well as some tips we will explain below.
How to get to Isla Mujeres from the Cancun Airport
If you are flying into the Cancun Airport and staying on Isla Mujeres, you will want to get to Isla Mujeres to most efficient way possible so you can start your vacation. There are four options which we will describe below.
1. Taking a private transfer (Most recommended).
We recommend this option for several reasons. You can reserve a private transfer for just you and whoever is traveling with you and they will be waiting for you at the airport. Besides speed and ease, you also get a discount when you book a round trip, something that you cannot get with a taxi ride. The private transfers are also fixed price for destinations, taxis at the airport have no meters or fixed prices.
A really good company to book with is this one that has been around for over a decade. Our readers really like this service. Click the link below to go to their website to book.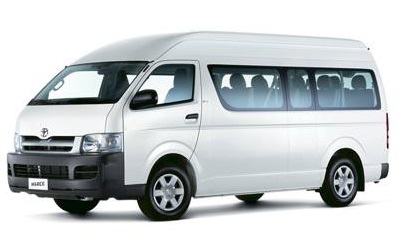 2. Taking the ADO bus
The only public transportation from the Cancun Airport is the ADO bus company. The large buses service each of the four terminals of the Cancun Airport. If you choose this option, you will look for ADO bus signs to Cancun. The buses leave about every 30 minutes and take about 40 minutes to get to the ADO Bus Station in the downtown of Cancun. From the ADO bus station you have two options for getting to the Isla Mujeres Ferry. The first option is taking a taxi to Puerto Juarez, which is the closest and best ferry crossing to go to. It is just over 4 km and about an 8 minute ride to the ferry. The second option is exiting the bus station and crossing Tulum Avenue to get a colectivo van to Puerto Juarez. This saves a few dollars and is the cheapest option, but we don't recommend this. For one, you have to wait for a van and if you have more than a small backpack, there is not much room in the vans for luggage.
3. Taxi
It is possible to get a taxi from the Cancun Airport to Puerto Juarez, however, it will most likely cost more. Taxis from the Cancun Airport are not metered nor is there a taxi stand for booking a taxi. There are no set prices from the Cancun Airport. The other disadvantage of taking a taxi is the missed discount when booking a private transfer.
4. Renting a car
For most people, renting a car and going to Isla Mujeres with the car or parking it and taking the ferry, does not make much sense. It only makes sense if you are taking the car on the car ferry from Punta Sam. Isla Mujeres is a small island and most people use golf carts and taxis to get around. Only if you were staying for some time and staying on the south end of the island would it be helpful to have a car. If you do want to rent a car, here is a good place to rent and book from.
How to get to Isla Mujeres for a day trip from the Riviera Maya
If you want to enjoy the beaches of Isla Mujeres, it is close enough to go for the day. So how do you get to Isla Mujeres from the Riviera Maya? For most people, you will be coming from Playa Del Carmen. Between Playa Del Carmen and Cancun there are colectivos. This are small minivans that go up and down the highway making stops. Three is also Playa Express which has larger vans and a little nicer service. For more about taking the colectivos and Playa Express, see our article here.
Another options is the ADO bus. These are large buses that are air conditioned and give you more space. They take about 10 minutes longer that the other services. The ADO bus goes to the bus station in Cancun where you can take a taxi or Minivan colectivo to Puerto Juarez.
Driving to Cancun and taking the ferry to Isla Mujeres
If you want to drive to Cancun to catch the ferry, Puerto Juarez is where you should go to. This is the most popular crossing and also is cheaper. Be sure to bring a Qroo ID if you have one, you get a discount.
Now, where to park. There is a large parking garage at Puerto Juarez. This is prefect because it is literally connected to the ferry pier. It can, however, fill up on weekends. There are two smaller parking lots right before you get to the Puerto Juarez Pier. These are a little cheaper, but you are parking outside with not much shade.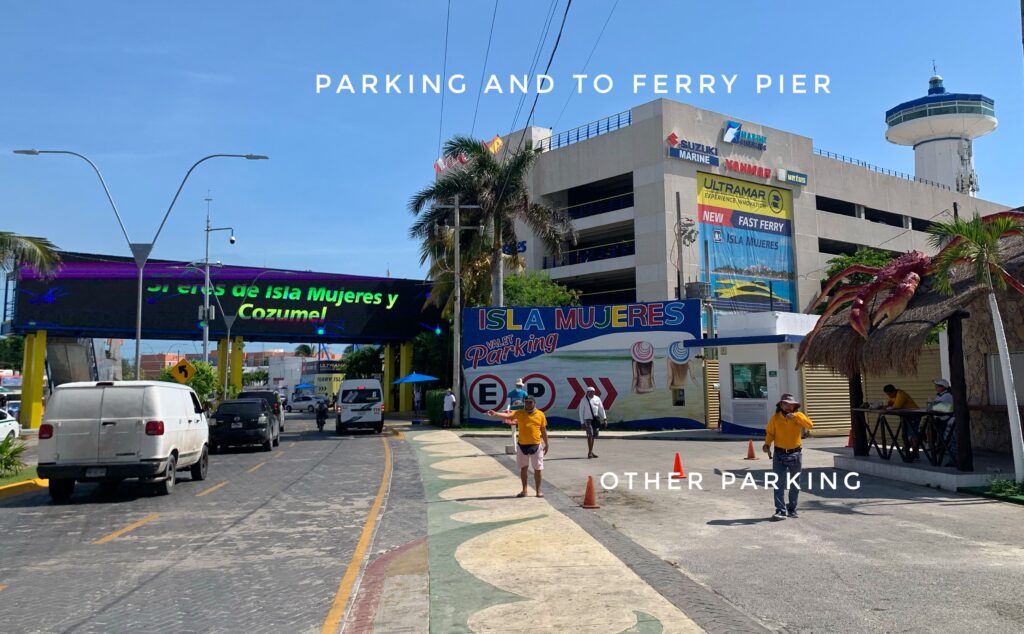 Which ferry is best to take to Isla Mujeres?
This depends on where you are coming from and if you are taking a car. For most people, you will want to leave from the Puerto Juarez ferry crossing. It is easier to get to from both the Cancun Airport and Riviera Maya. It is also cheaper to cross with this ferry.
Punta Sam is the car ferry to Isla Mujeres. This is only recommended if taking a car to Isla Mujeres.
In the Hotel Zone of Cancun there are three points to leave from. They are all marked on the map below. These are best for people actually staying in the Hotel Zone of Cancun.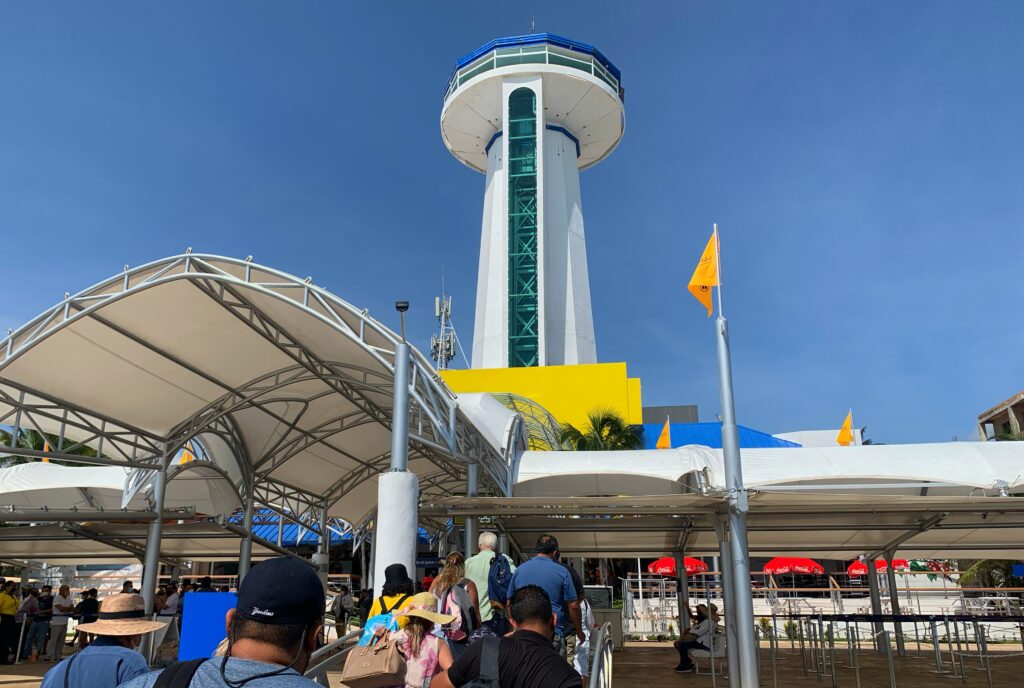 Answers to your questions about the Isla Mujeres Ferry
How much does the ferry cost to Isla Mujeres?
This depends on where you leave from. It cost around $8 USD-$15 USD one way. For passengers, the Puerto Juarez crossing is cheapest. You can check the current fares on each of the websites listed below.
Are there different ferry companies?
Yes, there are two companies currently that ferry passengers between the mainland and Isla Mujeres. You can check schedules and see prices on their websites. Jetway is one company and Ultramar is the other. Ultra Mar is the largest company and has more crossings.
How long does it take to cross?
It takes about 18 minutes to 30 minutes to cross depending on where you leave from. Puerto Juarez is the fastest point to cross.
Is there a discount for children and how much can you take with you?
Babies up to 12 months are free, but still require a boarding pass, Children one year and up to 1.20 meters tall get a children's ticket. For luggage you are entitled to 25 kg of luggage with a linear measurement of 142 cm.
Can you take pets with you on the ferry?
There are specially marked spaces where you can bring aboard you pet. Check the restrictions with the different ferry companies for more details.
Getting off the ferry and getting around Isla Mujeres
Once you have figured out how to get to Isla Mujeres and what ferry you are taking, you will want to get to where you want to go on the island. Most people are coming for the day or staying for a short while mainly on the north end. This is where the main town is and the two most popular beaches on the island. Most of the time, walking is the best options since the area is fairly small.
If you have luggage, taxis are available at the ferry pier and the taxi stand on the side of the port. Most places are $4-5 USD for a taxi. There is a bus service on the island, but this is not the best option if you have luggage. The bus is more for getting to one end of the island to another and is not a good option from the Ferry pier to beaches or hotels in the downtown area.
More articles you might be interested in: