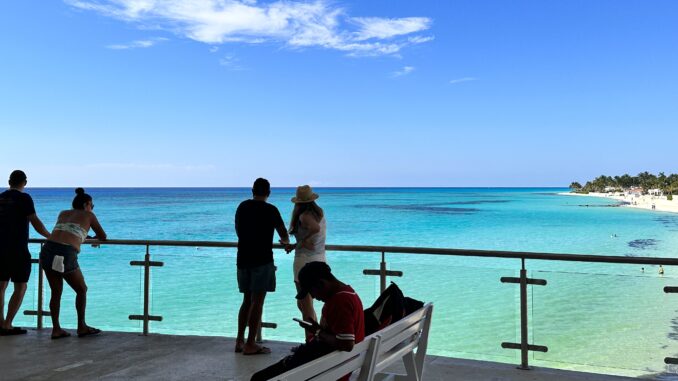 9 Things that have recently changed in Playa Del Carmen
Playa Del Carmen is always changing. New stores and businesses come and go, and we are here to keep you up to date with news and new things in the area. Here are our latest updates from Playa Del Carmen for September 2023. All of these might not have happened or opened in September, but these are things that we have noticed recently.
The beaches are in some of the best shape in years!
Just take a look at the picture below! The beaches are in great shape during this summer period. The winds and hurricane directions have disrupted the flow of seaweed. Locals are saying it is the best it has been in years and some even say it is like old Playa before 2014 when the seaweed started to appear. Let's enjoy the turquoise water while it is here! Hopefully the trend continues as we watch two possible storms in the Atlantic and their path. If they go north, then we should continue our great beach conditions.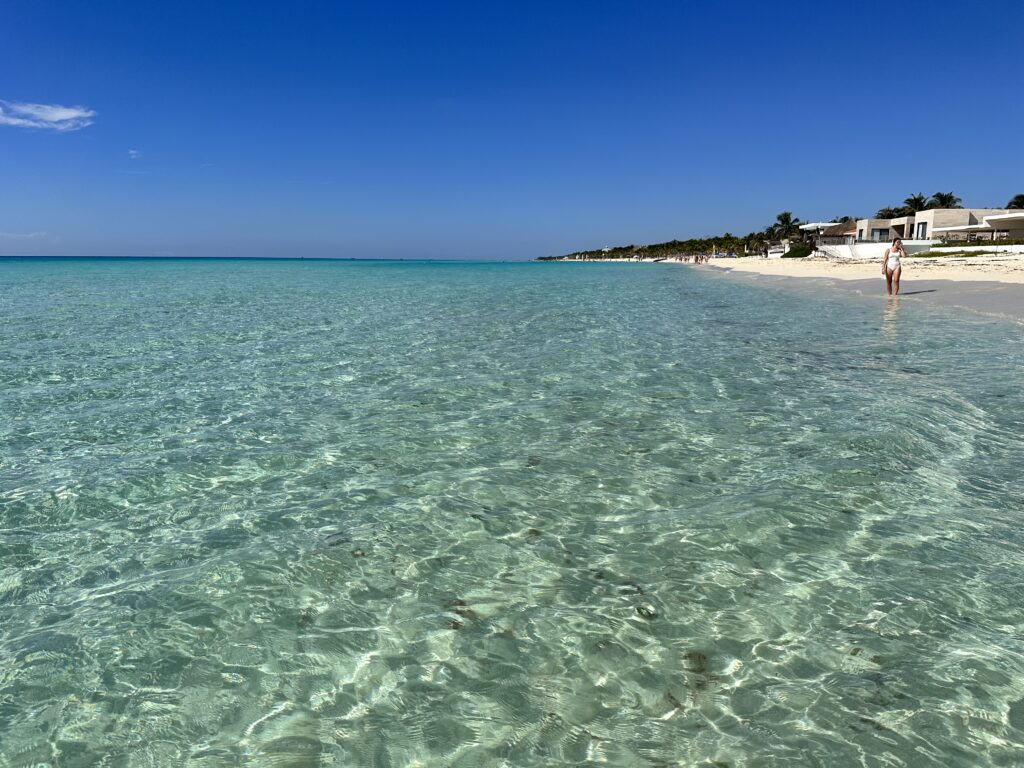 Low season was low this year
Usually, the months of June through September is a low season for the Riviera Maya. The past few years have been all over the place with Covid and changes to tourism. During the pandemic and shortly after, many people flocked to Mexico, especially those that could do remote work. The thing that has changed this year is the number of other countries open and the choices that digital nomads have taken. Popular destinations now are Portugal and Indonesia (Bali).
With more people choosing other countries to spend time in, the rental market is slower, but you might be mistaken to think prices would drop a lot. Rents are listed with extreme price fluctuations. Part of the reason is the high fees that booking platforms are charging, some owners are free to set their own prices and wish someone pays double for the property rental, other owners have taken apartments offline and find it easier to just rent in the high season. So, if you are coming to Playa Del Carmen here are a few tips for looking for a place to stay.
Be sure to check comparable rentals in the same building, if possible, to see how the value is.
Larger, well-known agencies for vacation rentals tend to keep their prices at a reasonable rate. It is the people that independently post online that are the ones that will ask any amount of money.
Hotels are cheaper in the low season because of demand, and it is their business to be full as possible. There are hotels on 5th Avenue for $45 USD a night in low season for example. We also see a lot of large all inclusives having deals for locals during the slow months.
Plaza 28 de Julio is almost done?
Back in March we published an article about the remodeling of the plaza in front of the city hall in Playa Del Carmen. This plaza is called Plaza 28 de Julio. The renovation coincided with the 30th Anniversary of Playa Del Carmen. It was scheduled to be inaugurated on the 28th of July for the anniversary. Work is still happening, but it has taken shape some and appears to be nearing completion. Below is what it looks like now.
What are your thoughts?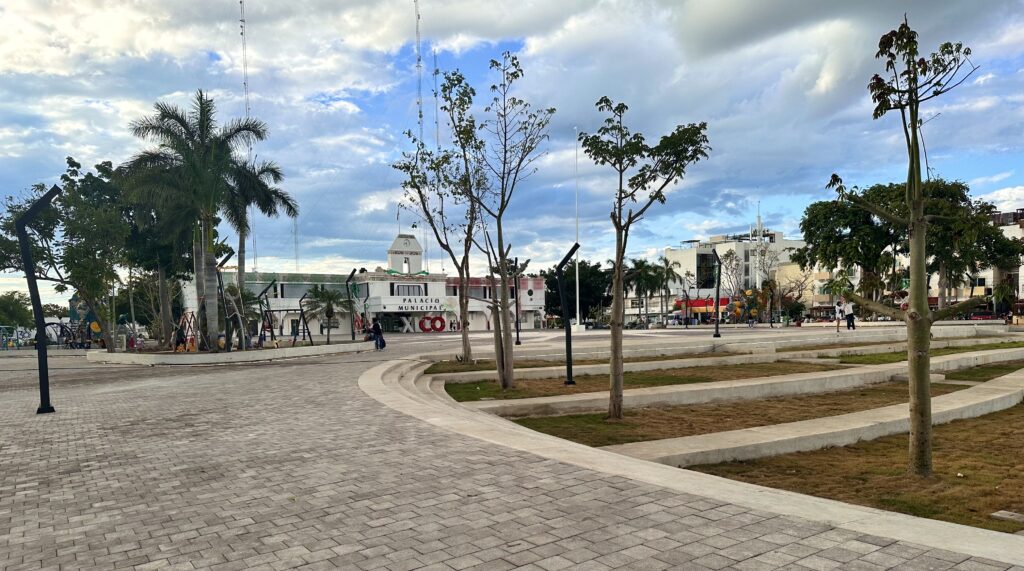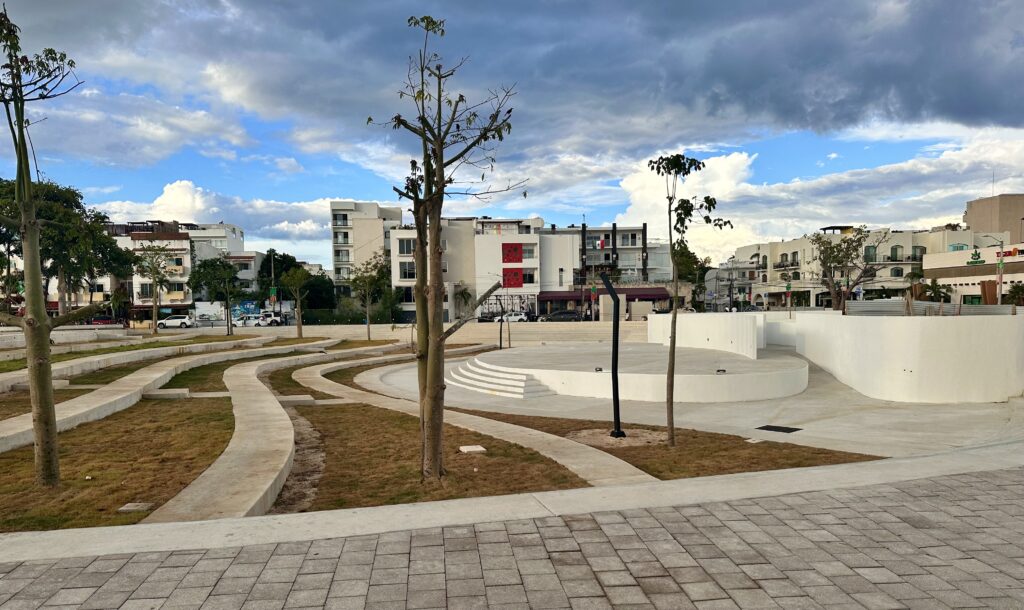 Walmart parking in the center of Playa
If you have even been to the Walmart in the downtown of Playa, you know it is busy. Since Playa Del Carmen started street meters for car parking, parking has become scarce. The three large supermarkets in the middle of Playa are ripe for people to park and walk to where they want to go. For a while now it has become harder to even get a spot to do your shopping. Mega started chaining their parking lot at night so anyone who left a car there would be trapped. Now Walmart has toll entrances for the parking. Currently they are not working and have a "clausurado" sticker on them, meaning they were not done correctly with permits or something.
It is common in many parts of Mexico to pay for parking at malls and shopping centers. This already happens in Cancun at many popular shopping centers. Now as parking becomes more valuable, we see stores protecting it and potentially charging for it.
Dac Market parking gets harder
Speaking of parking, Dac Market is unique because it has a lot of products that you cannot find other places. This means people come from all corners of Playa to shop there. Parking has always been tight with just a few spots on the side and the dirt lot across the street. Now, the dirt lot is a 7-11 store. There are still a few spots on the side of 7-11, but this will add to the difficulty of shopping or eating in La Ceiba Restaurant.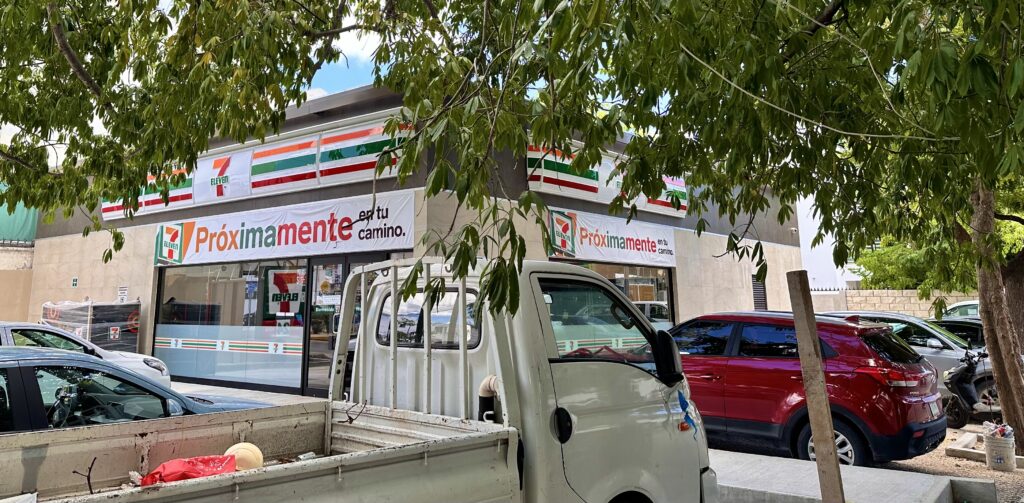 A new fine drinking place called Artes y Copas is open
Artes y Copas is a new cocktail and finer beverages bar on 26th street between 5th and 10th Avenues. This small bar is offering something that many places don't, a decent cocktail. The place has a glass front with a few tables and an upper level above the bar for seating also. It is a small and more intimate place, which is nice for enjoying a well-made cocktail.
We hope they do well here. They are in a tough market and have a small niche target audience. As many of you know, cocktails and drinks on 5th Avenue is often low quality for high prices for Mexico. It is nice to have a good do to place that you can count on. Let's hope they do well like the Dirty Martini Lounge.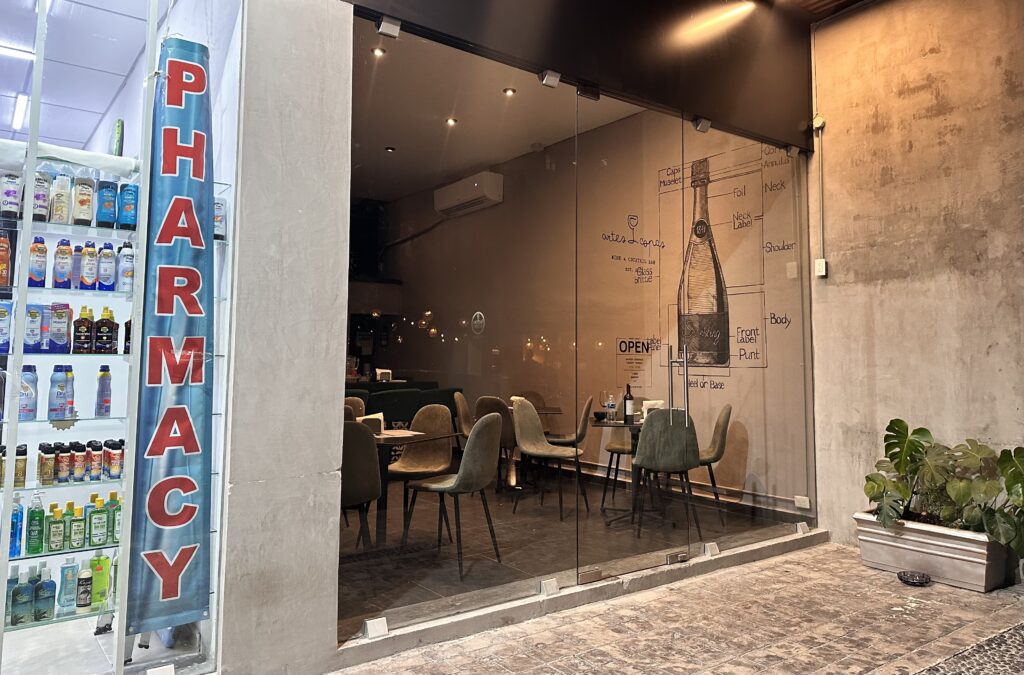 The Luis Tussaud's Wax Museum is open
We mentioned this museum was under construction in our August update. The Luis Tussaud's Wax Museum is now open. Based on the wax figure they had out front the other day, it is good they put labels on them to tell you who they are. The good news is there usually no line or waiting to get in.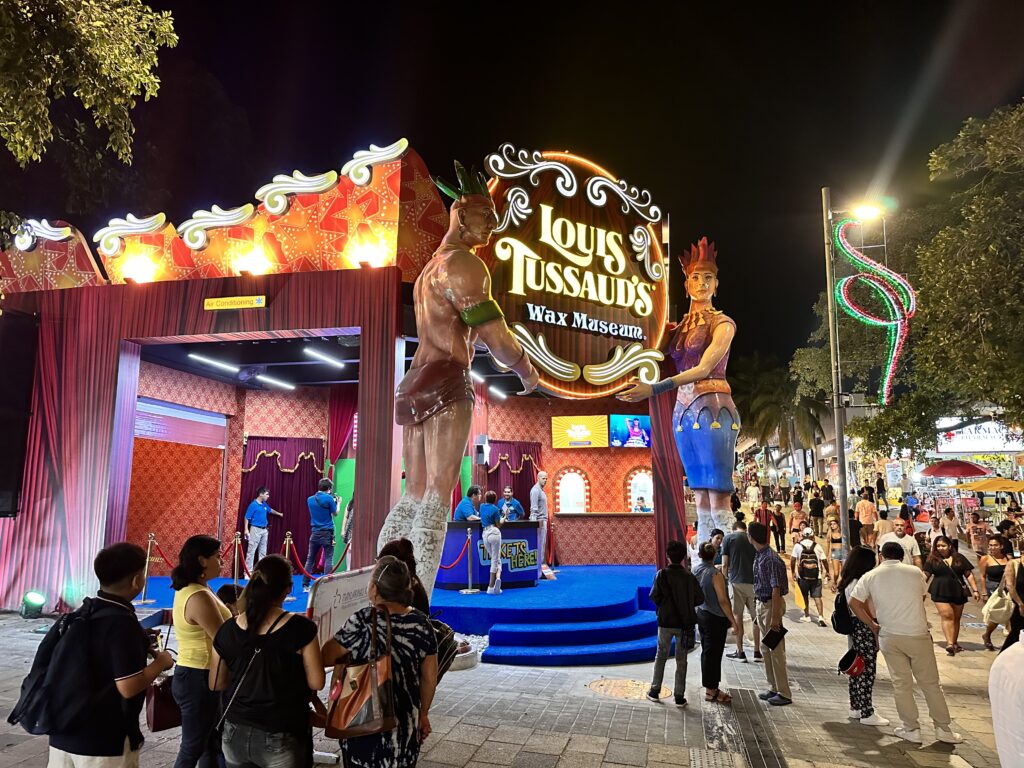 More Gas stations coming online
We have seen several new gas stations under construction or are opening up in Playa. This is good and bad news for Playa. these are important infrastructure and sure makes it easier to get gas where and when you need it. It also means Playa Del Carmen is still growing and there are more cars driving around. After decades of Pemex monopoly of gas stations, there are other brands now. They all still come with a warning to watch for scams at the gas stations. You can see more in our guide.
Ice cream tacos have arrived in Playa Del Carmen
The last place that we will mention in this update is a new ice cream place run by and expat couple. It is not just any ice cream store; they have ice cream tacos! Plus, other forms of frozen treat that can be jazzed up with toppings. The place is called Get Rolled. It is located on 1st Avenue between 24th and 26th Streets. You can also see more about this place in our article here.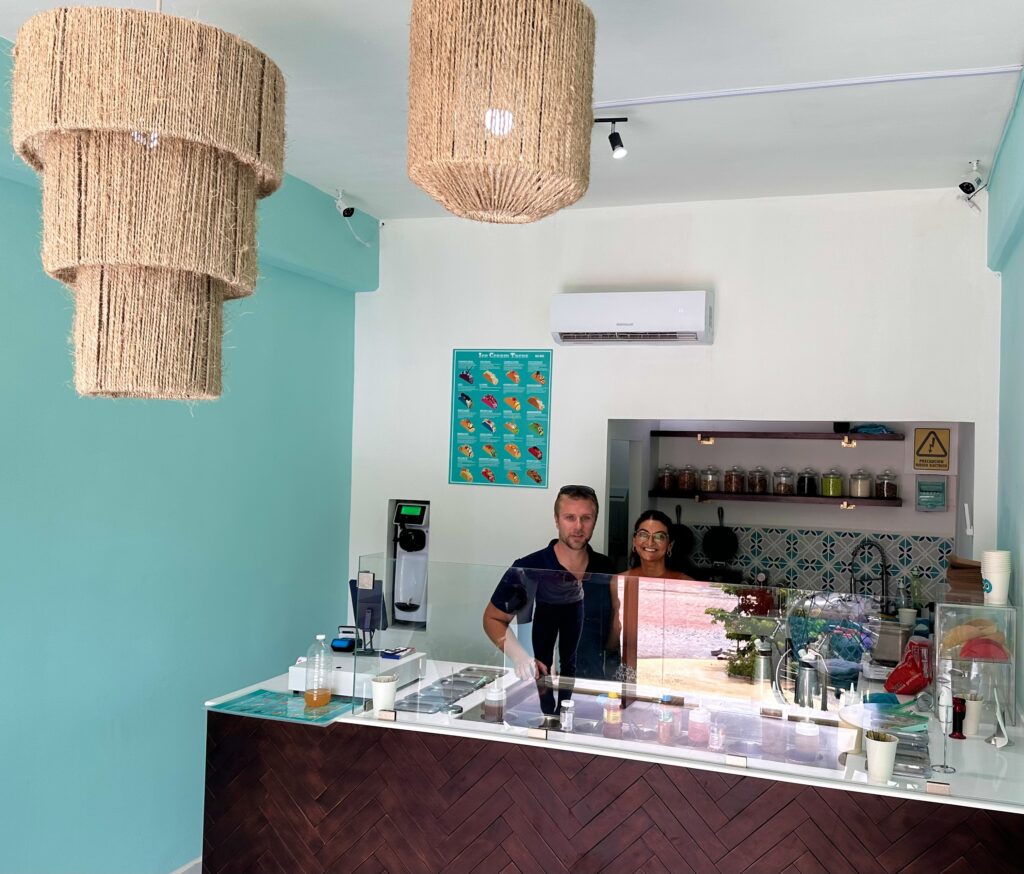 Thank you for checking in with us and reading this update to new things in Playa Del Carmen. We hope to see you online and we hope to bring you more good information soon.