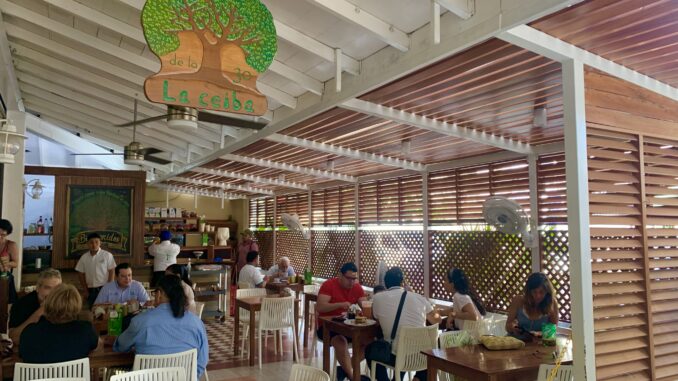 DAC market is a favorite place for people in Playa Del Carmen to buy food in a more" farmers market" style then the big grocery stores. You often can find other products like dried goods or herbs there that you cannot in big stores. You also can find a bustling restaurant in the front of the market where you can grab a quick juice or bit to eat.
We have visited this restaurant several times and wanted to tell you if it is worth you stopping in before or after your shopping.
La Ceiba Restaurant
The restaurant is open for all three meals a day, but it is most busy and popular in the mornings to midday. This is because it is popular to go shopping in the morning hours and the restaurant has more of a breakfast and lunch feel to it. You might even get lucky here and have live music playing by roving musicians.
If you are a coffee drinker, this is a really good place to have an espresso or café since their coffee and coffee maker are good here. This place ranks high on our places in Playa Del Carmen for a coffee (in the top 3).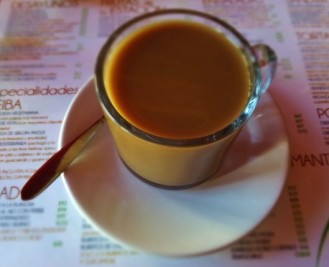 One of the favorite things on the menu at La Ceiba Restaurant are the juices. This makes sense in part because it is attached to a produce market. A long list of fresh juices and combinations are available. All the juices are good quality. Most of the juice combinations are named with Mayan words.
For breakfast there are a few very Mexican items like chiliquiles. Then there are the normal favorites of eggs, omelets and hotcakes.
For lunch you can find salad, fish plates, Mexican food items, sandwiches, and pastas. (Check out full menu below in the photo)
Menu Prices at La Ceiba
Prices for breakfast are going to be around 150 pesos a person. Most menu items are 110p-140 pesos and a good juice is about 30-40 pesos.
Lunch and dinner prices are mostly 120-160 for main items.
Prices are similar to the healthy restaurant Nativo, which is just across the street in two different locations.
For the quality of the juices and taste you will be satisfied. For some menu items it may not be the lowest price, but you should be able to enjoy a nice light meal there.
Where is La Ceiba Restaurant?
DAC Market and La Ceiba Restaurant is located on 30th Avenue between Constituyentes and 20th St.
Hours
Monday-Saturday 7:00am-8:00pm
Sundays 7:00am-2:00pm