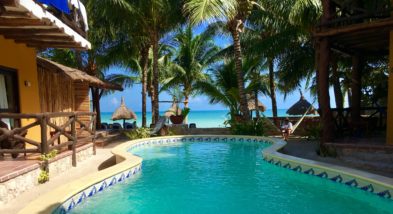 Holbox Dream Hotel Review
Are you headed to Isla Holbox? Where are you going to stay? Here is one beach front hotel in Holbox that can be a good option for you. The Holbox Dream Hotel is centrally located and has a nice beach to relax and spend your time at while visiting Isla Holbox. Here is our full review and video of what this hotel is like.
Our video of what this hotel is like
Like all articles on our website, we go in person to try out and experience what things are like so we can bring you complete reviews.
What are the rooms like at the Holbox Dream Hotel?
Most of the rooms are similar with a few differences like the number of beds. There are tiles floors, wood beamed ceilings, air conditioning and fans. The rooms sizes are moderate and we have to say the air condition is very good at this hotel.
As with all Xperience Hotels, they have good bathroom amenities. There are lotions, soaps, repellant and shampoos.
Wi fi is available but as is the case with most of Holbox, it is not that strong. Don't come expecting to pull out your computer to work.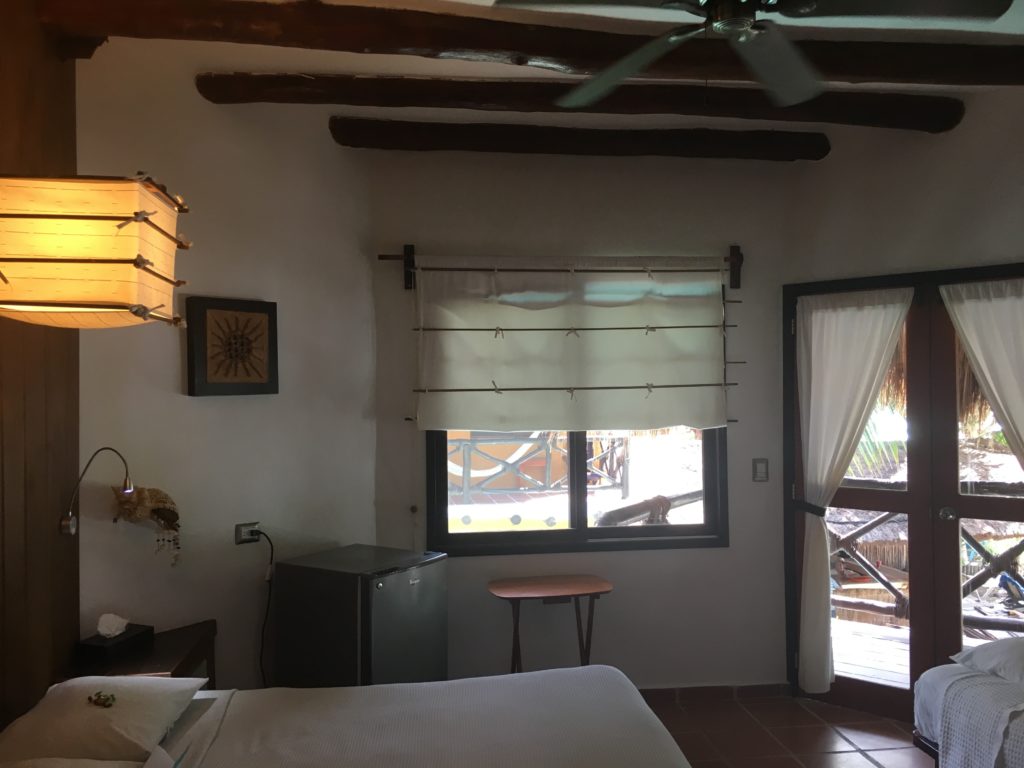 See the stunning beach in front of this hotel
Literally just steps from your room is this beautiful beach. We love Holbox because the water is so shallow for a long distance out. The waves are calm and you get a beautiful turquoise waters on calm days. You can walk straight from this hotel into the water and go for a swim. On the beach there are chairs and some hammocks on the property so you can enjoy the Caribbean breezes.
Beach towels are provided at the Holbox Dream Hotel.
Now a new beach club at this hotel!
Since we were originally here at the Holbox Dream Hotel, they have added a beach club with bar/restaurant. For hotel guest there is a discount of food and drink. The Beach club is open to non hotel guest as well. To read more about the beach club see our article here.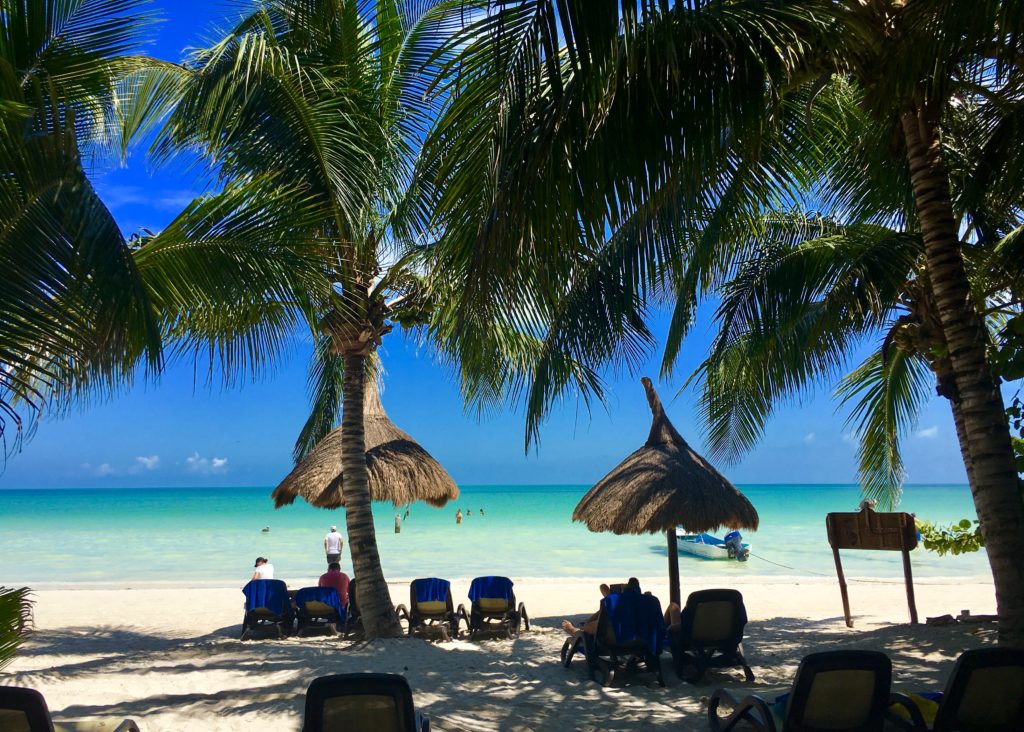 Who we recommend this hotel for
This hotel is good for couples or families going to Holbox. For couples that don't want to pay for a high end boutique hotel, this hotel gives you an affordable option.  Families can enjoy the beach and the pool at the same time since they are close. The adults can relax on the beach with drinks while the kids swim in the pool.
For groups this hotel is good because there are more rooms here and easily accommodate multiple bookings at the same time. Wedding parties would also be able to fit into this property.
If you want a beachfront hotel this is a good option because the beach is beautiful right outside your door. It is also a great end of Holbox to watch the sunset.
If you can book the breakfast option in your stay, this is good and that leaves you the other two meals to eat out. This hotel is close to the center of town (about two blocks). This means it is easy to walk into town and visit the main square and go to restaurants.
Have you stayed at the Holbox Dream Hotel by Xperience Hotels? What did you think? Do you have questions about this hotel? Let us know in the comments below.