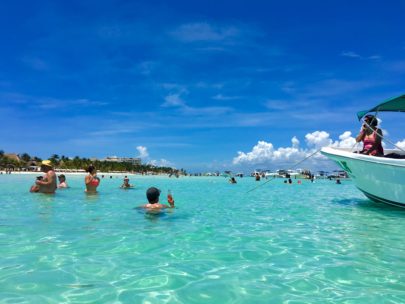 Another Absolute Adventure!
We have gone on another absolute adventure with Absolute Adventure Mexico. This is a recommended private tour company here in the Riviera Maya. We always enjoy their tours because they are well planned,  customized for your needs and wants, and also know where to take you for the best experiences.
This latest tour was for an opportunity to swim with the largest fish in the world! Whale sharks feed during the summer months on plankton and you can take a boat out to see them. This is one of the most adventurous animal encounters in the world!
It was a magical tour because we had prefect weather and we got to see dolphins swimming free in the ocean. Also as we left port there was a rainbow in the sky. You can see all this in our video below.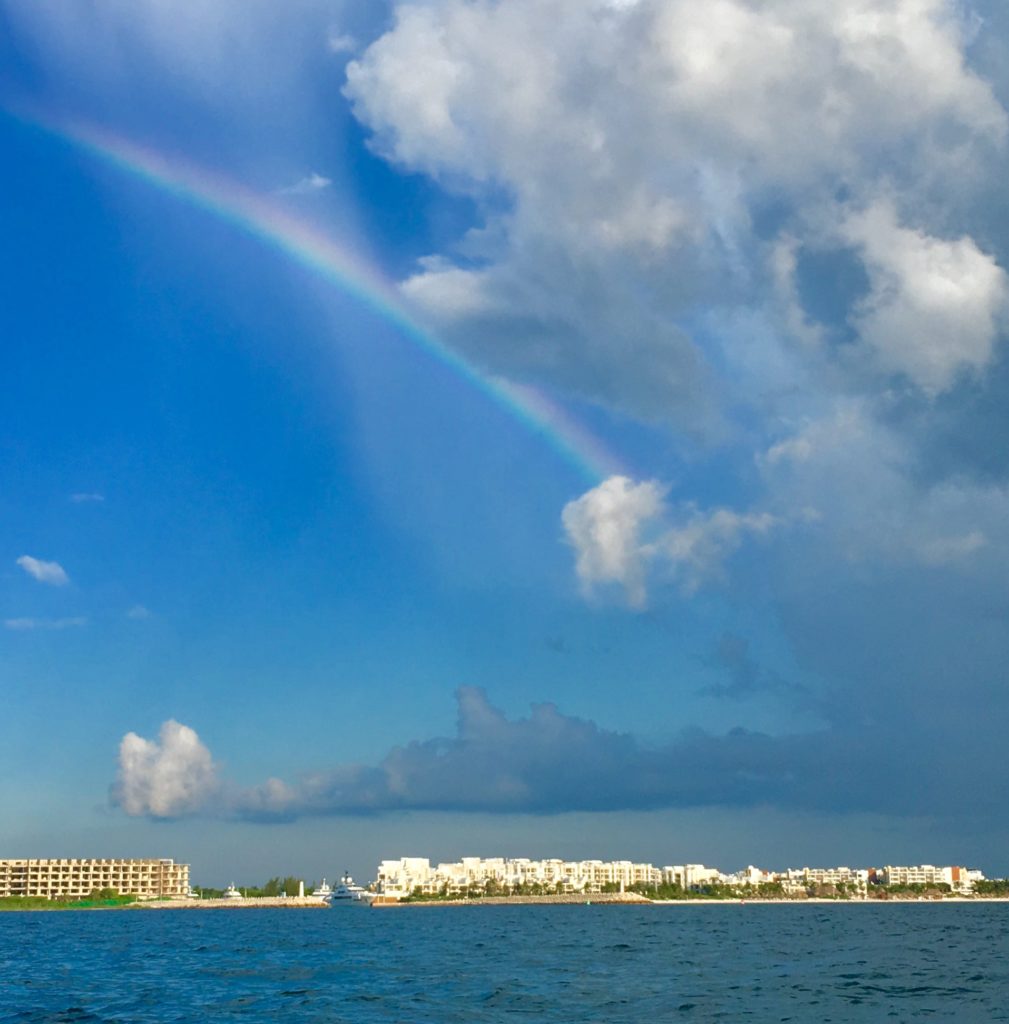 Swimming with the whale sharks tour
What is it like to swim with the whale sharks? Is it scary? Once you travel in the small boat to the area where they are feeding that day, you will see how slow and gentle these giants are. These fish have predictable movements and make it easy to observe both from the boat and in the water.
You will get to see the whale sharks fairly close even from in the boat. Even if you don't get in, it is an amazing opportunity to see them. But, most people put on the fins and snorkels and jump in. Below the water the experience is even more magical. Seeing the whale sharks open their large mouths and glide through the water is about as close as most people get to an animal this big.
This activity is well regulated and can be considered an eco tour. The boats going out have occupancy controls and when you arrive to the area where the whale sharks are, only two people at a time are allowed in the water. A guide will jump in with you and the three of you will be able to swim near the whale sharks. No one is allowed to touch them and consideration should be given to these feeding giants.

Our video review of this tour with Absolute Adventure Mexico
Stopping at Isla Mujeres
After taking the boat back toward the mainland, you will pull up to the north end of Isla Mujeres. Here there is a beautiful beach with white sands and crystal clear water. Just off the shore, boats dock  and you can jump into the water to enjoy this beautiful location. While you swim and relax, Absolute Adventure Mexico will be making fresh ceviche, guacamole and serving up drinks.
This makes for one day you will remember from your vacation! After taking some sun and snacking it is back onboard to make the short journey to the port. Here you will join the van and go back to your hotel.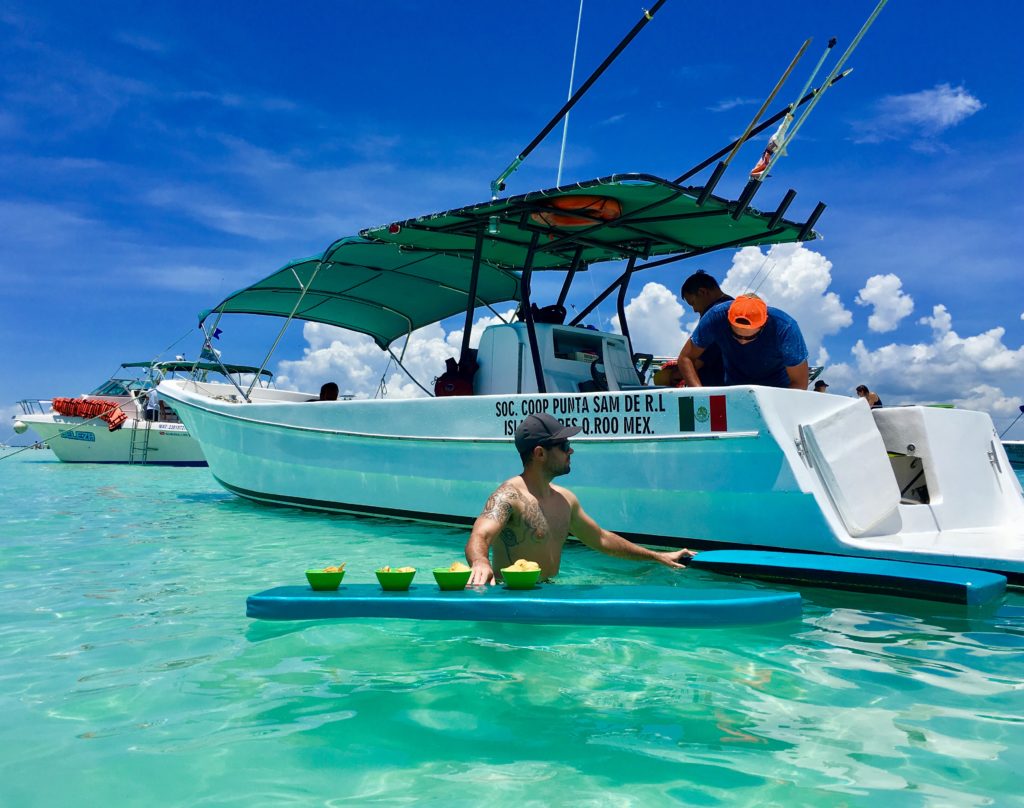 Why go with Absolute Adventure Mexico on this tour
We have no problem referring people to this private tour company because it is their passion to show people a good time here and also be responsible in doing so. Absolute Adventure is a small company that likes to maintain their quality of tours. Instead of getting bigger and having many guides, they prefer to have a core of good people that know the area well and can show people around. They also explore the area and know the best areas and times to go to places.
This company cares about sustainable tourism, the environment and educating guest about what makes this part of the world special.
For this tour in particular, it is nice to take a private tour because you will be picked up according to your schedule (we left very early in the morning so we could be out to the whale sharks before many of the other boats arrived). You will also have the stop in Isla Mujeres and the little extras thy provide.
We hope if you pick this tour or one of their other tours, you have a great time and you let us know about it.
To see what tours they offer besides this one and to contact them, you can do so at their website: https://absolute-adventure-mexico.com/
Do you have questions or comments? Have you been on a tour with Absolute Adventure Mexico? Let us know in the comment section below. We would love to hear from you.